Wondershare PDFelement Review: A Full-featured PDF Converter and Editor
PDF files are well-known, especially for paper works, letters, event cards, etc. Nonetheless, there are instances that you did not notice the error on your PDF and save it immediately on your computer. Is there a way for that? Of course! Using Wondershare PDFelement, you can edit your PDF files and correct the mistake immediately. Here's a review, and please read it now.

1. Overview of Wondershare PDFelement
What is Wondershare PDFelement?
Wondershare PDFelement is a PDF converter and editor software that allows you to revise your PDF files. In addition, it lets you create, edit, and sign PDF documents in a minute using a computer, mobile device, or the Web.
The good thing about Wondershare PDFelement is it has a free download. After that, you can install it on your computer. Do not worry; Wondershare PDFelemet also offers a free trial that will end after 14 days. But if you want to access all the features, you can purchase the Plans. So much with that, let us now discuss the advantages and disadvantages of Wondershare PDFelement below:
Pros

It has an impressive and user-friendly user interface.
It is compatible with Mac and Windows.
It has a money-back guarantee for 30 days.
It updates the software for free.
Wondershare PDFelement Pro download is possible for free.
Cons

It is somehow expensive.
Its software could be faster sometimes.
You need to register with them to access more features.
Preview of PDF Files9
Interface8.5
Interface8.5
2. Wondershare PDFelement Review
Wondershare PDFelement Price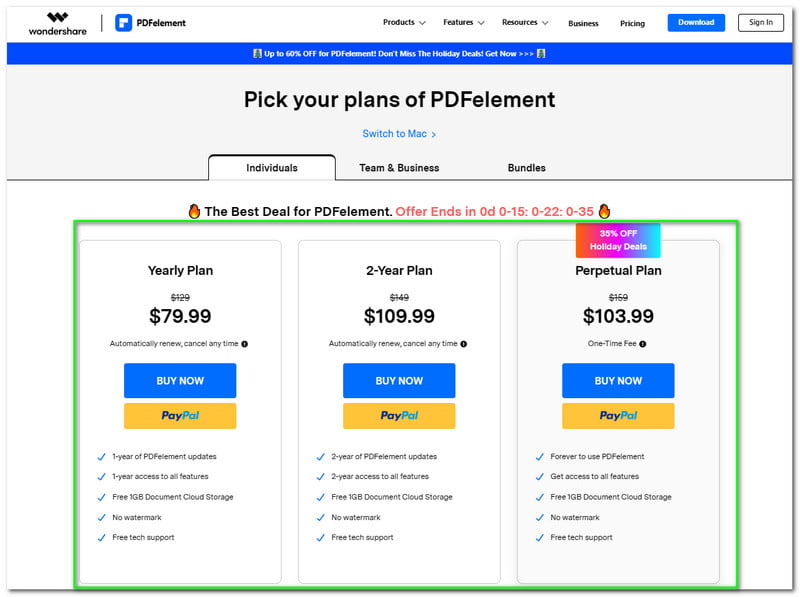 Some users say that the cost of Wondershare PDFelement is unreasonable, and we will do that in this part. Wondershare PDFelement has three subscription plans. The first Plan is the Yearly Plan, which costs $79.99. It includes 1-Year PDFelement updates, 1-Year access to all features, no watermark, and more.
The following Plan is the 2-Year Plan, which costs $109.99. Its functions are almost identical to the first Plan, but you can access all the features for two years. The last Plan is the Perpetual Plan, which costs $103.99. Once you purchase it, you can use and will have access to all features of Wondershare PDFelement forever. Also, it has free 1GB document cloud storage and more.
So much so that we can conclude that some users are correct in saying that the price of Wondershare PDFelement is unreasonable because it is too pricey. Indeed, the features are numerous. However, the price is still costly, and it is now up to you if you want to avail of the Plans.
Wondershare PDFelement Tools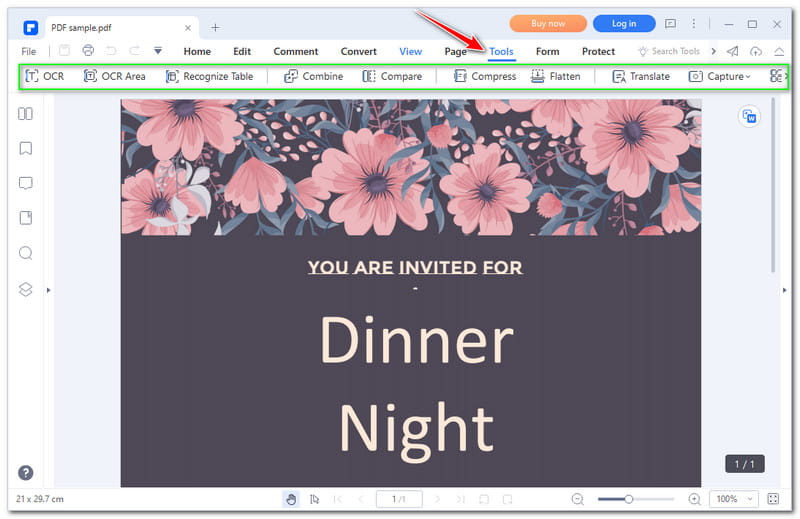 One of the features of Wondershare PDFelement is the Tool. This Tool feature lets you add OCR to your PDF file. Once you add OCR Text and the OCR Area, Wondershare PDFelement requires you to download OCR. Don't worry; you need to click the Download button from the software.
What else? As the PDF editor, you can use it to Combine, Compare, Compress, Flatten, Translate, Capture, and Batch Process your PDF files. Therefore, you can do much using the Tools feature of Wondershare PDFelement.
What is Best for Wondershare PDFelement?
Wondershare PDFelement is best for converting and editing your PDF files. Regarding Edit features, it lets you Add Text, Add Image, Add Link, Watermarks, Backgrounds, Header and Footer, and Bates Numbers.
Then, regarding the Convert feature, it allows you to Create PDF, Convert PDF to Word, Excel, PPT, Image, Text, and more. Overall, it is best for your primary needs, especially for school and office work.
Also, Wondershare PDFelement is best for beginner users. Again, you do not need a tutorial before using Wondershare PDFelement, and once you open the user interface, you can start using it.
3. Alternatives to Wondershare PDFelement
Aiseesoft PDF Converter Ultimate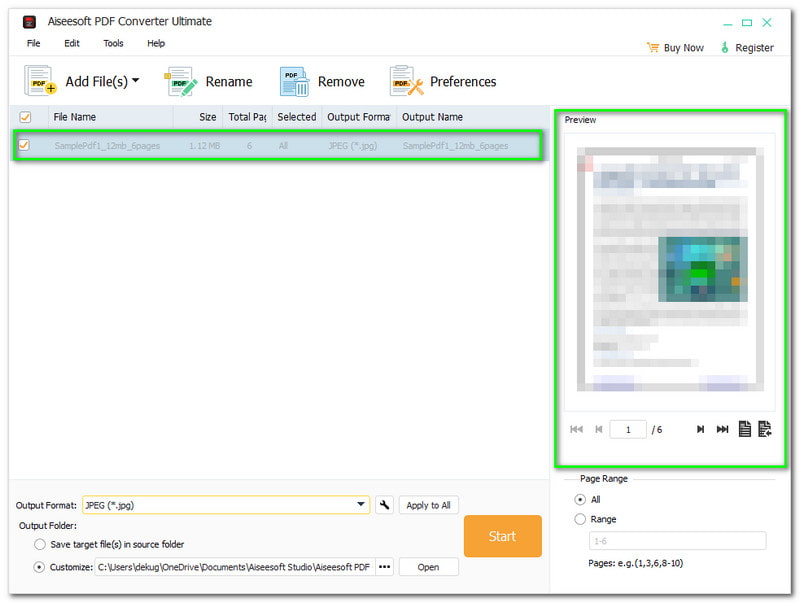 Price: $19.96
Platform: Windows, Mac
Wondershare PDFelement's free alternative is Aiseesoft PDF Converter Ultimate. How can we say it is free? Because of its free version, you can use Aiseesoft PDF Converter Ultimate. You can access features such as Add Files, Edit, Change Formats, Preview PDFs, Read EPUBs, and more.
Foxit PDF Editor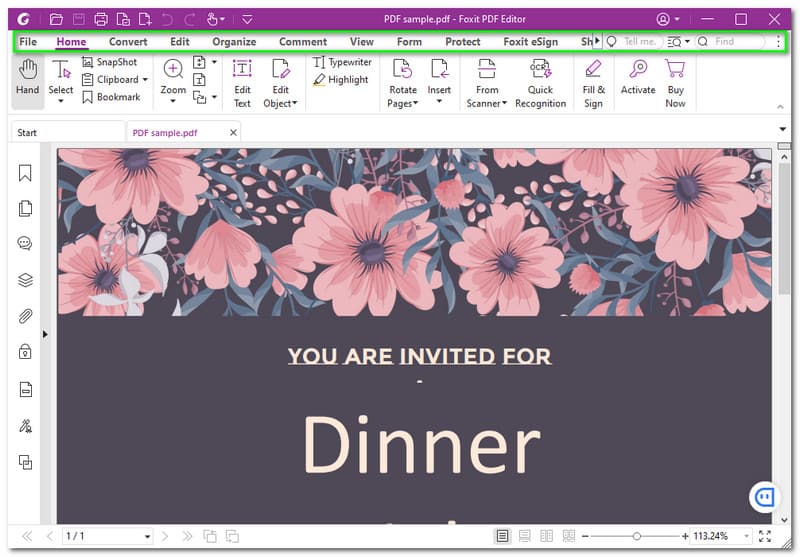 Price: $144.00
Platform: Mac, Windows
Another alternative software to Wondershare PDFelement is Foxit PDF Editor. It is a professional-like PDF converter and editor software and allows users to revise PDF files using a free version. In addition, you can Organize, Comment, View, Protect, and Share your PDF files. You can try it now to explore various features.
IrfanView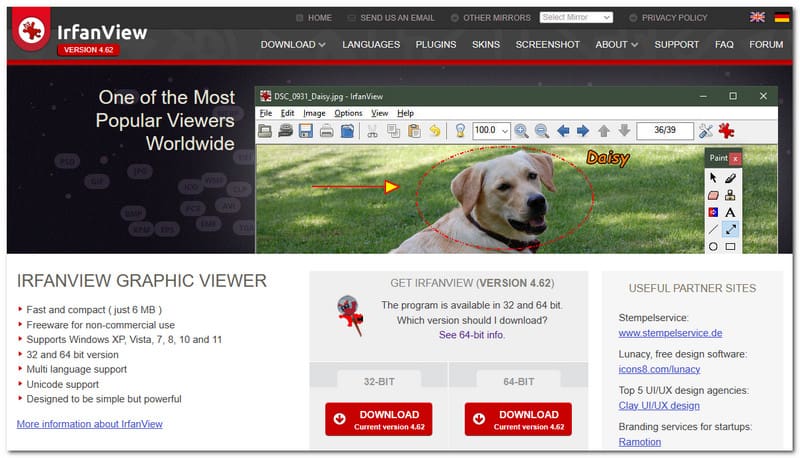 Price: Free
Platform: Windows
As a writer, I wonder why IrfanView is one of the alternatives to Wondershare PDFelement. However, as we look at the entire software, it has a feature that can view images, convert, optimize, scan and print, create a slideshow, batch processing, and more. IrfanView is more focused on images than PDF files. Nevertheless, it still has a feature for PDFs. In addition, you need to remember that IrfanView is only suitable for Windows.
4. FAQs to Wondershare PDFelement
Is PDFelement free to use?
Unfortunately, no. Wondershare PDFelement offers three subscription plans you can purchase. Nonetheless, the good news about Wondershare PDFelement is it provides a free trial. But its free trial is limited. The best thing we can suggest you do is while using the trial version; you must register with them.
Is PDFelement safe?
One thing that Wondershare PDFelement does for users is their safety. According to Wondershare PDFelement, they value your privacy and will protect your personal and financial information, especially if you will purchase a plan. It also has advanced encryption and provides advanced fraud protection.
Is PDFelement good for PDF files?
We can say that Wondershare PDFelement is good, especially in converting and editing PDF files. Not just that, its user interface is also good because it is so manageable to use. Overall, we can suggest you use Wondershare PDFelement for your PDF files.
Conclusion
Finally, we shared with you Wondershare PDFelements, including its entire reviews, such as price, advantages, disadvantages, features, and more. With the help of this review, we encountered that the free trial of Wondershare PDFelement needs to be expanded. That is why you should purchase it. To end, we will see you again with another review article!
Did you find this helpful?
355 Votes
YES

Thanks for letting us know!
No

Thanks for letting us know!
PDF Converter Ultimate
An ultimate PDF converter to Word, Excel, Image, and more.