Nitro PDF Pro Review: A Professional Way to Convert PDFs
There are many PDF converter tools and software; some need clarification about which tool or software you will use. This review presents Nitro PDF Pro, a software that can convert and edit PDFs and more. However, we heard that Nitro PDF Pro is pricey. So, using this review, let us know if that is true. Let us start reading now!

1. Overview of Nitro Pro
What is Nitro Pro?
Nitro Pro is a photo and PDF converter you can use daily. It has a 14-day trial version, allowing you to convert, edit, combine, compress, fill and sign PDFs, and more. In addition, Nitro Pro lets you use its tools to make your PDF files intelligent and secure.
Moreover, it provides many features, and we will discuss some of them one by one later. But before that, let us see its advantages and disadvantages. After that, you will briefly learn what Nitro Pro is.
Pros

It offers a 14-day trial version.
It also offers batch processing.
It is perfect for professional use.
It has numerous features you can use.
Cons

The price of Nitro PDF Pro is not reasonable.
It could be more manageable to use.
It requires your personal information before downloading Nitro Pro.
Nitro Pro download and install take too much time.
Its user interface is too basic and not as expected.
Features 9
Interface8
User Friendly8
2. Nitro PDF Pro Review
Interface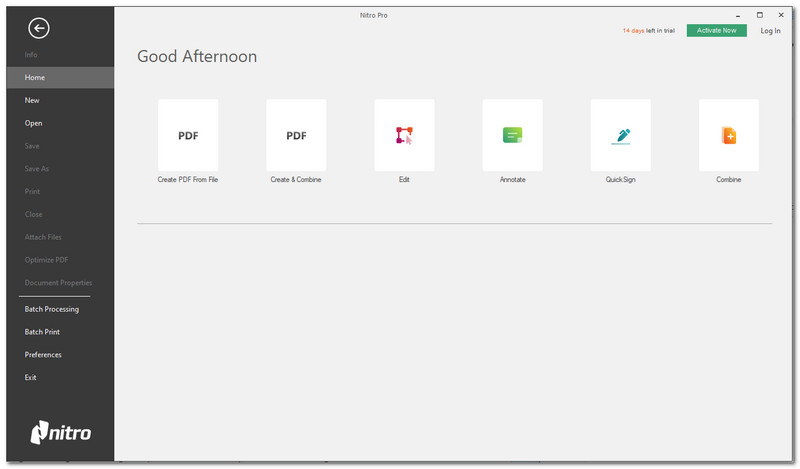 Nitro Pro has a simple user interface, and the good thing about this is Nitro PDF Pro is user-friendly. It has a light gray and dark gray color combination, and the options are visible. In the left-side corner, you will see the Info, New, Open, Save, Save As, Print, Close, Attach Files, Optimize PDF, Document Properties, Batch Processing, and more.
In the middle corner, the features are; Create PDF From File, Create and Combine, Edit, Annotate, Quick Sign, and Combine. With just one click, you can convert PDF files fastly. Some users expect too much from the user interface of Nitro PDF Pro. However, since it is simple, it is easier to use.
Nitro PDF Pro Pricing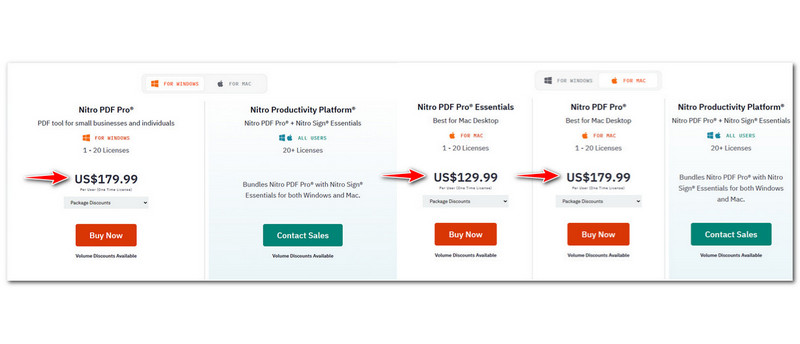 After 14 days, the free trial will end, and if you are willing to buy the plans of Nitro PDF Pro, you can do so. Do not worry because, in this part, we will explain the subscription plan of Nitro PDF Plan for you.
Nitro PDF Pro for Windows and Mac costs $179.99 and has 1-20 Licenses. Therefore, you can ask others to join you with that plan. The plan is specifically for small businesses and individuals who want to use Nitro PDF Pro without limitations and includes all the features of Nitro PDF Pro.
Another plan of Nitro PDF Pro is Nitro PDF Pro Essential, exclusive to Mac Desktop only. It also has 1-20 Licences and covers all the features of Nitro PDF Pro, which costs $129.99. The last plan is customizable; it is called the Nitro Productivity Platform.
It is a combination of Nitro PDF Pro plus Nitro Sign Essentials. It is suitable for Windows and Mac and has more than 20 Licenses. It provides all the bundles of Nitro PDF Pro and Nitro Sign Essentials for Windows and Mac. To know more about its price, you can Contact Sales.
The big question is, is it worth purchasing the plans of Nitro PDF? As a reviewer of this software, we can say that its prices are not reasonable. It is not also advisable for beginner users. Again, you will still decide whether you will purchase the plans.
Nitro PDF Pro - Convert PDF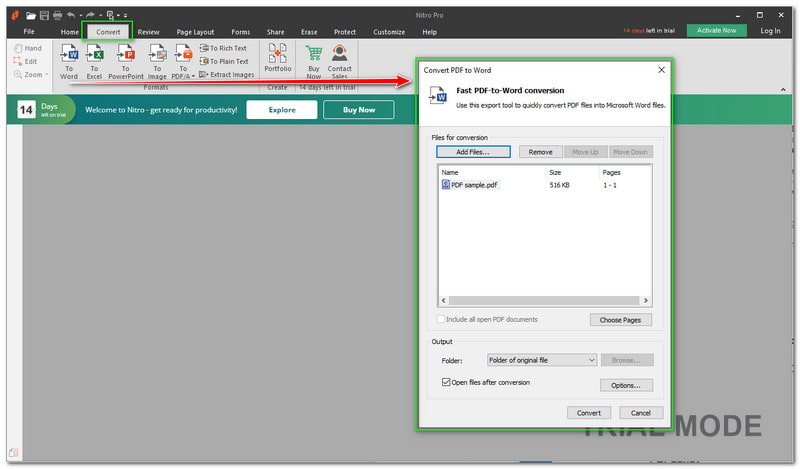 Nitro PDF Pro allows you to convert PDF to editable Word, PowerPoint, Excel, and Microsoft Office formats. You can see the Convert button on the upper part of the user interface. It allows you to choose whether to convert PDF to Word, Excel, etc.
A new panel will appear where you can Add Files, and another feature of Nitro PDF Pro is Batch Processing. In other words, you can add more than PDF files and convert them to Word simultaneously.
But before converting PDF files, you can change Location Folder to a Specific Folder or Ask During the Process. When you click the Options button, you can change the Page Layout, and these are the options; Highly Editable - With Layout, Highly Editable - Single Column, and Precisely Laid Out. After all the adjustments, you can now click the Convert button.
For more PDF converter software like Nitro PDF Pro, you can find them here.
Nitro PDF Pro - Edit PDF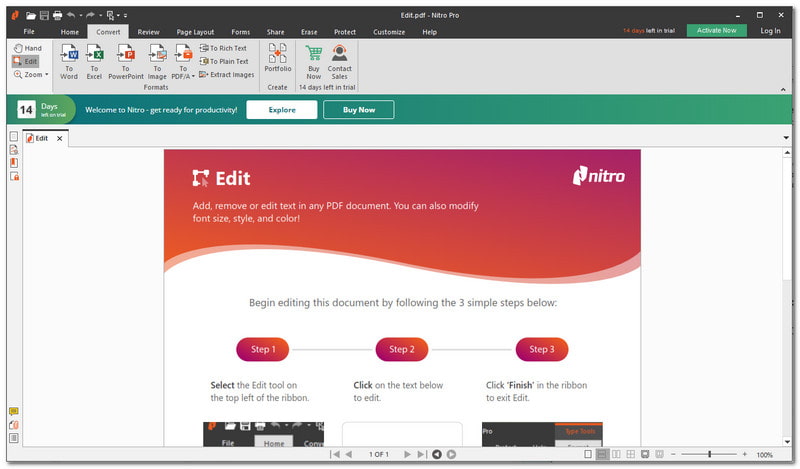 The next feature is Nitro PDF Pro lets you edit your PDF files. When you click the Edit feature in the middle of the user interface, you will proceed to another panel and add the PDF file you want to edit.
You can edit your PDF files with numerous options and use all the features above, such as Review, Page Layout, Forms, Share, Erase, Customize, and Help. In the Review, you can Highlight Text, Add Text Boxes, Add Notes, Underline Words, Replace, and more.
In addition, in the Page Layout, you can Insert, Rotate, Crop, Delete, Extract, Split, and more. In other words, it is easy to edit PDFs because Nitro PDF Pro offers various options. After the editing process, you can save it to your computer.
If you need a PDF converter tool similar to Nitro PDF Pro, do not miss this review.
3. Alternatives to Nitro PDF Pro
AnyMP4 PDF JPG Converter Online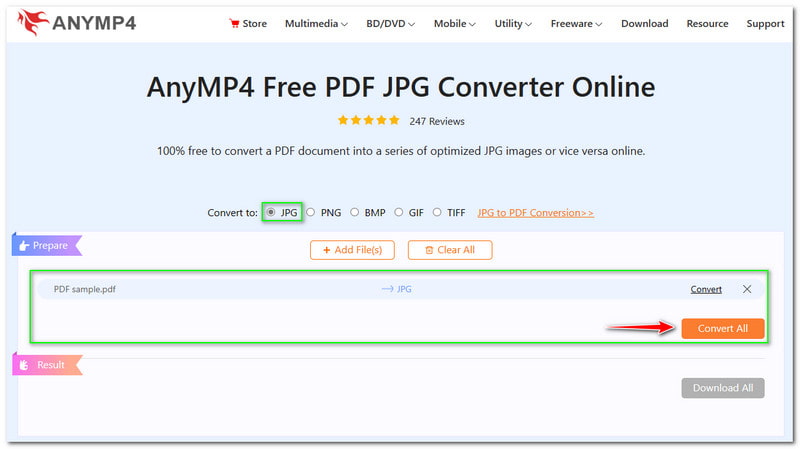 Price: Free
Platform: Online
Use AnyMP4 PDF JPG Converter Online as an alternative to Nitro PDF Pro. It is a free-to-use online tool, and you can enjoy all the features, such as converting and editing PDF files. Unlike Nitro PDF Pro, it is expensive and only has a 14 days trial version.
With the help of AnyMP4 PDF JPG Converter Online, you can convert PDF to JPG and vice versa up to 40 files a day, with a maximum size of 10MB. In addition, it is fast in converting PDF, and it is very manageable to use. Try it now!
PDFCandy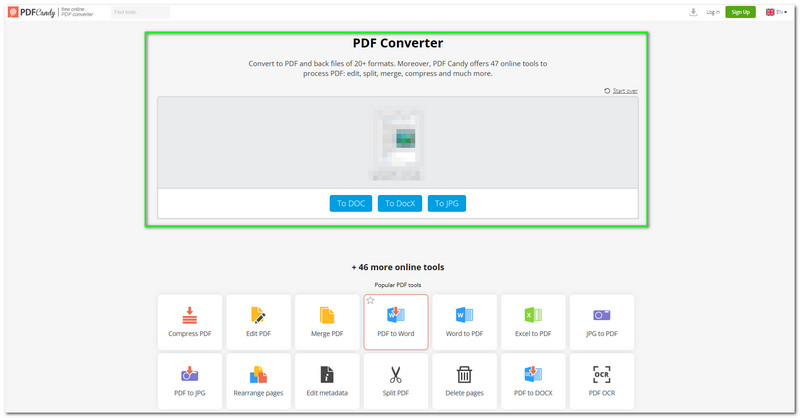 Price: Free
Platform: Online
PDFCandy is the following alternative tool to Nitro PDF Pro. It is also an online tool that converts and edits your PDF files for free. It offers more than 20 file formats and up to 47 online tools to edit PDFs.
Not just that, here are the other features of PDFCandy; Compress PDF, Edit PDF, Merge PDF, PDF to Word, Excel to PDF, Rearrange Pages, Edit Metadata, Split PDF, PDF to OCR, and many more. In short, PDFCandy is one of the best alternative tools to Nitro PDF Pro.
Foxit PDF Editor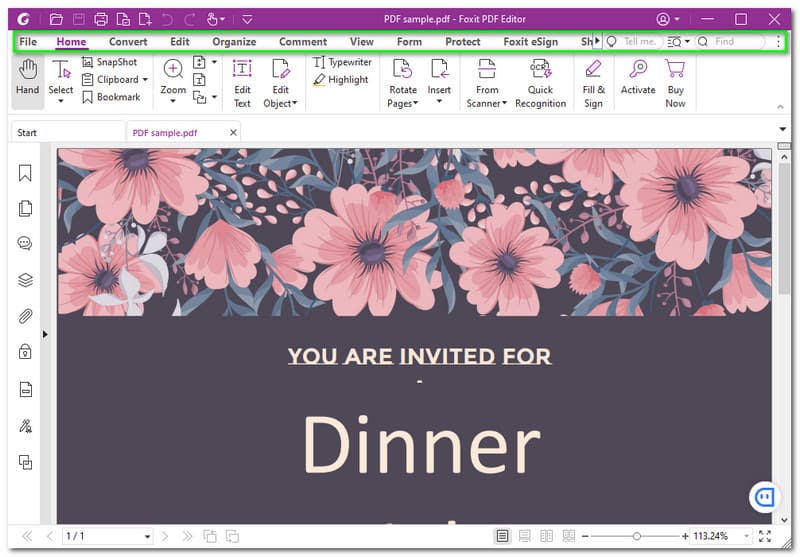 Price: $144.00
Platform: Mac, Windows
Foxit PDF Editor is a software that converts and edits PDF files. In addition, it is a professional tool and offers numerous features besides converting and editing PDFs. It also offers to Organize, Comment, View, Protect, and Foxit eSign.
Furthermore, you must be aware that Foxit PDF Editor is also expensive. However, Nitro PDF Pro is more expensive. Moreover, you can download Foxit PDF Editor for free and start converting your files using the trial version.
4. Nitro PDF Pro VS Adobe Acrobat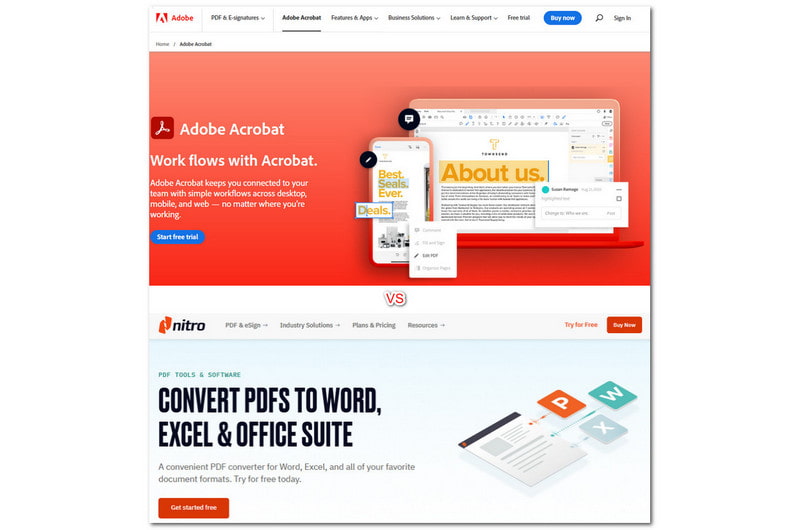 As you can see, we are about to compare Nitro PDF Pro and Adobe Acrobat. Again, the price of Nitro PDF Pro starts at $129.00, and Adobe Acrobat starts at $12.96. There's a lot of difference between the two prices. So, this comparison table will help you discover each tool.
Nitro PDF Pro
Adobe Acrobat
Overall Ratings
Interface
Support Service
Platform
Windows, Mac
Windows, Mac
Pricing
Nitro PDF Pro: $179.99, Nitro PDF Pro Essentials: $129.99
$Adobe Acrobat Pro: $19.94, Adobe Acrobat Standard: $12.96
Supported Formats
PDF, Excel, Word, PPT, etc.
JPG, Word, PPT, Excel, PDF, etc.
Conversion Speed
Moderate
Fast
Editing Tools
Moderate
Advanced
Best For
It is best for those who can purchase expensive PDF converter software. It is also best for converting PDF files.
It is best for converting PDFs. Also, for PDFs, editing, sharing, and e-signing. Plus, it is best for professional use yet affordable
Free Trial
14 Days
14 Days
Features

Create PDF from file
Create and Combine PDF
Edit PDF
Annotate PDF
Quick and Sign PDF
Organize PDF

Convert PDF
Edit PDF
Share PDF
Sign PDF
Pros or Advantages

It provides a 14 days trial version.
It has batch processing.
It is for professional use.

It is affordable for professional use.
It offers powerful tools and features.

Cons or Disadvantages

Its price is too expensive.
It is not user-friendly.
It has too many requirements when downloading and installing the software.

It has restricted requirements.
It does not have a user-friendly user interface.


It consumes huge file size.
Now, the question is, which is better? Both offer you to Edit, Convert, Review, and Sign PDFs. We will base it on the price and features. We can say that Adobe Acrobat is more worth purchasing than Nitro PDF Pro. From features to price, Adobe Acrobat is better. If you are curious, you can try both software.
5. FAQs of Nitro Pro
How to highlight in Nitro PDF Pro?
You can highlight by going to the Review corner. Then, you will see the Highlight button and choose a word to highlight.
Is Nitro PDF Pro safe?
Yes, Nitro PDF Pro cares about every user's safety. For that reason, they implemented technology to ensure your security.
Does Nitro PDF Pro work on Mac?
Yes, Nitro PDF Pro works on Mac. In fact, it has a subscription that is only exclusive to Mac users. So, if you are a Mac user, you can try it now!
Conclusion:
After reviewing Nitro PDF Pro, we discovered that its subscription plans are too expensive and unreasonable, especially for beginner users. Therefore, we hope that the alternative tools we provide may help. To end this review article, we want your feedback by commenting below. We will see you again in our next article!
Did you find this helpful?
296 Votes
YES

Thanks for letting us know!
No

Thanks for letting us know!
AnyMP4 PDF Converter Ultimate
Convert PDF to Word, Excel, Image, RTF, and more formats.