PDFCandy Review: A Sweet Experience Of Converting PDF Files
An excellent PDF converter and editor requires a feature you can use in the entire process. And one of the tools we discovered fits the standard is PDFCandy. Do you wonder why we conclude with that? This review article will help you find the answer. You will read in this review what PDFCandy is, what are its pros, cons, features, and more.

1 Overview of PDFCandy
What is PDFCandy?
PDFCandy is a free online PDF Converter. Therefore, you do not need to download and install software since you can use PDFCandy online. In addition, it offers more than 47 tools, and we will tackle that later.
Furthermore, it also offers batch processing. But before using PDFCandy, you must sign up or log in to them. Upon logging in, provide your Email and Password. Moreover, let us now see the advantages and disadvantages of PDFCandy.
Pros

It lets you convert and use more tools for free.
It also lets you convert online.
It offers numerous tools for your PDF files.
It also offers batch processing.
It supports any size of PDF file.
PDFCandy download on a desktop is available.
Cons

It requires you to log in.
Interface9
Editing Tools9
Safety8.5
2. PDFCandy Review
Interface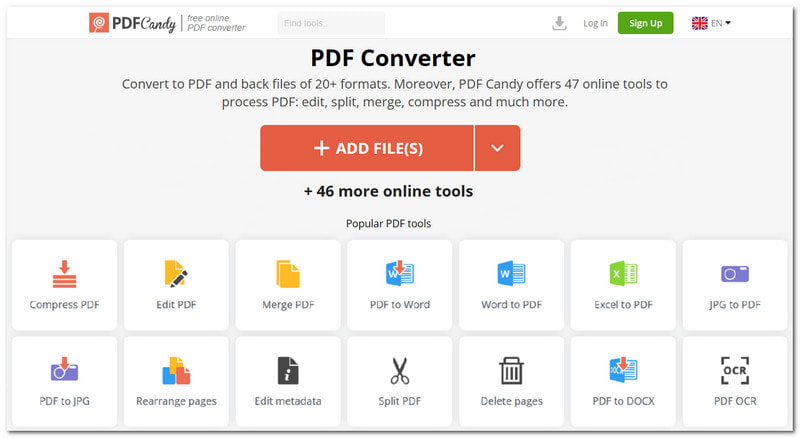 PDFCandy has a straightforward user interface, and you will appreciate its simplicity from the upper up to the lower part of the interface. The options you will see on the upper part are the login, Sign Up, and Menu Tabs.
In the middle of the interface, you can see the Add Files button, where you can upload PDFs or various files. Below are the numerous and popular tools, such as Compress PDF, Edit PDF, Merge PDF, PDF to Word, Word PDF, Excel to PDF, JPG to PDF, Rearrange Page, Edit Metadata, and more.
After that, PDFCandy shows you all the other free PDF tools, like Unlock PDF, Protect PDF, Add Watermark, Rotate PDF, Crop PDF, Resize Page, HTML to PDF, and more. In short, you will save time looking for the features since they are visible.
PDFCandy Pricing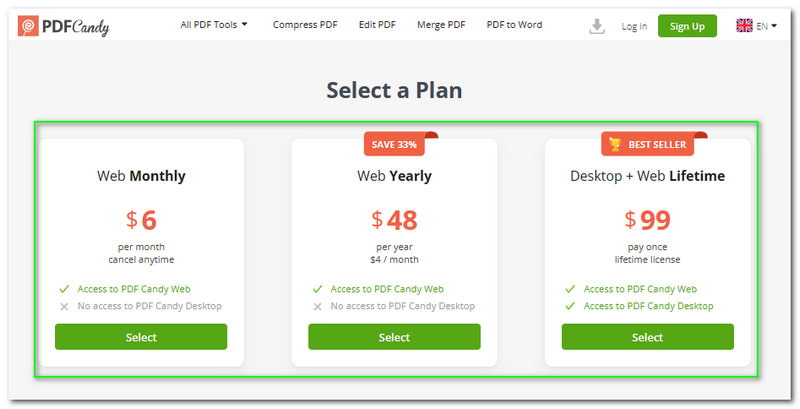 First of all, we want to clarify things about pricing. Indeed, PDFCandy offers a free version. Therefore, you can use PDFCandy without paying anything. Nonetheless, if you want an extra tool, you can select and buy a plan.
Here are the available plans; Web Monthly costs $6.00, Web Yearly costs $48.00, and Desktop Plus Web Lifetime costs $99.00. It has no limits, and you will discover more tools.
PDFCandy Customer Service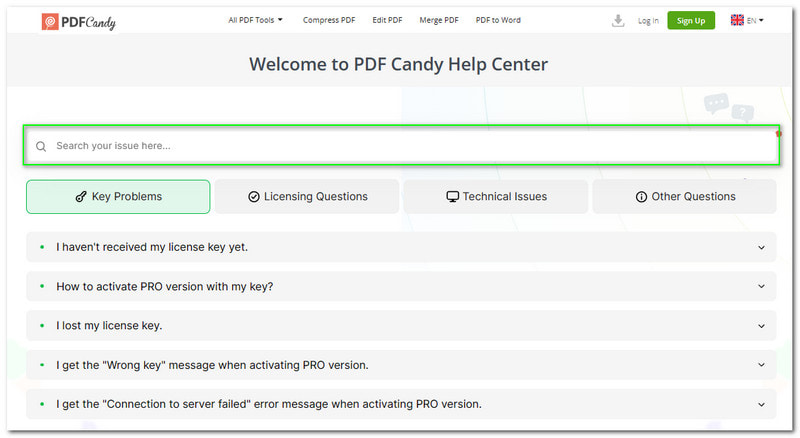 Most of the questions we read are, does PDFCandy have customer service even if it is free? And yes, it has. We contacted PDFCandy because of our concerns and issues about the tool. That is why PDFCandy has instant questions and answers. So, you can now type your concern in the Search Bar and wait for the result if they have an instant answer. They commonly answer concerns like Key Problems, Technical Issues, etc.
PDF Converter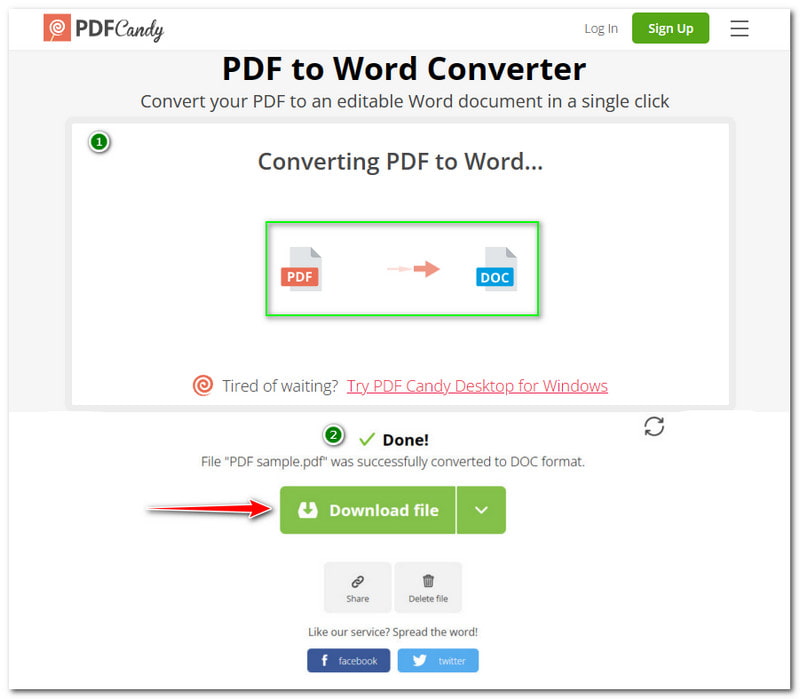 The PDF Converter is a popular feature of PDFCandy. You can use it quickly since PDFCandy is user-friendly. According to PDFCandy, you can convert PDF to another file format in just one click, which is true.
It allows you to click the Add File or Plus Sign button to add your PDF file. Another way to add files is to drag and drop them. After the files are added, you will see your file is converting to the file format you choose. After the conversion process, your converted PDF file is ready.
PDFCandy lets you Download the converted file. In addition, you can share the converted file with other social media accounts. As you can see, there are no hassles in converting PDF files in PDFCandy. You can try it now by yourself.
Edit PDF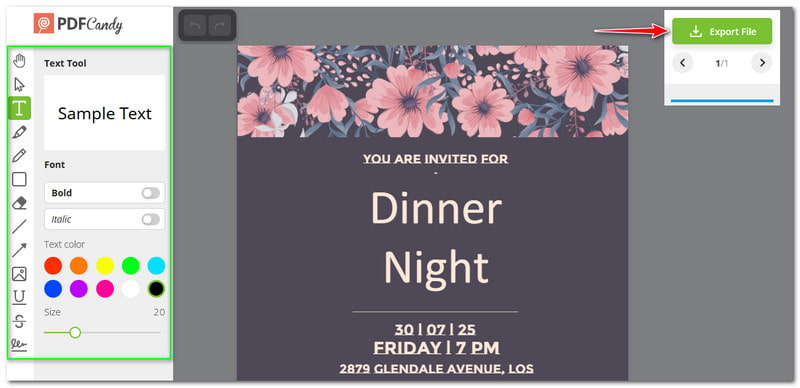 The following feature you will love is the Edit PDF of PDFCandy. Supposing you want to correct and add details to your PDF files, you can use and click the Edit feature and start the editing process.
After adding your PDF file, PDFCandy will immediately allow you to use the Editing Tools. You can press and hold the Hand Tool using your computer's mouse and scroll your PDF pages. In addition, you can Add Text and decide what Font, Size, and Color you like.
Moreover, it has a tool that can Highlight a word on your PDF file. The good thing is you can change the Color and Adjust the Opacity. What else? You can add Drawings using Pencil, Shape, Line, Arrow, Signature, and more.
Lastly, you can also Add an Image by uploading an image. You can also Paste the URL of the image you like to insert into your PDF file. In other words, PDFCandy is a comprehensive tool for your PDF, and take note it is free to use online.
For more PDF editor tools, you can refer to this post.
Protect PDF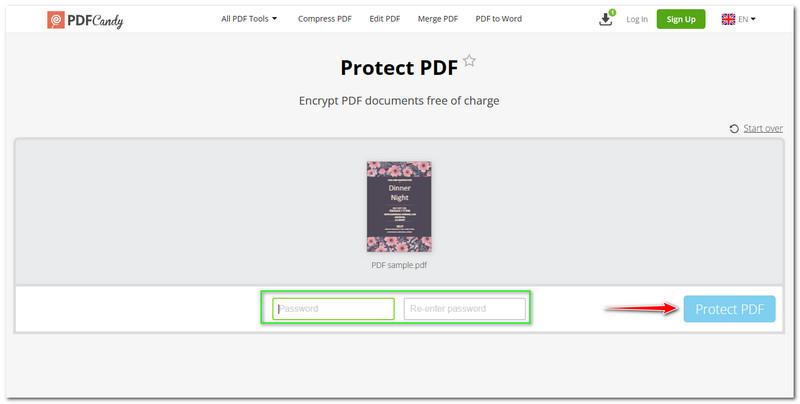 Do you have a confidential PDF that you want to keep and protect? If yes, PDFCandy can save your day! Using a free feature called Protect PDF, you can keep your PDF file all by yourself, and you are the one person who has the ability to open it.
Once you select the Protect PDF. Upload the confidential file that you want to keep and protect. It is super easy, just enter a Password in the Text Box and Re-enter the Password into another Text Box.
After that, you can now click the Protect PDF button. You can use the Start Over option if you are mistaken while entering a password. With that, you can enter another password. Simple, right? Why don't you try to use it now?
3. Alternatives to PDFCandy
AnyMP4 PDF JPG Converter Online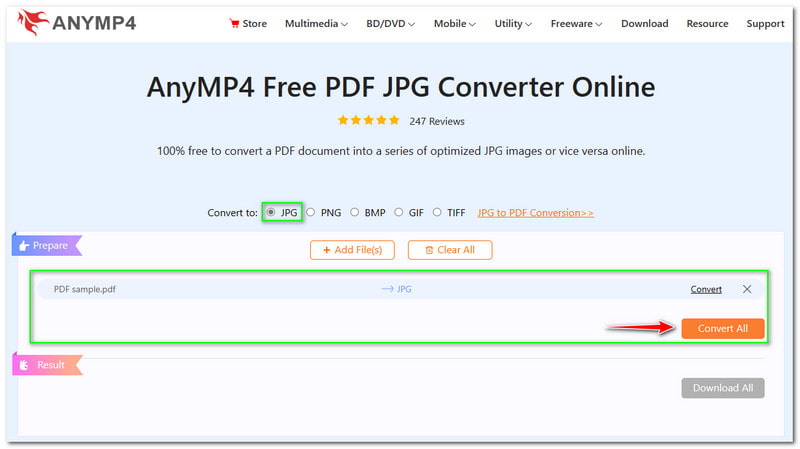 Price: Free
Platform: Online
If there are reasons why you need an alternative tool to PDFCandy, we can suggest the best alternative for you; it is called AnyMP4 PDF JPG Converter Online. This is an excellent tool for converting and editing PDF files.
How can we say that? It is also 100% free without Ads. Not only can you convert PDFs, but you can also optimize JPG images. Upon uploading PDF files, the maximum MB required is 10. Then, if you upload a JPG file, the maximum MB is 5.
iLovePDF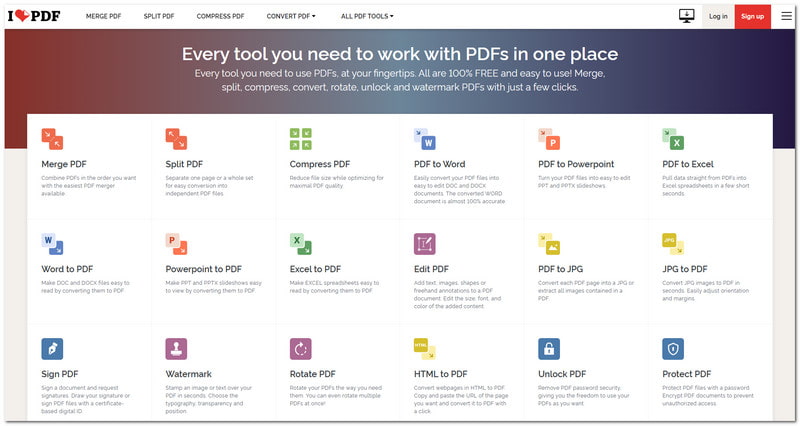 Price: Monthly Plan costs $7.00, and Yearly Plan costs $4.00
Platform: Online
iLovePDF is another tool you can use as an alternative to PDFCandy. You can also use this tool for free without limitations. In short, it has all the features and editing tools you need for your PDF files, such as Convert PDF, Edit PDF, Merge PDF, Compresses PDF, and more.
What is more? iLovePDF offers more tools, like Add Watermark, Rotate PDF, Unlock PDF, Protect PDF, Sign PDF, etc. Again, you can use all of these features for free; the only requirement is to sign up or log in to them.
Smallpdf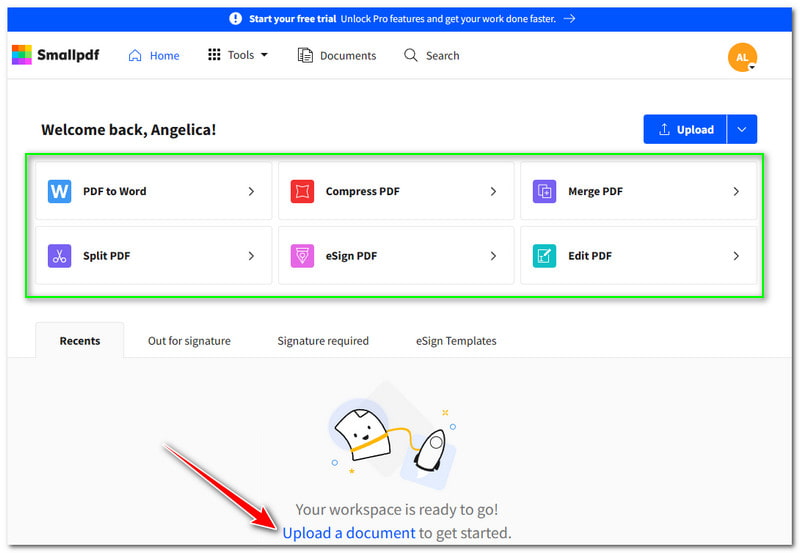 Price: $8.00 a month and $6.33 a year
Platform: Online
Smallpdf is a well-known alternative tool. You can always see Smallpdf in our previous article as an alternative, and we will also mention it again in this article review. For that reason, you can use Smallpdf as an alternative tool to PDFCandy.
One reason we are seeing this is its user interface simplicity. It has a straightforward design, and all the features are visible. In addition, it offers free features like PDF to Word, Merge PDF, Compress PDF, Split PDF, Edit PDF, etc.
4. PDFCandy VS iLovePDF
Let us now compare the primary and alternative tools. We always use a comparison table to see the difference fully between the online tools. Yes, both are online tools and are free to use. Now, we will compare them using various elements. Please see the table below:
PDFCandy

iLovePDF

Overall Ratings
Interface
Support Service
Platform
Online
Online
Pricing
Free.
Free.
Supported Formats
Word, PDF, Excel, JPG, etc.
Word, PPT, Excel, PDF, and JPG..
Conversion Speed
Fast
Fast
Editing Tools
Advanced
Advanced
Best For
PDFCandy is best for those looking for a free tool for PDF files. This tool is also best for offering users numerous features.
iLovePDF is best for users who are looking for an online and accessible tool for their PDF files.
Free Trial
Free
Free
Features

Compress PDF
Edit PDF
Merge PDF
Protect PDF
PDF Converter
Unlock PDF

PDF Converter
Split PDF
Merge PDF
Split PDF
Compress PDF
Scan PDF

Pros or Advantages

It lets you convert and use tools for free.
It offers batch processing upon converting PDFs.
It supports any size of PDF file.

Its user interface is manageable.
It is compatible with many devices.
It offers free features.

Cons or Disadvantages

It has Ads since it is free.
It only allows you to convert
As we review both tools using a comparison table, we notice that both have almost the same overall ratings. Moreover, when it comes to editing Tools, PDFCandy excels. If you are going to ask us, we recommend you use both tools because both are excellent.
5. FAQs of PDFCandy
Is PDFCandy safe?
Since we reviewed the entire tool, we also searched for PDFCandy safety. We all know that PDFCandy offers complete access to all features for free. For that reason, users are curious about their safety while using PDFCandy. After searching about it, we discover that all the personal information collected, processed, etc., is secure. You can also check that on their Privacy Policy.
Is PDFCandy legal?
After knowing that PDFCandy is safe, you can conclude that PDFCandy is also legal. In fact, a lot of users trusted PDFCandy because of its outstanding features. Moreover, we suggest signing up or logging in to them.
Is the PDFCandy app existing?
There is no PDFCandy app. However, there is good news. It has a desktop version if you do not want to use PDFCandy online. You can download and install it for free. It also lets you access all the features, like PDF converter, batch processing, and more.
Conclusion
PDFCandy indeed is a big help for many users. We hope that you appreciate how helpful PDFCandy is. From the user interface up to the main features. Moreover, we provide a comparison table to give much awareness of the tools. Plus, we also provide questions and answers. To end, we enjoy sharing this review with you and expect you in our following post!
Did you find this helpful?
343 Votes
YES

Thanks for letting us know!
No

Thanks for letting us know!
AnyMP4 PDF Converter Ultimate
Convert PDF to Word, Excel, Image, RTF, and more formats.