Smallpdf Review: A Manageable and Efficient Tool for PDFs
If you are a student or an office worker, you will need a tool for your paperwork. In this review, we recommend Smallpdf, an online tool that can help you with your PDF files. Upon reading, you will learn an entire review of the tool. If you are excited to know, start reading now!

1. Overview of Smallpdf
What is Smallpdf?
Smallpdf is a PDF and Photo converter tool, but it is more focused on converting PDF files. Moreover, it offers features you can surely use for your PDFs, and we will discuss that later.
Furthermore, you can choose if you want to sign up or log in to them. However, we advise you to sign up or log in to them. With that, you will have access to many features it offers. Some people ask if Smallpdf is free; Smallpdf is not a free tool but offers a trial version.
Once you love its features, you can continue purchasing the Smallpdf Pro version of Smallpdf, and we will also discuss that, and let us first talk about the advantages and disadvantages of Smallpdf below:
Pros

It is a cloud-based tool.
It supports Offline Mode.
It has a straightforward and user-friendly user interface.
It has numerous features, which you can use using the trial version.
Cons

Its trial version has many limitations.
Its free trial will last for 14 days only.
Sometimes, the tools take time to navigate.
It has shallow customization, keeping you from editing present objects on your PDF.
Easy to Use9
Interface9
Features:8.5
2. Smallpdf Review
Interface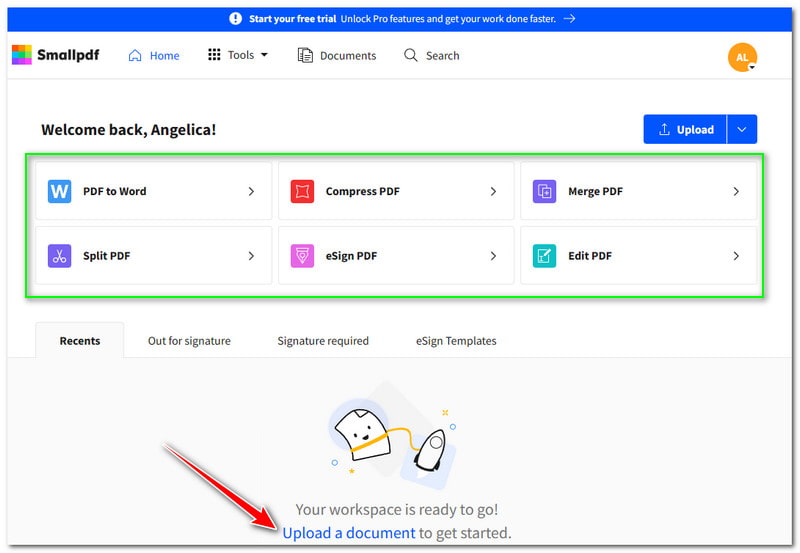 The interface is one of the things you must consider when choosing an online tool or software. Luckily, Smallpdf has a user-friendly and manageable user interface. It has the color white and blue combination that looks clean to the eyes.
Furthermore, the options are on the upper corner of the user interface, such as the Home, Menu Tab, Documents, and Search buttons. Following that is the Account Profile. Below, you will see the features, like Smallpdf PDF to Word, Merge PDF, eSign PDF, Compress PDF, Split PDF, and Edit PDF. We can conclude that Smallpdf has an excellent user interface, and you can use it for everyday needs for your files, especially PDF files.
Smallpdf Editor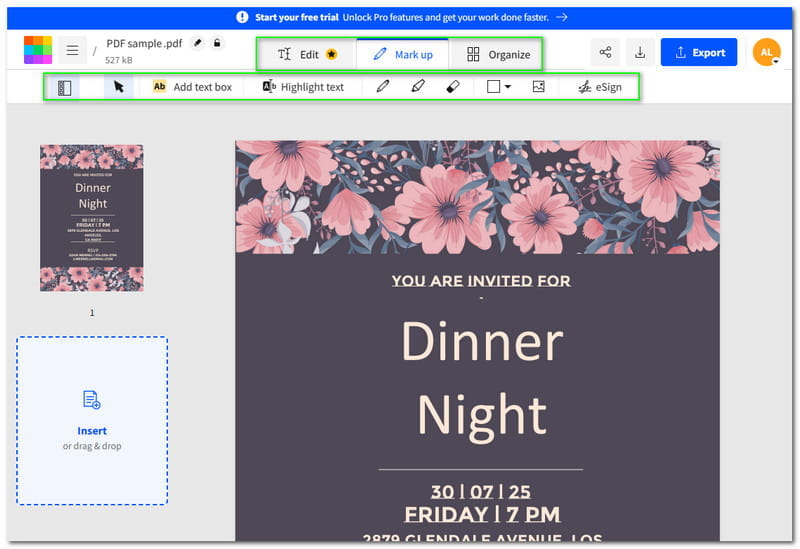 Smallpdf PDF Editor is one of the features of Smallpdf. You can use this feature to edit your PDF when you want to change or add. In addition, using PDF Editor, you can Rename your PDF file and Protect PDF by adding a password.
If you see the Arrow Icon above the corner of PDF Editor, you can use that to select a word for editing and changing the Font Size and Alignment. In addition, you can Add New Paragraphs.
The next Icon is the Pencil. When you tap the Pencil Icon, Smallpdf allows you to Add Text, Highlight Text, Use a Pencil, Use Highlighter, Use Eraser, Add Shapes, Insert Images, and Insert Signature.
The last Icon is the Document Icon. This part lets you Add PDFs, Blank Pages, Extract Pages into PDFs, and Split them into Multiple PDFs. Also, you can use Smallpdf Rotate Left and Rotate Right.
For more PDF editor software, you can learn more here.
Smallpdf Converter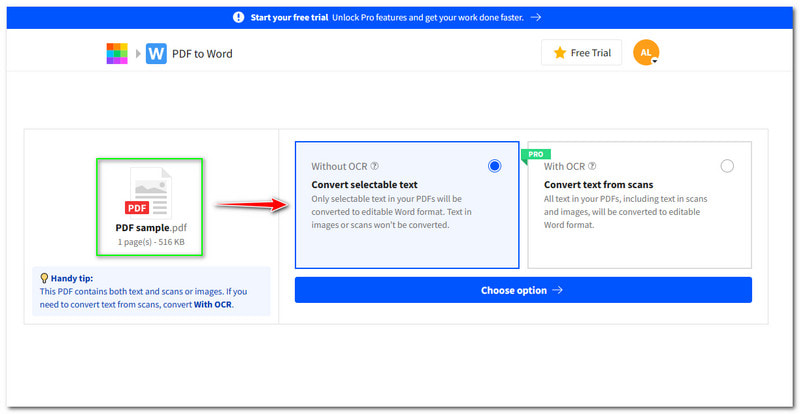 Suppose you want to convert PDF into other formats, for example, Word, you can use PDF converter. It is another feature of Smallpdf that lets you use it even if you are using the free trial. Now, you all have an option before converting a PDF.
First, you can choose to convert PDF to Word without OCR. That means only some things in your PDF file will be editable in Word format. In addition, the text and images will not be converted. Second, you can choose to convert PDF to Word with OCR. But remember that this option is suitable only for those who purchased the Smallpdf Subscription Pro version.
Moreover, Smallpdf has a tip for you. Supposing you need to convert text from scans, you must select the option With OCR. In other words, you must purchase the Pro version of Smallpdf.
More PDF converter tools like Smallpdf, you can check them here.
Smallpdf Pricing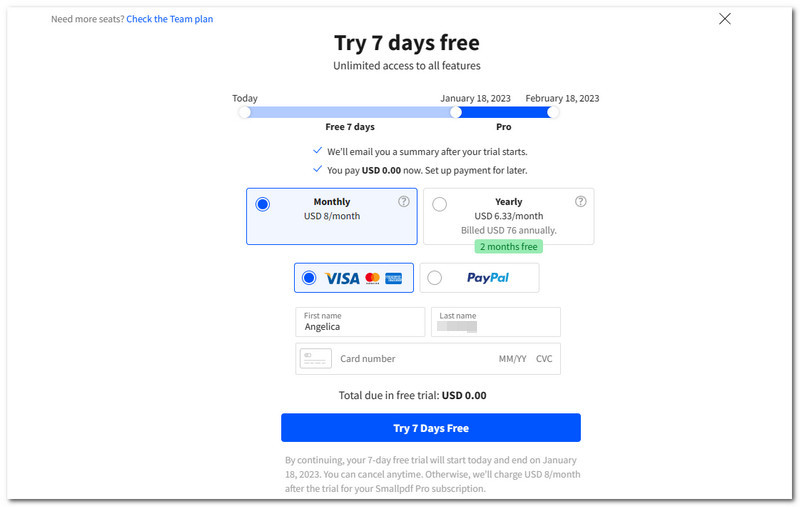 We believe you are already aware that Smallpdf is not a free tool. Nevertheless, it offers a free trial for seven days. For some users, the seven days trial version is not enough. So, if you are one of them, here is the pricing of Smallpdf.
The price of Smallpdf monthly will cost $8, and the price of Smallpdf yearly will cost $6.33 a month. The question is, why is the first plan more costly than the Yearly Plan, being paid monthly? It is because the Yearly Plan is discounted. So, it is advisable to choose the Yearly Plan.
Moreover, to purchase the Plan, you must provide your Full Name and the Card you will use for the payment. After submitting the requirements, you will receive an email from Smallpdf. So, the query is the Plan of Smallpdf worth it? We can say, yes, it is worth purchasing.
Support Service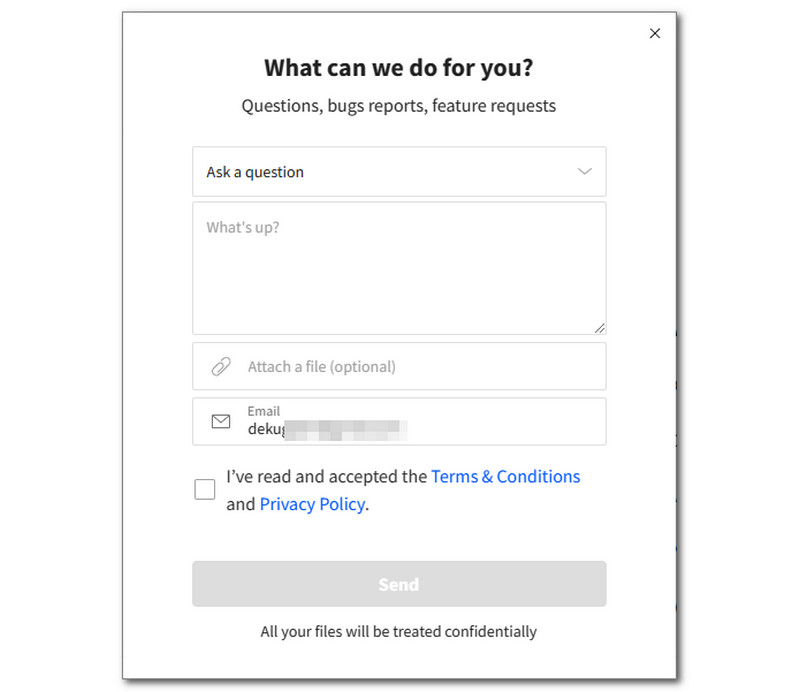 Whether using a free trial or the Smallpdf Pro version, you can contact Smallpdf whenever you have concerns about them. Just find the Contact Us button, and a panel will appear. You can report to them your questions, bug resorts, and if you have feature requests.
You can choose an option, like Report an Issue, Ask a Question, Suggest a Feature, and Contact Sales. You can also Attach a File to them, but it is optional. You must provide your Email and tick the box as a sign of accepting the Terms, Conditions, and Privacy Policy of Smallpdf. Then, click the Send button on them.
3. Alternatives to Smallpdf
AnyMP4 PDF JPG Converter Online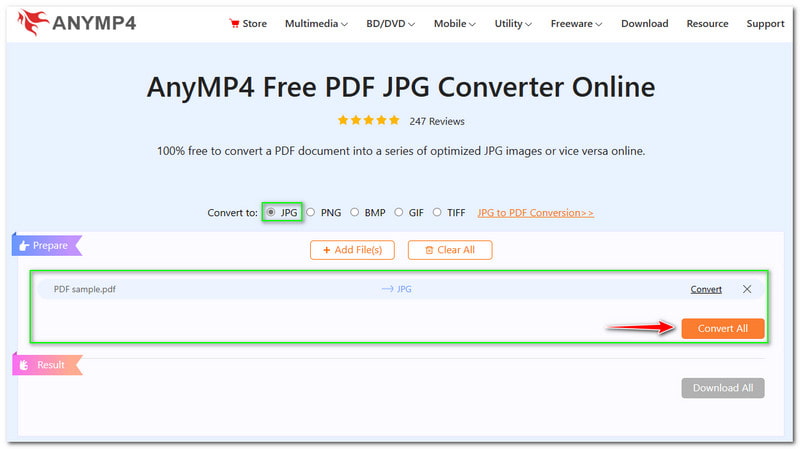 Price: Free
Platform: Online
A Smallpdf alternative you can use is AnyMP4 PDF JPG Converter Online. It lets you upload PDF files in a maximum of 40 files a day with not exceeding 10MB. In other words, you cannot upload a PDF file exceeding 10MB.
Furthermore, you will appreciate using AnyMP4 PDF JPG Converter Online because it can convert quickly. Not just that, like Smallpdf PDF to JPG, AnyMP4 PDF JPG Converter Online provides a feature like that. Try it now and enjoy all its features for free!
pdfFiller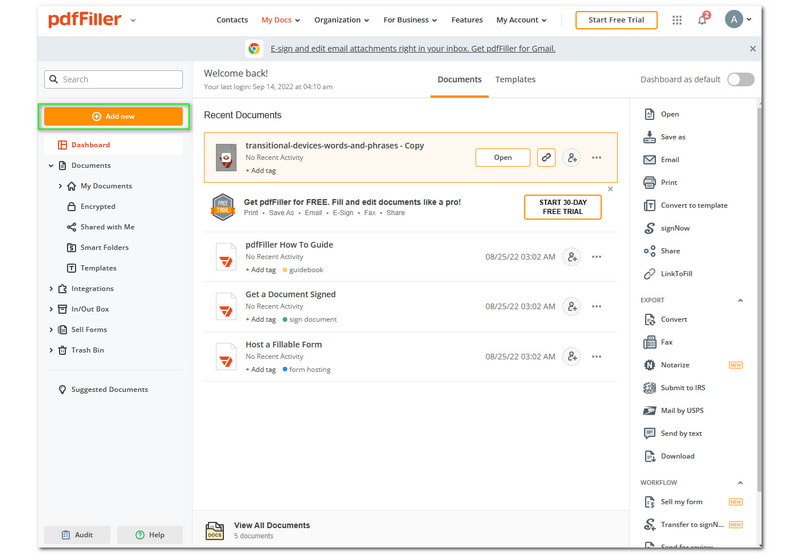 Price: Annual Basic Plan costs $8.00, Annual Plus Plan costs $12.00, and Annual Premium Plan costs $15.00.
Platform: Online
Another alternative to Smallpdf is pdfFiller. It is professional use for your PDF files. It has an aesthetic user interface. However, it is not advisable for beginner users because it is not easy to use. It has a lot of options and features that join together, which is why finding other options are complex.
Nonetheless, it has numerous features you can enjoy even if you use its trial version for 30 days. In addition, pdfFiller allows you to edit your PDF by Adding Text. What's more? It lets you use the Tools such as Signs, Initials, Dates, Crosses, Check, Circles, Images, Text Boxes, Sticky Nites, Erase, Highlight, and more.
Aiseesoft Free PDF Merger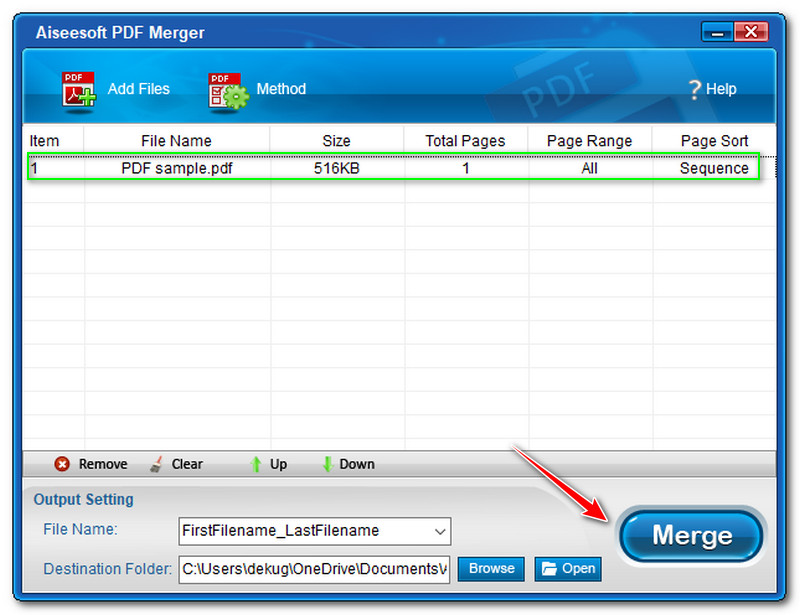 Price: Free
Platform: Windows, Mac
You will love this last alternative tool to Smallpdf, and it is Aiseesoft Free PDF Merger. It is simple software; you can download it free, like Smallpdf download. You can use it for your PDF files by merging them solo or all at once.
Once you add your PDF file, Aiseesoft PDF Merger will show you the Item Numer, File Name, Size, Total Pages, Page Range, and Page Sort. Moreover, you can also change the File Name and change its Destination Folder. Once you are finished, you can click the Merge button and save the files to your computer.
4. Smallpdf VS pdfFiller
Smallpdf is way better than pdfFiller. We will become familiar with the two online PDF tools using the comparison table. Please see the table below:
Smallpdf

pdfFiller

Overall Ratings
Interface
Support Service
Pricing
$8.00 a month and $6.33 a year.
$8.00 for Basic, $12.00 for Plus, and $15.00 for Premium.
Platform
Online
Online
Supported Formats
Word, Excel, PPT, PDF, and JPG.
Word, Excel, PDF, PPT, Text, and JPG.
Conversion Speed
Medium
Medium
Editing Process
Moderate
Advanced
Best For
It is the best tool for office work, education, and personal work by editing and converting PDF files. Also, it is best for beginners' users.
It is a tool you can use for professional work. It offers not just an editor and converter but many more. Also, it is best for professional users.
Free Trial
14 days
30 days
Features

Convert PDF to Word
Merge PDF
eSign PDF
Compress PDF
Split PDF
Edit PDF

PDF Document Editor
Fill Forms Automatically
PDF Converter
Merger and Paginate PDFs
Add Watermark, Images, Videos
Print, Download, and Send

Pros or Advantages

It supports Offline Mode.
It has a simple and manageable user interface.

It has an aesthetic user interface.
It offers numerous features.

Cons or Disadvantages

It has limitations upon using a trial version.
The trial version lasts for 14 days only.

It is not user-friendly.
Signing up and logging in is a must.
To conclude, both online tools have their unique ways. We do not know what works best for you, but we provide all the details you deserve to know. It is up to you now between Smallpdf and pdfFiller.
5. FAQs of Smallpdf
Is Smallpdf safe?
Upon using Smallpdf, your safety is guaranteed. According to Smallpdf, they care about your privacy. Therefore, all Smallpdf deleted pages or files from their server are deleted forever. For that reason, they cannot disclose your files to others.
Is Smallpdf legit?
Of course, Smallpdf is legit. You can use it for your PDF files, and it has several features you can use. Also, if you are still wondering, you can visit their official page. You can also purchase one of their Plans.
How to use Smallpdf for free?
It is easy to use Smallpdf for free. Again, Smallpdf is not free at all, and it just offers a trial version for 14 days. To acquire that trial version, sign up or log in to them. After that, you can use the free trial of Smallpdf and all its features.
Is Smallpdf delete account available?
Yes, it is available. And if you want to do that, you can contact Smallpdf using customer service by sending an email or message to them.
Conclusion
We can conclude that Smallpdf is an excellent tool for PDF files. Using this review, we also know its advantages, disadvantages, ratings, and overall review, like its user interface, editor, converter, pricing, and more. In addition, we provide comparison tables and faqs. To end, we are expecting you at our next upload!
Aiseesoft Free PDF Merger
An easy-to-use and powerful PDF merging tool to combine PDF pages.