A Thorough QQ Player Review: Introducing to You the Matchless Media Player Software
Watching movies and listening to your favorite music could be one of the best choices you could ever have to free up your mind from this stressful world. And mind you, to fully release your stress, you will be needing an excellent and effective media player software for your movies, videos, music, and audio. Thus, you can play all your media files without having any trouble that could possibly add up a burden in your mind once again. So, as we would want to help you, we tried our best to search for the exceptional media player. Henceforth, this article review seeks to find the best offers of a QQ Player along with its overall ratings, pros and cons, price, what are the platforms can be used of, what are the file formats does it supports, how does the interface look and most especially, what is matchless alternative media player to it. For that reason, we assure you that you will be able to evaluate if this software will greatly help you.

1. Our Verdict
Pros

100% free.
Can play and support almost all videos and audio formats.
Can play Flash Videos.
Provides a playlist for shuffle and loop.
Great and easy to use.
Supports both local and online subtitle types.
Can convert and compress media contents.
Allows you to capture online videos.
No need for external codex packages.
Cons

Unavailable source code of the software.
Some menus can be difficult to use.
Overall Rating
The QQ video player software is absolutely free to download and use. With that being said, you can use this software to play all your preferred media files such as photos, music, and videos. The good thing about this software is that it allows you to convert your media files into another file format. For some cases, if you want to watch movies supporting a 3D visual appearance you can do it by converting the 2D videos into a 3D video. And if you want to lessen the space of your file, you can also convert 3D videos to 2D videos with lesser MB space. Thus, all your desired file formats can be played on this software because it has a built-in video conversion.
Easy to use:10
Smooth Playback:10
Interface:10
2. What is QQ Player?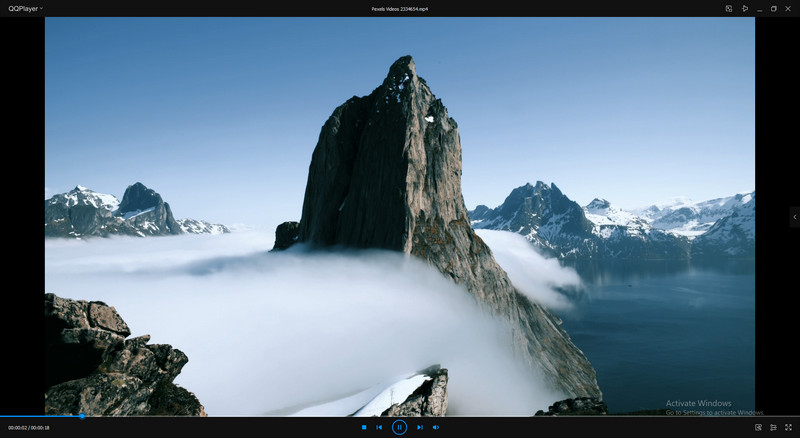 QQ video player, offers a wide control in playing your media files. In relation to that, it allows you to control the audio quality that enables you to increase the volume up to 1000%. More so, this media player tool can play a wide range of video and audio formats, that is to say that you can enjoy watching movies and listening to your music without any trouble. The good thing about this software is that aside from playing media files, it can also convert, merge, and split videos.
Price
If ever you are dreaming to use this media player software for free, we just want to inform you that QQ media player is absolutely a freeware software.
Platform
QQ media player can both be played and used on Mac and Windows computers.
Main Features of VSO Media Player
● Supports video and audio files conversion.
● Offers a snapshot feature.
● Can merge batch video files into a single file.
● Can split large video files into smaller video clips.
● Allows you to create a music video playlist.
● Allows you to compress video files to a smaller file size.
● Allows you to create animated GIF files.
● Supports an online subtitle.
● Can play almost all video, audio and image files.
● Can transfer media files from PCs to mobile devices.
3. QQ Player Review
Interface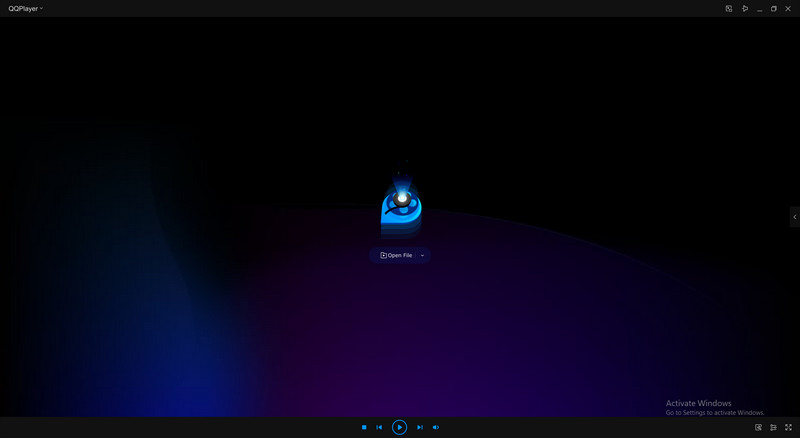 So, upon using the said media player software which is the QQ player. I got to love its design and theme which gave me a good impression because I love the color blue. With that being said, the interface has a touch of the color royal blue and back. Moreover, as you open the software, the interface will show and present you the media playback settings wherein you can easily drag and add files on it for media playback settings. Furthermore, it also allows you to adjust the sound settings, the quality of the videos, the speed and the size of the screen. On its interface you will find a tool box located at the bottom-right side of the interface. Upon opening that setting feature, it will show you some features such as capture, GIF, thumbnails, cut, joiner, converter, and a lot more.
Support Formats
This software can absolutely support and play almost all media file formats such as, SWF, FLV, WMV, MKV, VOB, AVI, MP4, IFO, WM, TS, RM, MOV, RP, RT, QT, TP, RPM, WMP, PVA, 3G2, PMP, 3GP, EVO, MTS, VP6, ASF, BIK, TPR, CSF, PSS, M4B, RAM, M1V, SCM, M4P, M2V, AMV, M4V, MOD, QPL, MPE, MPG, SMI, M2P, DIVX, M2TS, 3GP2, 3GPP, RMVB, MP2V, MPEG, MPV2, SMIL AND MPEG4.
Multiple Languages Support
For the meantime, the said software is only available in a 6-language interface such as English, Japanese, Spanish, German, and Korean language. Moreover, since this was developed by the Chinese, this is perfectly compatible with all other Chinese versions.
Edit Videos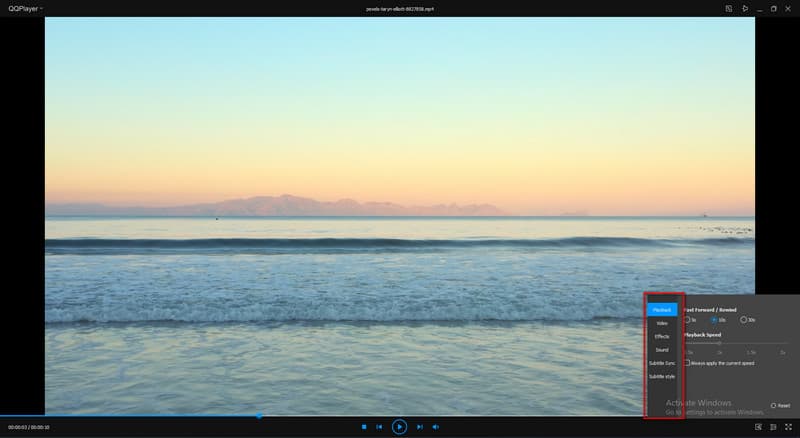 The good thing about this tool is that it offers an editing feature. That said, we have listed the functions of the setting to enhance and adjust your video files.
Fast Forward or Rewind - here, the tool enables you to fast forward the video whether it be 5s, 10s or 30s. Also, It allows you to adjust playback speed either, 0.5x, 1x, 1.5 or 2x speed.
Video - here, you can adjust the size of the screen whether the default size, 4:3, 16:9, or the whole screen. Moreover, it allows you to rotate, flip and increase the video image quality.
Effects - here, you can adjust the brightness, saturation, contrast and hue of your videos. You can also set the brightness of your video whether default , bright or soft.
Subtitle Support and Hotkey Commands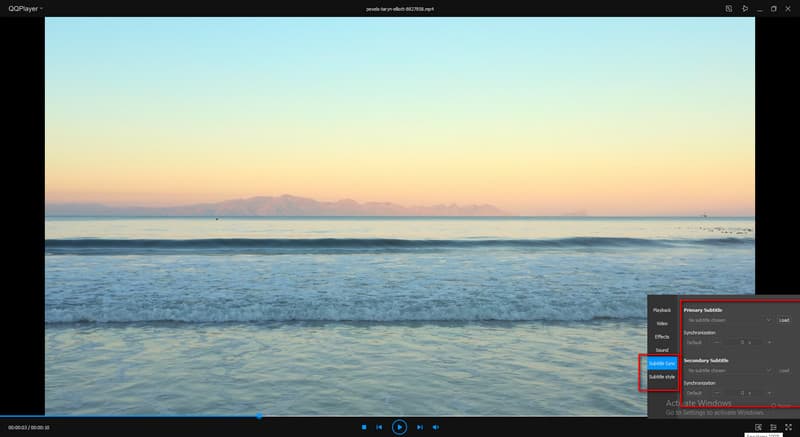 Subtitle Support - here, the media player tool can automatically load subtitles, manually load subtitles. Also, it allows you to select your preferred subtitle file. Moreover, it has subtitle synchronization features that lets you select language and position. And the good thing about it is that it allows you to change the font style, size, color, outline, and effects of the subtitle.
4. FAQ
Can I watch 3D movies on QQ Player?
Definitely yes, because this player is the first media player tool that supports playing 3D movies. In relation to that, you can actually control display dimensions in different themes.
Who created the QQ Player?
QQ Player was created by the Chinese Tencent for software. In addition, this tool was developed with support of the latest technologies.
How can I download QQ Player?
To download QQ player, kindly search for it on the web browser. Upon clicking the software it will show you the download now. Then kindly click that button and wait for a few seconds for the downloading process to be done.
5. Best Alternative - Aiseesoft Blu-ray Player
For some instance, you have not been satisfied with QQ player because it has a Chinese language and you cannot do anything about it. Don't worry because we have prepared for you Aiseesoft Blu-ray Player, that supports the English language and can play almost all your media files from your local files, Blu-rays and DVD disc, folder/ISO files.

Aiseesoft Blu-ray Player
The most effective media player for your movies, videos, audio, and music. Best and perfect alternative to QQ Player.
Enables you to play movies and audio from Blu-ray and DVD disc/folder/ISO files.
Provides a free version.
Can play HD videos.
Allows you to view images.
Friendly user software.
Supports almost all media files.
Conclusion
Finally, upon reading this article review for QQ media player. We really do hope that you get to realize if this tool should be considered as one of the most outstanding media player tools. With that being said, kindly share this information with your friends if this has benefited you a lot.
Did you find this helpful?
355 Votes
YES

Thanks for letting us know!
No

Thanks for letting us know!
Windows MP4 Player Review
Aiseesoft Blu-ray Player
A universal media player for Blu-ray, DVD, video and audio.