Plex Media Player Review - Is It Worthy of Downloading
Do simple and average media players limit your chance to seek various media files? If you are searching for a media server that can play both media files directly from your file folder and over the internet. Give yourself a time to read this article review because we have found the Plex Media Player that can serve its multiple purposes. In line with that, we have also looked for its main features, pros and cons, price and a lot more. For that reason, you will be able to know its excellent offers.

1. Our Verdict
Pros

Offers free download.
Friendly user interface.
Supports common video and audio file formats.
Supports playing Blu-ray movies and DVD files.
Compatible with Windows and Mac computers.
Provides high-quality audio output.
Provides video editing settings.
Support any subtitle type.
Cons

Uncustomizable skin interface.
The free version offers limited features.
Overall Rating
To start exploring this media player tool, let us first have its overall rating. So, Plex Media Player can playback all your media files such as movies, music, TV shows and images. In line with that, the media file that you have stored using this software can be shared and sent to others so they can use them as well. Moreover, if you are thinking about the interface, let me inform you that Plex Media Player brings you a simple, straightforward and basic interface that allows you to easily comprehend its features and settings.
Easy to use:9.8
Smooth Playback:9.8
Interface:9.8
2. What is Plex Media Player?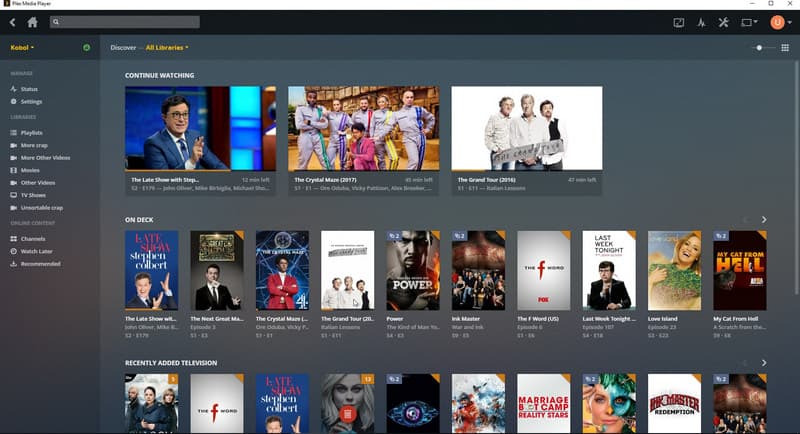 If you are looking for the best media player for playing your media files, try to consider Plex Media Player and begin to utilize it. In line with that, this software will enable you to play almost all your media files on your computer. Furthermore, you can stream all other media contents on TV and DVR such as interesting web shows, updated news, and podcasts. Moreover, the interface provides you various settings such as playlists, music, other videos, movies, photos, and web channels. That gives you the chance on what option you want to go. For example, if you click the music, it will show you all your saved music files on the interface. In line with, you can also play all your preferred media files anytime you want because you can use Plex Media Player offline.
Price
Are you hoping that Plex Media Player can be purchased with an affordable price? Well, do not need to worry anymore because you can absolutely download Plex Media Player on your PC without paying for anything. However, it also offers a premium version where you can surely experience the media server to the next and upgraded level. Thus, you can buy the premium version for only $4.99 per month.
Platform
Have you ever wondered if Plex Media Player can be used on Windows computers? Well, you can rejoice now because this software can absolutely support Windows, Mac, and Linux. For that reason, the Plex media player is fine with playing all your media files on whatever platform you are using.
Main Features of Plex Media Player
We have also listed for you what this media player can do and offer to you. Henceforth, we have provided its main features for further evaluation of Plex Media Player. Thus you can look at the following detailed information below.
● Enables you to stream over 130 channels for free with Live TV.
● Can play over 20,000 free popular movies and shows from Warner Brothers, Crackle, Lionsgate, MGM, Television Studios, Legendary, Endemol Shine.
● Allows you to play almost all your collection of movies, TV, music and photos from your file folders.
● Allows you to watch and play media files on live TV and DVR, trailers, extras, and cross-selling offers.
● Let you navigate the big screen and customize it.
● Provides video playback settings for Android TV, Android, Fire TV, and Portal Logs.
● Offers a Plex Arcade that provides a game play center. Also, you can collect your own games, emulators, artwork and controllers.
Download Plex Media Player
Plex Media Player is compatible with TV, mobiles, consoles and desktop.
You can download Plex Media Player on your TV via https://www.plex.tv/media-server-downloads/#plex-app. Select your platform from the left drop-down list and download the exact version from the right panel.
3. Plex Media Player Review
File Support
Let us now move on to what file formats Miro Player can play.
Direct Play Video format: ASF with VC1 or WMV3 video encoding, MKV with H.264 video encoding, MPEG - TS with MPEG2 video encoding. AVI with MPEG4 or MJPEG video encoding, AAC, AC3, DTS, MP3, or PCM audio encoding. M2TS and TS container with H.264, HEVC, H.265, VC1, VP9. It also supports MO, MP4, WMV.
High-definition Video Format: H.264, HEVC or H.265, 4K UHD.
Direct Play Music Format: ASF with WMAV2 audio encoding, OGG with Vorbis audio encoding, WAV with PCM_U8 or PCM_SB16e audio encoding.
Plex on the Web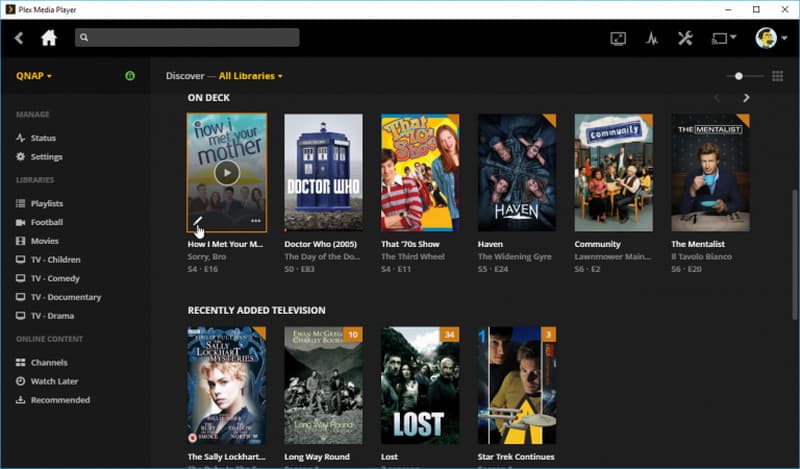 Aside from playing your media files directly from your file explorer or file folder. You can also play your audio files and watch your movie files over the internet like the online videos or web browsers. Thus, the most supported web browsers by Plex Media Player are listed below.
Supported Browsers: Chrome, Edge ,Firefox, Internet Explorer 11, and Safari For that reason, with the help of these browsers your media file playback is not limited anymore.
Plex Server for Hosting Content
What's more interesting about the Plex Media Player 4K is that aside from allowing you to play almost all video and audio file formats, HD videos, and playing media files over the internet, it also has a server for Hosting Content that has offers unique libraries, take full control of the Plex Media Server, fully admin accessed, amazing and perfect interface, and a lot more. However, this feature is being paid for only $10 per month or $15 per month for the starters with different offers. And for the pro version you can purchase it for only $20 up to $30 per month with the upgraded offers. Thus, you can use and control this media server all by your own.
Plug-ins and Webhooks
In addition, Plex Media Player can also offer you with various plug-ins and webhooks such as Webtools, Kitana, Sub-Zero, Trakt.tv, Ombi, OpenPHT, and a lot more. See the following information below.
Supported Plug-ins and Webhooks:
1. Webtools - this will enable you to add numerous utilities to Plex so you can control its functions such as log viewer, subtitles, unsupported App store and find media files on your hard drive.
2. Kitana - this one can help you easily install and manage Plex plug-ins.
3. Sub-Zero - this one will allow you to manage built-in subtitles like Plex OpenSubtitles. Thus, you can customize all the main aspects of your subtitle formats. Furthermore, with Sub-Zero, you can easily scan up to 10 subtitle providers, and new versions are automatically updated.
4. Trakt.tv - this plug-in can synchronize all your data and uploads to your Trakt.tv profile so you can view your TV and movie watching history again.
5. Ombi - this one helps the users to access shared Plex servers from the server owner.
6. OpenPHT - allows the users to customize the interface of the media server along with interface tweaks and new skins.
4. FAQ
How do I uninstall Plex Media Player from my PC?
To uninstall Plex Media Player, kindly click the windows start menu then find and select Control Panel menu. After that, you can click add or remove program icons . Then you can select Plex Media Player to uninstall it.
What do you need to know about the Plex central server?
Plex central server allows you to keep and maintain your Plex account. Also, it allows you to have remote client access for your media files.
Can I download music from PLEX for free?
Certainly yes, because the free and premium version allows you to download media contents from the Plex Media Server.
5. Best Alternative - Aiseesoft Player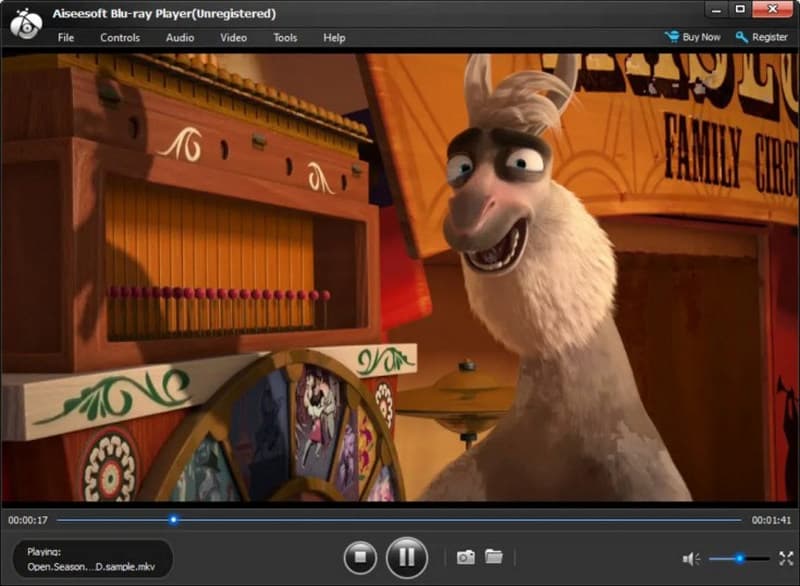 Platforms: Windows and Mac
Price: 25$
If Plex Media Player was not good enough for you. Well, we have also looked for the best alternative media player to it and that is Aiseesoft Blu-ray Player. This Blu-ray player allows you to playback your media files that can support HD video quality and perfect audio quality that lets you enjoy using it. For that reason, we would like to specify what it can offer to you, that's why we listed its features below.
● The software offers a free version.
● Can load files quickly.
● Enables you to playback HD videos.
● Can play movies and audio from Blu-ray and DVD disc/folder/ISO files.
● Offers numerous and unique features.
● Easy to use interface.
● Safe to use.
● Enables you to view your ISO photos with high-definition images.
● Supports all common video and audio file formats.
If you want to try it, you can download it now or buy it for only $25 providing you with complete features and media playback settings.
Conclusion
For the conclusion, if we are able to give you the detailed information of Plex Media Player, kindly share it with other people so they can get this information as well. On the other hand, if this media server did not satisfy you, you may rely on Aiseesoft Blu-ray Player that can also solve your problem.
Did you find this helpful?
264 Votes
YES

Thanks for letting us know!
No

Thanks for letting us know!
Windows MP4 Player Review
Aiseesoft Blu-ray Player
A universal media player for Blu-ray, DVD, video and audio.