RealPlayer Review: The Quickest and Simplest Media Player
Flashback with your memories to life by instantly playing your video and audio files! And if ever you desire to look for a single app where you can watch videos, movies, listen to music, and view photos. So, give yourself a time to continue with this article because we will provide you with what you will learn about RealPlayer. We will review RealPlayer, including its functions and features. This article will help you to learn more and get an idea about the advantages and disadvantages of this software so it is easy for you to be familiarized with this software. Moreover, we will also talk about the Plan that RealPlayer has to offer.

1. What is RealPlayer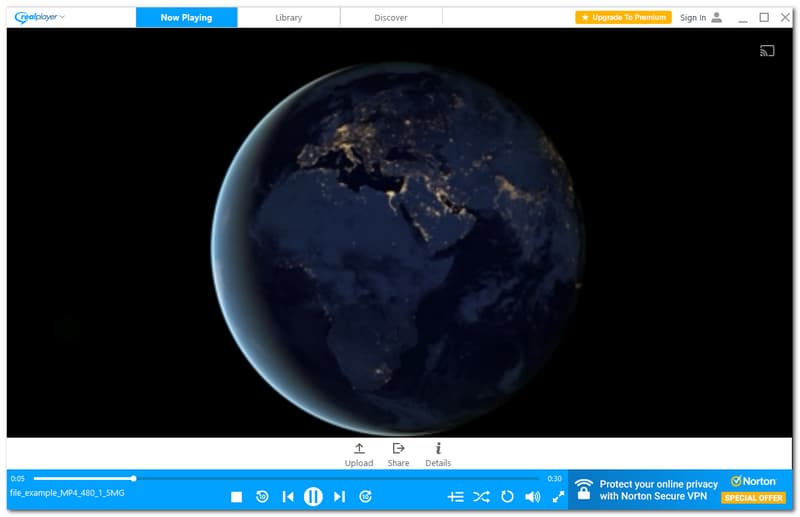 RealPlayer is known as the quickest, simplest, and fun new way to download and experience video and audio. The use of this software is to download videos from the Web for playback later. Furthermore, it provides video format conversion and if you just want to listen only, you can convert video to MP3. Plus, it is surprisingly handy, you can easily find a specific person and function wonderfully.
Price
RealPlayer is free to download, and anyone can use this software for free. However, since it is free, it has limited features that you can access. Moreover, if you desire to look for multiple features, RealPlayer has plans you can avail. Take a look to the chart below:
RealPlayer Plans
Price
Price
$24.99 (pay once)
Downloader Express
$39.99 (pay once)
Plus
$4.99/mo
Plus
Platform
Here are the platforms that are compatible with RealPlayer: Windows, Android, Mac OS, BeOS, Palm Os, Linux, Solaris, and Symbian.
Main Features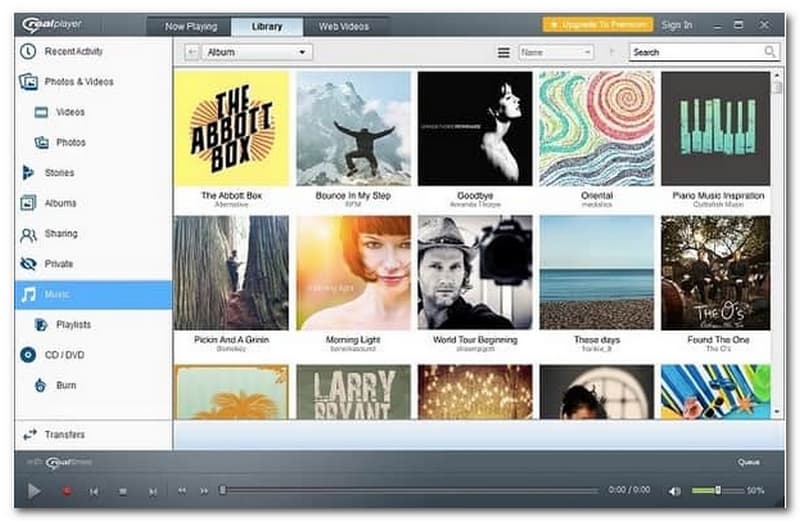 Manage your collections.
Download online videos you like.
Keep your videos private.
Store and back-up.
Steam your videos on TV.
Convert your videos.
Play in HD.
Burn Hi-Def Video.
Burn Music CD's.
Trim your videos.
Store more in the cloud.
Burn DVD's.
2. RealPlayer Review
Pros

It offers a 100% free version.
Provides straightforward and simple interface.
It has a solid performance.
It offers cloud storage.
Enables you to download and convert file formats.
It has advanced privacy settings.
Cons

No photo effects.
No advance sorting.
No video editing.
Download button is hard to find.
Occasional bugs.
Overall Ratings
It has an awesome graphic equalizer, which provides several presets options and allows you to create and save your custom settings. Furthermore, it can playback your media files formats without experiencing a problem. In addition to this, it is very simple to use and so user-friendly. For that reason, this media player tool is much more convenient for your needs!
Easy to use:9.0
Smooth Playback:8.5
Features:8.5
Premium PC Features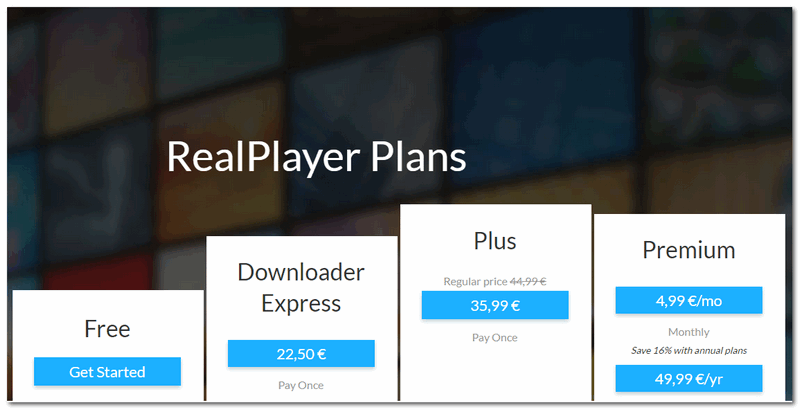 RealTimes or RealPlayer has premium plans to choose from that can offer you much more space, great quality video, a bigger choice of music and of course the ability to create unlimited RealTimes of a wide length with any music track. Amazing right? What's more? Also, you will get access to all premium features of RealPlayer for PC. In addition to this, this includes high quality streaming and playback, it allows you to play HD videos and make a wide-range of files-types on your own PC. Plus, you can burn HD DVDs.
RealPlayer Cloud
You can use the RealPlayer cloud if you are out of space on your basic account. Proceeding to the paid version of RealPlayer, it provides HD resolution and DVD burning. What's more? RealPlayer cloud storage will expand up to 25GB. What can you do about it? It is well-designed and enables you to store and share video with various devices. It allows you to save your valuable pictures and videos and you can share them with your loved ones and friends. In addition to this, the company is seeking to remove the hassles that can make sharing personal videos so hard.
RealPlayer Converter
RealPlayer provides you to convert a video into a specific format. When it comes to PC it has tools that convert to and from all popular video formats. To add, you can use RealPlayer to do a lot more with the videos you love. It has the built-in free video converter that will effortlessly convert your video with any video format such as; FLV, M4A, MP4, AVI, WMV, MPEG, and more.
3. FAQ's
Why is there no audio on RealPlayer?
If you have problems with your files and you are trying to play it but it is corrupt and you can not hear any sound when playing files with this software, check your player. Try playing other files that are not corrupt. If your player doesn't play files too, try to adjust your computer's sound configuration.
Can I record the tracks listed in the app?
There is currently no option for users to reorder songs. Why? The app should order the songs according to the track number on the album. If this does not take place, it may be due to the ripping software not picking up the track number metadata.
Who can see my photos and videos on Cloud in RealPlayer?
Well, no one will see your photos, audios, and videos unless you choose to share them with all your social media accounts, by emails, or by sending them to a direct link. To assure you, there is no automatic sharing of any of your videos that you downloaded, view, or save to the software. Do not worry too much because your media are kept private.
4. Best Alternative - AnyMP4 Blu-ray Player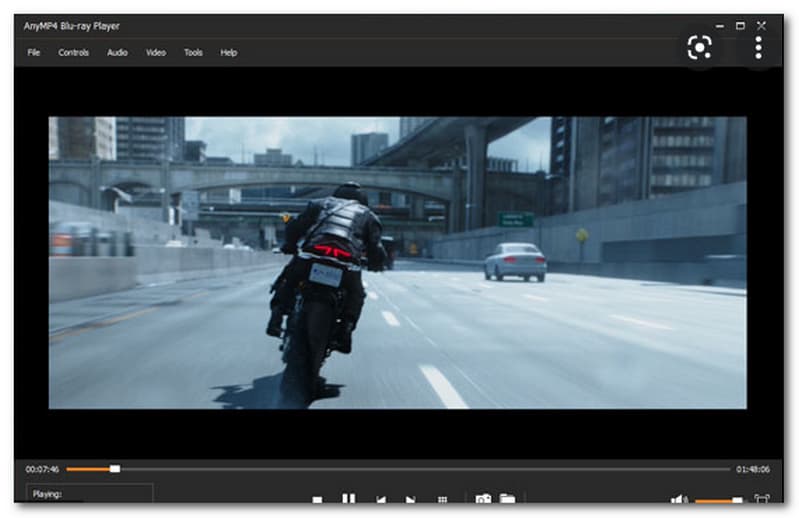 If you are looking for an alternative for RealPlayer, AnyMP4 Blu-ray Player is fit for you. It has a smooth video watching experience. It is the ultimate media player that allows you to play Blu-ray discs, DVD discs up to 4K UHD, 1080p HD. Moreover, you can play video and audio files with no conversion. Plus, it is supported so you can fully enjoy the 1080 HD videos easily. What's more? You have an option to control video playback, you can select subtitles, audio track and adjust the video effects that you prefer.
Conclusion
Overall, we learn how to use the software and what we will benefit from it. With that being said, you are able to use RealPlayer to excellently playback your media files. However, if you do not want to consider using it, you may try AnyMP4 Blu-ray Player for a better experience.
Did you find this helpful?
368 Votes
YES

Thanks for letting us know!
No

Thanks for letting us know!
Windows MP4 Player Review
AnyMP4 Blu-ray Player
Make Blu-ray, DVD, and video playback easier on computer.