How to Convert Normal Video to VR: Experience an Immense Watching Experience
A virtual world is a representation of reality. However, it is still a fantasy. The technology nowadays is rapidly getting massive. Our visual elements are also improving from simple 2D to 3D and VR videos. It stands for Virtual Reality, where we can feel like we are on a real-world visa watching a video. It is fascinating how a video can create a simulated environment for us. This video will help you make your virtual world by converting your simple video into VR. We will introduce you to methods and VR Video converter software you can use with your computer and mobile devices. For that, we shall now create a VR video out of a standard video. Join us as we present you the guidelines in making it.

1. Can Any Video be VR?
Many people are asking, can we turn any video into a VR? The answer here is yes.
It is now possible to convert standard video to VR if we have the best VRconverter app or online tool. There are tons of 3D converters that support any input format. However, knowing if your converter supports the VR as an output format is also essential. As additional information, YouTube nowadays offers features to see a standard video to Vr mode, even though it is not VR. This thing is a great feature for everyone. It is proof that converting any video into VR is now possible without complications.
2. Convert Normal Video to VR on Desktop
Our desktop computer is one of the powerful technologies we can use to convert a normal video into a new format like VR. However, we need help from the best 2D to VR converter in the market nowadays– AnyMP4 Video Converter Ultimate. This converter is a great tool that offers fantastic functions that can help us turn our videos into VR without complications. In addition, it is also a flexible converting software that is very easy to utilize. That is why we recommend it for new users. In line with that, here are the simple steps that you must take to make this process possible. Please take a look below.
1.
Download AnyMP4 Video Converter Ultimate from its official websites and install it with your computer desktop. Launch the converter and go to the Toolbox on the feature icons at the top of the interface.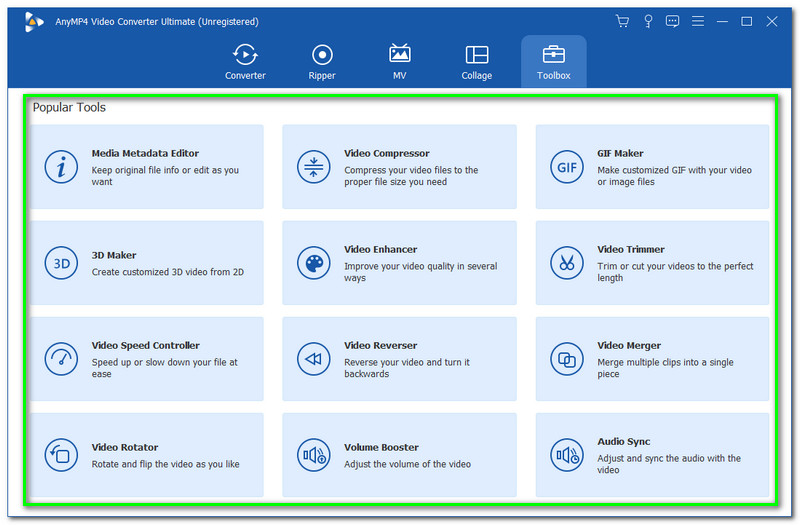 2.
On the toolbox list, you will see numerous features that are beneficial for all of us. Locate where is the 3D maker and click it.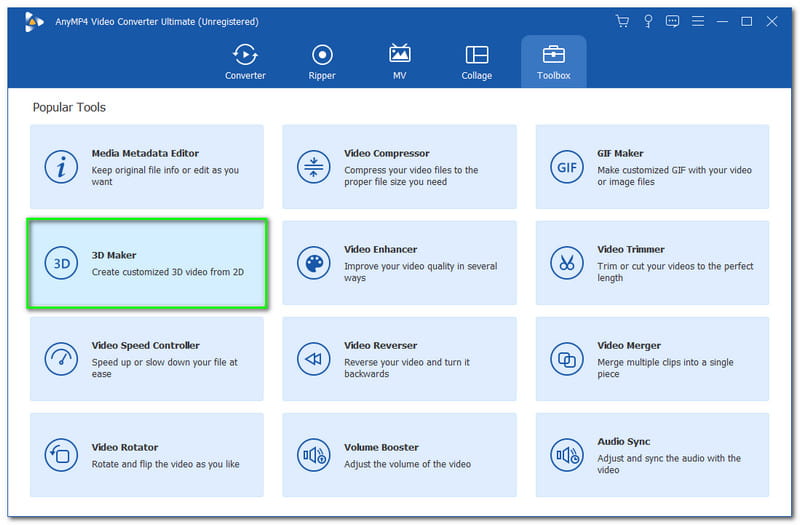 3.
You will now see a tab that will allow you to add files in utilizing the 3D maker. Click the Plus icon at the middle of the tab.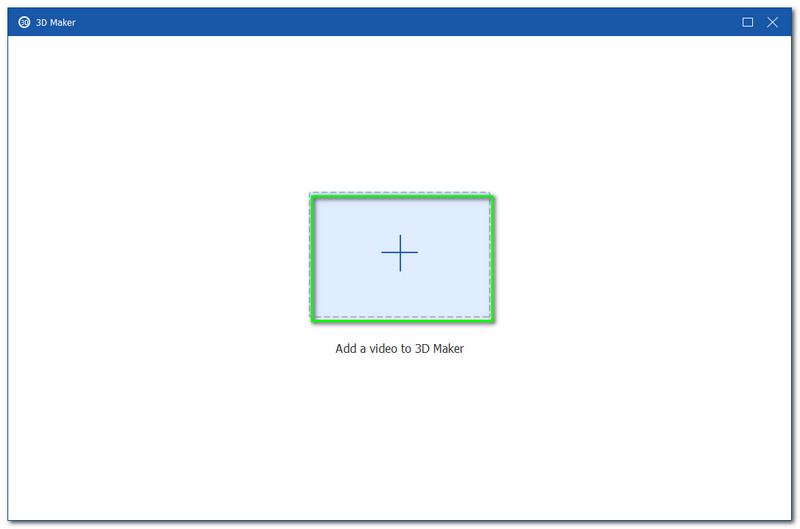 4.
A window tab will present your files and video files. Choose the video you want to convert and click Open.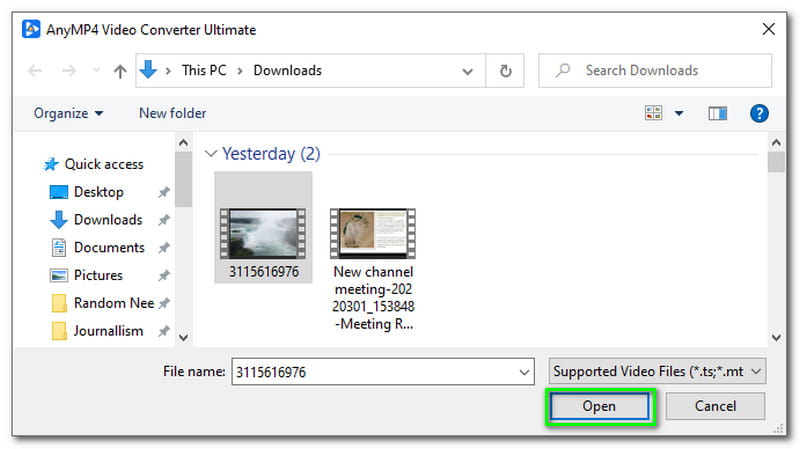 5.
From the 3D maker interface, you will now see your video. Modify it through the use of the tool below it. It is important to select the Split Screen in a Side by Side (Full). That step will give us a VR with 3D view video.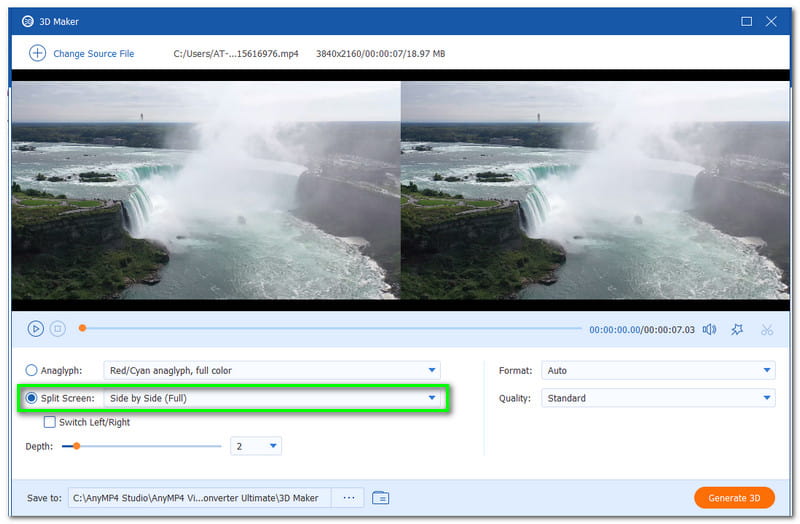 6.
You may also edit the depth, anaglyph, format, and quality. Adjust it in accordance with your preference.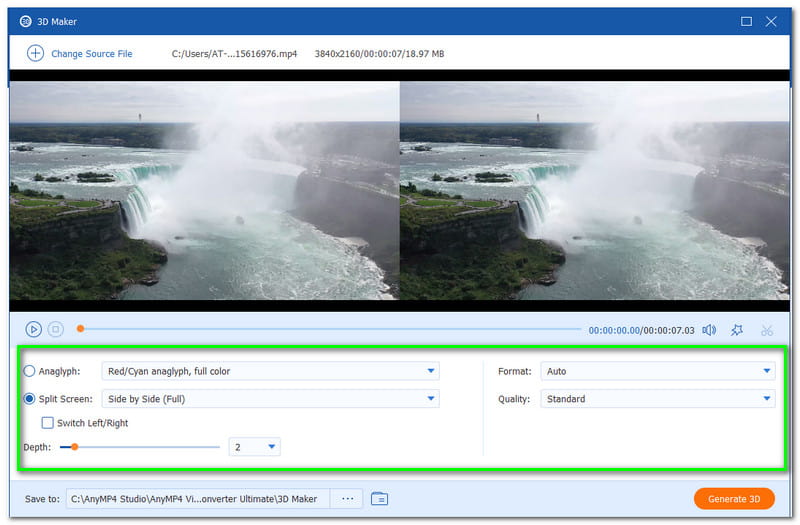 7.
lick the Generate 3D on the bottom part of the interface to start the saving process. You will wait for a few seconds then our video is good to go.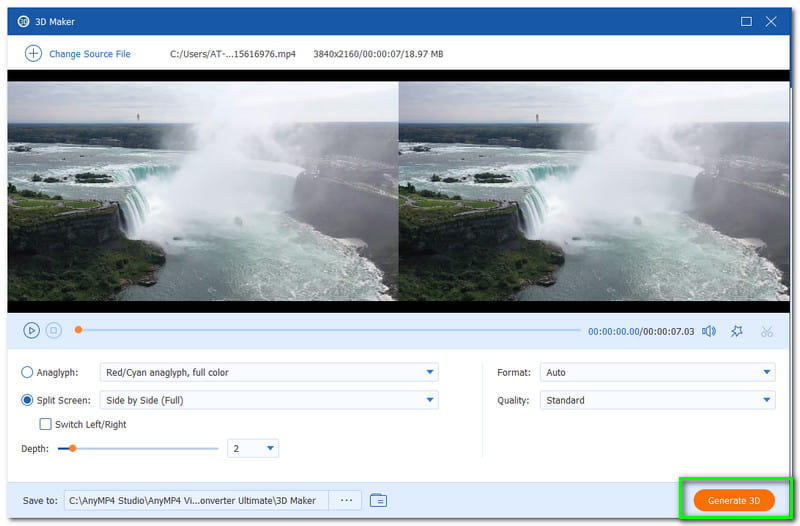 3. Convert Normal Video to VR Online
Another method of converting a standard video to VR is online using a free VR converter. It is also a great way similar to a desktop tool. It may lack advanced features, but it cannot disregard that it effectively converts our videos. An online tool is also a very accessible tool for every user. One of the tools we can use to convert videos to VR is the Swift Converter. This software is a great free 2D to VR converter online app. For that, let us know how to use this online software.
1.
Search the main website of SwiftConverter and among the click the 3D Converter.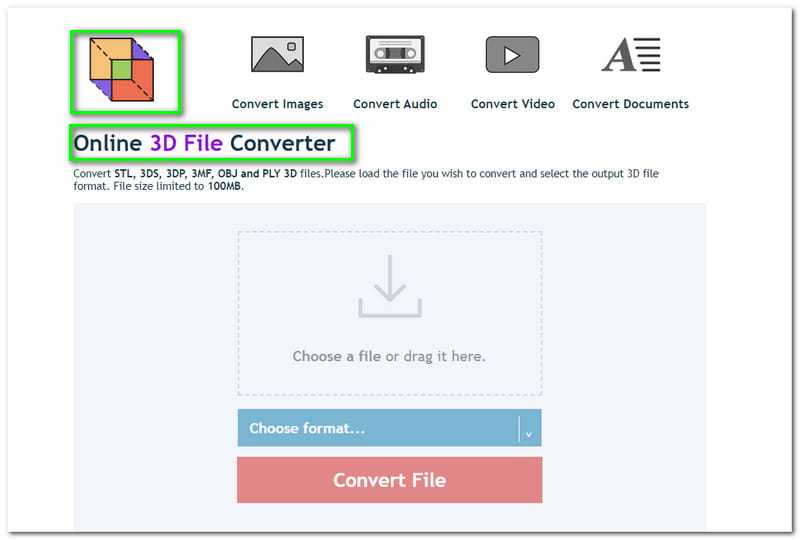 2.
Go to the converter box and click the Choose a file or drag it here from the web page. These features will allow you to add your video to the interface. Select your files on the Windows tab and click Open.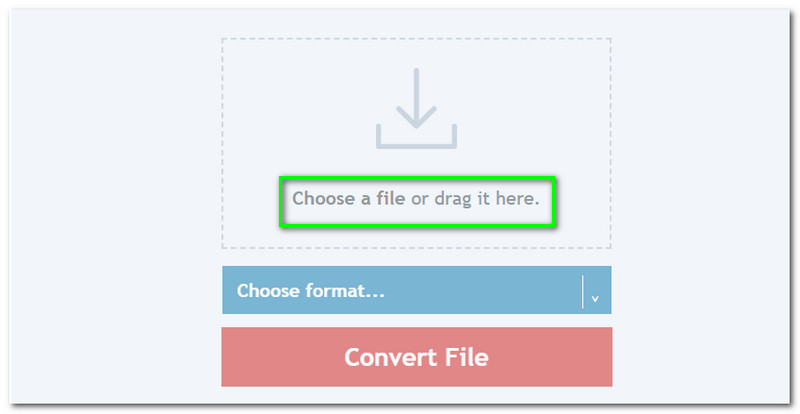 3.
After doing that, you must see your video on the web page's interface. Choose the file format you need and click convert.
4.
Wait for a few seconds, then start downloading your VR video by clicking the Download Converted Files.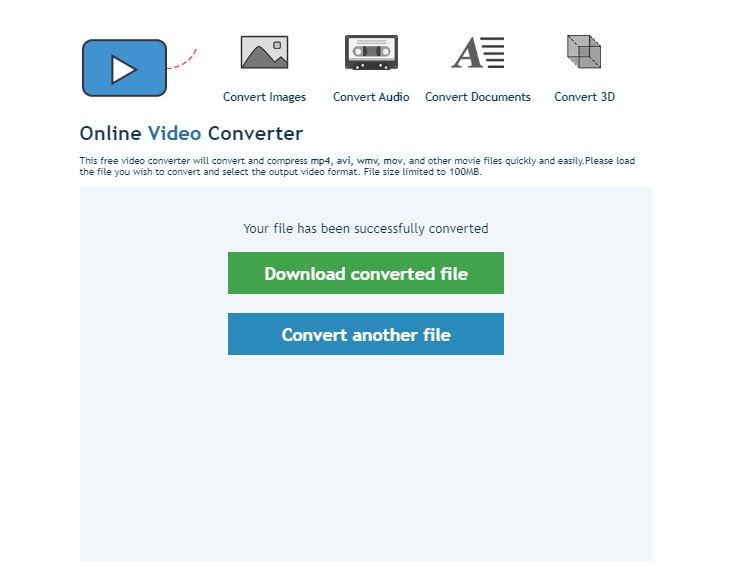 4. Convert Normal Video to VR on iPhone and Android
If you do not have a desktop to use for converting, good thing that there is also a VR video converter app for your Android and iPhone devices. Download ApplexSoft Vr Converter.
1.
Open the converter app on your phone.
2.
Select the video files from your folder or gallery.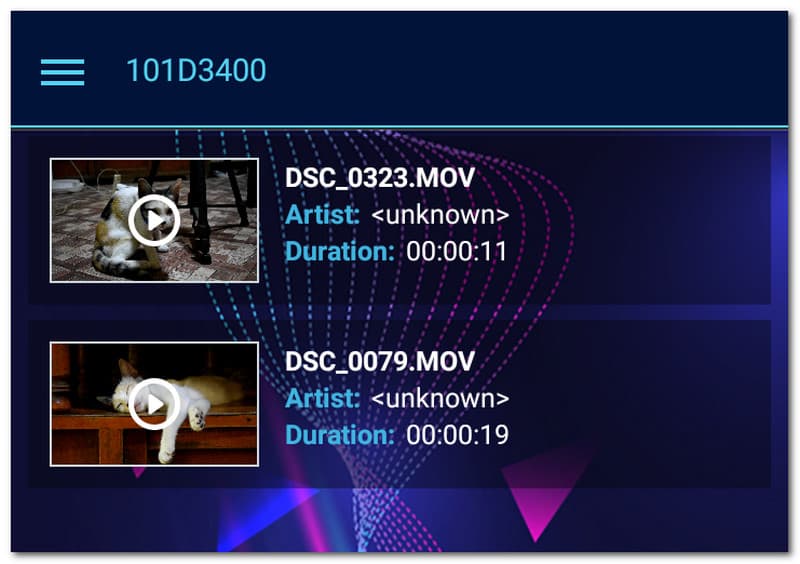 3.
Enable the 360 and VR modes on the application. You can see it in the top-right corner.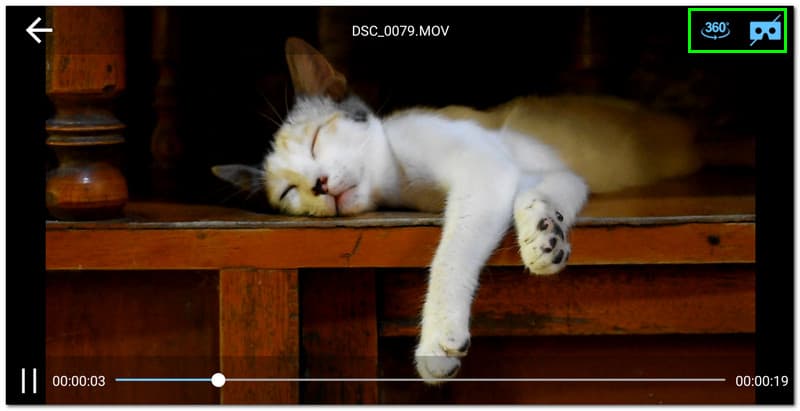 4.
Then your video will be good to go as a VR video.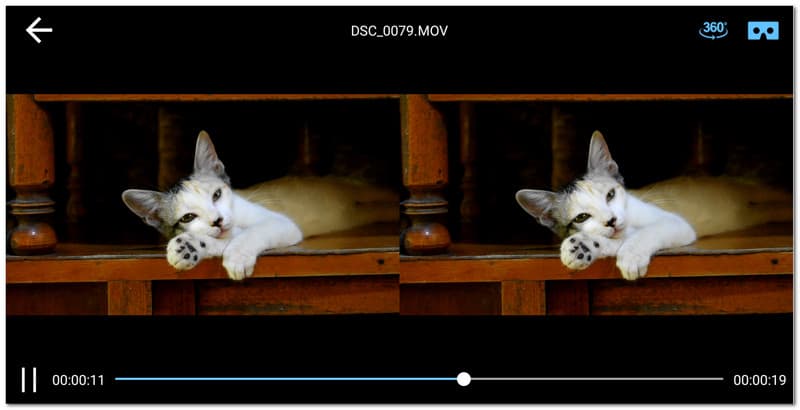 5. FAQs about Converting Normal Video to VR
What format does VR video possess?
Most of the VR videos we are seeing now in social media are commonly in an MP4 extension encoded with MPEG4 or with H.264. Another VR possesses MOV, F4V, and the newest VVC can support 360 videos.
Is VR the same as 360-degree videos?
They can be both videos; however, they possess different elements and purposes. Virtual Reality or VR is very interactive. On the other hand, 360-degree videos are immersive. That means, if you want to immerse your audience through your visuals, then you may use 360-degree videos. VR is suitable for those people who want a choice in what to see in the visuals.
Does a VR camera exist?
Yes. There is a VR camera. The purpose of these devices is to enable us to film an entire 360 degrees venue. That can allow viewers to look around the whole picture freely.
Conclusion
An interactive video is now possible by converting it. We can see how we can use different software and applications to make it possible. We hope these methods above will be a big help with your grinds. Please share this article to help other people make their regular video into an interesting VR.
Did you find this helpful?
331 Votes
YES

Thanks for letting us know!
No

Thanks for letting us know!
AnyMP4 Video Converter Ultimate
All-in-one video converter, editor, enhancer upscaled with AI.