5 Best Free Tools that Converts your MTS Files for Online, Windows, and Mac
We love to take videos of the precious moments of our lives nowadays. We all love to stop and take a second to get our phones or camcorders and get a memory to take with us in the future using your Sony and Panasonic camcorders. Most of these camcorders use MTS files in their recordings. However, we are having a problem when it comes to the file format that causes the video not to play on some devices. That is why we have these tools that help us save our videos without getting a large size but gives us a high-quality version of our videos. Today, we are going to introduce you to the 5 best free tools to use to convert your videos to MTS Files.

MKV or Matroska Video Stream is a multimedia container format. MKV files would not be outdated because it is designed to be future proof. MKV converters are very helpful when it comes to online streaming compatibility, subtitles, and playing back corrupted files. It can also contain audio, video, and subtitles. MKV is very easy to use and makes the format adaptive.
Part 1. 5 Best Free MTS video converter
1. Blu-ray Master Free Online Video Converter
Blu-ray Master Free Online Video Converter is a tool that will help you convert MTS video to MP4, MOV, MKV, AVI, M4V, FLV, WMV, WebM, VOB, MPG, 3GP, MP3, AAC, WMA, M4R, FLAC, and a lot more. It can also turn your videos into some high-quality animated GIFs.
This software will let you convert your video to 1080p HD, 720p HD, and SD as fast as possible without any size limit. You can also personalize your videos by adjusting the encoder, bitrate, resolution, frame rate, and sample rate. By this, you can also polish, enrich, and control your videos. This software is compatible with Windows and Mac. You can enjoy this software because it is free but if you want to enjoy more available features, you can avail the premium version.
Pros

Open-source software.
Conversion quality is good.
It is safe to use.
Cons

It doesn't support 4K videos unless you'll avail of the ultimate version.
The conversion speed depends on the speed of your internet.
Editing is not available unless you have the ultimate version.
2. CloudConvert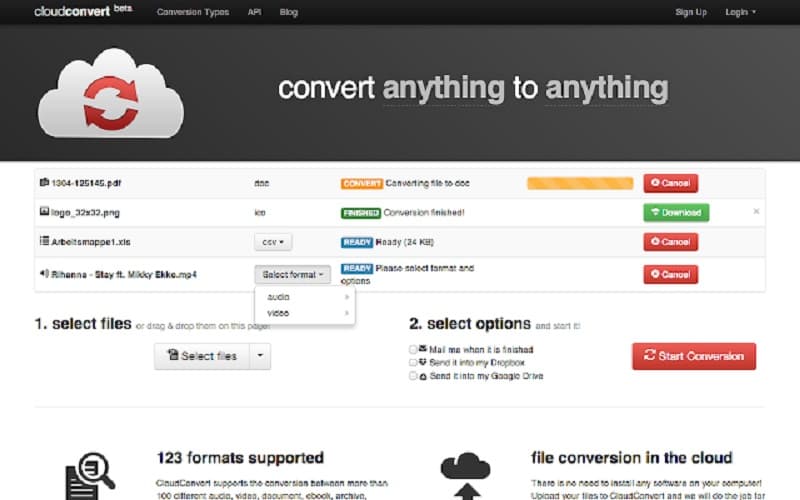 CloudConvert is an online converter that helps you convert different types of audio, video, document, ebook, archives, image, and more. It supports over 200+ formats including MP3, AAC, FLAC, MP4, AVI, MPG, PDF, DOC, DOCX, ODT, MOBI, EPUB, CBC, ZIP, RAR, 7Z, PNG, JPG, SVG, XLS, ODS, CSV, and more including MTS.
Cloudconvert is safe to use if you're long for software that will not give you problems when it comes to viruses. You can also make sure that the MTS files will be of high quality. This software is available to use with any version of Windows and Mac.
Pros

Free online converter.
Easy to use.
You can control the resolution of your files.
Cons

The software sometimes messes up the files.
Confusing in the beginning.
There are limitations when it comes to bandwidth unless you'll avail of the paid version.
3. mtsconverterfree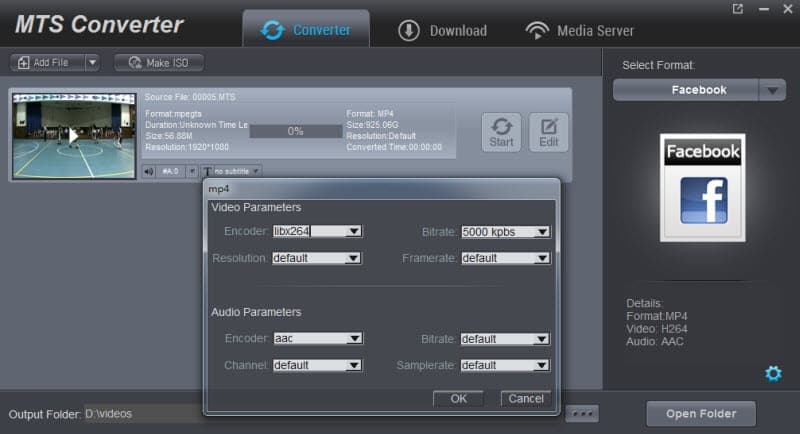 MTS Converter is an amazing tool to convert MTS/M2TS videos recorded by camcorders to MP4, MOV, FLV, AVI, MPEG, MKV, WebM, Divx, and a lot more. It assures you that it will give you a high-quality result.
MTS Converter is very easy to use even when you don't have a background on clipping, cutting, merging, removing unwanted parts, audio effects, trimming, adding various effects, and a lot more editing moves. You can also add audio, subtitles, watermark, and put multiple MTS files into one video file. You can also choose what digital device you are going to use such as iPad, iPhone, PSP, PS3, Android, Zune, and a lot more.
You can compress your videos without losing their high quality. It is compatible with Windows 7, Windows XP, Windows Vista, Windows 8, and Mac. This software is also free and available for the mass but to enjoy more features and benefits of this app, you can avail of the premium version.
Pros

Open source or free software.
Lossless quality.
Fast conversion.
Cons

It's not totally free.
4. FFmpeg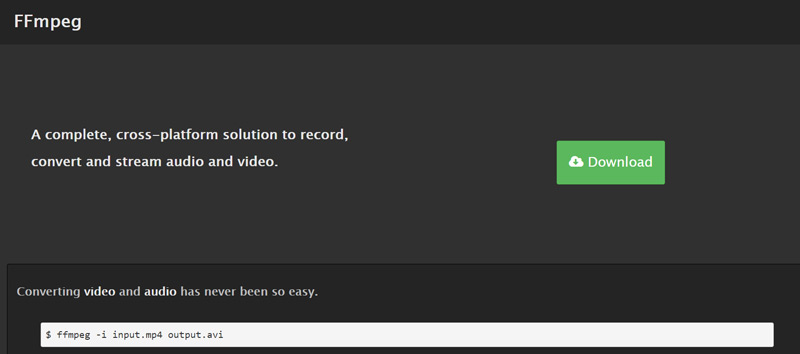 FFmpeg is the software that can help you when it comes to converting, recording, streaming audio and videos. It supports AIFF, ASF, AVI, BFI, CAF, FLV, GIF, GXF, SMPTE 360M, HLS, HTTP Live Streaming, IFF, 3GP, MPEG, and a lot more.
It is a very fast video and audio converter which is a good thing because it can help you save a lot of time when it comes to converting. You can also edit your files to get a better version of them. It also supports MTS Converter that helps you convert MTS to MP4. This app assures you that it will secure your files because high security is its priority. This software is compatible with all types of Windows and Mac.
Pros

Supports all major audio/video formats.
Video streaming is available.
Cons

Not beginner-friendly.
It is limited.
The documentation of the software is not clear.
5. ConvertFiles.com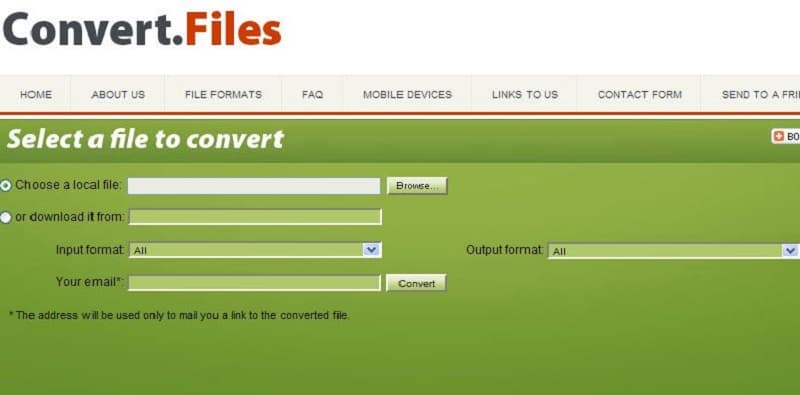 This online MTS converter helps you to convert archive files, documents, presentations, e-books, drawings, images, audios, videos, and most especially, MTS files to MP4. It is a file converter between multiple file formats such as 7z, GZ, RAR, TAR, TAR.GZ, TGZ, ZIP, DOC, DOCX, ODS, ODT, PAGES, PDF, RTF, SXW, TXT, XLS, XLSX, AAC, AMR, AU, MP3, M2TS, M2T, M4V, MOV, MP4, MPG, WMV and more. It also lets you convert a group of videos. This tool is available for all Windows and Mac users.
Pros

Safe to use.
Convert files of all types.
Cons

The website's not working well.
No assurance of uninterrupted service.
Third-party Sites.
Part 2. FAQs of MTS Converter
Is MTS the same as M2TS?
No, the MTS file is the one generated on the camcorder of Sony, Panasonic, Canon, and more. MT2S is the changed extension.
Can an iPhone play the MTS files?
MTS is not supported by iPhones. So to be able to watch MTS files on your phone, you need to download media players that allow you to watch MTS files.
What video format is MTS?
The format of MTS is AVCHD or what we called Advanced Video Codec High Definition. This is usually used in camcorders like Panasonic and Sony. This compressed the file size of the video that came from the camcorders. Furthermore, this format cannot be played on some devices.
Conclusion
To sum it all up, MTS converters are very important because they give you a high-quality video that lets you enjoy watching it more. That is why we definitely recommend you to try these 5 best free MTS video converters for Windows and Mac. It's definitely worth a try!
Did you find this helpful?
160 Votes
YES

Thanks for letting us know!
No

Thanks for letting us know!