Most Effective Ways to Solve CamStudio Audio Errors with Ease and Hassle-Free
One of the free and open source audio recorders in the market nowadays is the CamStudio. This brilliant software will surely allow you to record audio with ease and hassle-free. However, there are reports from the users about the troubles and issues they are experiencing using CamStudio. Some common problems are the Unable to rename or copy audio file, low audio issue while recording, recording no sound, and could not record the .avi file. In line with that, this article will give you different solutions to fix different CamStudio audio errors.

Fix 1: CamStudio Error - Unable to Rename or Copy Audio File
CamStudio is one of the open source screen recording software that will let you record your screen. However, this is also one of the software that allows you to record with just a 2GB file size limit. Using CamStudio, sometimes you may experience being unable to rename or copy your audio file or recorded video. This problem because you are recording your video with a super high Capture frame every millisecond. Therefore to fix this problem, we need to configure the capture frame every millisecond at the very low number. To fix that, here are the things we need to do to fix that problem.
1.
Launch the CamStudio software to your desktop and see its full functions and features of the screen recorder.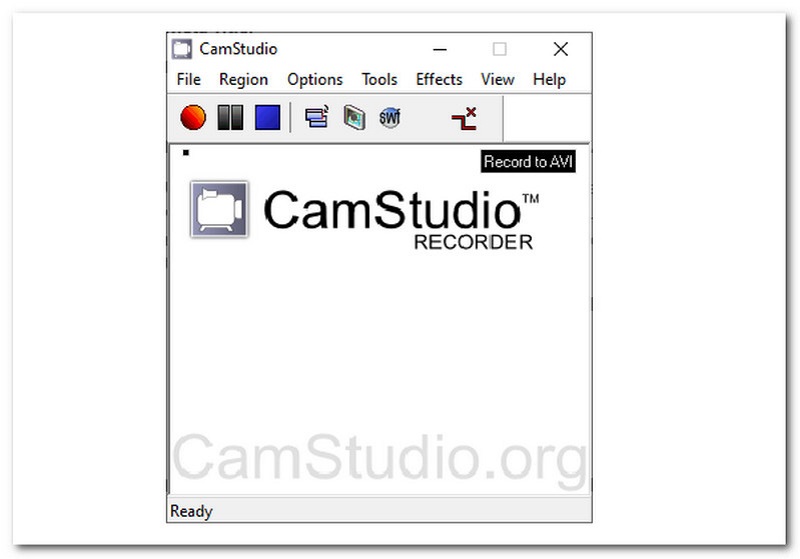 2.
Locate the Option placed at the top portion of the screen together with the other function.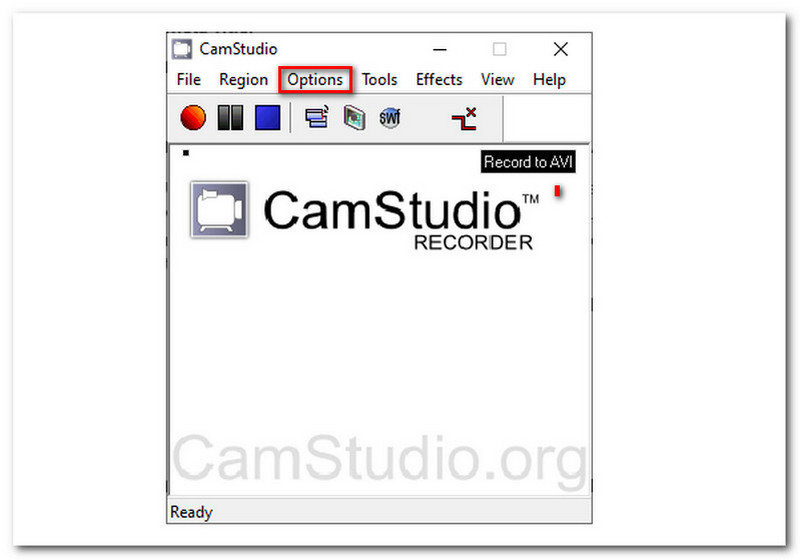 3.
Then after you go to the Option part of the setting you will see different options. Then if that is the case. Click the Video option.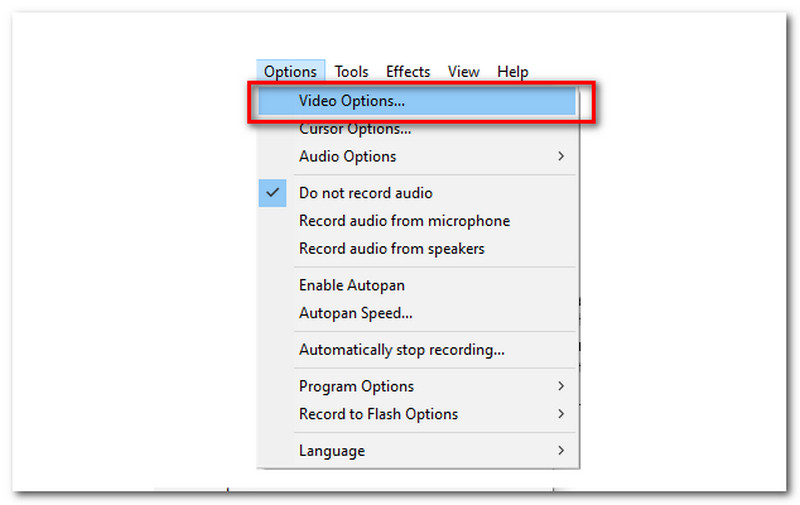 4.
From the video option, you will have different settings under it. Locate the Capture Frame every millisecond and lower the number even up to 5 per milliseconds.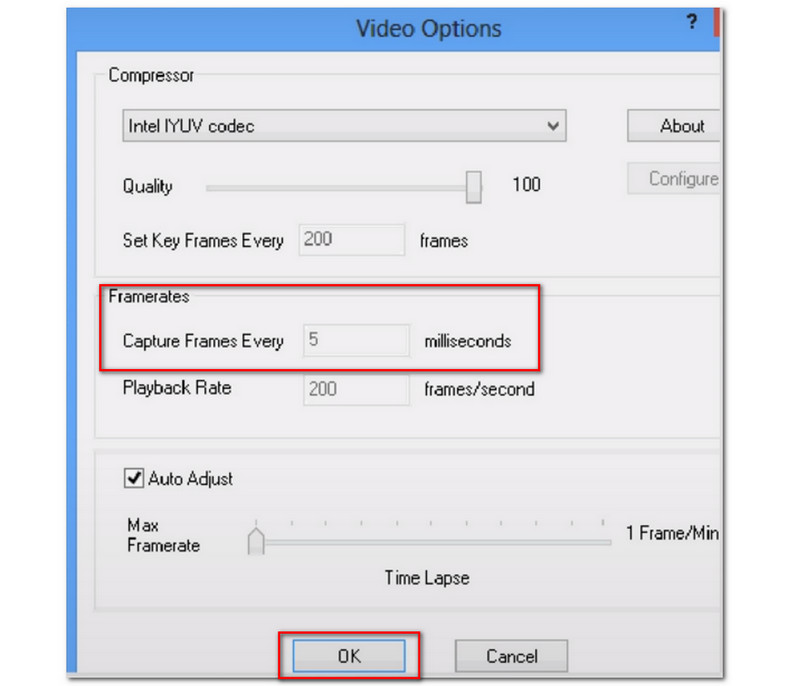 5.
If you are done configuring the Capture frame every millisecond, you may now click the Ok button to make sure that the configure settings have been updated.
Fix 2: CamStudio Error-Low Audio Issue while Recording
If you are experiencing very low audio when recording using the CamStudio. This problem can be caused by the improper adjustments of your audio setting from both CamStudio and your system settings. It is essential to know that the proper adjustments of your setting is important in producing a very high quality output or else your CamStudio sound will not work. Basically, if CamStudio shows file creation error unable to rename copy audio file. Here are the things you need to set to solve the audio issue, to make the proper settings for your audio in CamStudio and with your system audio.
1.
First, go to your CamStudio to see its full interface and functions.
2.
Locate the Option placed together with other settings at the top portion of the interface.
3.
After you click the Option, you will not see a set of options. Just click the Audio option from the list.
4.
From the Audio option, another set of options will be seen. This option, you will just choose the device you are using in recording your screen with sound. In this case, click the Audio option for Microphone.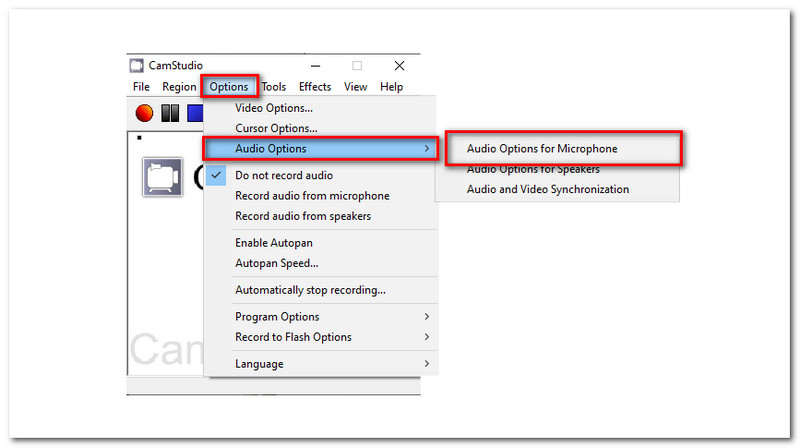 5.
At the bottom part of the tab, please make sure to check the box at the left side of the phrase that says Use HD Recording. Then press Ok.
6.
Now, go to your System Sound. Locate Recordings and Microphones. Just set the Microphone to 100 and click the Ok button.

Fix 3: CamStudio Error-Recording No Sound
If your system does not sound properly, you may experience some troubles in recording your screen. That is why before recording, it is important to set your system Hardware and Sound to make sure that you won't have a sound problem with CamStudio. In line with that, this is how you can quickly fix if your CamStudio does not record audio.
1.
Go to your Control Panel. Click the Hardware and Sound. Locate the Sound option, and click the Manage audio devices below it.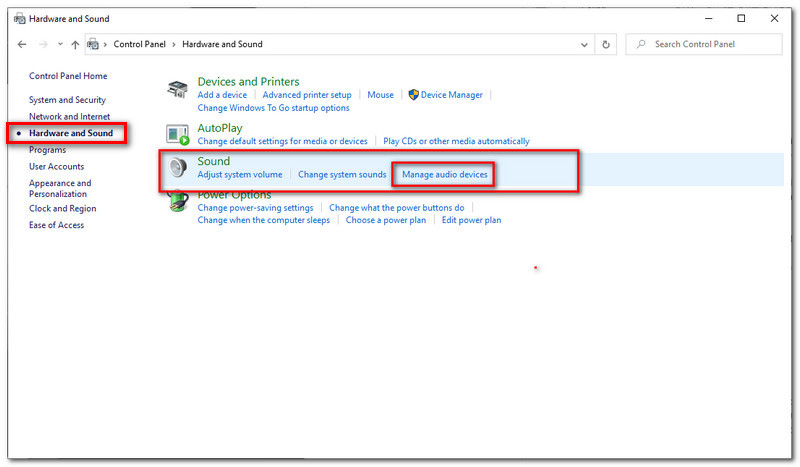 2.
Then, a new tab will appear where you can see all of your sound devices settings. Click under the Recording tab. Make sure that the Show disable devices and Show disconnected devices are both filled with Check after you right click the first sound device and the Stereo mix. Then click Ok.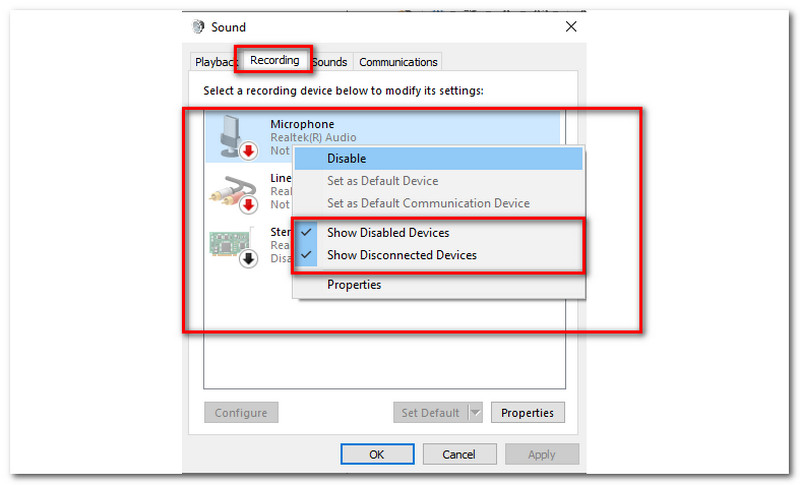 3.
Go to CamStudio, locate Option. Make sure that you will uncheck the Do not record audio. That may be the reason why it blocks you from recording your audio. Instead, check the options below it.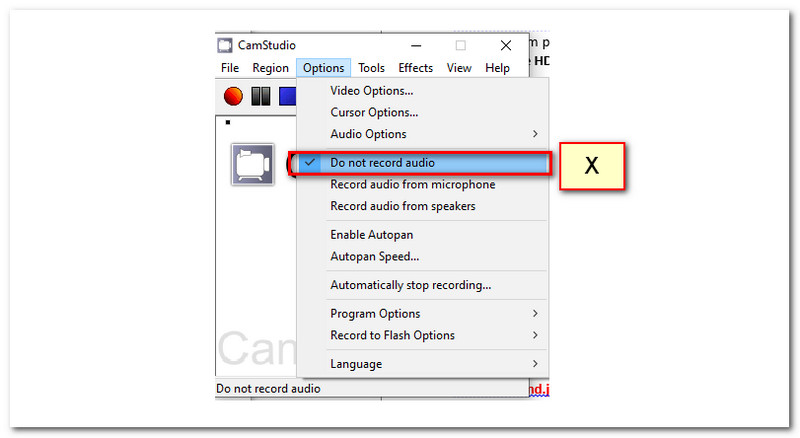 4.
You may also configure your audio setting by going to Audio option tab and configure it with the way you preferred.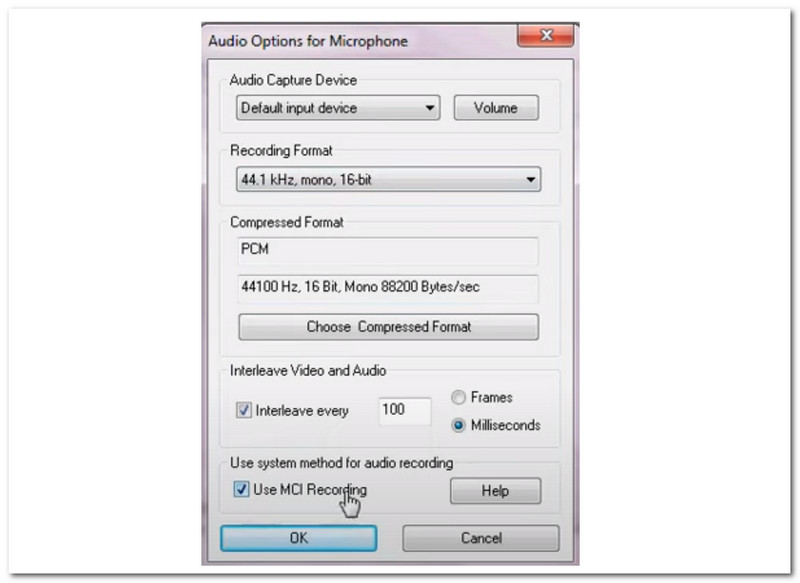 Fix 4: CamStudio Error-Could Not Record the .avi File
CamStudio is infamous for recording your screen with and transforming it with the file format of AVI video. This software is simple to use and can be installed on a variety of platforms with ease. However, sometimes CamStudio displays an error message when attempting to create an AVI file, stating that it could not record the.avi file using the current compressor. This is just a common problem that we can solve by following these simple steps.
1.
Open the CamStudio, and go to the Options to select Video Options.
2.
Then, under the compressor choose Microsoft video 1 instead of the other option. Then click Ok to finish the process.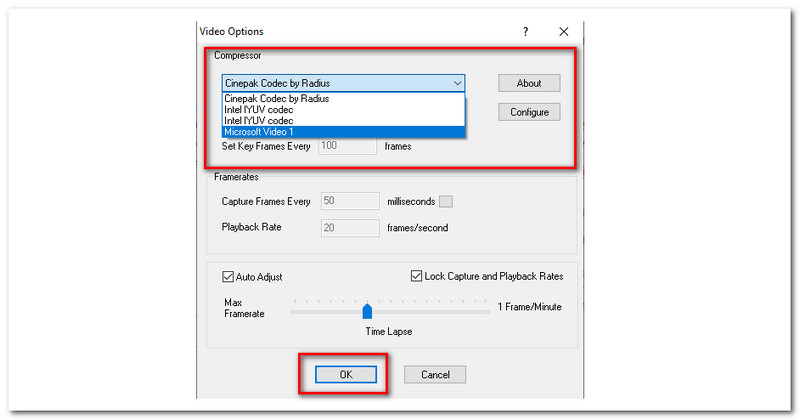 Note: If you tried all the solutions but the problem is still occurring, it is highly suggested that you go to the customer service of CamStudio to fix a certain problem immediately.
Bonus Tip-Best CamStudio Alternative - Aiseesoft Screen Recorder

If you tried everything but the problem keeps on occurring. Think about it now, because there is software that you can still use in recording Audio. Introducing you the Aiseesoft Screen Recorder, this is a screen recorder software that also offers different functions and features. One of these is, it enables you to record audio with super high-quality. This is a great software that is easy to use. No more issues and trouble with Aiseesoft Screen Recorder.
To show you how to record audio with Aiseesoft Screen Recorder. Here are a few steps to guide in recording.
1.
Open Aiseesoft Screen Recorder on your desktop to see its full function and interface.

2.
To start, click the Audio Recorder function placed on the second box shown in the interface.

3.
Before starting recording, make sure to turn On the System Sound if you want to record your music from your desktop. On the Microphone if you want to capture your voice using a microphone.

4.
You may now start recording by clicking the REC button at the most right portion of the interface. Then a countdown will start.

5.
Then, if you are finished recording you may click the Stop icon at the floating tab to stop the recording. Do not forget to save your file. Click the Save button at the bottom of the interface to finish the process.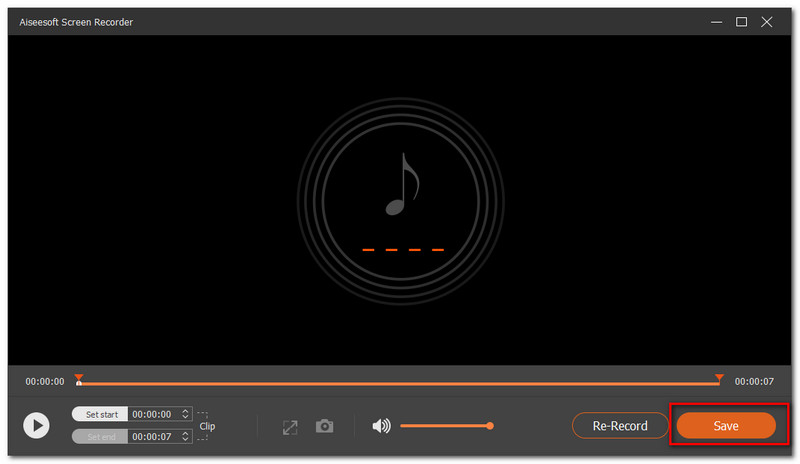 Conclusion
To conclude, those issues that we may encounter in recording audio using CamStudio that can be fixed using specific configurations. However, if the problem keeps on occurring, you may use Aiseesoft Screen Recorder as an alternative to it for a better recording experience. Also, help other people who are experiencing issues with CamStudio by sharing this article to them.
Did you find this helpful?
250 Votes
YES

Thanks for letting us know!
No

Thanks for letting us know!
Aiseesoft Screen Recorder
Capture every moment in desktop, browsers, programs and webcam.