OBS is Not Recording Audio: The Ultimate Guide to Fix the Problem
No doubt, OBS Screen Recording is one of the leading screen recorder applications in the field. The brilliant features of it are the reason why it was labeled as one of the greatest software. However, there are times OBS does not record audio and screen. This problem may cause an extensive range of annoyance over time, especially to people who are using this application for their work. In other words, this issue can be a foundered block on the way to a perfect output. In compliance with that, we listed some methods to help you fix your problem. Apart from it, we will also give you an alternative to OBS that can save your work.

Part 1: Why Is OBS Not Recording Audio
This problem may happen in different circumstances and with various causes, it can be caused by the wrong OBS setting, the clash with Nahimic audio manager software, or your computer's system is not properly configured. Additionally, there are also reports about Whether OBS records audio-only or record audio lag, which also explains the problem of OBS not recording. OBS, not recording is wide speaking.
Part 2: Solutions to OBS Not Recording Audio
The solutions that you can use in fixing the problem are diverse. You can use these methods listed below to resolve the issue, depending on your situation.
Fix 1: OBS not recording/picking up desktop audio
This is one of the common problems that users experience. In these circumstances, users with multiple audio devices should make sure that OBS is properly configured. To make it, follow the guides below.
A. Check the OBS Audio setting
1.
Open the OBS Studio. Click the Setting window.
2.
Go to the Audio, and choose the Microphone/Auxiliary Audio Device. Drop it by Default.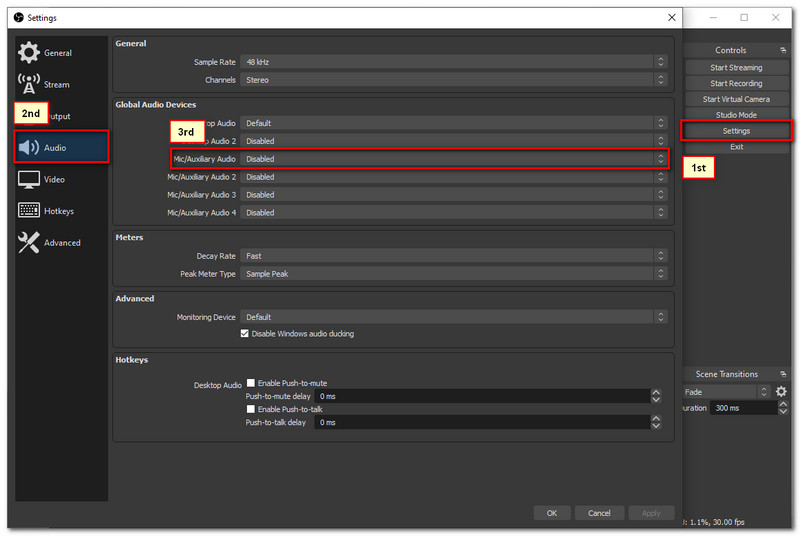 3.
Press Apply and click OK to exit the window.
B. Put the Speakers as default Audio Device
1.
Record with your speaker rather than your headphones. To configure that, right-click on the Speaker placed at the tray icon at the bottom right side of your window. Or you can go to the Search tab, and search the Sound setting.
2.
Click Open Sound setting.
3.
Click Open Sound Panel. Select the Set Default option then press Apply.
C. Disable Nahimic
Other devices have pre-installed Third-party audio utilities on the system such as the Nahimic. This particular third party can prevent you from capturing the audio to your video recordings. To disable or uninstall this:
1.
Open the Run window by pressing Windows+R on your keyboards.
2.
Find Nahimic service and double click it.
3.
Choose Disabled from the Startup Type.
4.
Click the Apply button on the bottom of the tab.
5.
Restart the computer or Root for the others and try Snagit again.
Fix 2: OBS not Recording Audio from Game
OBS Studio is the application of choice for the players who record game streams, sharing them on different platforms around the Web. Nevertheless, users have reported about the application, not recording game audio. Hence, we gather potential fixes for this issue.
If that is the case, you can refer to the methods in Fix 1 to solve this issue.
a. Check the OBS Audio setting
b. Put the Speakers as default Audio Device
c. Disable Nahimic
Fix 3: OBS not recording mic audio
A. Reform the Audio input and output device on OBS
OBS has only two (2) default audio sources, Audio Input Capture for Microphone and Audio Output Capture for Speaker. These two default audio sources can be seen on Audio Mixer.
In this part, make sure you haven't dragged the volume sliders completely to the left because it will mute the audio source of OBS.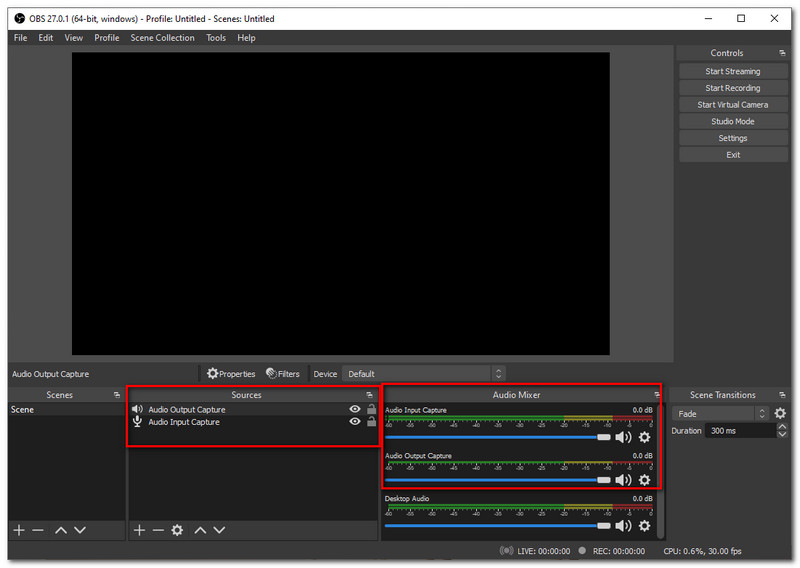 B. Detect the Default microphone
There are events where OBS cannot detect the default microphone that causes OBS to record the screen only. In this case, all you need to do is add a new microphone source. Follow these simple steps to do it.
1.
Open the OBS software. Go to the Sources tab, and click the Plus button to add Audio sources.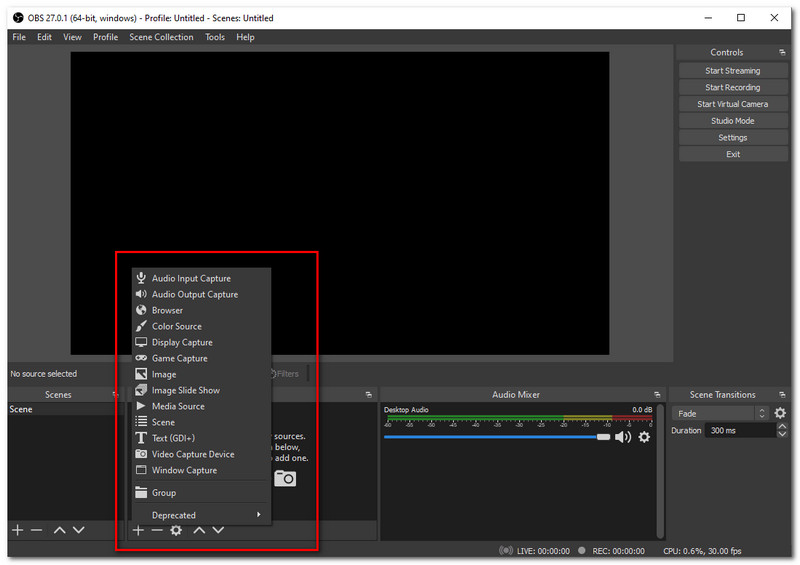 2.
Here you can add the Audio Input Capture and Audio Output Capture to capture the audio from your microphone and speaker.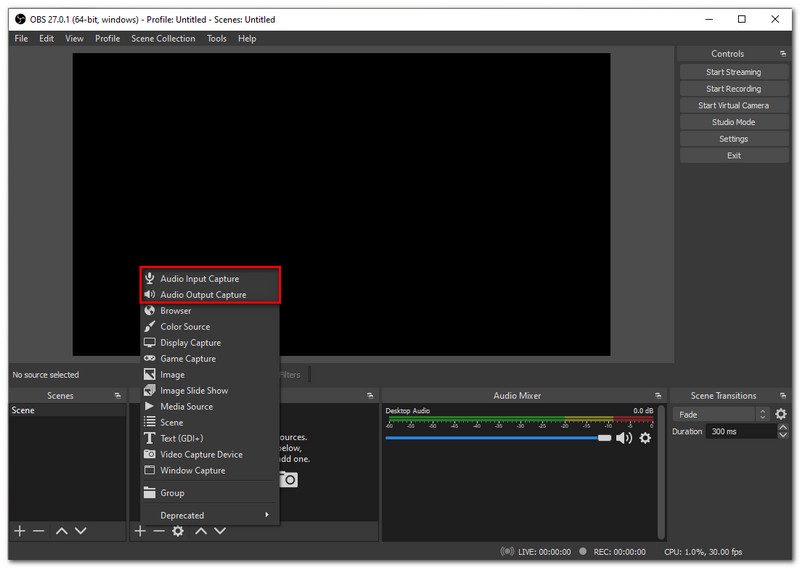 3.
After that, a new window will appear. From Device, dropdown to Default. Then click OK.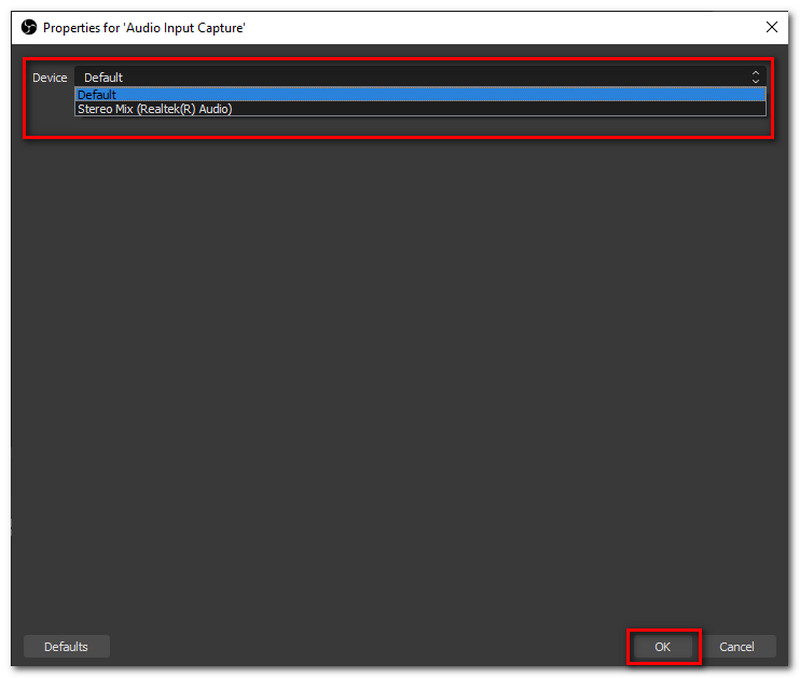 Fix 4: OBS not recording audio mac
In this portion, we will answer the question on how to record audio to your Mac using OBS Studio. Windows users can skip this part because it was made specially for Mac users. To record your desktop audio on mac using OBS, here are the simple steps to guide you in doing it.
1.
Download iShowU on the web. On this page, all you need to do is click Download installer. Just follow the normal installation program on your Mac.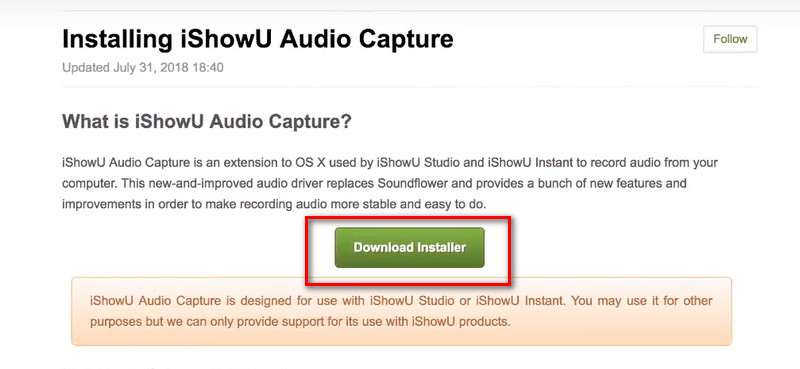 2.
Once the program is installed, the next thing you need to do is to search for Audio miDI setup.
3.
From this, click the Plus icon and add Multi-output Device,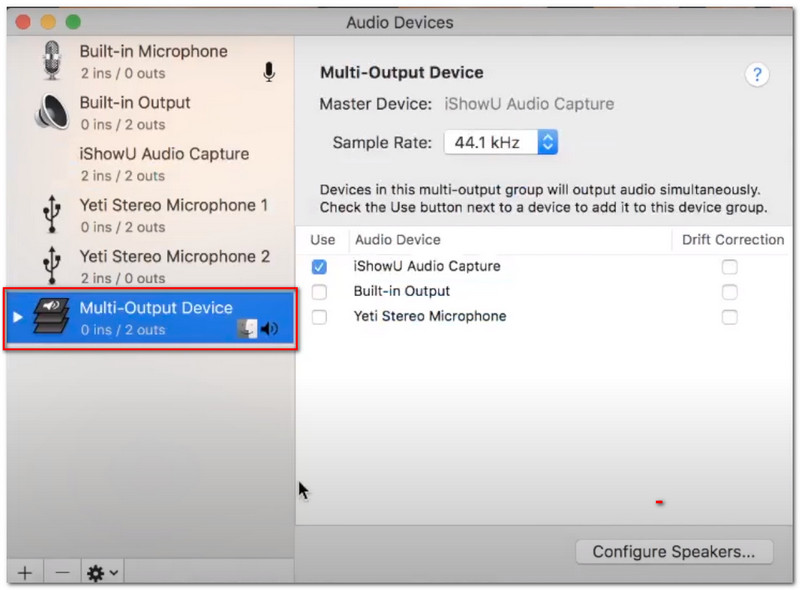 4.
After you added the multi-output device. Go to System Preference. Go into your Sound Setting and click Multi-output device. Then Exit the tab.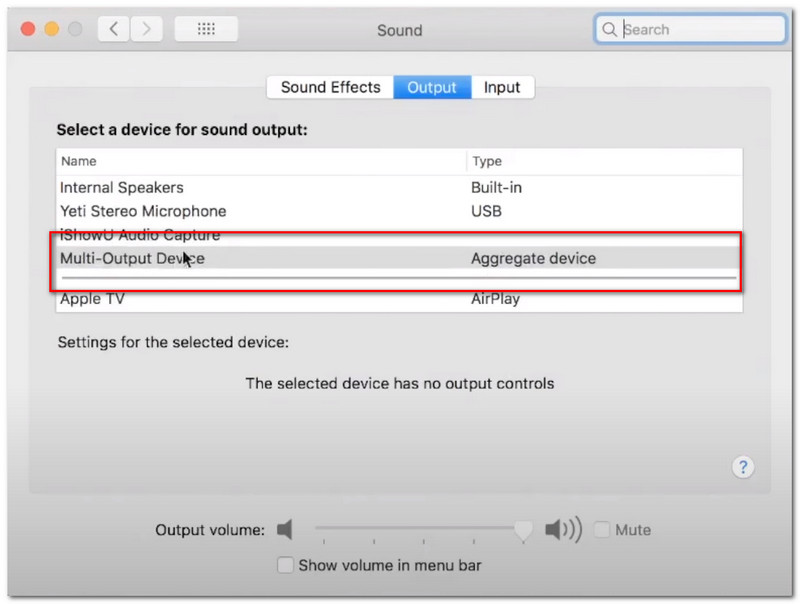 The setup we did a while ago will help us in what we need in setting up OBS to record the audio from your mac.
1.
Open OBS. Go to Setting now, from there go to the Audio.
2.
Make sure the Microphone/Auxiliary Audio Device was a drop-down set by iShowU, which is the one we installed on the previous steps. Select OK.
Fix 5: OBS not recording audio from capture card
Capture Card is a device that works with a computer to capture on-screen content and encode it for playback as a live stream or a high-quality video file. If you have trouble recording the audio from your capture card using OBS, it is highly suggested to buy a new capture card. However, if the problem was in the OBS settings, check the settings to see if your capture card has a setting. In addition, a soundbar for the device should be visible in the main OBS audio window. Keep an eye on the dB levels to ensure you get a worship band without overdriving at the recording.
Part 3: Best OBS Alternative - Aiseesoft Screen Recorder
When all of the previous methods fail to solve the problem, simply use a different screen recorder to create a video. Aiseesoft Screen Recorder, in my opinion, will be the best application you can use. With ease and hassle-free. It allows you to record your screen with high-quality audio from your desktop and the microphone.
It was also labeled as flexible software, for it allows you to enhance your recordings using the editing tools. Overall, this tool is perfect, especially for beginners. To learn how to use it, here are the easy steps on how to record using Aiseesoft.
1.
Open Aiseesoft and you will see its simple Interface with its Function buttons.

2.
Go with the Audio Recorder at the very first square of the software interface.

3.
Before you start recording, make sure you ON the System Sound to capture your desktop audio and OFF the Microphone If you do not need it and vice versa.

4.
To start the process of recording your screen, press the REC button of the right side on your screen,

5.
If you're finished, click the Stop button on the bottom portion of your screen. Then Save your recording or Re-record it.

Conclusion
To sum up, we gave you different situations and solutions on how to fix OBS when it's not recording audio. The reason behind it may vary depending on your circumstances. However, if all the methods given above do not fix the problem. We highly recommend you to use the alternatives. Lastly, if you experience this problem again, or other troubles just like when OBS stops or pauses when recording. Go to the support page of OBS to solve the problem immediately.
Did you find this helpful?
157 Votes
YES

Thanks for letting us know!
No

Thanks for letting us know!
Aiseesoft Screen Recorder
Capture every moment in desktop, browsers, programs and webcam.