Camtasia VS Captivate - Evaluating Their Features, Editing Tools, and more.
Camtasia and Captivate are included as popular screen recorders over the Internet. In this article, expect the comparison between Camtasia VS Captivate. We will show you their differences in interface, quality, price, and more. So, if you want to know more about these two recorders' software, we will not disappoint you because we will provide you with a fair and just review. Read now if you are ready to obtain ideas about Camtasia and Captivate.

Part 1: Our Verdict
Overall Ratings
| | | |
| --- | --- | --- |
| Camtasia | VS | Captivate |
| 9 | Interface | 8.5 |
| Professionals | Best For | Professionals |
| 8.5 | Editing Features | 9 |
| 9 | High-Quality Output | 8.5 |
| 8.5 | Price | 8 |
| 9 | Customer Supports | 8.5 |
| 9 | Overall Ratings | 8.5 |
| 9 | Fast Installation | 8 |
| 9 | Reliability | 8.5 |
Unique Features
Camtasia has a broad range of features. It focuses not only on recording your screen but also in many different ways. Camtasia Packages is one of the unique features of Camtasia. You can do this by sharing your templates, libraries, themes, shortcuts, favorites, and more.
Captivate is a recorder software that offers unique features. One of these is the Quick Smart Projects. It aims to create a ready-to-go interactional eLearning slide. It is for designing introduction, objectives, menu, layout, scenarios, and more.
Final Verdict
Undoubtingly, the winner is Camtasia since it is more popular than Adobe Captive. Not just that, Camtasia offers a free trial, and Captivate does not. Moreover, there are many things to explain. However, let me tell you some of them. Camtasia is an easy-to-use recorder software for professionals. It is recommended for techy users who love to make unique videos. Here is a glimpse of Camtasia's features.
◆ It provides favorites and presets.
◆ Simplified editing.
◆ Pre-Built assets.
◆ Screen Recording Options.
◆ Audio recording.
◆ Media Import.
◆ PowerPoint Integration.
◆ It has iOS Capture.
◆ It provides transitions and animations.
Part 2: Camtasia VS Captivate - Screen Recording
Camtasia Screen Recording
Camtasia has a great screen recording tool. It offers Screen 1, which means recording your entire screen. Plus, you can choose a region on your screen that you want to record. It also provides a Widescreen with available length and width size. In addition to this, it lets you enable the OBS Virtual Camera; you just have to make sure that you have a Webcam. Moreover, while recording, you can turn on the microphone and system audio, and with these tools, you can produce a lively recorded output file.
What's more? You can take control of its Recorder Preferences which contains the general options, files, inputs, and shortcuts.
Captivate Screen Recording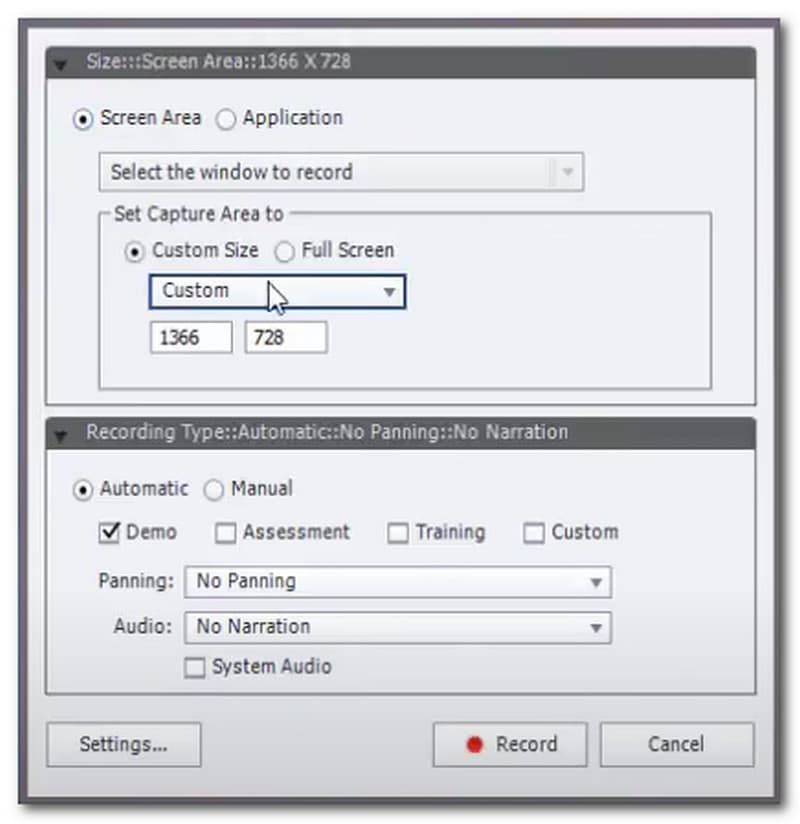 Captivate has a smart video recording. It can record your webcam and screen in just a few simple steps. Furthermore, since it is a smart video recording, it creates studio-quality HD videos. After the recording process, Captivate lets you edit your recorded file, make it worthwhile, and share it with others.
Part 3: Camtasia VS Captivate - Interface
Camtasia Interface

Camtasia has a professional look interface. It is easy to get started since you can quickly see the options. Camtasia's interface is black with a combination of green which makes the interface very cool to see. It is accessible to use because you will no longer waste your time finding the tool you want to use. After all, after launching the software, you will see it in the middle of the interface. In short, it has an excellent interface.
Captivate Interface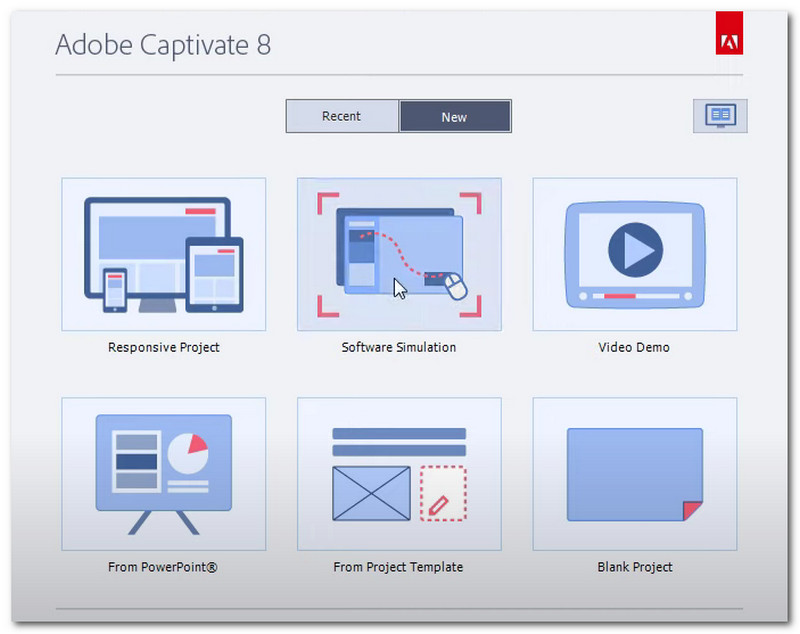 Captivate has a straightforward interface, and while looking at it, you will appreciate the cleanliness of its interface. It has a color combination of dark blue and sky blue. Additionally, it is artistic to see. Anyone will understand its unique interface and aesthetic icons.
Part 4: Camtasia VS Captivate - Editing Features
Camtasia Editing Features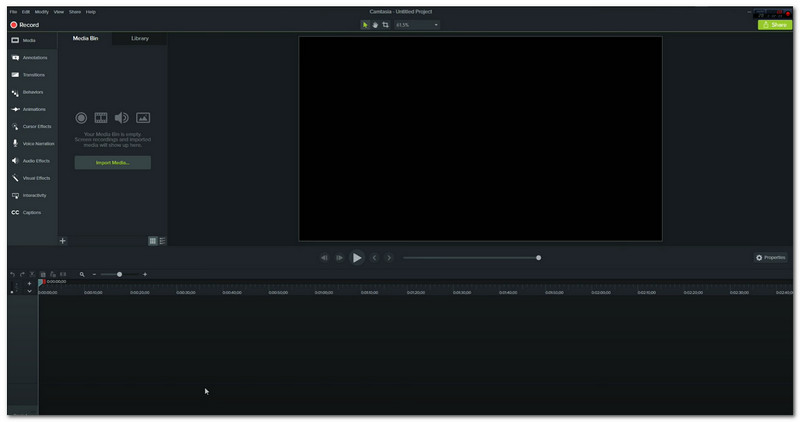 Camtasia has so many editing features to offer to spoil you, and we will present them to you one by one. I know you are excited because it is beneficial to make your recorded videos more unique and lively. So, with that, please see them below:
◆ Favorites and Presets - save your favorite tools and effects.
◆ Simplified Editing - drag, drop, removing, trimming, and more.
◆ Pre-Built Assets - customize assets and add them to your recorded video.
◆ Annotations - use arrows, shapes, lower thirds, callouts, and more.
◆ Transitions - provides over 100 scenes and slides.
◆ Animations - provides pre-made animations, customize animation, zoom in, zoom out, and more.
◆ CursorFX - magnify, spotlight, highlight, and more.
◆ Themes - create your themes.
◆ Remove a Color - replace backgrounds, insert videos, and more.
Captivate Editing Features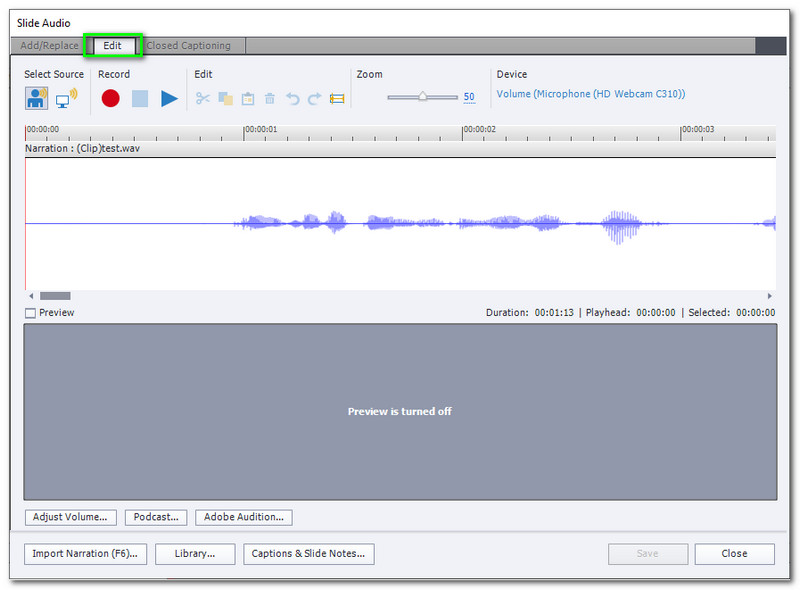 Captivate has editing features that will not disappoint you. It provides you with various editing tools that you might need in your recorded video. So, if you are ready to know them, please see what Captivate offers below:
◆ Image Swap - drag and drop the images you like and add to your project.
◆ Copy Paste Appearance - apply similar formatting like color, font size, font text, border, and more.
◆ Theme Fonts - edit the fonts in just simple clicks.
◆ Smart Font Replacement - changing the fonts, color, and themes.
◆ Automatic Chroma Key Effects - transform the background of your video without needing green-screen technology. With that, personalize your video background and add the footage of various places, images, and more.
◆ Responsive Themes - themes that blend your backgrounds. Fonts, styles, layouts, and more.
Part 5: Camtasia VS Captivate - Other Features
Camtasia Other Features

Camtasia will not be complete without its numerous features offered. To repeat, it is not focusing only on recording. Camtasia also has a goal and lets the users make video tutorials, demo videos, video lessons, instructional videos, presentation recordings, how-to videos, meeting recordings, and so much more! Of course, the screen recording will always be present and allows you to add a few effects to it. The astonishing thing about this is you can share your knowledge with others online about what learnings you have recorded using Camtasia. Well, it will not end there. Here's more:
Camtasia provides music. To do that, choose sound effects from their library, allowing you to insert them into your recordings. Yup, you read it right. That is possible with Camtasia. So, speaking of sounds. It also offers Audio FX. With this tool, you can remove any background noise of your recorded video, equalize audio levels, add audio points, adjust the volumes, and furthermore.
Captivate Other Features
Captivate offers many features that you might also need. Again, one of the features of Captivate is the smart video recording that produces high-quality recorded outputs. Also, it lets you make interactive videos such as demos and training videos. With this, you can record your own and share it with others to obtain more learning. Another feature of Captivate is the Image swap. With this feature, you can fast-track your eLearnings by swapping images easily. You have to drag and drop the photos you want and replace the old ones with the new ones. What else? It has a feature of overlay slides. What is the use of this? You can add new scenarios to your recorded file and make them overlay slides.
Part 6: Best Alternative - Aiseesoft Screen Recorder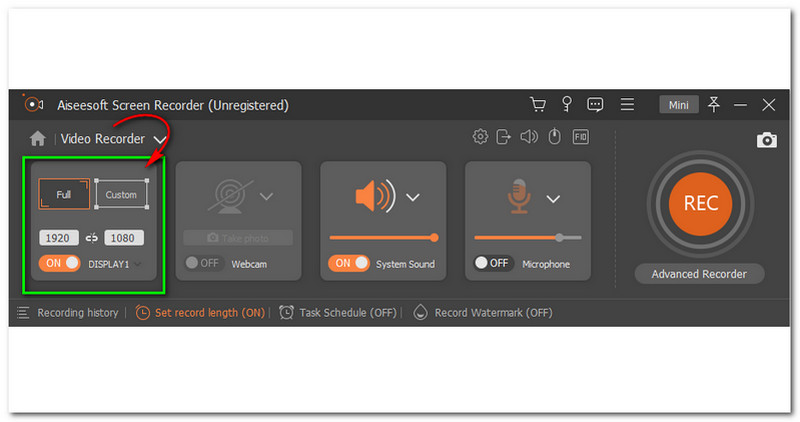 Do you still not find satisfaction with Camtasia and Captivate? Do not worry because you will get the easiest yet most professional way to record your video. We introduce to you Aiseesoft Screen Recorder. It is suitable for Windows and Mac. In addition to this, it can record the internal and external voice, supports numerous file formats, and records your favorite gameplay without compromising the quality. Moreover, you can take screenshots which enables you to use its great editing features. More and more, we recommend you to try Aiseesoft Screen Recorder for a better result.
Part 7: FAQs of Camtasia VS Captivate
Are Camtasia and Captivate compatible with Windows and Mac?
Yes. Both recorders' software works with Windows and Mac. However, some features of Captivate only work on Windows. One example of this is the PowerPoint to mobile learning.
How much does Camtasia cost?
It is costly. You can purchase it for $299. But do not worry, it is worth buying for. To compare, Captivate is much more expensive than Camtasia. Yet, Camtasia offers a free trial while Captivate does not.
Is Camtasia suitable for beginner users?
Beginner users can use Camtasia. However, it is more recommended for professional users.
Conclusion
To summarize, we explain to you the difference between Camtasia VS Captivate. Moreover, we discussed each editing tool, features, and more with you. We also provide you with questions and answers. Till our next article!
Did you find this helpful?
268 Votes
YES

Thanks for letting us know!
No

Thanks for letting us know!
Aiseesoft Screen Recorder
Capture every moment in desktop, browsers, programs and webcam.