Snagit VS Camtasia – Which Is A Better Screen Capture
Both Camtasia and Snagit are from TechSmith. Working as the screen recording software with different editing levels, they have been downloaded and installed by billions of users.
They are not complementing in capturing screen, but have some overlapping features, which draws users a hard line on picking up a better one from them.
Snagit VS Camtasia, which one is better?
Read the comparison about these 2 products and find the right screen recording software for you.

Image Capturing
If you want to take screenshots, go with Snagit, because Camtasia handles videos mostly.
Snagit can take a full-page, scrolling screenshot to grab vertical and horizontal scrolls for webpages and long chat messages. After taking the screenshot, you can copy to the clipboard for further editing. Alternatively, you can use its powerful screenshot editor and those screenshots can be created a video or GIF quickly with its built-in editing features.
Camtasia, in contrast, only leaves you an option to export a frame as a screenshot. Then you can use the screenshots and insert them into your video file.
Snagit VS Camtasia – screen capture
| | | |
| --- | --- | --- |
| Screen capture features | Snagit | Camtasia |
| Take screenshots | Entire desktop, a region, a window, or a scrolling screen | Video frame capture |
| Edit screenshots | Edit screenshots | |
Video and Audio Recording
When it comes to video recording, Camtasia is the winner.
Snagit's video recorder feature lets you quickly record yourself working through steps and save your video file as an MP4 or animated GIF. While recording a screen, its toolbar allows you to choose audio and webcam recording settings. While previewing video recording, the Snagit Editor lets you clip the video recording directly.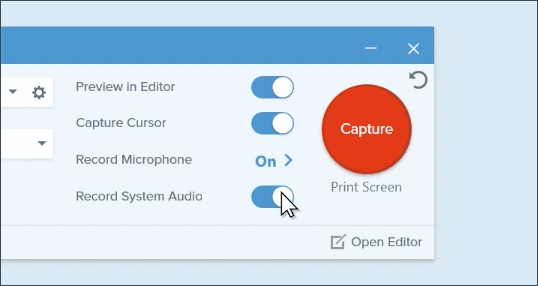 Compared with Snagit, Camtasia does a better job in video and audio recording. Apart from recording your screen with various modes, its powerful editing features let you create content to engage with your viewers.
Snagit VS Camtasia – video and audio recording
| | | |
| --- | --- | --- |
| Video and audio recording features | Snagit | Camtasia |
| Record screen | Record screen | Record video and audio |
| Edit video recordings | Video creation templates, music library, PowerPoint integration, interactivity quiz, iOS capture, annotations, transitions, animations, themes | Clip |
User Interface Friendliness
The interface of Snagit is easy to familiarize with for beginners. If you are new to the screen recording field, Snagit can help you complete the task easily through its robust menu. You can easily record video and audio, and take screenshots through the simple tool navigation. The professionalism perspectives of Snagit are the screenshot editing features.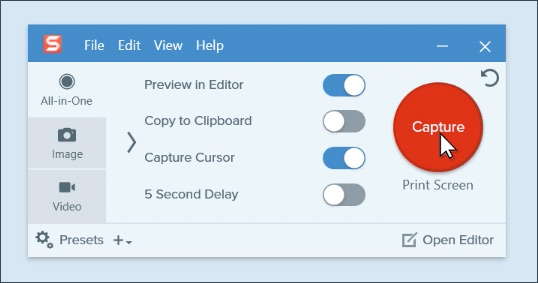 Different from Snagit, Camtasia offers a professional interface use for video recording editing features. Its interface can be viewed in simplicity.
When it comes to the editing functions, Camtasia is better for professional users, and Snagit is better for beginners with simple recording features.

Unique Features
As for Snagit, it comes with a host of features that are ready to help users to take screenshots and record videos. Packed with features in the handy toolbar, Snagit lets users track their work by implementing its tools and format for seamless screen recording.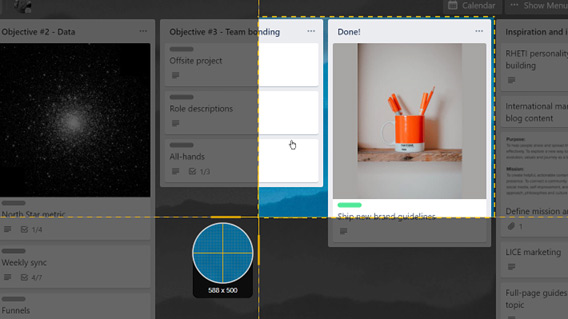 Camtasia is definitely well known for its editing features. Its timeline displaying options and canvas real-time preview give you more feasible controls to add effects to create a refined video and share it online.
Cost
When downloading or buying a screen recorder, price is always one of the considerations.
Whether Snagit or Camtasia, you can find its upgrade plan based on different versions.
Camtasia 2018, Camtasia 2019, Camtasia 2020, Snagit 2018, Snagit 2019, Snagit 2020, and Snagit 2021 have different features, which pop up a different price when you upgrade.
Besides, for different uses, the price varies.
| | | |
| --- | --- | --- |
| Uses | Snagit 2021 pricing | Camtasia 2020 pricing |
| Individual | $49.99 | $249.99 |
| Business | $29.99 | $169.99 |
| Education | $29.99 | $169.99 |
| Government & Non-profit | $49.99 | $249.99 |
Verdict: Snagit VS Camtasia
To a thousand readers, there are a thousand Hamlet. Whether Snagit or Camtasia is better depends on your purposes.
If you are looking for a simple video production software, Snagit is a good way to go for its low price and easy-to-use interface.
To be clear: Snagit is lacking in the tools to edit video recordings and sharing the video is also a lot more complicated than it seems.
If you are a professional video creator to create something great, Camtasia will be your No.1, if you can afford it.
It's also noteworthy to point out that some users complain that built-in media is limited in quantity and it cannot execute live recordings via DV cameras.
In the batter of Camtasia and Snagit, there is no winder. Or you can say they are both winders.
Did you find this helpful?
114 Votes
YES

Thanks for letting us know!
No

Thanks for letting us know!