The One and Only Operative AllPlayer: Providing You the Overall Evaluation of The Software
Most people do love watching movies and listening to music because that is one way to free themselves from the stress they get, may it be from their work, study, environment, or from the world as well. If you are one of them, I assume that you are looking for a media player that can seamlessly and smoothly play all your movies, video, audio, music, and images as well. With that being said, as we would like to help you find an effective media player, we have made for you a comprehensive AllPlayer review. That is to say, we also listed its overall ratings, pros and cons, price, what are the platforms it can be played on, its main features, how does its interface look like, its media playback settings and the best alternative media player software to it. As a result, you have an opportunity to distinguish if AllPlayer will be able to meet your concerns.

1. Our Verdict
Pros

100% free.
Allows you to optimize subtitles.
Allows you to choose one codec to use.
Offers a remote control feature.
Support almost all media files.
Easy to use software.
Cons

Unavailable source code of the software.
Some menus can be difficult to use.
Overall Rating
AllPlayer is one of the most famous and effective software for playing any type of media content that you have such as videos, movies, music, audio, and images. Furthermore, one interesting function that this software can do is that it can restore and fix your broken movies to play and watch them completely. Also, this offers you various interesting features that will let you enjoy the software at its finest.
Easy to use:9.5
Smooth Playback:9.5
Interface:9.2
2. What is AllPlayer?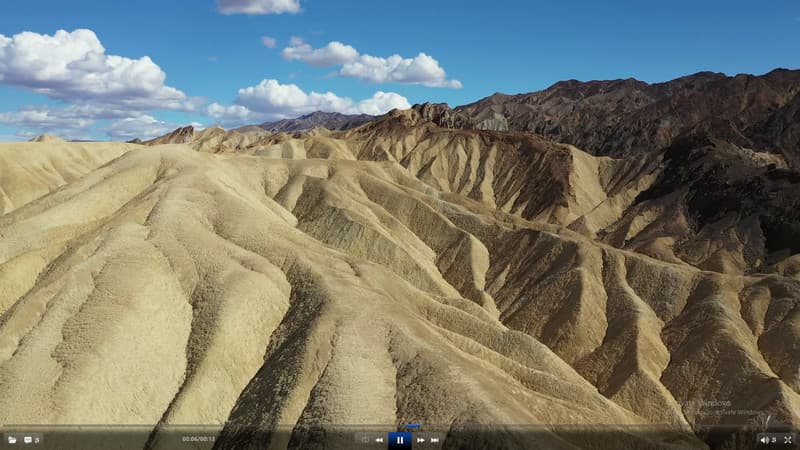 AllPlayer Video Player is actually media player software that allows you to play almost all your media files providing a perfect video, audio and image quality. Furthermore, it offers a built-in subtitle for your movies for a better watching experience. The good thing about this software is that it can also play your media contents from DVDs and CDs. In line with that, it also plays movies from .torrent files, and RAR files. And if you love to listen to radio FM stations, AllPlayer is also capable of playing online radio stations. Another thing, like the other media players that offer editing tools, this software also allows you to edit and enhance the quality of your videos and movies. Thus, you can refer to the following information for a detailed evaluation of the tool.
Price
Have you been amazed with what AllPlayer could offer to you? And good news, you can utilize all its features just for free.
Platform
So, this media player software is perfectly compatible with both Mac and Windows computers.
Features
◆ Can play movies from .torrent files.
◆ Plays RAR files.
◆ Offers dozens of online radio stations.
◆ Can support up to 4 monitors or TV's.
◆ Offers an automatic playback for next parts of movie files or series.
◆ Provides a playlist feature.
◆ Offers editing settings.
◆ Offers various types of subtitles.
◆ Supports DVD and CD files.
◆ Plays almost all media contents.
◆ Compatible with Android and iOS devices.
3. AllPlayer Review
Interface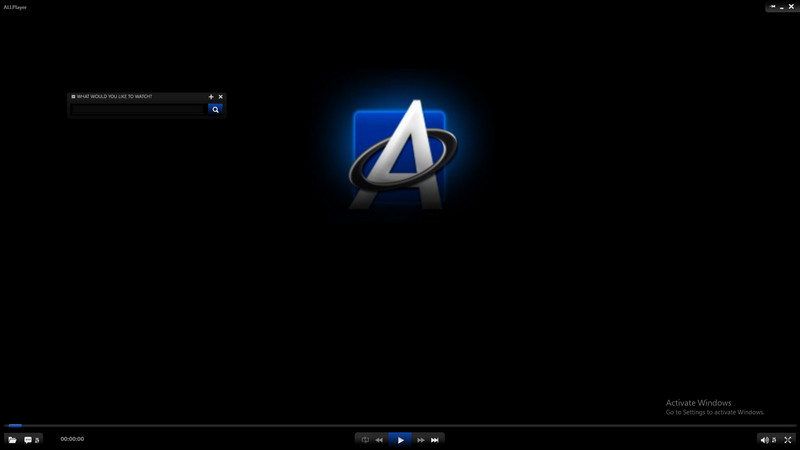 Let us now move on to the interface look of the said media player tool. So, the software offers you a black colored palette with the touch of royal blue. More so, the interface itself will enable you to easily identify its media playback settings without any confusion. With that said, you can also notice where to add your files and play them, where to add and stream subtitles for your movies along with its editing features for the fonts style, color and more. In addition, you can see where to edit and enhance your videos for a better video resolution. Also, the interface will show you a search button where you can search movies that you want to watch over the internet. Furthermore, you can also utilize the audio setting, the screen size and media playback settings whether you want to pause, play, fast forward and backward, or shuffle the movies. The good thing about this tool is that if you are having a movie marathon, this is perfect because the next videos will automatically play.
Online Library Support - Radio and Movies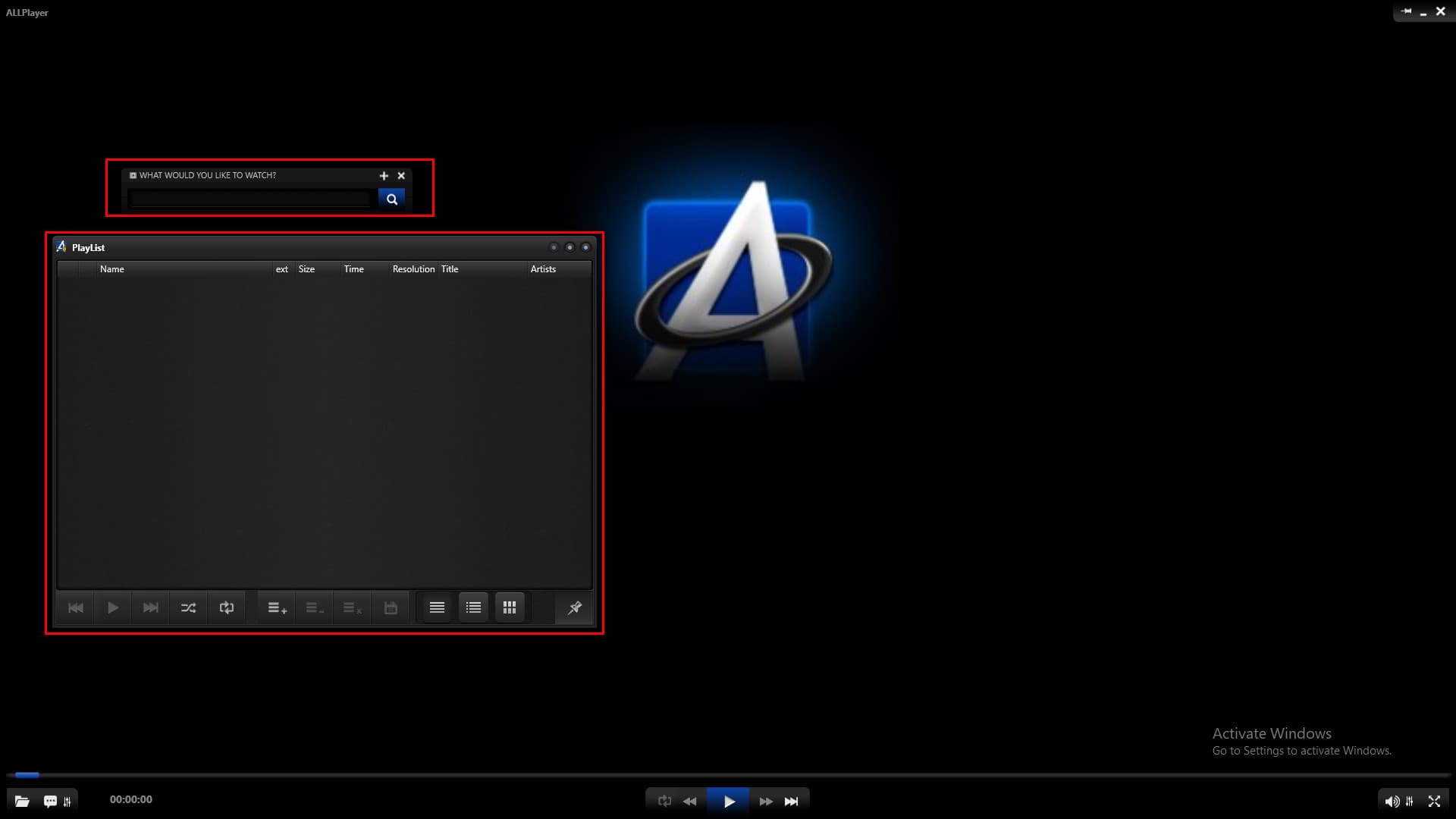 If you don't have enough saved movies and radio files from your local file explorer, do not need to worry anymore because this software allows you to watch movies and listen to your FM radio station over the internet for free. With that being said, AllPlayer allows you to playback movies and radio stations from online. And once you have played them, they will be automatically saved in the library or playlist so you can playback them again.
Remote Control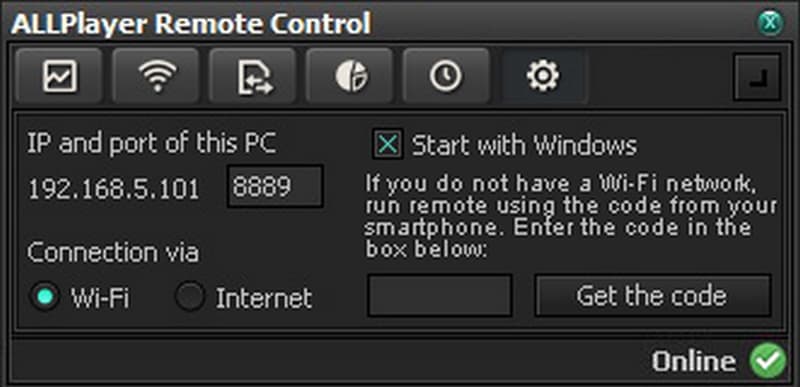 AllPlayer Video Player also provides a remote control feature that enables you to utilize the programs or software that are downloaded on your computer. That said, it provides important buttons so you can control and adjust your media files while or before playing them.
AI Subtitles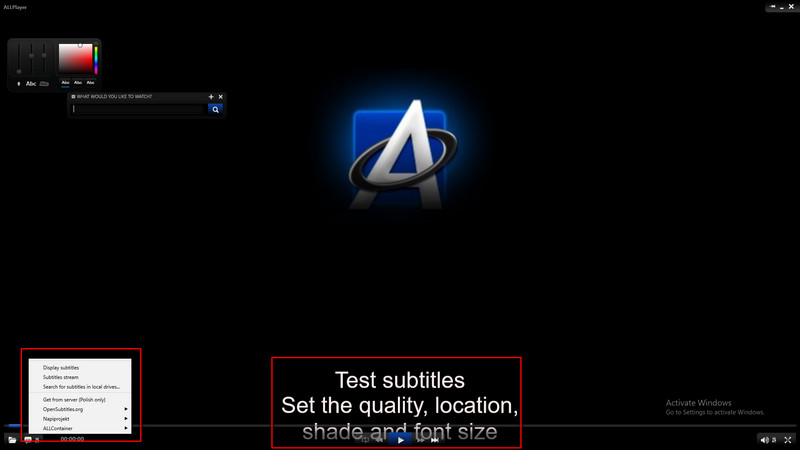 So, aside from playing all media contents using this software, this media player tool allows you to insert a subtitle type on your movie. Thus, you do not need to worry about where you can get a subtitle because it allows you to insert a subtitle file directly from your local drives or internet. Aside from that, it allows you to edit the font size, color and style of the subtitle.
4. FAQ
What is the newest version of AllPlayer?
The newest version that the AllPlayer could offer to you is the AllPlayer 8.8.6 that has improved media playback features. That said, you can watch your movies full screen. Plus, the audio and video codecs have been updated as well.
AllPlayer vs. VLC Media Player: Which is better?
Upon using the two software, I prefer using AllPlayer than VLC because AllPlayer enables you to search media files over the internet, while VLC does not support online media playbacks.
How to switch another soundtrack on AllPlayer?
To do this, kindly click the right mouse button on the interface while playing a video then you can select the sound button. After that, select the audio track and you can choose your preferred audio track.
5. Best Alternative - Aiseesoft Blu-ray Player
If you are not convinced that AllPlayer will not be able to solve your concerns. We have also looked for an alternative media player to it. Thus, we have found Aiseesoft Blu-ray Player that is perfect for your movie and audio files giving you an excellent media playback experience.

Aiseesoft Blu-ray Player
An alternative media player software to AllPlayer Video Player on Windows and Mac.
Friendly-user software.
Offers a free version.
Plays HD videos.
Can play movies and audio from Blu-ray and DVD disc/folder/ISO files.
Conclusion
To wrap it up. We do hope that you have finally distinguished if AllPlayer is perfectly suitable for your videos, movies, audio, musics, and images. And if not, just in case, you can use Aiseesoft Blu-ray Player as an alternative to it. Henceforth, if this software has greatly helped you, kindly share it with your friends.
Did you find this helpful?
111 Votes
YES

Thanks for letting us know!
No

Thanks for letting us know!
Aiseesoft Blu-ray Player
A universal media player for Blu-ray, DVD, video and audio.