Detailed Review of PotPlayer for a Wondrous and Incredible Watching Videos Files
There are tons of video players in the market nowadays that can offer diverse features and functions for the users. However, just a few of them are performing well. Few media players possess enhanced codecs, wonderful UI, and more. Little did you know, PotPlayer is one of them. Well, this player is one of the great media players in the market that offers tons of features and functions. Therefore, it is a must to review PotPlayer and see its validity if it is truly a wonderful video player. In addition, if you think PotPlayer is not enough for you, we have found the best alternative to PotPlayer for you - the Vidmore Player. Let us start the exciting review.

1. Our verdict
Pros

Secured in playing your video files.
Minimalist user interface media player.
Wide range of configuration options.
Offered incredible features like the ability to play 3D and 360-degree video.
Compatible for multiple devices such as TV or HDTV.
Cons

There are so many different settings that sometimes are confusing.
Bugs and glitches sometimes occur.
A bit down in terms of quality playback.
Low loading screen speed.
Overall Rating
PotPlayer is known to be one of the media players that has the potential to offer the best features for their tons of users. Legitimately, we cannot deny its ability to give us the best, and still continue in improving.
User Interface:8.5
Easy to use:8.7
Video Playback:8.4
Quality Video Resolution:8.1
2. What is PotPlayer?
PotPlayer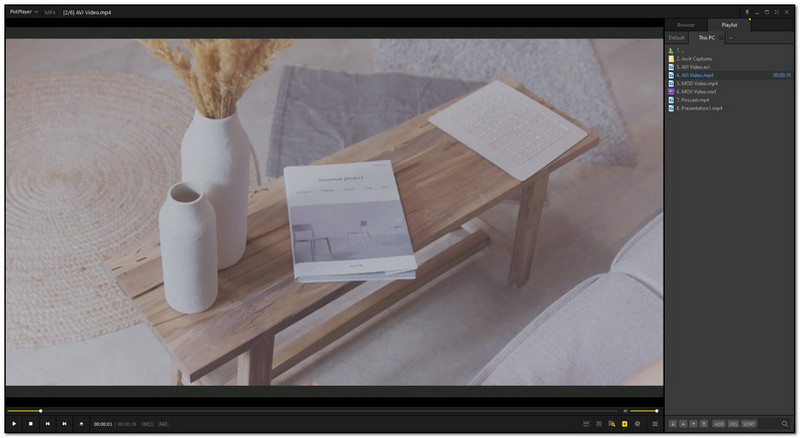 PotPlayer always belongs to the great player. This media player has enhanced codecs throughout the years and already possesses an amazing UI. It is capable with most advanced codecs as an output like H.265 codec that does not require installing extra codecs. All of these can also bring you a smooth PotPlayer playback.
Price
Is PotPlayer free? Well, this software is a freeware video and audio player. That supports tons of devices like TV Channels, subtitles, and skins. These features are all free and can be enjoyed after you have downloaded the PotPlayer from their official website.
Platforms
Potplayer is for Mac and Windows operating systems.
Main Features
We said that PotPplayer offers tons of features that are really beneficial in playing our videos with smooth and enjoyable playback. That is why in this part we will elaborate this statement to prove that it is not a hoax. Well, we listed the main features that are offered by PotPlayer. Take a look below.
● Enhanced high H/W-Acceleration that gives a full performance.
● Submerging experience of 3D video playback for VR.
● Potplayer supports DVD and Blu-ray video playback.
● Capable with various subtitle formats and even Blu-ray subtitles like ASS/SSA animation and more. This PotPlayer subtitle can be turned off easily too.
● Offers tons of codecs that can be easily managed.
● Allowing you to preview scenes and take a snapshot of what you are watching.
● Supports Direct3D9 Ex FlipMode and overlay.
● Choosing between your 2 sound cards for a high audio quality.
● Amazing PotPlayer skins.
3. PotPlayer Review
Support Video and Audio Formats
PotPlayer is not only infamous as a video player, but also it is most known as the best media player in the market. In fact, it is capable of playing your audio and video files smoothly. In fact it supports a wide range of different media files. To show, here are the media file formats that are supported by PotPlayer.
PotPlayer Supported Media File Formats
Video File Formats
MP4, AVI, WMV, ASF, MPEG, M2V, MTS, DPG WebM, AMV, DivX, and more.
Audio File Formats
WAV, WMA, MP3, OGG, M4A, AAC, RA, FLAC, MOD, and more.
Ease of Use - Interface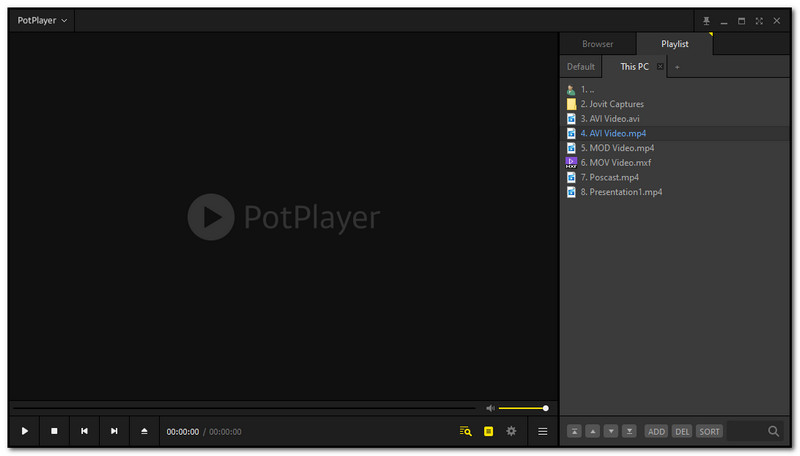 The interface of a certain software is one of the big factors why it is easy to use. That is why the developer of PotPlayer came up with a simple yet beneficial tool that is easy to utilize. We will see in the interface the very simple design that has a dominant black with a touch of yellow color. Others are just minimal colors that bring an appealing look for the users.
Performance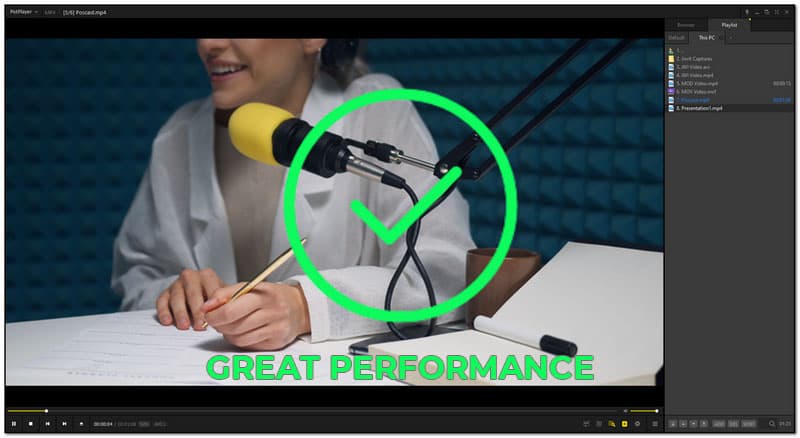 In terms of its capability as a video player, we can really say that PotPlayer always does an amazing performance- playback, utilizing the navigation menu, playback settings, library, and more. However, keep in mind that system requirements are a great factor for PotPlayer to perform well. There are chances that you may experience slow and lags, maybe because you did not meet the required system.
Playlist Support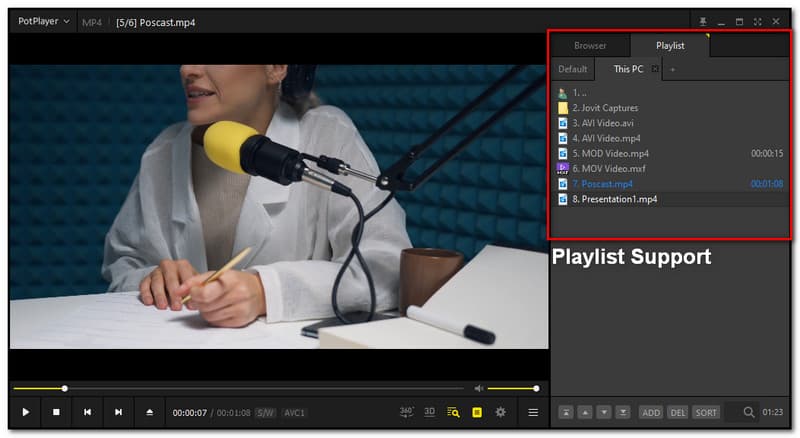 PotPlayer definitely supports playlists. In fact, itr possesses a very easy to use playlist that can immediately present all of your video files without a lot of tabs appearing. Therefore, all of your media files are one click away to play it. In terms of the playlist formats, here are the supported formats of PotPlayer for your playlist.
Playlist Formats: M3U, ASX, PLS, WVS, CUE, and more.
What is PotPlayer Best For?
Have you not figured it out yet, what is Potplayyer the best for? Well, PotPlayer is the best to use in playing 3D and 360-degree videos. This is a great feature offered by PotPlayer for it is very immersive playback for you with your best buddies. All of these will come with a very smooth playback.
4. FAQ
How is PotPlayer effective in managing your user experience?
PotPlayer is effective in managing your user experience by allowing you to change the output format: Page flipping, side by side, and top and bottom. In fact, there are so many opportunities that can create the best user-experience within the user interface.
Why are there times that PotPlayer is not compatible with Windows 10?
We also experience having trouble with installing PotPlayer with our Windows 10 OS. Fortunately, we found out the few reasons behind this common PotPlayer problem w. The said instance can occur because of trouble in internet connection when downloading and wrong configuration of browser settings. To sum it up, PotPlayer is compatible with Windows 10 with a proper downloading process.
Is PotPlayer safe to use?
Of course, a notification alarm may appear just because of the protection from your installed anti-virus software. However, PotPlayer is still safe to utilize. As long as you meet the system requirements, you will never experience a threat in using the player.
5. Best Alternative- Vidmore Player
The best alternatives to PotPlayer are now here. Vidmore Player is one of the greatest media players in the market that has the ability to give you a super immersive video playback.It is capable of playing videos and audio in almost every format. That is why it is called a universal media player. It is kind of similar to PotPlayer, but a bit advanced when it comes to its technology. Therefore, it is truly the best alternative for a great use of playing videos.

Vidmore Player
An ideal alternative to PotPlayer to play videos and audio without hassle.
Playing of UHD Video files.
Supports almost every media file formats.
Offers extra features that is essential with playing videos.
High-quality video processing.
50x faster video speed.
Multi-core processor.
Conclusion
Here you go, we got to know PotPlayer about its features, functions, and other information about. For that being presented, we can really see why there are alot of users who recommend PotPlayer in playing your video files. However, we just need to be careful in utilizing this software because there are instances that PotPlayer can harm your devices. Therefore, an alternative is essential that is why introduce you to the Vidmore Player- the best and the universal media player you can utilize for a high-quality experience of watching your videos. That is why, if you found this post useful and informative, share this to others so that they will know it too.
Did you find this helpful?
257 Votes
YES

Thanks for letting us know!
No

Thanks for letting us know!
Vidmore Player
Best media player for Blu-ray, DVD, 4K video and audio.