The Incredible KMPlayer: An Impartial Review of its Amazing Features and Functions
We are now living in a decade where we watch different kinds of videos persistently. There are tons of people who use this for entertainment, businesses, learning materials, and more. Most of the time these videos that we are watching coming from different platforms also possess different types of file extensions. Therefore, if that is the case having a video player that can offer amazing features is surely beneficial. Fortunately, little do you know that there are tons of video players out there that can offer what you want and what you need. That is why in this article, we will assess one of the most infamous video players in the market. Let see its features, platforms, compatibility, supported file formats, and other additional components that we can get and utilize. Without further ado, here is the review of KMPlayer.

1. Our Verdicts
Pros

It is compatible with multiple platforms.
Supports 3D video smooth playback.
Downloading extra codecs from the website is allowed.
Provides built-in remote playback support.
Offers a version for mobile devices users.
It offers free download and utilization of its features.
Cons

There are some complications when playing files.
There is an availability of advertisements on the homepage and unexpected pop-ups.
As we reviewed it, the version still required updates.
You will need numerous extra software for downloading.
Overall Rating
To drop the general perception about KMPlayer, it is good to see that it really offers fantastic features. Therefore, no need for doubt that KMPlayer Video Player always belonged to the list of being the best media player for everyone. Overall, it is a player that can perform with amazing playback of your video files.
Easy to use:8.5
Smooth Playback:9.0
Functionality:9.0
2. What is KMPlayer?
KMPlayer
KMPlayer is known to be one of the most equipped with numerous video quality functions. It possesses Hardware acceleration settings which probably will enable us to experience smooth playback. In addition, it also has external codecs. Furthermore, one of the best things about it is that it supports 3D video playback functions and supports subtitles for your movie formats such as the video file formats of MPEG1, MPEG2, AAC, RTS, WMA8, OGG, and more.
Price
It is free to use and download from any online digital store like App Store, Play Store, Microsoft Store, and more. Despite the fact that it is free, it still offers a wonderful feature that will have the ability to make you feel like you are a very important person. Overall, KMPlayer a video player especially with your Android devices is one of the cost-efficient applications in the market nowadays.
Platform:
Android Mobile Devices, It is also available with your computer OS like Windows and Mac.
Main Features
We are now at the portion where we were going to review one of the most important factors to say if KMPlayer is worth trying? We will see what this video player can offer for everyone.
Main Features of KMPlayer
This has an incredible ability to play your super high definition videos with smooth playback.
It offers a tool called MyList, where you can create and play your personalized playlist.
Using this video plate can be instantly using the Quick Button functions.
Watching films, movies, or clips can be immunised through customizable subtitles- size, color, and position.
You may control when you want to end your video using the timer.
Embrace the amazing sound of your video through the KMPlayer equalizer setting.
It offers the newest Cloud play for all.
Additional features offered like watching your videos in zoom and pan functions.
Play your videos unstoppable and on repeat.
The speed of your video is on your control via speed control.
Playing video using URL is allowed.
Easy scan of your videos in your external storage.
Enjoy and experience a great movie night with the KMPlayer Mirror Mode.
3. KMPlayer Review
Compatibility
In terms of compatibility, KMPlayer is known to be one of the most flexible video plates in the market. Because one of the best things about this tool is that it is compatible with almost every device. To your Windows OS, Mac OS, Linux, and most especially with your mobile devices such as Androids and iOS. For that being said, we can now say that KMPlayer also supports multiple platforms that make it accessible for the public. However, it is important to bear in mind that you have good performance and a dual core CPU like Intel or AMD.
Supported Files and Devices
KMPlayer is not just performing well in playback, but only with its wide range of supported media file formats and supported devices. It actually supports a lot of formats and is compatible even with your mobile devices. Below, you will see the data about its supported file formats and device compatibility.
Supported File Formats
AVI, MPEG, TS, MKV, WEBM, MOV, 3GP, 3G2, FLV, OGM, RM, WMV, MP3, and more.
Supported OS
Windows, Mac, Android, iOS devices.
Subtitles
Since we have mentioned various features that KMPlayer offers, let us dig deep with its features that support subtitles in playing your video using the KMPlayer. As an honest review, this is one of the amazing features of this video player. As we know, sometimes we know subtitles are hard to read because of the issue of contrast and hues. Well, KMPlayer got you to customize your subtitle size, color, and position.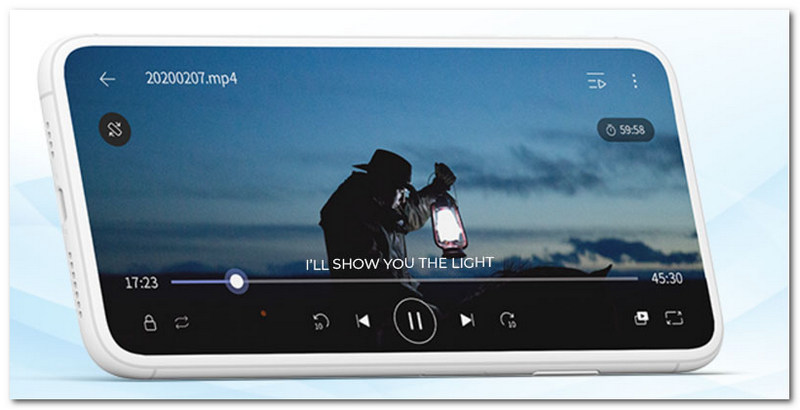 What is it Best For?
KMPlayer is best for playing your videos with super ultra-high-definition resolution. This is actually the go-to player of the people who want to experience an immense experience of watching their videos.
4. FAQ
Is KMPlayer Safe?
It is definitely a safe video player. The developer is making sure that their software is performing great in all aspects, most especially in terms of its security.
What types of videos may I play on KMPlayer?
Almost all video files with different file formats can be played using KMPlayer. Also, these videos can be played with super high-definition resolution.
What is the reason behind the KMPlayer script error?
It is something that sometimes occurs if you are asking the reasons behind it. This occurs because of the Google Analytics plug-in. That mentioned is something that is used by the video playback program.
5. Best Alternative - AnyMP4 Blu-ray Player
Smooth Playback:9.5
User-friendly:9.0
High Technology:9.0
Do you think that KMPlayer is not enough for you like a video player? Well, we got you covered, because we found the greatest alternative video player to KMPlayer for you. Introducing you to AnyMP4 Blu-ray Player. This fantastic video player has the ability to offer a bit similar to KMPlayer but still in a unique way. The best thing about this, it has the ability to play your videos with 4K /1080p HD video with H.265 encoding video with super excellently smooth playback. Other than that, it also offers incredible features that will really help you in making your videos file organized.
In addition through this player, you may now manage your media files placed in your Smart local music library. Look, that is just an overview of what AnyMP4 Blu-ray Player can offer and there are more. You may try it to explore and discover more. Overall, you may now enjoy ultra-high-definition videos with incredible playback with AnyPlayer Blu-ray Player.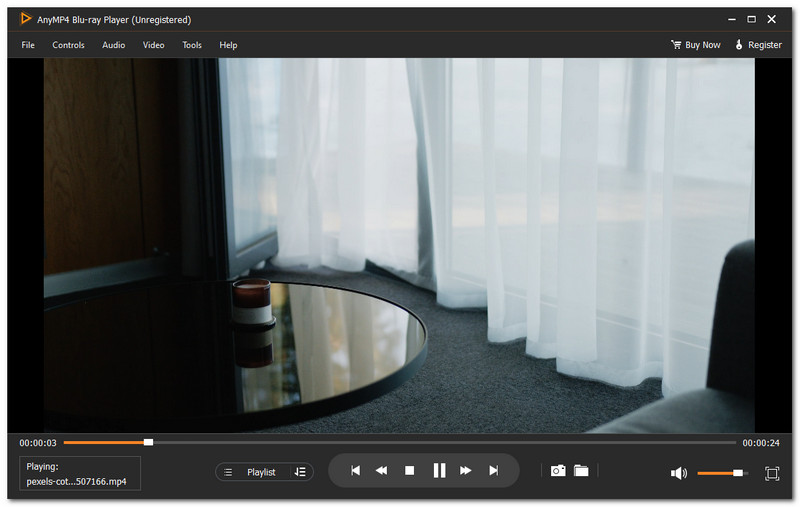 Conclusion
For all of the things we have reviewed, we may now conclude that KMPlayer is one of the best media players in the store nowadays. We knew that it can offer a lot in terms of features, functions, and more. The best thing about KMPlayer is that it is compatible with multiple platforms even with your mobile devices.
Did you find this helpful?
205 Votes
YES

Thanks for letting us know!
No

Thanks for letting us know!
AnyMP4 Blu-ray Player
Make Blu-ray, DVD, and video playback easier on computer.