MediaMonkey Review: Offering You a Complete Study of Its Features, Offers, and Media Playback Settings
What are your favorite hobbies so far? If you are not yet sure of what you must do with your free time. We want to give you an idea of how you would spend your time that will give you a satisfying experience. With that said, most people do watch movies and listen to their favorite music in their leisure time. Also, it is their chance to release their stress. So, we highly recommend you start collecting media files. In relation to that, as you have collected them, you must play them on the best media player. For that reason, we also prepared for you a MediaMonkey review wherein you can discover if this media player can help you seamlessly play your audio and video files on your computer. Thus, this write-up also provided with you the overall rating of the software along with its pros and cons, how does the interface looks like, free or not, what are platforms it can be played on, its main features, and media playback settings, what audio formats does it supports, what is its performance, what is the best alternative media player to it, and a lot more. Through this article, you can examine if it will surely benefit you.

1. Our Verdict
Pros

Can absolutely play and manage 50,000 and more media file formats without any trouble.
Can also function and be used as a home media server
Offers auto-tagging and auto-conversion.
Automatically adjusts the volume for perfect audio playback.
Offer a sleep mode that enables you to configure the time to play songs.
Supports and can play almost all media file types and file formats.
Offers both free and gold versions.
Can fully customize the media player tool.
Can sync iPods and other MP3 players.
Cons

Compatible with Windows OS only.
Complicated to use.
Offers an outdated interface look.
Change the files without your permission.
The free version offers outdated features and settings.
Overall Rating
MediaMonkey media player, though this media player software is best known for playing and organizing audio files, it also plays and supports your video and movie files. Thus, you can use this software to seamlessly play your movies on your Windows. With that said, you can surely use its media playback settings, and create your own playlists for easy access. However, since it focuses more on audio and music files, there are some things that need to improve the performance of playing video files using this software.
Easy to use:9
Smooth Playback:9
Interface:9
2. What is MediaMonkey?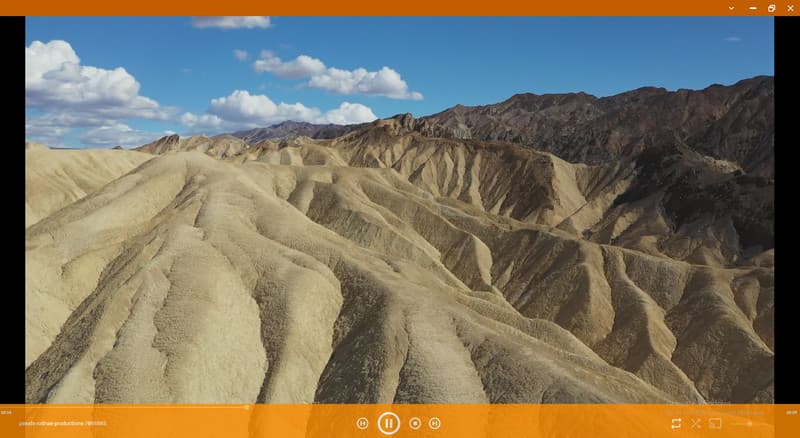 MediaMonkey is best for collecting and keeping your media files on both your computers and mobile phones. With that being said, this media player tool can totally support and manage over 50,000 up to 100,000 audio and video files, contemporary and classical music, audiobooks, podcasts, or music videos whether it be from your hard drive, local file folder, the cloud, CDs and internet. Moreover, you can also, edit and enhance the video while playing it. And most importantly, it offers a free version up to upgraded versions so you can fully try and use its unique offers and features.
Price
This media player offers 100% free MediaMonkey download. Thus, you can use it on your PC for free. Also, it offers upgraded versions along with its upgraded features such as Version 5 Gold for only $24.9 and Lifetime Gold for only $49.95.
Platform
MediaMonkey is only available for your Windows computer. Also, you can also use this software on Mac. However, you need to use android emulators like Bluestacks.
Main Features of MediaMonkey
● Provides advanced manager of media library.
● Offers a built-in media player.
● Offers tag editor feature.
● Can synchronize with mobile devices.
● Offers a convenient search metadata.
● Allows you to organize music and edit tags.
● Can play and support 50,000+ files lossless.
● Can convert MP3, OGG, FLAC, and WMA file formats to other popular file formats.
● Can sync with iPods and MP3 players.
● Provides Party Mode.
● Can rip and burn CDs.
● Provides a sleep timer.
● Offers unlimited MP3 encoding.
● Offers file monitor.
● Offers upgraded filters.
3. MediaMonkey Review
Support Audio Formats
MediaMonkey media player also supports audio file formats aside from playing movie and video files. Henceforth, it can play your music files such as MP3, OGG, WMA, FLAC, MPC, WAV, CDA, M3U, and PLS.
Performance
Upon using the MediaMonkey 5, I personally noticed that the moment I played a video, it was very nice because it produced a high-quality video resolution. I was totally amazed. Moreover, I was so impressed about storing and keeping all your media files in one library to easily search and play them again. All in all, it gives me a better impression when it comes to media playback settings because it can also play audio and video files directly from your file explorer, CDs, hard drives, and web browser extensions without having any trouble or interruption.
Music Library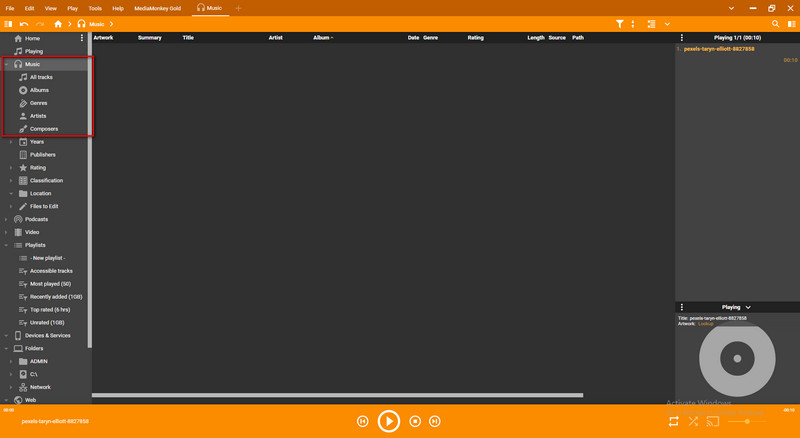 As we have written above, this MediaMonkey media player is perfect for organizing all your music file folders in a library and it enables you to synchronize them. Henceforth, you can arrange and sync albums, genres, artists, and compressors. In addition, it enables you to put your music files in the library up to 50,000+ audio files.
Playback Settings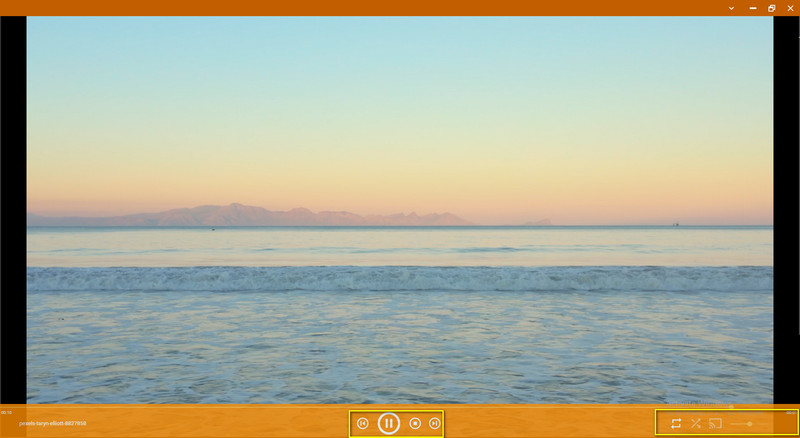 Upon playing video and movie files using MediaMonkey download it will show you the playback settings. Thus, you can play and pause the video. In addition, it also lets you fast forward and backward, adjust the audio from high to low, adjust the screen size, and more. The good thing about this media player tool is that while playing your video, the video won't stop even if you open another window of your PC.
CD Ripping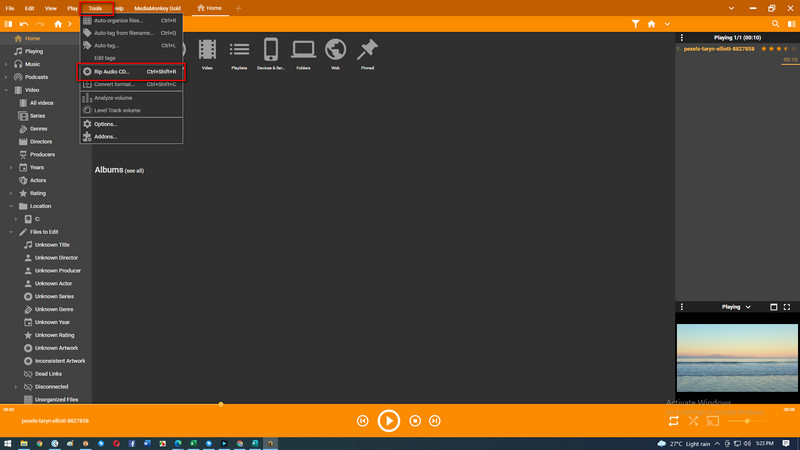 So, with the help of MediaMonkey you will be able to rip and burn CDs. For that reason, you do need to find another CD ripper because this media player can do it for you. In line with that, it can also distinguish the damage of the CDs to perfectly recover and play your music once again.
4. FAQ
Can I add a virtual CD to MediaMonkey?
Yes. If you have a physical CD inserted in your PC, just drag and add the files to MediaMonkey using the Virtual CD feature and it will automatically create a virtual CD from the discs because the files will be copied to your computer, and can play them next time without inserting the CD again.
What tag editor does MediaMonkey offer?
The tag editor that MediaMonkey uses is an MP3 Tag editor, AAC tag editor, OGG tag editor, WMA, APE2, RIFF, and MP4 tag editor.
MediaMonkey vs. VLC: Which of the two is better?
Upon using both media players, I prefer using MediaMonkey than VLC because MediaMonkey can offer a lot of features like CD ripping, playing video and audio up to 50,000+ files, automatic file format conversion, and a lot more.
5. Best Alternative - Vidmore Player
As an alternative to MediaMonkey, we would like to recommend you Vidmore Player. This media player tool is also excellent and best for playing all your media files without having any trouble.

Vidmore Player
A multi-functional media player as an alternative to MediaMonkey to open music and songs on PC and Mac.
Supports and can play DVD disc/folder/ISO files with the navigation menu.
Supports 4K UHD and 1080p/720 HD videos on your computer.
Can play Blu-ray disc/folder/ISO files.
Can play almost all common video and audio file formats.
Easy-to-use.
Enables you to view images with high quality.
Conclusion
In conclusion, as we have presented to you what MediaMonkey can offer to you, we would like to know if this information has met your concerns by sharing this article review with others so you may help them as well. Furthermore, if you haven't been satisfied with it, kindly go to Vidmore Player because this software allows you to seamlessly play all your media files.
Did you find this helpful?
249 Votes
YES

Thanks for letting us know!
No

Thanks for letting us know!
Vidmore Player
Best media player for Blu-ray, DVD, 4K video and audio.