Foobar2000 Review: A Great Music Player For Your PC
Are you one of the people who do not like cluttered interfaces and you would rather have something that is easy, plain, and simple? Or did you ask yourself if there is any software that does not use much memory and can play songs excellently? Well, Foobar2000 is what you are looking for! Let us know why this software does not use much memory and if Foobar2000 can be used for very complicated music processes. In this article, we will discuss how Foobar2000 can be used as your music player without being too complicated or overwhelming. If you are a passionate music fan, let us go on and start reviewing Foobar2000.

1. Our Verdict
Pros

It has a flexible interface.
Can be extended with plug-ins.
Effective tagging and organization.
Lightweight.
Highly customizable.
Simple and easy to use interface.
Cons

Steep learning curve
The interface is initially unappealing.
Not easy to skin.
Provides little in terms of hand-holding.
Overall Ratings
In terms of its interface, it is easy to use, and simple. It has a huge playlist, which you can control your songs and control your playlist. In addition to this, you can also edit the layout to fit your needs. Plus, you can customize by adding themes you like.
Easy to use:9.0
Smooth Playback:8.5
User friendly:8.5
2. What is Foobar2000?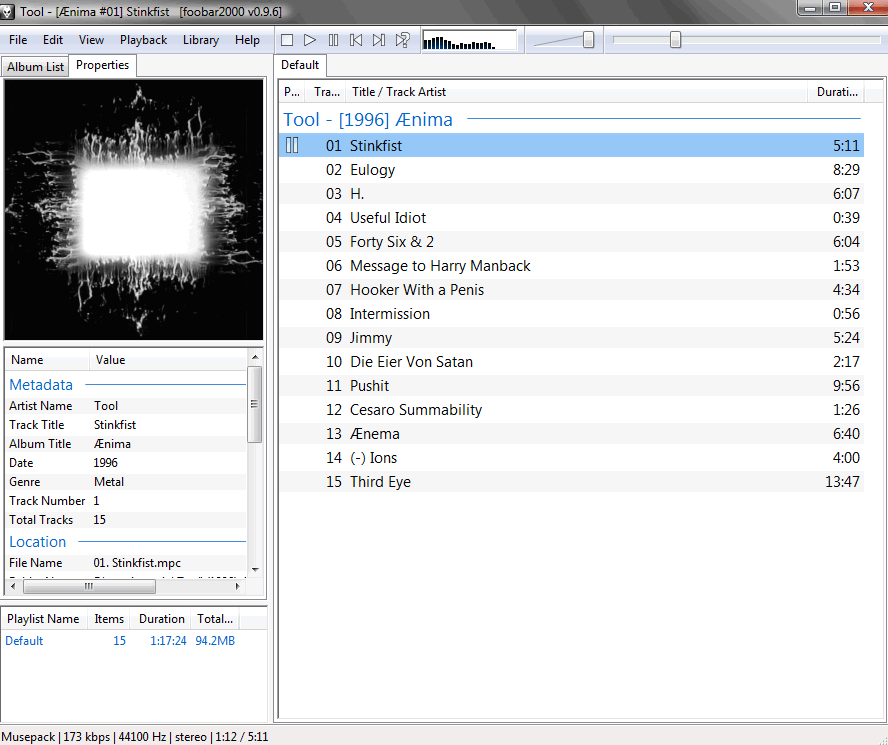 Its main purpose is media management and it focuses on ripping and converting CDs as well as copying tracks from your disc, tagging them automatically and keeping everything organized in a well ordered media library. To add, it is really an excellent music player for your PC and it is simple to use.
Price
The best thing about Foobar2000 is that it can give you not only a good music player but also it is 100% FREE!
Platform
Foobar2000 is suitable for Android, iOS, Windows Phone, Windows NT, and MacOS.
Main Features
● Gapless playback.
● Customizable user interface layout.
● Advanced tagging capabilities.
● Support for ripping Audio CDs.
● Transcoding all supported audio formats using the Converter component.
● Full ReplayGain support.
● Customizable keyboard shortcuts.
3. Foobar2000 Review
File Format Support
Here are the audio formats that Foobar2000 supports. Please see the chart below: MP3, MP4, AAC, CD Audio, WMA, Vorbis, Opus, FLAC, WavPack, WAV, AIFF, Musepack, Speed, AU, SND, and more.
Theme
The Foobar2000 theme is found in Quick Appearance Setup. By default, the background color is white but you have an option to replace it and there is a long list of colors available, so you can choose depending on your liking. In addition to this, there is a way to try out various themes when you click the Create Scratchbox without changing the current layout. Moreover, the themes can be exported to a file from the "Default User Interface" page in Preferences.
Player Controls
Foobar2000 standards or player controls are easy to use just like any other music player.
| | | |
| --- | --- | --- |
| Stop | foobar-2000-stop.png | Click the square symbol if you want to stop the music. |
| Play | foobar-2000-play.png | This triangle symbol is when you want to play the music. |
| Pause | foobar-2000-pause.png | This symbol is if you want to pause the music. |
| Previous | foobar-2000-previous.png | Click this symbol if you want to play the previous song. |
| Next | foobar-2000-next.png | Click this symbol if you want to move on with the next or play the next song. |
| Shuffle | foobar-2000-shuffle.png | Click this if you want to play a random song. |
Playlists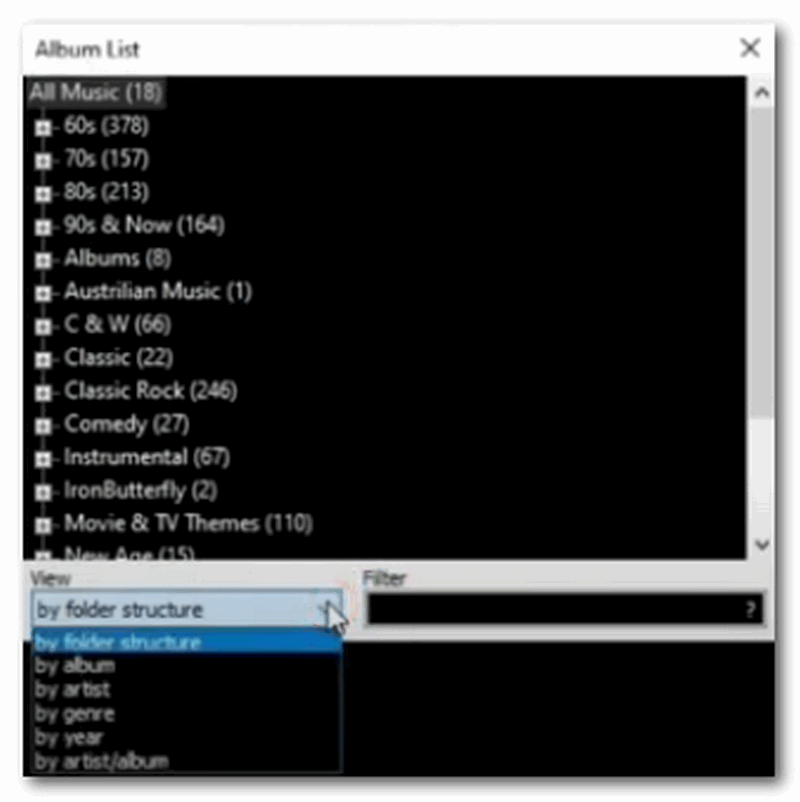 In the Library, you can find the Album List where you can see the different playlists with an appropriate folder. You can change it by order, if you want it by folder structure, by album, by artist, by genre, by year, or by artist/album. Furthermore, in the lower right section, you can see the Filter where you can choose what format you like such as MP3, MP4, and more.
Editing Options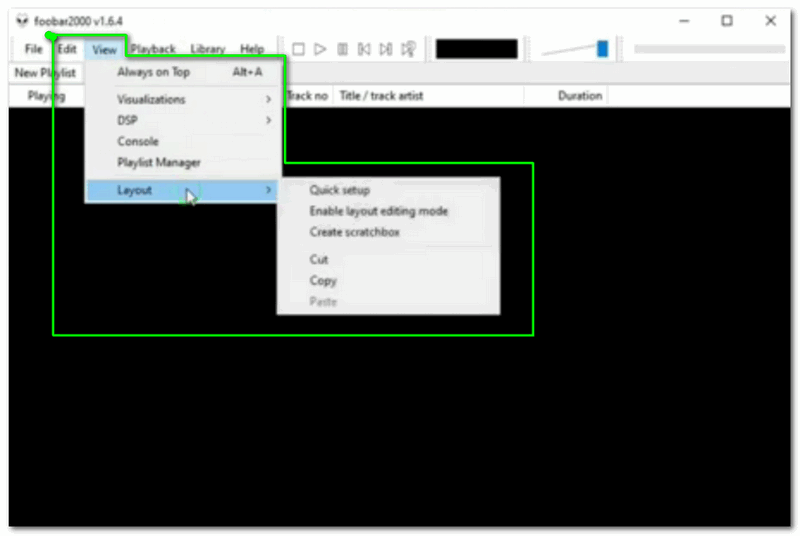 The Layout Editing Mode of Default User Interface permits the users to easily change the overall window layout, add or remove a lot of UI elements and change their settings. Layout Editing Mode can also be activated either by choosing its option in the Main Menu, clicking View and choosing Layout, or just clicking the proper button on the toolbar. On the other hand, you can simply edit with the basics such as; undo, redo, clear, select all, selection, sort, search, remove duplicates, and more.
MP3 Tag Support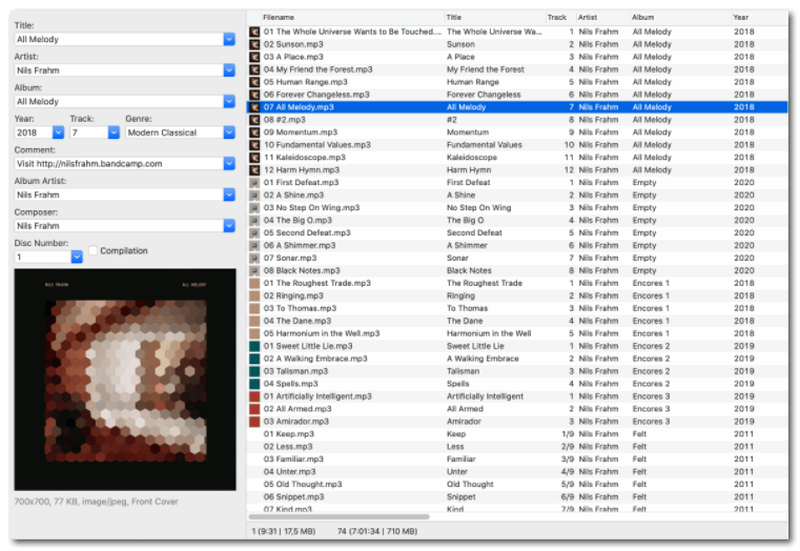 Foobar2000 allows tagging files using data from MusicBrainz. See its main function below:
| | |
| --- | --- |
| | Fetches data by automatically calculated MusicBrainz Disc ID, existing Artist/Album or MusicBrainz Album ID tags. |
| | It uses the latest version of MusicBrainz web service, which corresponds to the NGS data model. |
| | It supports a lot of different tags, including artist, albums, date, track number/total tracks, and more. |
| | It supports MusicBrainz-specific tags: Artist ID, Album ID, Release Group ID, Disc ID, Track ID, album type, album status. |
| | Missing TOCs can be submitted to MusicBrainz from the context menu. |
4. FAQ
Why is seeking so slow while playing MP3 files?
The MP3 format does not support sample-accurate seeking, and sample-accurate seeking is required by other features of Foobar2000.CUE playback. Furthermore, MP3 seeking can not be optimized either for CBR files because frame size is not constant since of padding used, or for VBR files. Therefore, MP3 seeking works by brute force-walking the MPEG stream chain and is appropriately slow. However, this will get faster when you pass through the same point of file for the second time since seek tables have been built in the RAM.
Why are some of my files not seen by the Media Library?
If your files are not in one of the formats natively supported by Foobar2000, in particular like Monkey's Audio, you need to download and install the compatible decoder component so that it will be able to see and play them. Furthermore, if you have already installed it, you need to remove affected folders from the Media Library configuration and add them back for those files so you can see them.
How do I edit tags of my files?
To do that, just right-click one or more tracks and then choose Properties from the context menu. Moreover, numerous additional functionality can be accessed by selecting one or more fields in the Properties dialog and then right-clicking them.
5. Best Alternative - Bluraycopys Free Blu-ray Player
Are you wondering why Bluraycopys Free Blu-ray Player is the best alternative for Foobar2000? Well, this software is an all-around player and it has a free Blu-ray Player that plays Blu-ray disc/movies on a big screen freely. Also, you can enjoy HD videos like MP4, AVI, FLV, and more. Moreover, it has a higher video quality and intuitive interface. In addition to this, you can download it for FREE! Since it is an all-around player, it also offers Blu-ray Copy Platinum, Blu-ray Ripper, Blu-ray Play Software, and Mac Blu-ray Player.
Conclusion
To conclude, we are now familiar with the functions and features of Foobar2000. We also talk about the advantages and disadvantages of it. Plus, we discover the benefits of the editing and the use of player controls effectively. However, if you are not satisfied with the Foobar2000, you may try Bluraycopys Free Blu-ray Player since it is the best alternative.
Did you find this helpful?
126 Votes
YES

Thanks for letting us know!
No

Thanks for letting us know!
Aiseesoft Blu-ray Player
A universal media player for Blu-ray, DVD, video and audio.