Most Prominent MP3 Player Online for Overwhelming Experience of Listening Music
Are you one of the people who seems to cannot live without a piece of music in their lives? Well, welcome to the family! As we know, listening to your favorite song requires an MP3 player. A tool that has the ability to play your MP3 file extension anytime at anywhere. In fact, this kind of software will truly help you enjoy the lyrics of the music you love. However, that desktop software just like Spotify and iTunes will really take a lot of storage on your device. That is why, as a go-to solution these people who love listening to music will utilize an online MP3 player. This software is accessible as long as you have a browser or a web. Without further ado, in this article, we will present to you the 7 best online MP3 players that you can access on the web!

Best Online MP3 Player
Top 1. FVC Free Video Player

Overall Rating: 4.6
Platforms: Windows and Mac
Price: Free
FVC Free Video Player is one of the most prominent and leading video players on the market. This free video player has the ability to play your 4K, 1080p HS/SD, and 3D videos. The best thing about FVC Free Video Player, it can also be used as an MP3 player and in fact one of the most recommended tools for that. This tool has the ability to play your MP3 file extensions with ease while enjoying favorite music with lossless quality. Maybe you are wondering, is that everything that FVC Free Video Player can offer? Of course not, FVC Free Video Player can be used in so many ways. Like playing your audio that comes with different file formats including FLAC, AAC, WAV, OGG, ALAC, AIFF, and even your favorite novel.
In addition, it is not only for playing your files. It also has the ability to enhance the music quality you are listening to; this is all possible because of the latest DTS-HD and Dolby TrueHD audio encoding technology that it possesses. Overall, FVC Free Video Player can really offer a lot of the things you need as an MP3 player. Probably, this will be one of the great choices that should be included on your list.
Pros

No account or registration is needed.
Offers a lot of features.
Accessible MP3 player.
The website is organized.
Cons

Limited feature in the online version.
Top 2. Apple Music Web Player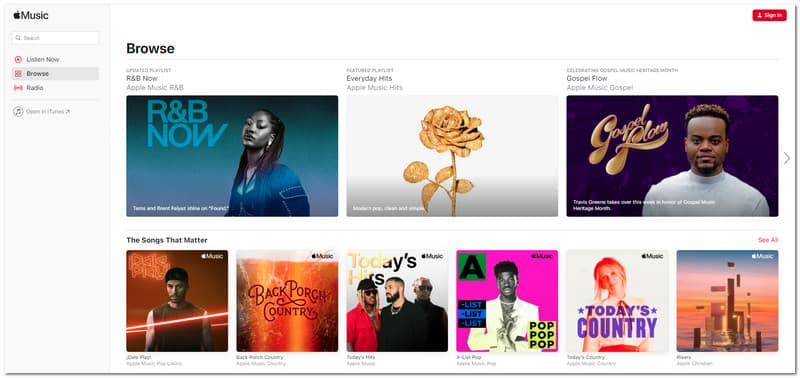 Overall Rating: 4.6
Platforms: Windows and Mac
Price: $9.99
Apple Music Web Player is one of the most fantastic MP3 players for desktop software and even online software. Who does not know Apple Music? Well, if you do not know this MP3 player is one of the most prominent and leading music players both online and desktop software. Apple Music Web Player possesses one of the most intuitive interfaces with a touch of minimalist style that is being hued with pastel colors. For that being said, the amazing interface made it easy to use and can bring an amazing experience in listening to your playlist.
Through the Apple Music Web Player, you may now enjoy thousands of music online without even downloading. In addition, it also provides a feature where you can listen to your favorite radio station around the world. Truly, that Apple Music Web Player is more than an MP3 player, and for that, there is no need to explain further why Apple Music Web Player is one of the top 3 leading MP4 players in the software.
Pros

Leading music player in the market.
Trusted by tons of users.
Smooth and soft playback.
Continually updating.
Cons

It requires an account.
Top 3. Pandora Web Player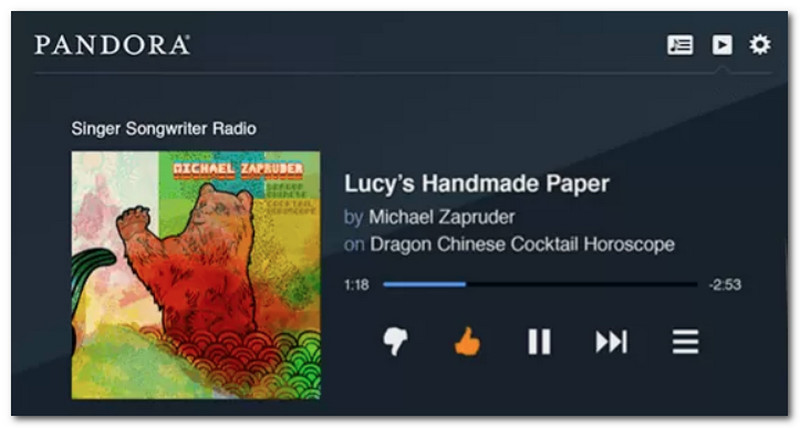 Overall Rating: 4.4
Platforms: Windows and Mac
Price: $9.99
Pandora Web Player is one of the oldest existing and recognizable software in the aspect of streaming online music and still updating and securing that they will offer the best feature and function when it comes to the media player. Just so you know, Pandora Web Player can play any MP3 file format by just accessing it through the web. Other than that, many users use Pandora not only to listen to their favorite playlist but also to listen to different podcasts to inspire, learn, or just for entertainment. In addition, this player also boasts album commentary and artist tour information.
In terms of its plans, it offers both free and premium services that will absolutely offer different levels of features and functions. Just to inform you, a free account will come with different ads. However, in premium, you are free to use every feature that this software can offer.
Pros

A bit similar to Spotify.
Offers unique features.
Provides service.
Cons

Free accounts are limited.
The issue will occur if there is trouble with connectivity.
This is just available with specific regions.
Top 4. Spotify Web Player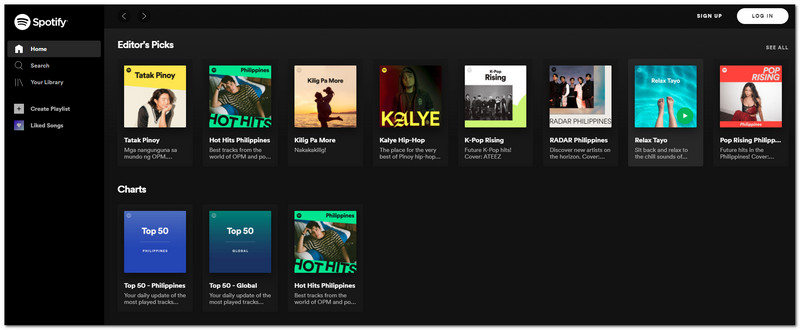 Overall Rating: 4.6
Platforms: Windows and Mac
Price: $9.99
Spotify Web Player is another the best MP3 player in the market nowadays. This player is competing as the top player alongside iTunes and Apple Music. It is common knowledge that Spotify has created a huge name in the market now. It offers various features and functions that can make your listening experience unstoppable. Unique features are provided like the lyrics availability that is provided by Musixmatch. This feature is helpful especially if the song that is playing is not familiar with you. In addition, sharing your experience in different social media accounts like Instagram, Facebook, Twitter, and more. Other than that, users of Spotify Web Player also love to turn on the cross fade features for simultaneous listening.
Pros

A lot of functions in listening.
Smooth playback.
Trusted and proven by tons of users.
Cons

Ads Availability.
Top 5. SoundCloud Web Player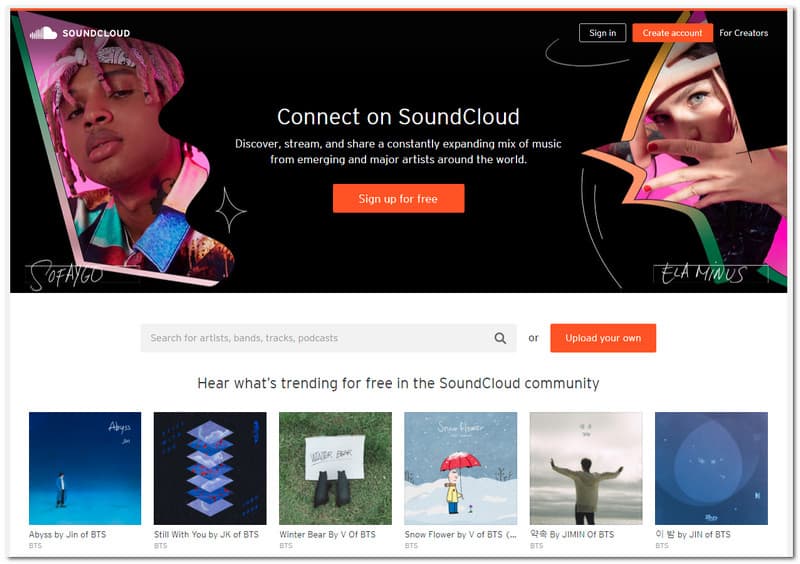 Overall Rating: 4.3
Platforms: Windows and Mac
Price: Free
SoundCloud Web Player is also included in the list of being the best MP3 player. This online software will let you explore trending playlists and explore understated music that you may like. Basically, almost every song written and produced is available here. You just need to search well. SoundCloud Web Player is also known as an MP3 player that is creator-friendly, because through this software you may now upload your own music produced or written. All you need to do is sign up to secure your account and just upload your own music with ease. However, remember to follow the guidelines and avoid plagiarism. For that being presented, it is interesting that there is an MP3 player that has care in both listener and creators. No wonder why SoundCloud Web Player is being labeled as one of the prominent software in playing your MP3 files.
Pros

MP3 players for everyone.
Smooth and clean interface.
Files are organized.
Affordable and accessible for all.
Save tracks for free.
Cons

It requires an account.
Ads availability on the website.
Top 6. Tidal Web Player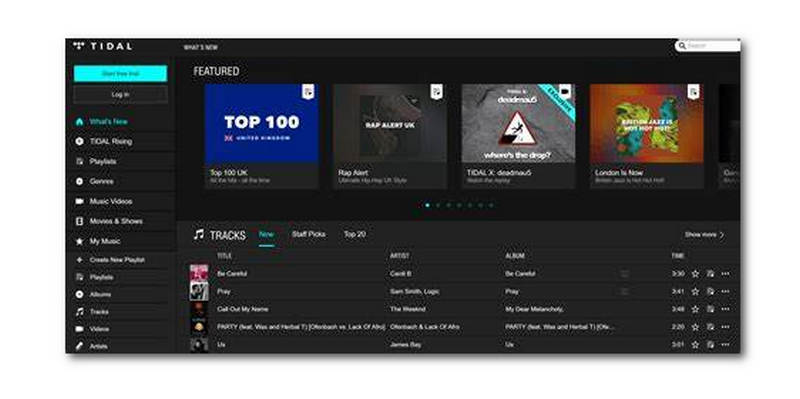 Overall Rating: 4.0
Platforms: Windows and Mac
Price: $9.99
Another online software that has the ability to play your MP3 file instantly is the Tidal Web Player. However, it is important to know that an account is essential before utilizing it or else you will not use it. Anyway, if you are done signing up for an account you may now enjoy playing any online music you want. In addition, it can play your audio with maximum quality of 320 kbps via AAC that can give you a bit of loss a file format. Despite that, we still cannot deny the fact that it has a lot of potentials.
Pros

Affordable player.
Effective in playing MP3 files.
Cons

A bit flawed.
It requires an account first.
Top 7. Deezer Web Player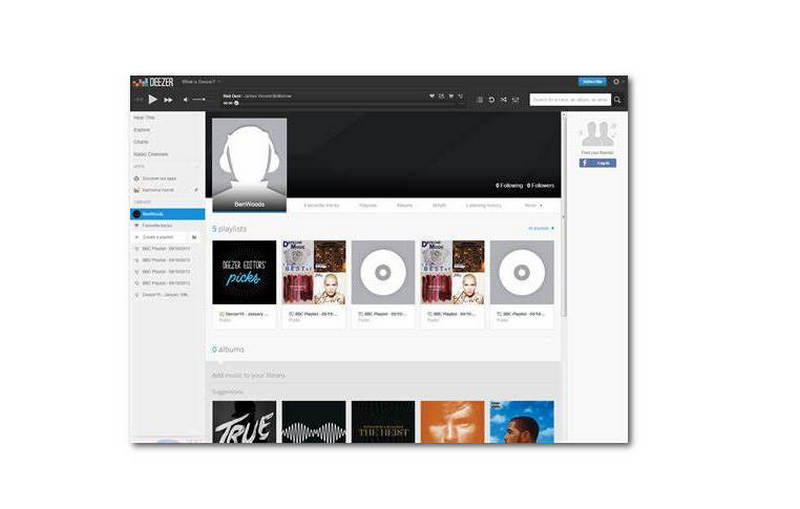 Overall Rating: 4.0
Platforms: Windows and Mac
Price: $9.99
Deezer Web Player is last on the list but definitely not the least. This is one of the pretty amazing online software that will allow you to listen on your MP3 files with ease and hassle-free. In connection with the question, why Deezer? Well, this web player can bring a world of music to your pocket with over 73 million tracks available. Another thing that we should flex is that you do not need to be connected to the internet to enjoy your music because it can be used offline. All of those are just a few of the things that Deezer Web Player offers. Try to discover more.
Pros

Millions of tracks available.
Easy to use.
Friendly interface.
Cons

Limited offer with free account.
FAQs of MP3 Player Online
What are the advantages of having a premium account in Spotify?
With Spotify premium, there will be no ads available, unlimited skips are offered, plus pick any music you want. There are more benefits with Spotify. You may check their plans description for more.
What are the Online MP3 Players that can be accessed with my mobile devices?
Actually, every Online MP3 player can be accessed through your mobile devices as long as there is a browser installed on your phone. It is highly recommended for you to utilize the FVC Free Video Player, Spotify Web Player, and Apple Web Player for a better experience of listening.
Is there a free version of Apple Music Web player?
Yes, however the free version is limited in features unlike the premium version. Therefore, if you want a more affordable or free player, you may try utilizing the FVC free video player and SoundCloud Web Player.
Conclusion
In conclusion, we can say that these seven best online MP3 players are really great in offering amazing and incredible features and functions. Some are just simple yet powerful. Others are free yet effective and efficient. The rest are maybe expensive but still can be justified by its offers. Therefore, in this moment you should choose the best for you by considering their price, features, pros, and cons. Also, if you found this article helpful, you may suggest it to a friend who is looking for an online MP3 player.
Did you find this helpful?
205 Votes
YESThanks for letting us know!
NoThanks for letting us know!
Best Picks of Music Player
Best Picks of Online Audio Player
Best Picks of MP3 MP4 Player