Ultimate Review of BS.Player: Discover its Features, Price, and Platforms
Maybe you are wondering right now, if there are still media players that can bring an extraordinary experience of media playback for you. Yes, there are tons of video and audio players in the digital market nowadays. Therefore, the biggest question here is, what are the best players to use among these thousands of media players existing. To help you with that, we are going to review BS.Player - one of the exciting media players that is known because of its unique features. We will get to know its features, functions, pricing plans, and more. What are we waiting for? Let us start reviewing the BS.Player.

1. Our Verdict
Pros

It offers a free version for instant use of basic functions.
Newer design.
Settings are less complicated as they update it.
Offers flexible features and functions.
BSPlayer Android for MKV and more file formats.
Accelerated media playback.
Their website is a bit messy, as well as the information.
Cons

The video playback is much bigger than the screen.
You need to add your media files manually.
The software is not for personal use, but for commerce.
Full features need to be purchased.
It is not the ideal media player for many users.
Some functions are confusing.
Its interface is a bit.
You need to download all the codecs.
Overall Ratings
As we review the BS.Player, we discover pretty amazing features especially about its video playback. However, it still possesses flaws that can be improved soon. MOorever, this media player will not regret choosing, for it has the ability to offer all the necessary things we will be needing.
Functionality:8.5
Safetiness:8.3
Services:8.5
2. What is BSPlayer?
BSPlayer
BS.Player is the best use for playing various media files in any different file formats. This media player supports playing your audio files and video files by just playing it properly. This media player is also offered tons of features and functions that are beneficial for us users. In addition, you can also download BS.Player with Windows 10 and more operating systems that we are going to tackle more in the latter part of this post. As an overview, BS.Player is great and can be listed as the best player existing in the market nowadays.
Price
This media player can be free to download and free to install. It comes with the basic features that are essential to the mass. However, if you want to enjoy its full feature, you need to purchase its Pro version for only $40, the price will vary depending on the exchange rate. In short, BS.Player offers Free and a Pro version.
Platform
BS.Player supports a lot of operating systems, such as Windows 2000/ XP/ Vista/ 7/ 8. The best thing about it is that it offers a version that is compatible with your mobile devices especially with your Androids. For Mac users, do not worry because you can download BS.Player for Mac.
System Requirements: 15 MB HDD space, with minimum of 300 MB RAM, and 500 Mhz Intel Celeron. In terms of recommended system specifications for higher resolution playback, use NVIDIA GeForce 8 Series.
Main Features
Despites of the cons that the BS.Player poses, we cannot deny the fact that it still has a lot to offer when it comes to features. To know more about what it can give, here are the few functions we can really enjoy in utilizing the BS.Player. Without further ado, here are the features we can get.
● It supports YouTube playback.
● Offers a playlist for managing your media files.
● BSPlayer subtitles are available.
● Editing tools, like rotate video with BSPlayer.
● Supports all codecs for BSPlayer like AAC.
● Gives fine technical email support.
● Posses a customizable audio equalizer.
● Provide subtitle and subtitle editor.
● Upgrading is always available.
● Equipped with tuner devices for your playback.
● Can be utilized with DVD Playback.
3. BSPlayer Review
BSPlayer Subtitles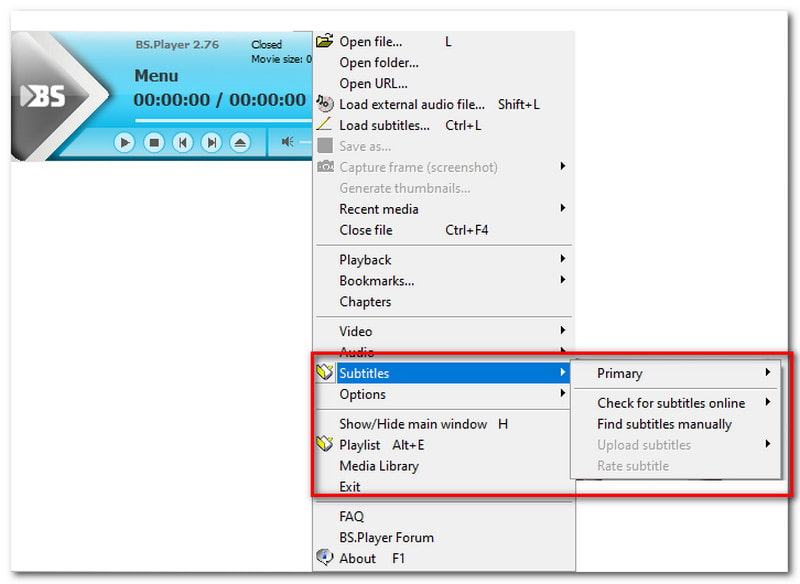 A subtitle for watching your video files can really give an immense watching experience. That is why BS.Player offers you subtitle support. Subtitles are supported with the format of MicroDVD, VobSub, SubViewer, SubStation Alpha, and more. Aside from that, it also offers a subtitles editor where you can utilize your subtitles' color, size, font, and many more.
BS.Player Skin
In terms of its skin, the BS.Player has a very simple yet clean look. The blue and black gives us a calm atmosphere that reflects the simplicity of this media player. The buttons are also organized properly, with an appealing type of font. Overall, because of its skin, the media player is now less complicated to use.
Supported Formats
In this part, we will use a chart that will show you the media file formats supported by BS.Player.
BS.Player Supported Formats
Media File Formats
AVI, ASF, MPG, WMV, MP4, WAV, MP3, WebM, AVCHD and much more.
Codec
FFDShow, LAV Filters, Flash Video (FLV), MPEG2 Decoder, MPEG Audio Decoder, Haali Media Splitter, RealMedia Splitter, AC3 Filter.
Subtitle File Formats
MicroDVD, VobSub, SubViewer, SubStation Alpha, and more.
Hardware Accelerated Playback
The best thing about BS.Player is the fact that it is equipped with accelerated hardware. With this technology, your immersive watching experience is really secured with this player. In fact, through the use of ca 24 frame/s hardware decoding it is now capable to play even the 720p or 1080p movies (MKV).
Chromecast Support
The paid version of BS.Player offers experimental support for Chromecasting. This feature will allow you to play any content that is cast to any Chromecast devices. The best thing about it is that it is available with Android too. Through your Android device, you can control the casting with it.
4. FAQ
Is it worth a Pro version of BS.Player?
BS.Player offers extra and unique features that are still necessary for us. If you think the free version is not enough for you, then the Pro version is worth purchasing. However, if you will not be needing an extra feature it is better to not purchase.
Does BS.Player great to use with Androids?
Definitely, the Android version can be more handy with Android. Though the Android version can also be used with controlling the chromecast, that is why the Android version is beneficial in a lot of ways.
Is Chromecast available with the free version?
Unfortunately, the Chromecast is not available with the free version. If you will need to use the chromecast, you will be needing to purchase the Pro Version of BS.Player for an amount of dollars.
5. Best Alternative- Bluraycopys Free Blu-ray Player
This media player has the ability to play any kind of media file at any file formats. Bluraycopys Free Blu-ray Player will let you play your audio video files that supports a wide variety of ranges. Other than that, playing your DVD and Blu-ray Disc is also possible here. Overall, one thing that it can guarantee you is a very smooth playback of all your media files. Try it now.

Bluraycopys Free Blu-ray Player
A professional media player is here. A great choice for any media file playback.
Capable in playing all popular media files.
Does not meet the requirements of the system.
Provides various features and functions.
Advanced technology for smooth playback.
Continuously improving.
Conclusion
As a vibrant end, we got to know what BS.Player can do and what it can offer. Through the review, we discovered unique features, like the Chromecasting and Subtitle editor. Therefore, at the end we can say that BS.Player really offers wonderful features. However, if you think it is still not enough we have the Bluraycopys Free Blu-ray Player as the best alternative to it. Try it now!
Did you find this helpful?
354 Votes
YES

Thanks for letting us know!
No

Thanks for letting us know!
Bluraycopys Free Blu-ray player
Freeware to play Blu-ray, DVD and standard video and audio.
Freeware