Circumstantial Review of the DivX Player as Audio, Video, and DVD Player
DivX Player is one of the most amazing media players that can offer incredible features for free. In fact, this media player has 1.5 billion licensed downloads after two decades. That is why in this article we will review DivX Player and we will see its capabilities and offers. In the end, I may know if DivX Player is really the best. Without further ado, let us start reviewing.

1. What is DivX Player?
DivX Player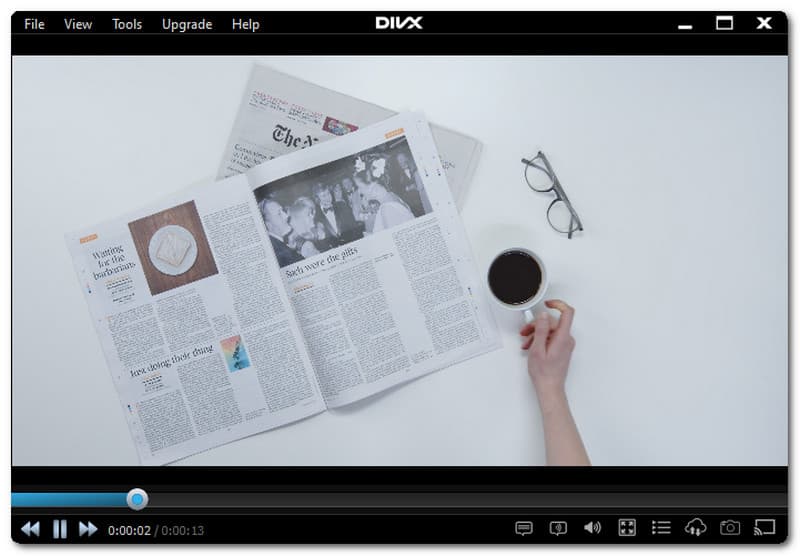 The coolest media player is here, introducing you to the DivX Player. This media player is trusted and tested by billions of users with licensed accounts. After two decades, it is still building their name by offering tons of incredible features and functions for their users. That is why, DivX Player is still on the way, leading the video and audio revolutions for an amazing and smooth video and audio playback for the users. Also, DivX is the best Blu-ray player.
Price
DivX Player is free to download and install. However, if you want to enjoy the Pro version of it, you will need to purchase it at $19.99 regular price. Furthermore, payment must be done using VISA, MasterCard, American Express, and more.
Platform
DivX Player for Windows
Operating System: Windows 7, 8, 10, (32-bit, 64-bit), Windows XP SP3 (32-bit)
Processor: Intel® Pentium® IV 1.3GHz, AMD Athlon™ 1000, Intel® Pentium® IV 2.8GHz, AMD Athlon™ 64 3400+, Intel® Core™ 2 Duo, AMD Athlon™ 64 X2 4800+, or equivalent for DivX Plus HD
Ram: Minimum of 64 MB of video RAM for SD to 512 MB of video RAM in 24-bit color for HD H.264
DivX Player for Mac
Operating System: Mac OS X 10.7
Processor: Intel CPU 1.6 GHz Intel Dual-core
Ram: 512 MB of RAM to 1 GB of RAM
Main Features
DivX Player is capable of a lot of things, it can offer features that are beneficial in playing our media files. We already said that DivX 4K player has the ability to offer a high-quality of video playback that is up to very high resolution video. Other than having advanced playback technology and audio features, here is the other list of the features that it is offering.
● FR/RW feature for a quick navigation of your videos and audios.
● Switching seamlessly between soundtracks via multiple audio support.
● Uninterrupted listening of your audio files.
● DivX Audio Player poses a great playback harmonizing with your sound card device.
● There are tons of DivX Player audio codecs.
● Organize and manage your playlist.
● Casting for a bigger screen.
● DivX MP4 Player, compatible in playing all the most popular video formats.
● Streaming your video and audio via smart TVs, gaming consoles, tablets, and more.
● Enjoy Cloud Connect for importing media files from your Google Drive and Dropbox.
● There is no availability of advertisements.
● Custom encode settings.
● Extra features like, DTS-HD Plugin, DFX audio enhancer, and more.
● DivX Player supports subtitles.
2. DivX Player Review
Pros

Unique features are being offered.
Super smooth playback of your media player.
Posses accelerated technology.
Informative and professionally designed website.
Intuitive and elegant interface.
Recommendable for new users.
Less complicated in utilizing.
Cons

Free version is limited.
You need to pay for other features.
Overwhelming to use at first.
A bit demanding in system requirements.
Glitches are experienced in installing it consecutive times.
There are unwanted installations.
Overall Rating
DivX Player is not labeled as one of the best for no reason. This player that has the ability to play your video and audio files in any format is really great in any aspect. That is why it is trusted and proven by billions of users out there.
Functionality:9.0
Playback Speed:8.9
Efficiency:9.1
Video Pack
There are video file formats that are not compatible with many media players out there, like the MPEG-2 and VC-1. Well, you do not need to worry because with the video pack of this player you may now convert these formats into MP4 and MKV for DivX Player. Through this feature, you may now play MKV and MP4 smoothly with DivX Player.
Burn Videos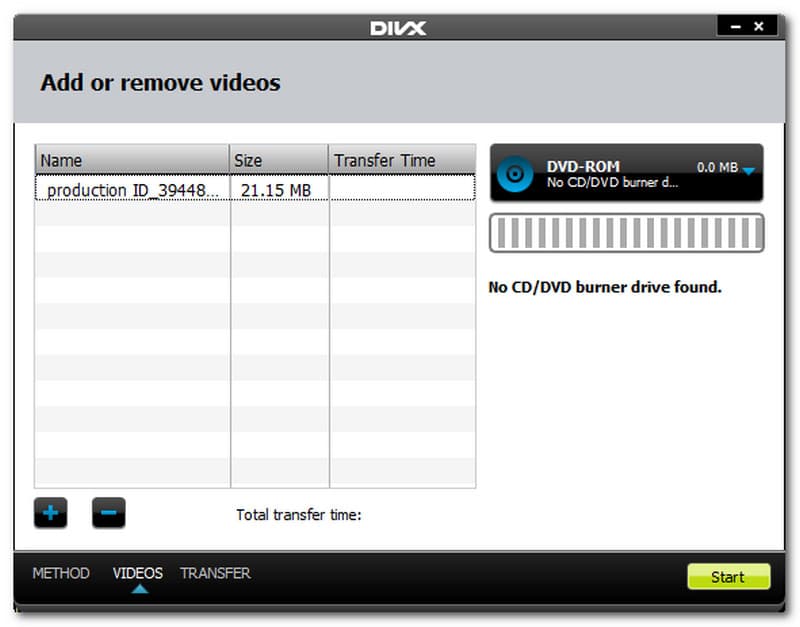 If you are looking for a media player that has the ability to burn your videos onto a DVD or Blu-ray disc, DivX Player is capable of doing that. This software will allow you to preview your video files using the built-in media player. See, you can hit two birds in one stone with this DivX DVD Player. In terms of its ability to burn videos, well it is performing great and actually lets you burn videos without complication.
Stream Videos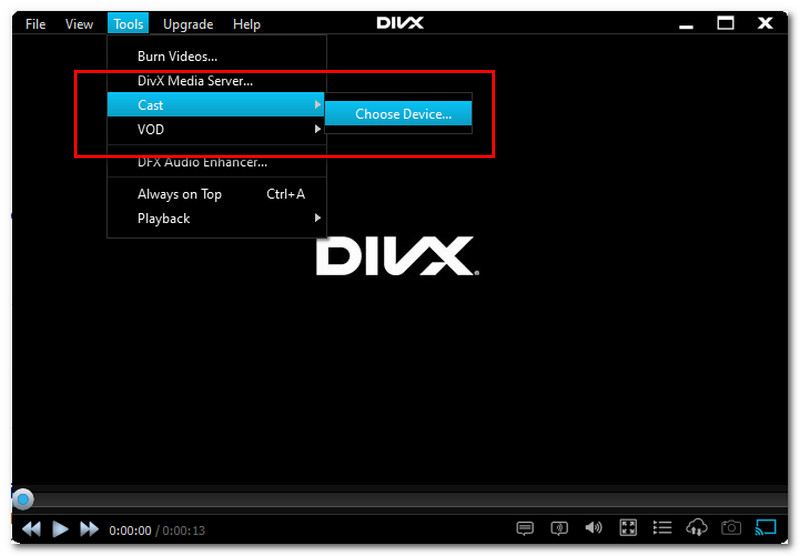 Using the DivX Player, you are also allowed to stream your videos. Streaming your videos files into a much bigger screen will enable you to experience more immense experience in watching. However, as the team tried the feature we encountered a bit of trouble. There is no additional guidance coming from the player that is why the process of streaming did not become smooth. Despite that, the fact that it offers a kind of feature like Streaming tool, it will still be beneficial to us.
Additional Plugins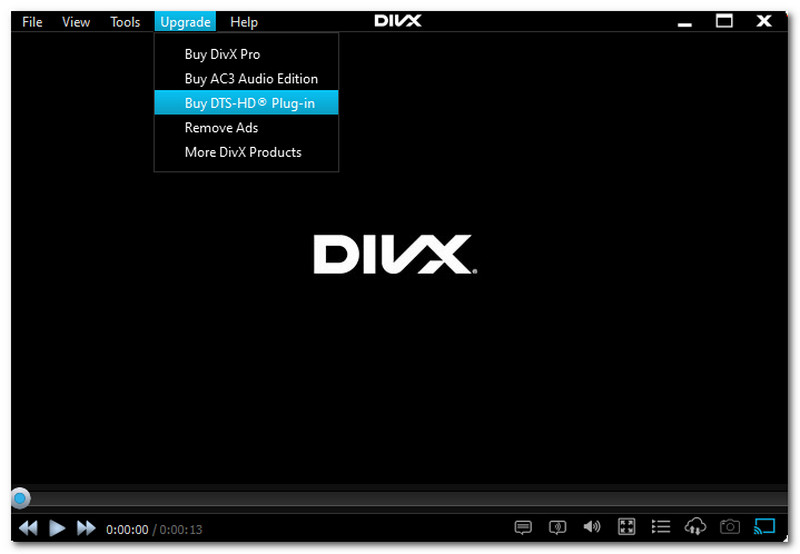 Another good thing with DivX Player is that it offers additional plugins. One of these is the DTS-HD Plug-in. This feature will allow you to convert and play your video files using the DTS-HD audio. This feature is a smooth feature that you can utilize hassle-free.
As an additional information, maybe you are wondering what a DivX Web Player plugin is? There is actually a DivX Web Player Plugin, this is now called DivX Plus Web Player which is a web browser plug-in for playing your embedded video using Web pages. It actually supports a wide range of video file formats like AVI, MKV. MP4, MOV, and more.
DFX Audio Enhancer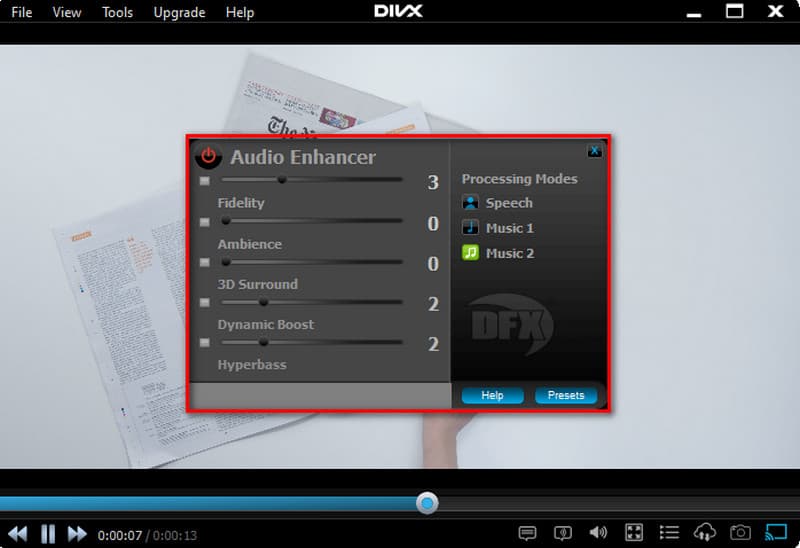 DivX Player also offers a tool that is designed to improve the quality of the sound of what you are watching. Using the DFX will really enhance your listening experience. This tool is really easy to utilize. Therefore, for that being said DivX Player does really care for quality services for their users.
Cloud Connect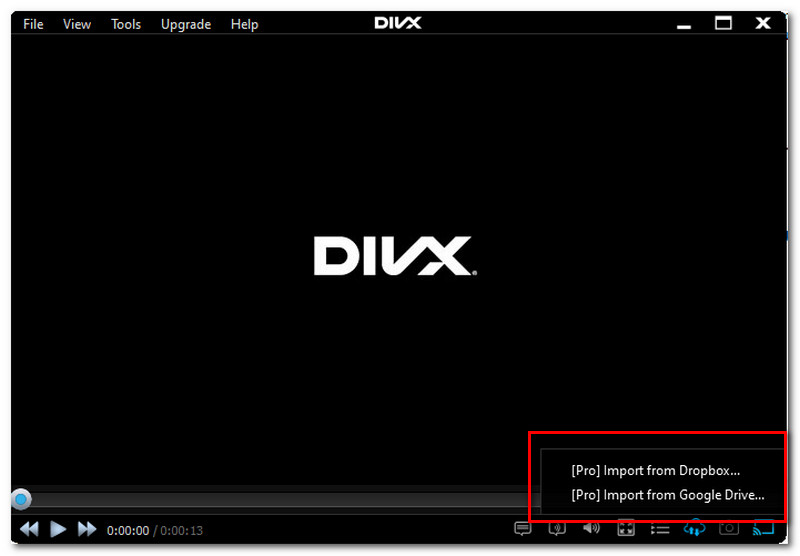 Purchasing the DivX Player Pro will give you the access to use the Cloud Connect. Through this feature, you are now allowed to import your video files from your Google Drive and DropBox. In simple words, the scope of the video you can play is expanding with Cloud Connect. Just remember to purchase the Pro version to unlock the feature.
3. FAQs
Is DivX player safe?
In terms of playing your media files, DivX Player is safe and easy to utilize. However, the installation process is a bit alarming because there is unwanted software that is also installed concurrently. Overall, it is still safe, just make sure you downloaded it from the official website.
Does Cloud Connect work with DivX Player?
Definitely, Cloud Connect works with DivX Player. As long as you have purchased the pro version of the media player. In terms of its benefits, importing and playing videos from different drives is now allowed with it.
Is DivX Player Free?
Divx Player is completely free to download and install. However, if you want extra features you will be needing to pay an amount of dollars to utilize those extra features. Some of these are the Cloud Connect and the additional Plugins.
4. Best Alternative- Aiseesoft Blu-ray Player

Aiseesoft Blu-ray Player
Aiseesoft Blu-ray Player is on its way being the best media player of all time. This media player is perfect for your audio, video, DVD, and Blu-ray files. It offers very smooth and fantastic features. In addition, this media player will not be known by millions of users for nothing.
Ultra high definition 4K player with smooth playback.
Support tons of media files format.
Capable in playing DVD and Blu-ray disc.
Lossless sound quality and offers HD image quality.
Customization the effects based in your preference.
Conclusion
To conclude, based on the data presented we can now say DivX Player is among those players who can offer a lot of features for everyone. In fact, we think it will not be a regret choosing it. However, if you are looking for more media players, we still have Aiseesoft Blu-ray Player that can still offer the best features. Also, if you think the post is helpful do not forget to share it with others. We will be glad to help others too.
Did you find this helpful?
257 Votes
YES

Thanks for letting us know!
No

Thanks for letting us know!
Aiseesoft Blu-ray Player
A universal media player for Blu-ray, DVD, video and audio.