Exploring IINA: The Most Outstanding and Perfect Media Player for Your Video, Movies, Audio, and Music
Most people nowadays, aside from playing sports such as biking, swimming, racing, etc. they also turn their attention to watching movies and listening to music because they find it really relaxing and refreshing in the mind. As a result, they have decided to collect various movies and music with different genres. And if you are one of them, I know that you are searching for the best media player as a partner of your media files. For that reason, we have looked for you IINA that is perfect for playing your movies and audio. Therefore, the purpose of this information is to seek and find the overall rating of the software. With that said, we did our best to review its main features and functions, its pros and cons, price listing, what platforms does the media player supports, what media file formats it supports, how does the interface look, and most importantly, what is the best and perfect alternative media player to it. Consequently, you'll be able to know if IINA is truly beneficial for you.
1. Our Verdict
Pros

The software does not eat up more space.
Straightforward clean, and friendly user interface.
Offers picture in picture feature.
Supports almost all subtitle formats.
Has a force touch and touch bar integration.
Enables you to play web audio.
Offers different built-in themes.
Offers video conversion.
Cons

Compatible with macOS only.
Overall Rating
Let us first start with the overall ratings of the IINA Mac application. So, this application has been developed by modern macOS applications. With that said, this media player is perfectly fit and can be played on Mac computers. On the other hand, though this software has been developed by a modern macOS app, it also lets you use and download IINA on your PC that provides light or small MB space. Moreover, this media player tool allows you to play almost all your video and audio files so you can enjoy watching your movies on the bigger screen and listen to your favorite music with better audio quality.
Easy to use:9.5
Smooth Playback:9.5
Interface:9.5
2. What is IINA?
IINA media player for mac was created to be an updated and modern macOS application because of its design and interface. In line with that, it also supports the post-Yosemite design language of macOS that maintains the atmosphere of modern technologies. Moreover, when it comes to its interface, Mojave dark color has been crafted into it that provides an editing option where you can adjust and choose the theme you want. And most importantly, this media player tool is best and perfect for playing almost all your media files with the support of YouTube download and other browser extensions. With that said, you can also play any audio and video files directly over the internet.
Price
IINA media player is absolutely open-source and 100% free media player software. With that being said, you can use this software and its media playback setting for free.
Platform
Since IINA was totally created by the macOS application, it is however compatible with Mac computers only. But with the help of BlueStacks, it enables you to run IINA on your Windows computer, thus you can download both of its editions, which is EXE for Windows and DMG for Mac.
Main Features
Moving on to the most important part of this IINA media player review, its main features and offers. Through this detailed information, you can distinguish what are the benefits and advantages of using this media player tool. Thus, we have provided the main features of this software below the following.
● Can play and support almost all video and audio file formats.
● Allows you to play music and watch videos over online video tools and supports browser extensions.
● Perfectly compatible with Mac computers.
● Provides and offers a post-Yosemite design language of macOS.
● Offers various pace of new technologies such as Force Touch, Touch Bar, and Picture-in-Picture.
● Allows you to edit and adjust the color, icon, and texture of the interface.
● Offers simple buttons for media playback.
● Provides a large library for the media files wherein you can keep and store them securely.
● Can totally support and play MPV file formats.
● Provides a Standalone Music Mode designed for audio and music files.
● Offers online subtitle searching and local subtitles.
● Limitless playback history.
3. IINA Review
File Support
Since IINA is a media player tool, it is greatly important to know what media file formats it supports. Henceforth, this software can play common media file formats such as WAV, MPEG, MPV, MP4, FLV, M4V, MOV, MP3, and a lot more.
Online Subtitle Searching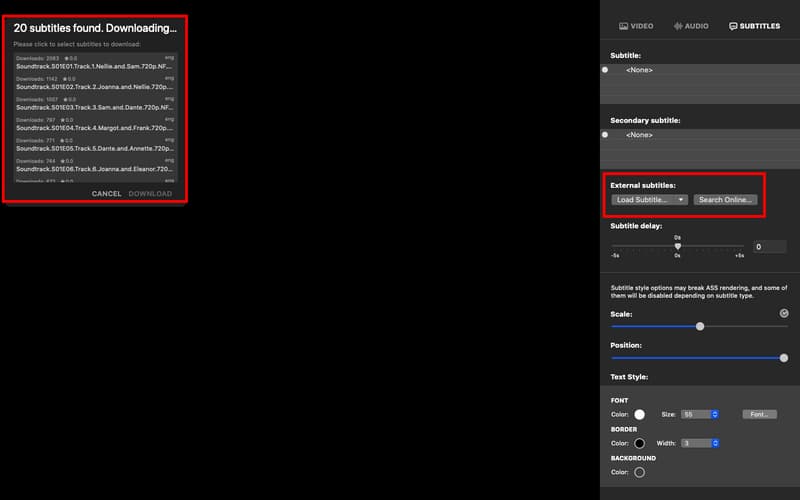 What's more interesting about the IINA media player for mac is that aside from playing and allowing you to play movies and videos, it also allows you to play your movies providing different subtitle formats from your local files and online as wee=ll. With that said, you can fully enjoy watching your movies and fully understand them.
Airplay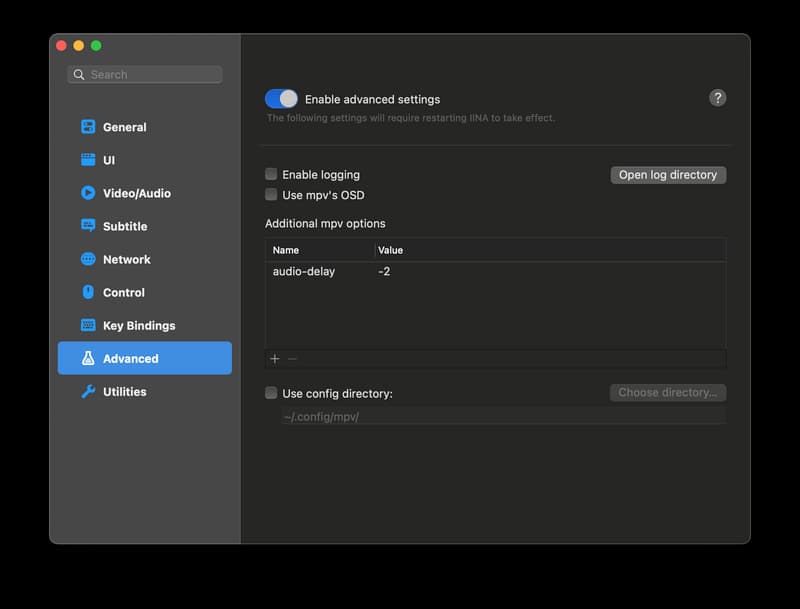 So the main purpose of the IINA airplay is to enable the users to play your video and audio files on your Apple TV without having to use your mirror screen. In addition, you can also play H.264 or AAC MP4 files because AirPlay does support these file formats. In addition, you can also connect your iPhone, iPad, or iPod touch to your Apple TV through the help of AirPlay.
Interface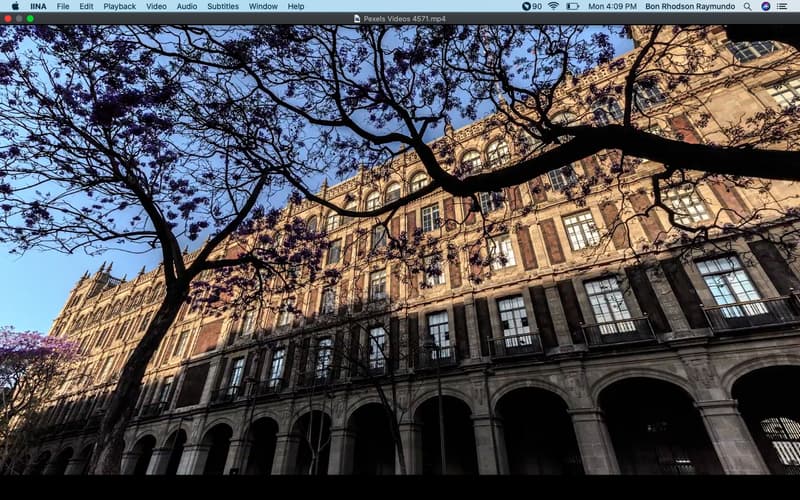 If ever you are searching for a media player that has an excellent and simple interface. IINA media player has met your concern. Furthermore, the theme of its interface offers a Mojave dark mode that also allows you to adjust and edit the color, icons, and texture. For that reason, you can create a unified look at this media server. Not just that, you can also choose and make your own theme depending on your own choice to make it more personalized and pleasing in your own eyes.
Playback Support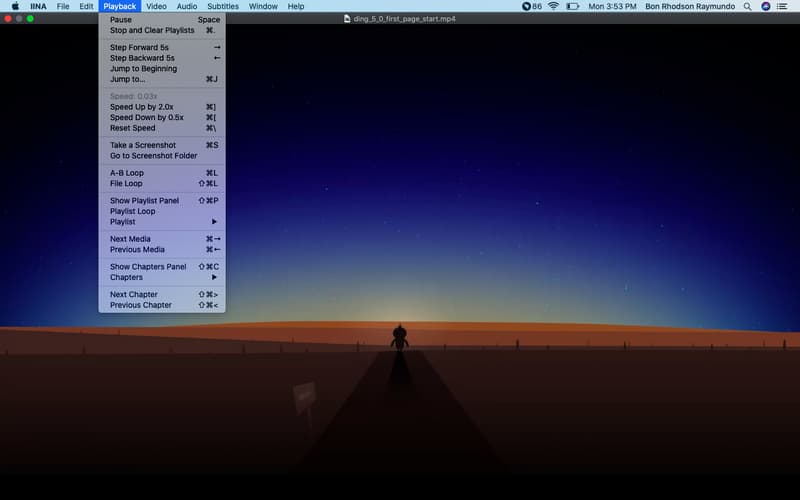 Let us now move on to the Playback Support that IINA Mac can offer to us such as Picture-in-Picture, Force Touch, and advanced Touch Bar support. Henceforth, we can distinguish what are the functions of these supported features below the following information.
Picture-in-Picture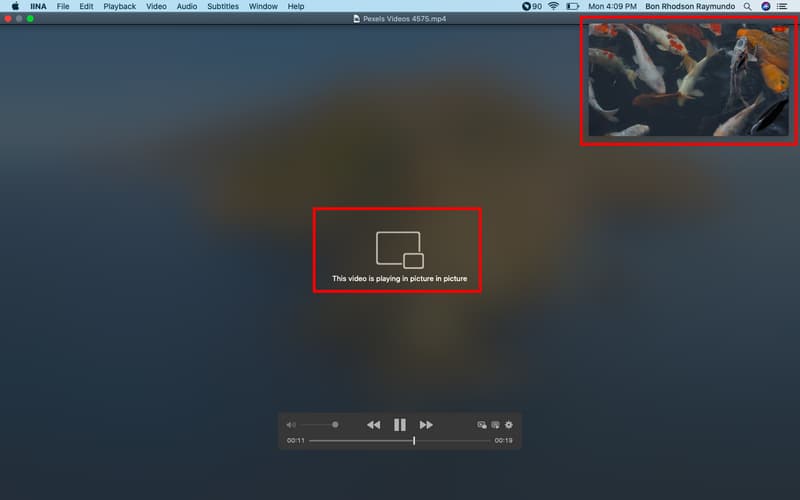 So the good thing about this feature is that it allows you to view your computer's main screen while playing your favorite music and watching your movies.
4. FAQ
Can I open media files on IINA from any web browser?
Certainly yes, you can open numerous online media files on IINA over the internet by using their browser extensions such as Safari app extension.
IINA vs. VLC: Which is better to use?
For some instance, these two media player tools can both serve their purpose. However, since IINA allows you to playback media files over the internet for free, I prefer using this over the VLC.
Does IINA offer different versions?
Yes, IINA does offer different versions for Mac such as IINA 0.0.2 and IINA 1.1.2 for Mac. Both can offer you excellent and upgraded features and media playback functions.
5. Best Alternative - Aiseesoft Blu-ray Player

Aiseesoft Blu-ray Player
Aiseesoft Blu-ray Player, an alternative media player that is excellently suitable for playing all your media files without any distraction. Furthermore, it enables you to play ISO photos with high-definition images
Offers a 100% free version.
Supports HD videos.
Supports media files from Blu-ray and DVD disc/folder/ISO files.
Offers various features.
Friendly user interface.
Furthermore, you can also experience its unlimited features for only $25. You can try it now!
Conclusion
Finally, we assumed that you got an idea of what IINA can offer to you through the help of this article review. So, if this information is beneficial, you can share it with your friends as well. Also, if you want to try another media player for your media files, you may try Aiseesoft Blu-ray Player.
Did you find this helpful?
340 Votes
YES

Thanks for letting us know!
No

Thanks for letting us know!
Aiseesoft Blu-ray Player
A universal media player for Blu-ray, DVD, video and audio.