In-depth Review of SMPlayer: Is this an Excellent Media Player with Smooth Playback?
Maybe you are still wondering by now if there is an existing media player that can give you excellent performance in terms of its media playback. Well, in this article we will examine one of the great exciting media players that is capable of meeting the standards. We are going to review SMPlayer. Everything that we need to know must be discoursed here thoroughly- features, functions, price, pros, cons, and even its alternatives. For that being said, we are excited to start the review. Buckle up!

1. Our Verdict
Pros

It is accessible and affordable for everyone.
Less complicated to install and use.
Does not demand too many system requirements.
Full features are free to utilize.
Extra features are also offered.
Completely clean: virus and malware-free.
Cons

The design is a bit old.
Not intuitive interface.
Gradually updating.
Only the basic features are offered.
The icons are a bit awkward.
Overall Ratings
SMPlayer is one of the most iconic media players in the market nowadays that has the ability to play all of the media files you want to play. This is a simple player that is capable of offering numerous features. Also, it is compatible with a lot of operating systems and devices. Furthermore, wherever you want to use it, an impressive processing speed will always be present.
Features:8.5
Compatibility:8.6
Processing Speed:8.4
2. What is SMPlayer?
SMPlayer
SMPlayer is a media player that is free and open-source and a very flexible video player that has a lot to offer. This is a versatile media player that has the ability to give you a wonderful experience in playing your media files. Other than that, it is also capable of playing your DVD menu and Blu-ray with SMPlayer. In addition, it also allows you to modify your video while watching it. Well, it seems like we have mentioned a lot of information about this player. I think that is enough to say that it is now a great media player for everyone.
Price
If we are talking about its pricing list, that thing is not necessary with this player. I bet you know that SMPlayer is free and open source. All you need to do is download SMPlayer from the official website and after that, you may now utilize its full offers. Enjoy it for free!
Platform
If we are going to talk about its supported operating systems, this is available with Windows 10, 8, 7, Vista, and more. As long as you have a 32-bit, 64-bit, x86_x64 computer type. It is very compatible too with your Mac OS. Important reminder, just keep in mind the system requirements that your PC must possess before utilizing it. SMPlayer iOS version is also available.
Processor: Minimum of 1 GHz Pentium
Memory: 512 MB of RAM Free Disk
Space: 500 MB
Main Features
SMPlayer is very rich in offering features and functions. We have presented a lot at the beginning of this post and guess what, there is more. That is why in this article, we will present the features and functions that you can enjoy all you want for free with SMPlayer.
SMPlayer Main Features
Consumable subtitles: size, colors, and fonts.
Instant switching of the audio track you love to hear.
Find by mouse wheel to allow you to go forward or backward with your video.
Equipped with video equalizer.
Tools for modifying the brightness, contrast, hue, saturation, and gamma.
Provide multiple speed playback, like 2X and 4X faster.
A slow-motion tool is also offered.
SMPlayer 3D video playback.
Various filters are available too.
Adjustments tool for audio and subtitles.
Well-performing technology for your media playback.
It supports playback of YouTube with SMPlayer.
SMPlayer Review
SMPlayer Skins
One of the factors why this media player is known to be the best, it offers downloadable SMPlayer skins. Through this act, you may now modify every SMPlayer theme and skins of your SMPlayer. Therefore, you do not have to worry about the aesthetic of your software. At the same time, it is common knowledge that the design offers factors why software is easy to use.
Playback Speed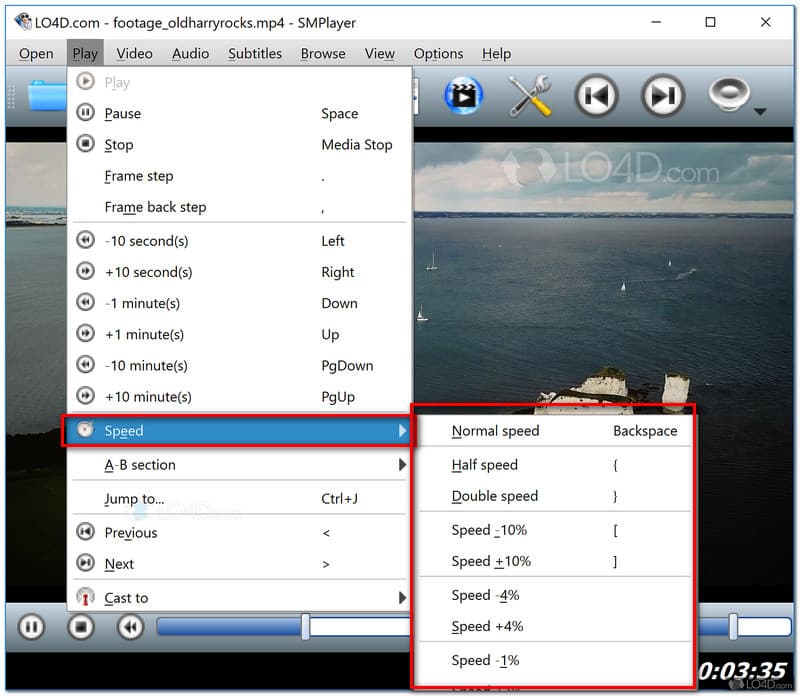 Talking about its playback speed, it will really offer you the best playback for your video files. In fact, it has very simple video resolutions, just enough not to bring a complication with our eyes.
Equalizer and Filters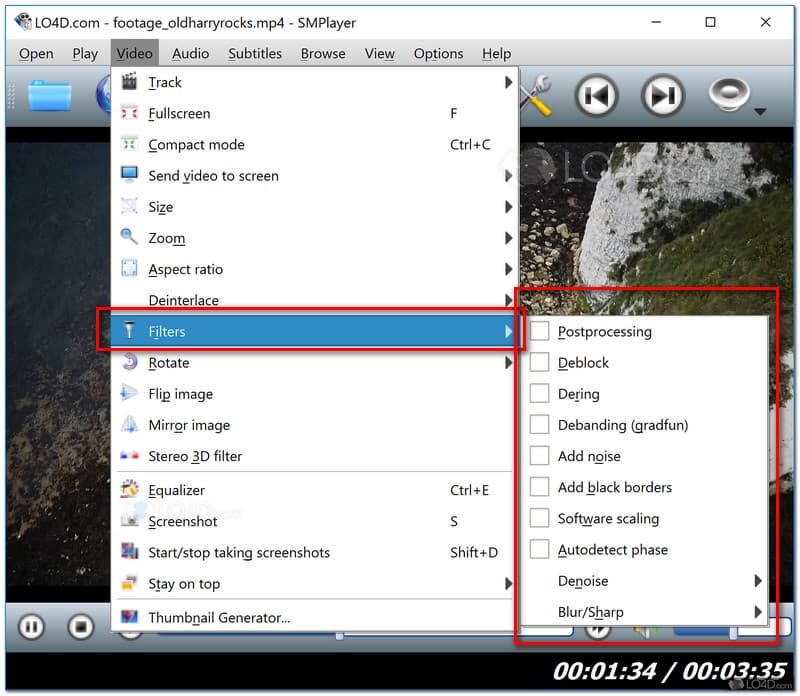 The best thing about SMPlayer software is the fact that it is equipped with an equalizer that will allow you to adjust every detail of your video files. Through the equalizer features, you may add filters with your video files- post-processing, deblock, during, debanding, add noise, add black borders, software scaling, auto-detect phase, denoise, blur, sharp, and more. For a shortcut, you may press Ctrl + E to easily access the features. Through the equalizer too, you may adjust the quality of your audio for a better-quality experience of watching.
Subtitles Support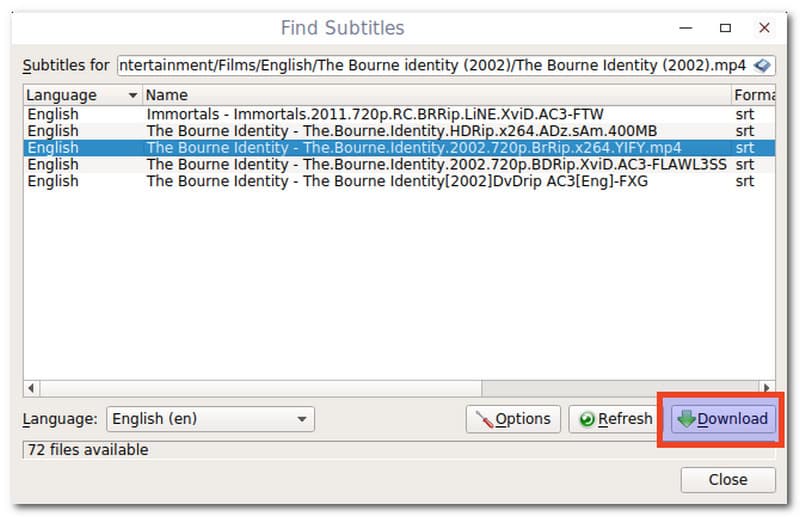 As we mentioned above, the SMPlayer allows you to easily download subtitles for your video files. This function will really give you the best experience of watching your video. Imagine watching a foreign film, you will definitely not understand what you are watching for. That is why SMPlayer got you covered. Downloading subtitles will be instantly done here without any complications. Yes, it is hassle-free for all of us.
Supported Formats
Aside from offering various features to offer a quality playback, it also supports a wide range of media file formats. With these abilities, you do not need to worry about playing any files in any file format with SMPlayer.
SMPlayer Supported File Formats: AVI, MKV, OGM, MPEG, VOB, 3GP, ASF, MOV, WMV, MP3, and OGG. H.264, and more.
4. SMPlayer FAQ
Is streaming it from SMPlayer safe?
Yes, it is safe to use with streaming. However, configuring it before utilizing it must be done. Those are just small changes to make but important to prevent fewer complications.
What does SMPlayer Windows 32-Bit offer?
The special features that this version can offer are the choice of font, colors, and size of your subtitles. It also works with AVI and MKV compared to the other player. One of the best things about it is the offer of a mouse wheel to make the process of forwarding and backward easy.
How is the GUI of SMPlayer?
The GUI of SMPlayer looks classic. It has a touch of sky blue with a bit black. Therefore, that simple color gives us a very professional look. For that being said, the GUI of the SMPlayer makes the loading process go smoothly.
5. Best Alternative- Vidmore Player
If SMPlayer is not enough for you, here is Vidmore Player as the best alternatives to it. Vidmore Player is one of the most advanced media players in the market nowadays. This player offers various features like playing subtitles, playing your 4K, and ultra-high-quality video resolutions. Therefore, with Vidmore Player we guarantee you the most immense experience of playing your media files at any file format.
Vidmore Player
All around playback for your diverse media files. It is also equipped with advanced technology for smooth media playback.
Instant navigations menu.
Ultra high-quality output.
Supports a huge variety of media files.
Offers subtle features.
Easy audio track switching.
Conclusion
Therefore, we can conclude that SMPlayer is a classy media player that can offer powerful tools with your video playback. Unique features like subtitles, equalizer, and more. We also introduced Vidmore as the great alternative to it, for it can also exceed what SMPlayer can offer. Try to believe it. You may also share this post to help others get to know that it is SMPlayer.
Did you find this helpful?
200 Votes
YES

Thanks for letting us know!
No

Thanks for letting us know!
Vidmore Player
Best media player for Blu-ray, DVD, 4K video and audio.