FGL Pro Review: A Location Spoof Tool for Playing Pokemon Go
Pokemon Go is a mobile game that became famous because it is fun to play. Nevertheless, some users try to seek software or an app that they can use to play Pokemon Go without going to one place and another. FGL Pro is one app that you can use on your Android device. You can learn more if you will read this review, start now!

Our Verdict
Pros

It is free to use, download, and try from the Google Play Store.
It is essential and easy to use.
It is supported by many apps such as Pokemon Go, Social Media, and Dating apps.
It does not require you to acquire FGL Pro Root Mode.
Cons

It requires you to downgrade Google Play Services.
It contains Ads, and there is no way to get rid of them.
It has a lengthy and time-consuming process.
It does not have a Route Modes.
Sometimes, FGL Pro is not working.
It is not compatible with iOS devices.
Overall Ratings
Safety:8.0
Features:8.0
Easy to use:8.0
What is FGL Pro?
Price: FGL Pro offers a free version. Nonetheless, it has an in-app that you can purchase for $2.88 per item.
Platform: Windows, Mac, Android devices.
Main Features
FGL Pro is one of the location spoofing tools. It has a straightforward and lightweight GPS location for Android devices, but sadly, it does not work on iOS devices. Moreover, with the help of FGL Pro, you can change, fake, and spoof GPS. It is also perfect for a game called Pokemon Go.
Furthermore, here are the main features of FGL Pro that you deserve to know, and you can enjoy all these features for free. Please them now below:
◆ It can change your GPS location using geographical coordinates and names.
◆ It lets you spoof or fake your location using the Joystick.
◆ It is supported with various Speed Modes such as Walking, Bicycle, Vehicles, and Fly Modes.
◆ It provides a Favorite List.
◆ It can duplicate the GPS location effortlessly.
◆ It lets you share your location with your friends and family members.
◆ It also allows you to set and share your custom route.
FGL Pro Review
Interface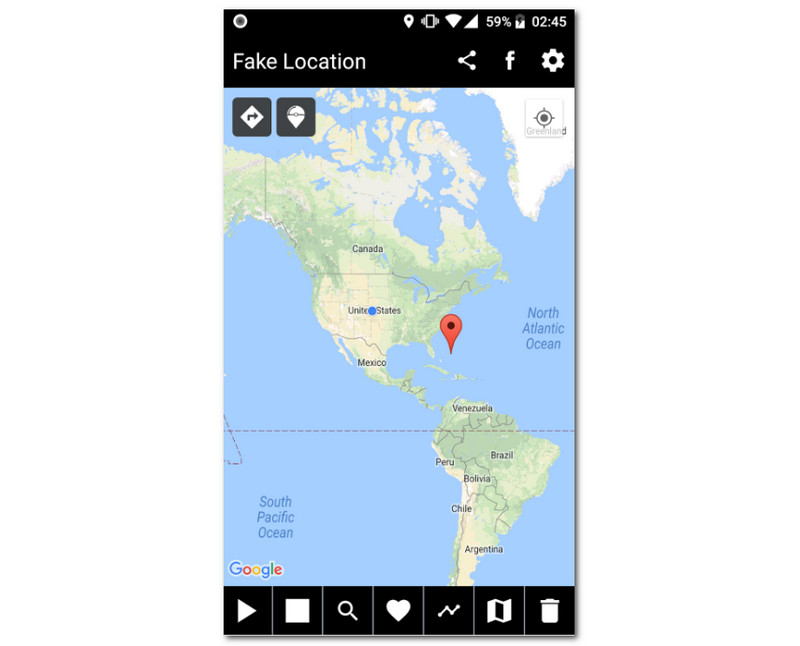 In this part, we describe the main interface of FGL Pro when it is launched on the Android device. But before you launch FGL Pro successfully on your device, you must do the process. However, it is not all about showing you how to do the process. But we will explain to you the main interface on Android devices.
When you launch it, you will see the map immediately. It includes all the places all around the world. In addition, you can Zoom In and Zoom Out the map. On the upper part, you will see the Fake Location; right after that, you will also know the Share, Facebook, and Settings icons.
On the bottom corner of the interface, you will see the options such as Play, Pause, Search, Favorite, Delete, and more.
Overall, FGL Pro has a primary user interface on Android devices, and we believe it also has a basic user interface when you launch it on your computer.
Setting Up FGL Pro for Pokemon Go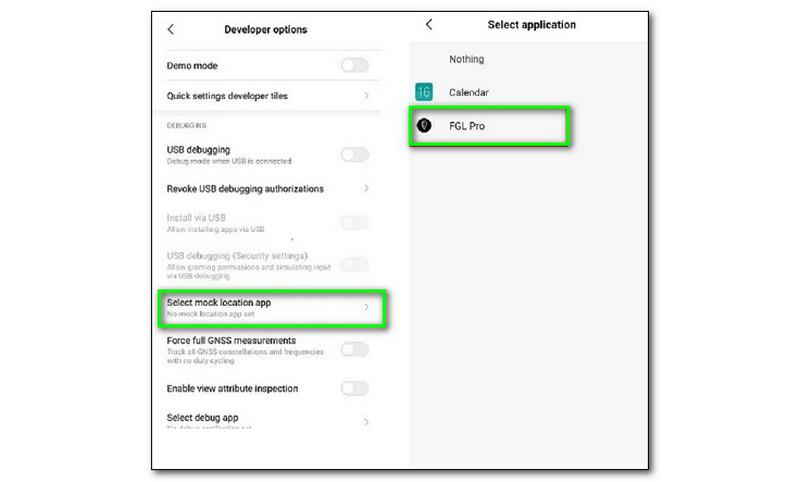 You cannot use FGL Pro without setting it up first. Of course, you can set it up using the Setting on your Android device. The good thing is that it is straightforward to set up FGL Pro, and you do not need to become techy because you can do it in just a minute!
After downloading the FGL Pro on the Google Play Store, you can start choosing FGL Pro in order to use it while playing Pokemon Go. You must see the Developer Options on your Android device and select the Mock Location App.
After that, you will see the FGL Pro and select it also. Now, the question is, is it safe to choose the Mock Location App? In some cases, it is not 100% to do it because of safety purposes. However, since you will use it while playing Pokemon Go, you can select it for a while and unselect it after you use it.
Problems Encountered while using FGL Pro on Pokemon Go
You cannot avoid problems upon playing Pokemon Go while using FGL Pro, and in this part, we will review some of them so you can prevent them and come up with reasonable solutions when you encounter the same issues.
To start, you will experience that FGL Pro keeps crashing down while playing Pokemon Go with friends due to its attached program. Of course, it is frustrating because it distracts the bonding with your friends. In addition, it will show some issues like FGL Pro mocking please wait, FGL Pro error 11, FGL Pro Joystick, FGL Pro something went wrong, and more.
Moreover, you can prevent all of these issues by operating FGL Pro within its boundaries. Also, if you set up FGL Pro correctly, you can enjoy its good performance. In addition, you can also try some alternative software to play Pokemon Go without experiencing errors. Below, we prepare an alternative software, and please continue reading this review.
FAQs of FGL Pro
How to fix FGL Pro saying Google Play Services Are Updating?
You will probably experience this scenario. Nonetheless, there is also a solution to it. To fix it, you need to the to Application Manager in your Settings. Then, you will see the Show System Apps. after that, on the bottom part, you will also see the Download Manager, and you must disable it. Once done, you will expect an excellent performance when operating FGL Pro again.
Is FGL Pro safe to use on Android devices while playing pokemon Go?
Again, at some parts, FGL Pro is safe to use. But here is the thing, while setting up FGL Pro on your Android device, you need to select Mock Location App, which can lead to unsafety. Also, while playing Pokemon Go, you will experience many errors the FGL Pro keeps on crashing.
What will I do is FGL Pro is not working?
That is the main problem of FGL Pro, and it will depend on your Android device. To fix it, you can delete all the data of FGL Pro and on your Google Play Services and turn off the location and Wi-Fi or data. However, it will work with some users, and we are not sure if it will work the same with you. If not, you can try the alternative below.
Alternative - Aiseesoft AnyCoord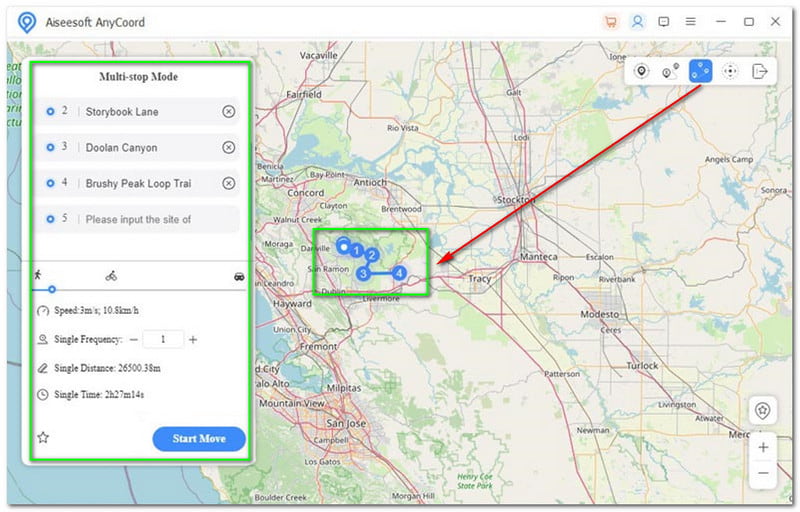 We cannot deny that FGL Pro has many errors and problems. In addition, it is not compatible with iOS devices. As a user, you would not want software that can distract your enjoyment, especially if you are playing Pokemon Go. If you want to play Pokemon Go without distractions due to some errors, the FGL Pro alternative is Aiseesoft AnyCoord.
Aiseesoft AnyCoord has numerous features that FGL Pro does not support. One more thing, Aiseesoft AnyCoord is 100% safe to use while FGL Pro is not. Therefore, you deserve better software. Please see the features of Aiseesoft anyCoord below, and we are confident that you will try it after reading this review article.
◆ It is safe, affordable, and manageable.
◆ It can change GPS location to another place.
◆ It can be used while playing Pokemon Go.
◆ It is compatible with your iOS devices.
◆ It can make a virtual location.
◆ It has three movement modes: One-stop Mode, Multi-stop Mode, and Joystick Mode.
◆ It can customize the speeds on your device.
There's more! You will discover that when you will try using Aiseesoft AnyCoord, download it now, for free!
Conclusion:
Unfortunately, we find out that even though FGL Pro is free, it is not 100% safe to use, and it has many errors while using it, especially on playing Pokemon Go. Moreover, we hope that you learned so much about this review article. We will see again in our next upload!
Did you find this helpful?
188 Votes
YES

Thanks for letting us know!
No

Thanks for letting us know!
Aiseesoft AnyCoord
Change iPhone Location to Spoof and secure yourself.