Fake GPS Joystick Review: Change, Fake, and Spoof Location while Playing Pokemon Go
There is much software that provides a location-based service to use on many applications on the internet. It can be used on many social media platforms or games. Nonetheless, there are instances when you need to change your location. For that reason, you can use Fake GPS Location. To know more about this software, you can start reading now.

Our Verdict
Pros

It has no Root required.
It is available for the free version.
It is easy and flexible to use.
It provides customer support.
It has a user-friendly interface.
Cons

It has In-app Ads.
It is possible to be detected by other apps.
There is a chance risk of getting banned.
The Map is blank sometimes.
Overall Ratings
Functionality:8.5
Easy to use:8.5
Customer Support:8.5
What is GPS Joystick
Price: It costs $0.99 per item.
Platform: Android devices and Windows.
Main Features
GPS Joystick is a Ninja App tool that can change your location on your Android devices. The sad thing about this tool is that it is unsuitable for iOS devices. Moreover, just in case you are not yet familiar with GPS Joystick, it is also known as Fake GPS Location on Google Play Store.
Furthermore, with the use of this tool, you can effortlessly fake your location, and you can also use a Joystick in order to control the virtual movement. In this part, we will list the main features of GPS Joystick and learn to use them after reading this review:
◆ It can change your GPS location effortlessly.
◆ It lets you choose any location around the world with the use of Joystick and Map.
◆ It can enter the latitude and longitude instantly to teleport anywhere you want.
◆ It can create a route by choosing the points on the Map to auto-walk.
◆ It lets you make and save a route using any number of points on the Map.
◆ It can pause and resume the route from the Joystick.
GPS Joystick Review
App Interface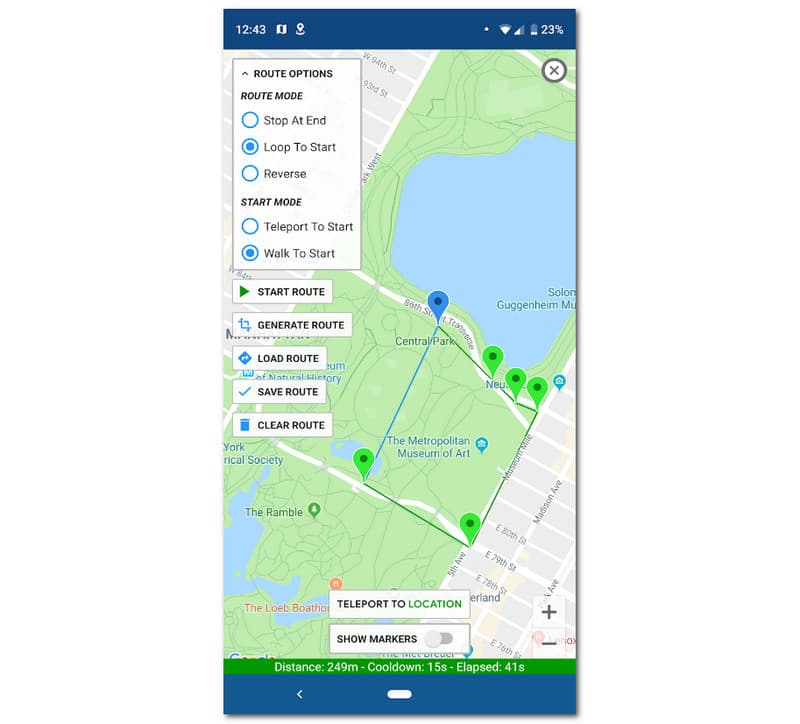 As you read this part, we will describe the App interface and what GPS Joystick looked like when you downloaded it on your device. From the entire screen, you will see the Map. Then, on the left side, it provides a Sidebar that contains Two Route Options such as;
Route Mode and Start Mode. The Route Mode has a choice of Stop at End, Loop to Start, and Reverse. On the Start Mode, it has a selection of Teleport to Start and Walks to Start. Below that, it provides other options like Start Route, Generate Route, Load Route, Save Route, and Clear Route. You will also see the Teleport Location and Show Markers on the bottom. Lastly, on the right side, you have an option to Zoom In and Zoom Out the Map.
Indeed, iTools ThinkSky has an easy-to-use user interface. It provides all the options and features you need on the main interface. With that, you will be faster enough to fulfill what you like to do with this software.
Use GPS Joystick on Pokemon Go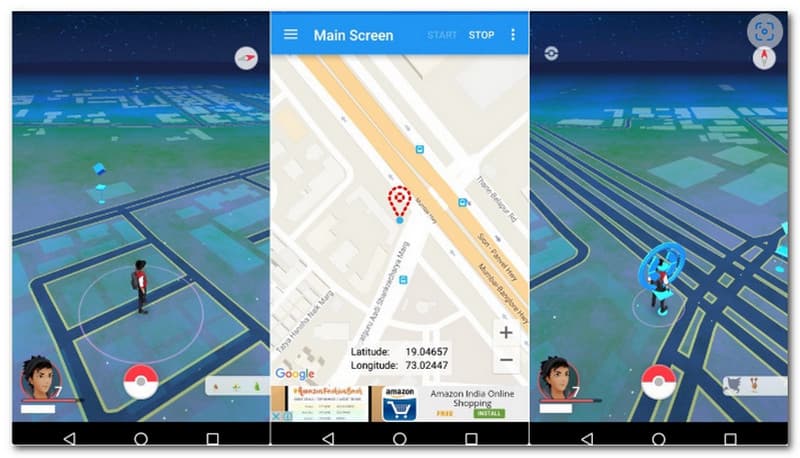 There are many questions about whether GPS Joystick can be used for playing Pokemon Go. By this time, you now have an opportunity to have an idea about it. The answer is a big yes. Using GPS Joystick is the best way to enjoy playing Pokemon Go if you do not want to go to another place.
That way, it can confuse the mobile game that you are in a specific location, even if you are at home, lying in bed. Moreover, as we all know that the pandemic creates an impact around the world. However, you can still play Pokemon Go with the help of a GPS Joystick.
Moreover, you can also play Pokemon Go on your computer since GPS Joystick supports you. It lets you play Pokemon Go without going elsewhere. It may sound unfair to other players, but this is the reality that you must face, especially since there is much high-tech software in this present time.
Extra Features of GPS Joystick
GPS Joystick unlocked version is now free to use. Therefore, you do not need to pay for it, and you can enjoy all of these while using GPS Joystick. We will start on the Privacy Mode that lets you generate a complete clone of GPS Joystick using a random name. When it comes to the System Mode, it uses the system privileges in order to mock location.
Furthermore, it also provides a Suspended Mocking that broadcasts the mock location for some time and will suspend the broadcasting. What's more? Indirect Mocking, A-GPS Reset, and Fix Options are also counted on the unlocked version of GPS Joystick for free!
FAQs of GPS Joystick
Is GPS Joystick safe to use?
We can conclude that GPS Joystick is safe even when playing Pokemon Go. In addition, based on the users' reviews on the Google Play Store, it has 4.2 stars. This means it is effective and safe to use.
Also, according to GPS Joystick, they collect information and data but secure it, especially your information. Moreover, regarding its security practices, your data is not encrypted, and yuo can request GPS Joystick to delete your data.
Is GPS Joystick will still work in the year 2022?
Of course. GPS Joystick will still work in the year 2022, and the following year if the developer of GPS Joystick will continue updating it. Moreover, it will still modify and change your location, and you can still use Joystick to simulate and control it.
How to download and use GPS Joystick?
Downloading GPS Joystick is easy as well as using it. You can download it on its official website or in the Google Play Store, named Fake GPS Joystick. Once you are finished downloading GPS Joystick, you can start launching it.
After that, you can enable the Developer Mode in your Phone Settings and start customizing it. Then, you can begin faking, spoofing, and changing the location in just a minute!
Alternative - Aiseesoft AnyCoord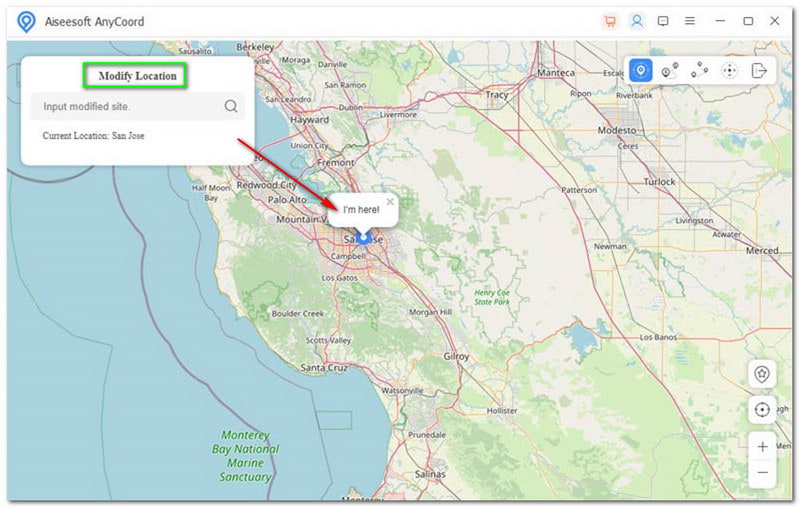 There are times of GPS Joystick is frustrating to use because of its In-app Ads. It causes many hassles, and there are In-app Ads because it is free to use. Therefore, it has a limited even if it offers a free version.
In order to avoid all the In-app Ads while using the free trial of the software, we will introduce to you Aiseesoft AnyCoord. It offers a free trial without limitations and will help you change your location effectively. Here are the features of Aiseesoft AntCoord that you cannot afford to miss; see them below:
◆ It can change your GPS location to various locations in one click.
◆ It lets you stop sharing your location on social media accounts.
◆ It lets you use it while playing AR video games.
◆ It also lets you set a virtual location on your iOS device.
◆ It allows you to customize routes and customize speeds.
◆ It has three movement modes; One-stop Mode, Multi-stop Mode, and Joystick Mode.
Conclusion:
To end this review, we learned that GPS Joystick is safe yet has many limitations since it is free to use. Therefore, we suggest an alternative software you can use for a better experience. Moreover, we will see you again on our next upload!
Did you find this helpful?
369 Votes
YES

Thanks for letting us know!
No

Thanks for letting us know!
Aiseesoft AnyCoord
Change iPhone Location to Spoof and secure yourself.