Outstanding PDF to Image Converters to Maneuver: Verifying their Excellence for you
You may be thinking twice of why you need to use PDF to image converters especially when you are not a regular PDF user in the first place. But let me tell you this, PDFs are now created not just by professionals but by ordinary users like you, for ordinary purposes at the same time. Also, who knows? Someday, you might be needing to convert PDF files in order to use them. For some cases, if you have an important document in PDF. Then, unexpectedly you need to have hard copies of your PDF documents. You will be needing a PDF to image converter because this kind of converter tool allows you to convert PDFs into an image so you can print and open them and finally you can have hard copies of your PDFs. In line with that, since PDF files cannot be opened directly and need a PDF reader to open the files. As an alternative, using PDF to image converter is highly recommended.
Within this article, you are able to identify what's the best PDF to image converter you might be needing to utilize.

Part 1. PDF VS Image
Portable Document Format (PDF) is a file format used to save files that can easily be printed, shared, and forwarded to someone. The good thing about this format is that it allows the pages – documents, forms, images, and web pages to be properly displayed on any device such as smartphones, tablets, etc. Moreover, when the pages have been placed in PDF, it becomes a fixed layout of texts and graphics.
On the other hand, an image file contains digital and graphics data such as a GIF or graphics interchange format file, PNG file, EPS file, TIFF, and RAW Image file. The image file format can keep the data in a compressed format that is lossless. So, why do you need to convert PDFs into images? This is necessary because you can have a fixed layout of your PDF pages once they have been converted to graphical data that allows you to optimize for editing, sharing and printing.
Part 2. Top 7 PDF to Image Converter
1. Aiseesoft PDF Converter Ultimate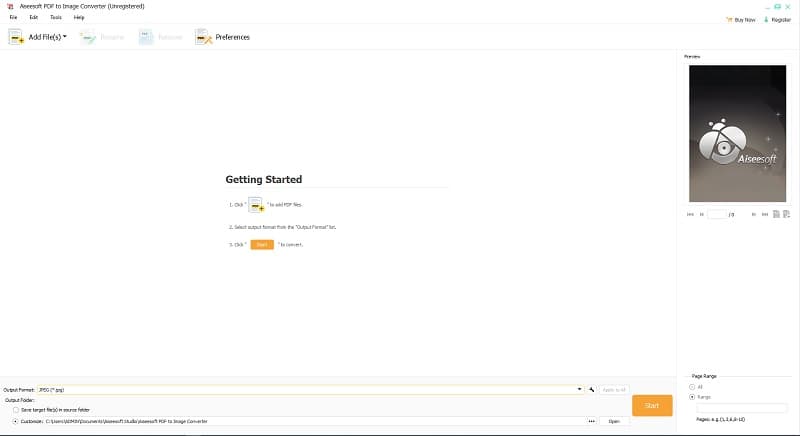 Converting PDF files to any image format such as JPG, PNG, GIF, etc. is possible with Aiseesoft PDF Converter Ultimate. Through the help of this software, you can have reliable copies of your PDFs because they will look identical to the original design once they have been converted to images. Not just that, if you ever want to change your PDF file to any text format like word document for further editing. This is also achievable through Aiseesoft PDF Converter Ultimate because this software allows you to convert PDF files into any format file such as word, excel, powerpoint, text, etc. Without destroying the original format. Furthermore, this software is effective and user-friendly because it helps you easily convert several PDF files bringing you out the best quality outcomes. Also, this software supports advanced OCR technology that can correctly recognize languages like English, French, Chinese, and more.
Most importantly, this perfect and accessible PDF converter will help you save costs for its affordable price.
2. PDF to Image / pdftoimage.com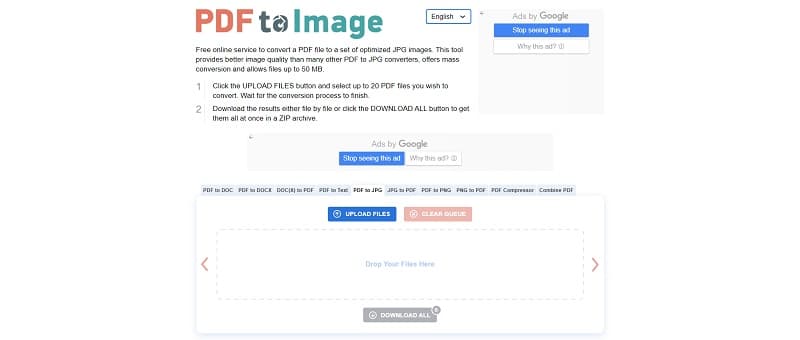 Just in case you are looking for a free online service to convert PDF files into enhanced and perfect images. Kindly visit pdftoimage.com and it will show you what it can offer to you. The PDF to Image Converter is a free online service where you can easily upload up to 20 PDF files (or 50 MB) from your device that you want to convert. Just wait for the conversion then it is already done. In addition, you can download the outputs file by file or download them all at once.
Also, when converting PDF files, you can freely choose any format such as doc, text, JPG, PNG and vice versa. With that being said, this software also allows you to convert your doc file, Text file, PNG file, JPG file, etc. into a PDF file.
3. Small PDF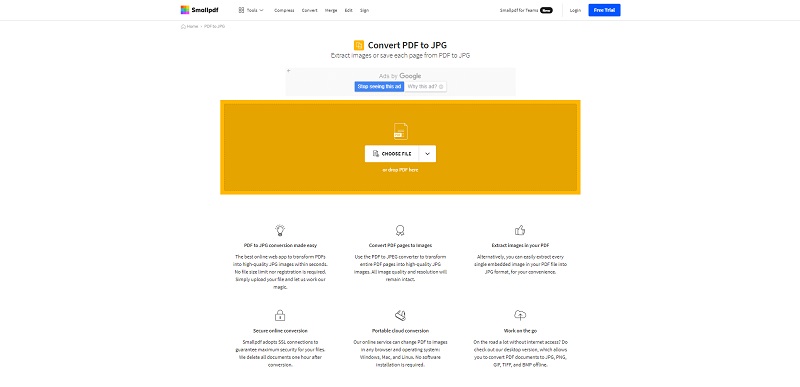 Smallpdf is the most popular and effective PDF tool that you would want to use because it has a lot to offer. This software has 21 tools that you can use to convert, compress, and edit PDF files just for free. Each tool has different uses - to convert PDFs to editable word documents, merge several PDFs to make them one combined file, convert digital or graphics data to PDF format, convert PDFs into editable powerpoint presentations and excel spreadsheets, reduce the size of PDF files without losing their quality, and more.
In addition, PDF files can be converted into different formats and vice versa. For instance, if you want to convert word documents, excel spreadsheets, powerpoint (or any format) into PDF files. This is possible with Smallpdf and its tools. One more thing, this software will let you choose what tool you want to use. In short, the Smallpdf can provide whatever you need.
4. PDF2JPG.net / pdf2jpg.net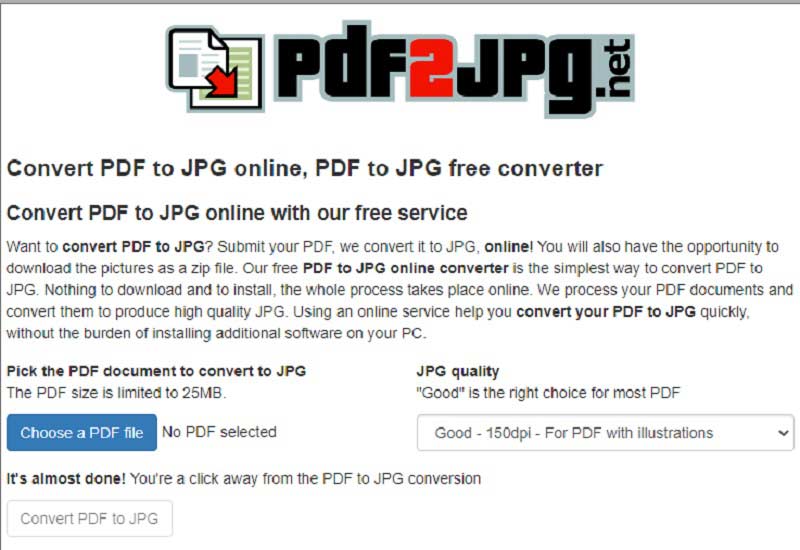 Are you tired of downloading and installing new software on your PC but need a PDF to JPG converter? Here is the answer. If you are looking for an online PDF to JPG Converter, kindly visit pdf2jpg.net. This online software is free and is easy to use when converting PDF files to JPG files. You don't need to download and install the software because the whole process is possible online. This software allows you to convert PDF files to produce high-quality JPG in just a moment. That said, you can upload PDF files up to 25MB, and you choose a JPG quality. Whether it is the Average quality that has 75dpi (for regular PDF), or you can click the Good quality that has 150 dpi (for PDF with illustrations), you can also click the Excellent quality that has 300dpi (for rich and high-quality JPG.)
5. I Love PDF / ilovepdf.com
Are you looking for a web app to convert PDF files to any digital or graphics data and any format? If yes, visit ilovepdf.com. This web app will surely help you convert your PDF files to any graphical format. Not just that, I Love PDF allows its users to merge, split, and compress their PDFs without having any trouble. More so, it offers the best PDF tools that allow the users in converting PDFs to any image format and converting any digital format into a PDF file. In addition, these PDF tools will help you edit your PDFs - rotating and adding some texts, page numbers, and watermarks to the file. Also, you can keep and secure all your PDF files at once.
Furthermore, if you have a corrupted PDF file, I Love PDF can recover and fix it for you partially or completely. Depending on how much the file is damaged. Also, this software allows reducing file size while optimizing for perfect quality. With all the excellent features this web app could offer, everything is possible with just a few clicks. And take note, all are 100% free!
6. PDF to Image Converter (Android)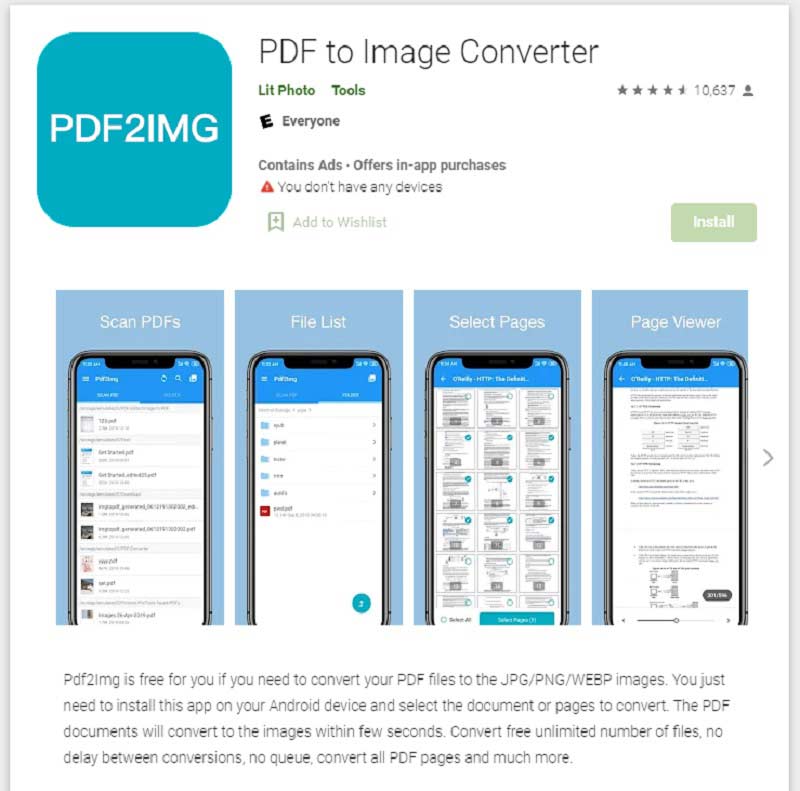 If you're an android user and in need of converting PDF files to JPG/PNG/WEBP images. Pdf2Img is free for you. All you need to do is download and install the app on your Android device and you can start selecting the document or pages for conversion. Within a few seconds, PDF documents will be directly converted to images.
With Pdf2Img, converting several files is possible without any delay, queue, and trouble. In line with that, this app is really quick, easy to use, and stable. Furthermore, the app allows its users to sight the PDF file pages before converting. So, the users can decide and choose which page needs conversion into an image. The good thing about Pdf2Img is that it allows the users to choose image quality, whether High or Low quality, while converting PDF files to images.
For some cases, if you want to share and send your converted PDFs to your friends, you can share those via email or any media app using this software.
7. PDF to JPG Converter (iOS)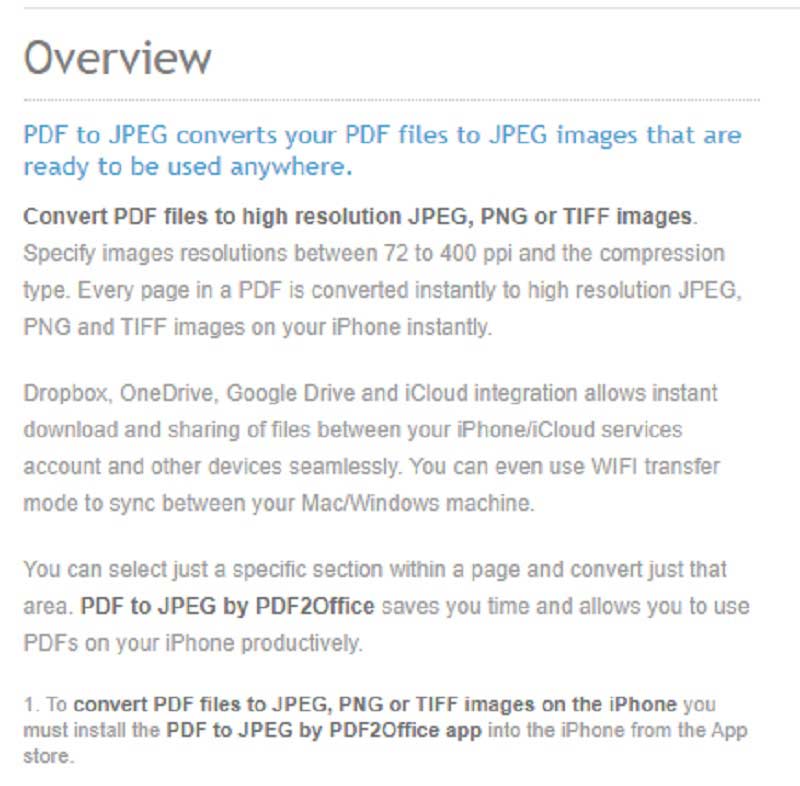 Move on to the last option. If you are an iOS user such as iPhone, iPad, iPod, and you are looking for effective PDF image converters. Kindly search PDF to JPG Converter (iOS) on your browser. This software can help you easily convert your PDFs to the most common image format with no limits on the file size and number of conversions with high-quality results. Furthermore, this software allows you to view and share your newly converted files and there's no need to download any other app just to open them.
Also, it allows you to convert PDF files from gmail, google drive, dropbox, box, and one drive. In line with that, it allows you to email your new files from within the app. Another thing, all PDF files that you have converted on these servers are being deleted, so you don't have to worry about your private and personal documents because these are all gone within the next day since conversion began.
Part 3. FAQs about PDF to Image Converters
What are 4 of the best PDF to Image converters?
If you want to convert PDF files to images for free online services. You may visit pdftoimage.com, pdf2jpg.net, ilovepdf.com or Smallpdf. These four are online apps that will allow you to convert your PDF files to any Image format with high-quality results. If you visit one of these apps, it will bring you to the interface and you will see where you can drag or add your PDF files. After dropping the files, just click the Convert and in just a few seconds the output is ready for saving or downloading.
How long does the PDF to image converter take place?
Mostly, the conversion is being done in just a few seconds or minutes. Depending on how many files you want to convert. In line with that, it will take a minute or two if you drag several files for conversion.
Can PDF to Image Converters be suggested to newbies?
As far as I know, definitely yes. These PDF to image converters are as easy as the beginners wanted them to be. There is no need for tutorials or background studies.
Conclusion
To sum up everything that is written above, through the top 7 PDF to image converters that were offered to you, converting PDF files to any image format is greatly possible and easy. Mind you, your problems regarding PDF files can be solved in just a few seconds or minutes if you use any of these tools. But then again, the decision is always yours. You have the chance to choose what software you are going to use related to your concerns. Choose what's best for you. If this information has greatly helped you, don't forget to share it with others.
Did you find this helpful?
223 Votes
YES

Thanks for letting us know!
No

Thanks for letting us know!
Aiseesoft PDF Converter Ultimate
An ultimate PDF converter to Word, Excel, Image, and more.