Review the Best 7 Screen Mirroring Apps for Android:
Android is, without a doubt, the most popular mobile operating system. Android offers users a much more comprehensive range of customization options and features than all other mobile operating systems. The most noticeable feature on Android is screen mirroring. The screen mirroring feature enables users to remotely share or mirror the screens of two devices, such as an Android device or a PC to an Android device. Screen mirroring may also be among the most practical digital technologies available. This is possible because it lets you live-cast your mobile screen onto a more extensive, clearer screen, like a computer, TV, or projector.
These days, using this technology is incredibly simple, and you do not have to sacrifice picture quality. You can find helpful information about the seven best screen mirroring apps for android in this article. As we review the features and details of Aiseesoft Phone Mirror, Screen Mirroring App, Mirroring 360, MirrorOp, Castto, Live Screen, and Reflector.

Our Top Picks
Aiseesoft Phone Mirror: The Easiest Casting Tool

With this tool, enjoy the most straightforward screencasting process and the most user-friendly device. Get it now without cost.

Mirroring 360: Extensive Features and Device Support

Among Android users, this is one of the most widely used mirroring tools. That is as a result of its expert features with supporting ability with devices.

Reflector: Outstanding Feature Available

This app possesses versatile tools and unique features. For that, you may now have an extraordinary process of screen mirroring your devices
Part 1: Best 7 Mirror App for Android
Aiseesoft Phone Mirror
Price: $15.96
Platforms: Windows, iOS, Android, and macOS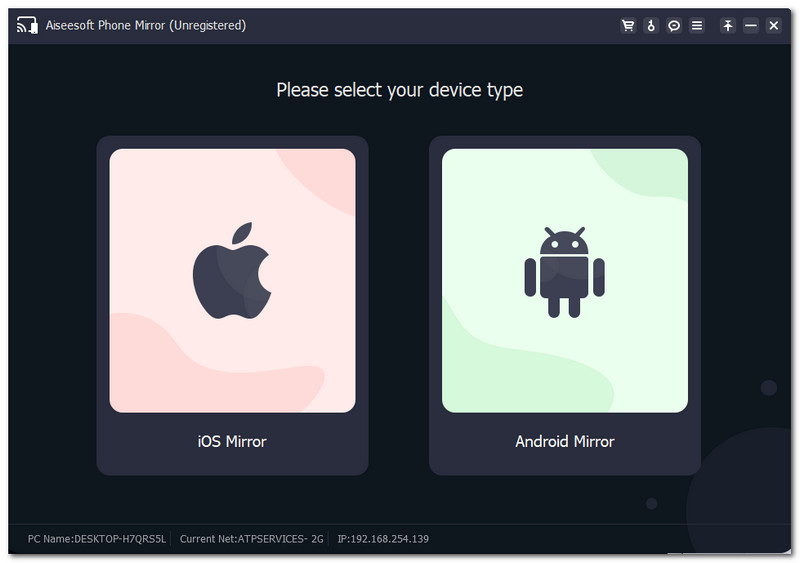 Here is the first entry on the list of the top apps for screen mirroring and probably the user-favorite screen mirroring app to download for Android. Users of Android devices can quickly mirror their devices to a computer using Aiseesoft Phone Mirror without sacrificing quality. This tool also provides several ways to reflect your Android phones to computers. As we apply it, if you have an Android device, you can connect both of them to the same WLAN and mirror your phone's screen onto your computer.In addition, you can also do it on your phone by scanning the QR code or entering the PIN over Wi-Fi. Furthermore, you can utilize a USB cable to cast the screen of your Android phone to a PC if Wi-Fi is unavailable. Indeed, a flexible and adaptable tool that is why it becomes the best app to screen mirror Android.
Pros

The subscription is cost-efficient
The user interface is excellent and straightforward.
This tool enables high-quality screen mirroring.
The most recent iOS and Android devices are both compatible with it.
Cons

With all the features of this tool, a subscription is a must.
Screen Mirroring App
Price: $4.99
Platforms: Windows, iOS, Android, and macOS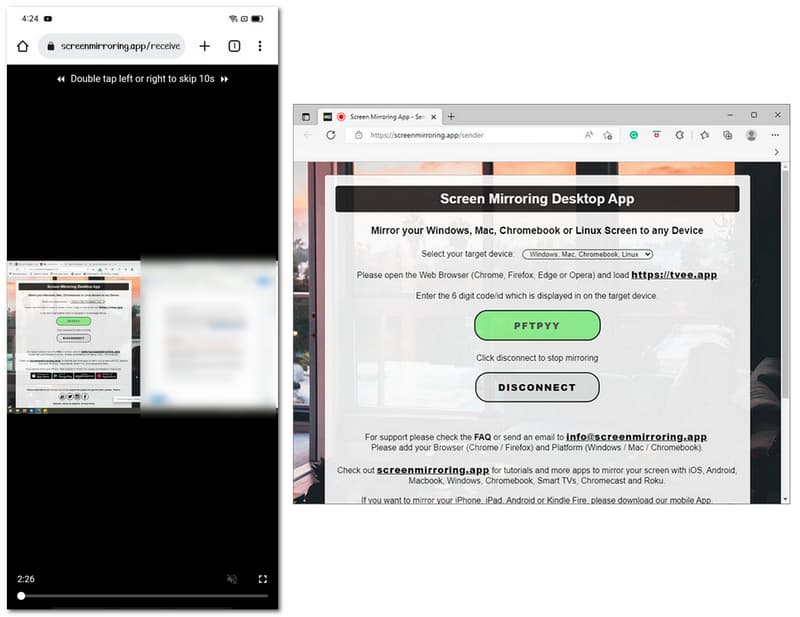 Next, one of the internet's most popular screens mirroring programs is screen mirroring app. Your Android devices can be screen mirrored easily if you have this tool. Additionally, it is free to mirror your Windows and Mac screens. The benefit of the Screen Mirror App is that it enables wireless use for a less complicated process. Therefore, you are not required to use USB cables or cable cords. You only need to scan the QR Code or enter the ID Code that the Screen Mirror App will provide using their website to begin screen mirroring. What a straightforward process of screen mirroring, right?
Pros

Most devices are supported by it.
It has unique qualities.
It provides quick customer service.
Cons

It only has a few features.
It's of inferior quality.
The free version of it has restrictions.
Mirroring 360
Price: $11.99
Platforms: Windows, iOS, Android, and macOS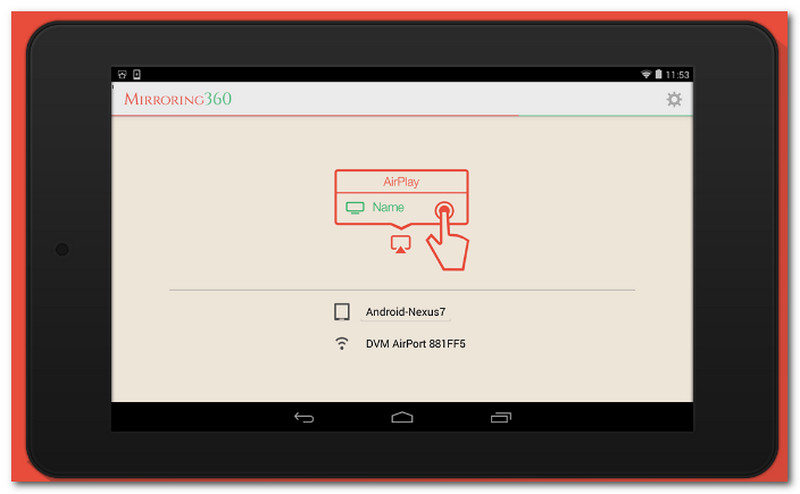 Another top screen mirroring app that is accessible to both Android and iPhone users is Mirroring360. Users can easily share or view their screens with Mirroring360. This app allows users to connect wirelessly with up to 40 participants across multiple locations. Many users love it due to its broader support of screencasting.
Pros

Up to 40 people can share the screen at once.
offers the option of screen recording
Setup and integration with your existing network configuration are straightforward.
Work as the iPhone screen mirror apps, apart from Android mirroring.
Cons

You need a license for each computer to mirror your screen.
Only the Pro Edition license allows for wider audience screen sharing.
MirrorOp
Price: Free
Platforms: Windows, iOS, Android, and macOS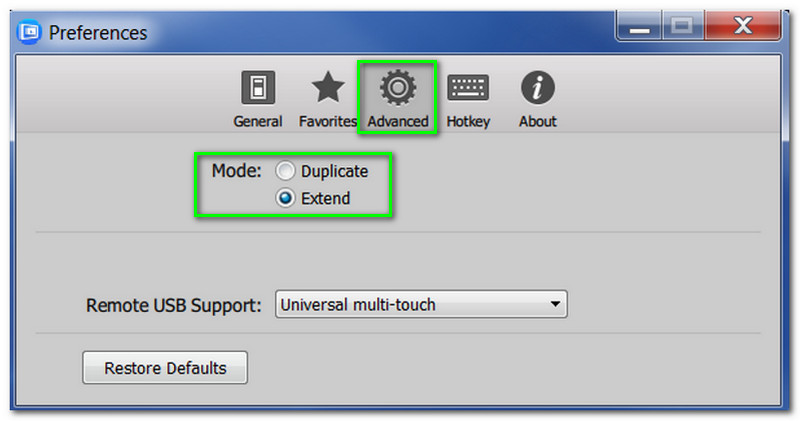 Another screen mirroring program with many features is called MirrorOp. This tool provides each user with excellent presentation tools and more. MirrorOp features can be customized, disabled, and enabled instantly. The benefit of MirrorOp is that each user can choose which parts they want to enable or disable. Additionally, Barco NV created the free app MirrorOp, which you can use whenever you want to mirror your device's screen onto your computer's display.
Pros

It offers a broad range of software/tools.
Since it only uses 9.1MB, the software is considered lightweight.
Cons

Some features are confusing.
It is designed for professional use and is difficult for novice users.
Due to the limited number of updates, it has a problem.
Castto
Price: Free
Platforms: Windows, iOS, Android, and macOS
You can display your smartphone on the TV using a technique called screen mirroring. This screen mirroring tool allows you to easily access all of your games, photos, videos, and other applications on a large screen. Moreover, when using this Castto app, you can connect your phone to a TV, Chromecast, Firestick, Roku stick, and Anycast if your eyes are tired from staring at your tiny cell phone.
Pros

This tool offers free service.
The tool is easy to use.
Cons

There are issues with the quality.
Features are not extensive.
Live Screen
Price: Free
Platforms: Windows, iOS, Android, and macOS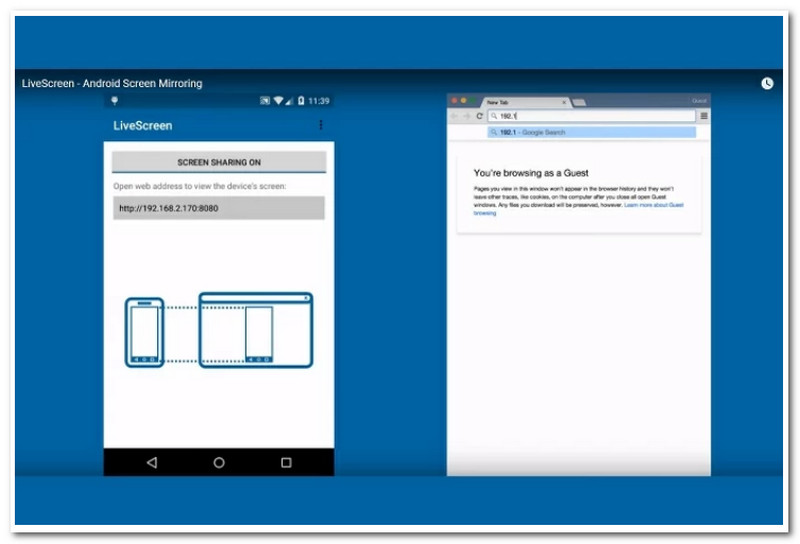 Another screen mirroring application for 2022 is Live Screen Mirroring. You can now use a browser on your computer to share your phone's screen over a Wi-Fi connection. Firefox, Safari, and Chrome. This method is perfect for those who would not to download apps onto their computers for security reasons. Simply connect with your Internet IP address, then feel free to stream music and videos.
Pros

A smooth interface
Free service from the tool.
Both iOS and Android are supported.
Cons

No extra features are available.
It has a drawn-out connection process.
Reflector
Price: $19.99
Platforms: Windows, iOS, Android, and macOS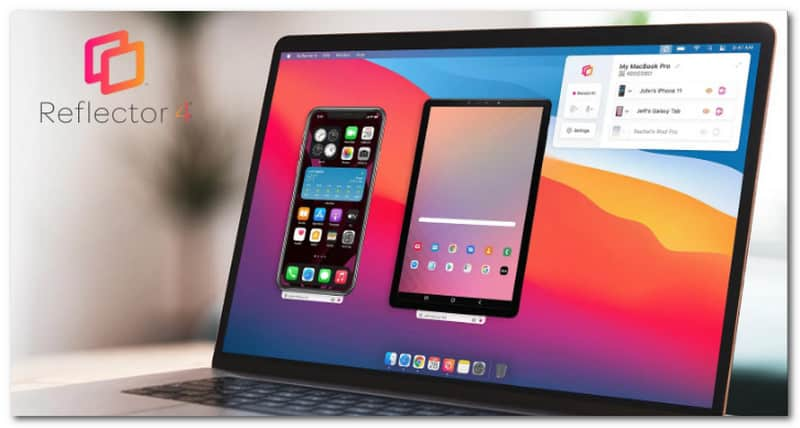 Reflector is a practical, all-in-one mirroring and streaming receiver that combines the features of well-known media streaming devices like Apple TV, Chromecast, and others. We now have Chromecast and Miracast, thanks to this wireless method.
Pros

It contains versatile features.
The process is hassle-free
Cons

The full feature is expensive.
part 2: Comparison of the Best 7 Mirror App for Android
Platform
Price
Money Back Guarantee
Customer Support
Easy-to-use
Interface
Features
Smooth and Quality
Main Features/td>
Windows, iOS, Android, and macOS
$15.96
30 Days Money Back Guarantee
9.5
9.4
9.3
9.7
Super-smooth with high-quality visuals
Mirror the screens of your iOS and Android devices. It allows you to record while screen mirroring. Take screenshots while screen mirroring.
Move your Window with or without the Toolbar. Tracking History. Whiteboard to draw and enter text on the screen of your phone.
iWindows, iOS, Android, and macOS
$4.99
30 Days Money Back Guarantee
9.0
9.2
9.4
9.6
Smooth and clear visuals
Screen mirror.
You can use it to wirelessly screen the mirror.
Windows, Android, iOS, and Mac
$11.99
30 Days Money Back Guarantee
9.0
8.9
8.5
9.2
Smooth and high-quality elements
Screencasting wirelessly Multiple devuces support.
Windows, Android, iOS, and Mac
Free
Not Applicable
8.6
8.5
8.7
8.6
Smooth and high-quality elements
Screencast devices.
Sharing applivcations.
Windows, macOS, iOS, Android
Free
Not Applicable
8.9
8.8
8.8
8.9
Smooth and high-quality elements
Screen mirroring.
Wireless sharing.
Windows, macOS, iOS, Android
Free
Not Applicable
8.7
8.9
8.8
8.8
Smooth and high-quality elements
New function: device access URL shortener.
Screen recording design improvements Fixing bugs.
Windows and macOS
$19.99
30 Days Money Back Guarantee
8.9
8.8
8.8
8.7
Smooth and high-quality elements
Content exchange. Several services' screens are mirrored.
Screen capture.
Part 3: FAQs about Best Mirror App for Android
Can I use my iPhone to mirror my Android screen?
You can start a screencasting Android app or cast your screen as standard. Even on phones pre-installed, like Samsung devices, Your Phone Companion is still slightly buggy. But when it does, it's a fantastic screen mirroring solution.
How do I mirror my phone's screen on my computer?
Unlike some apps, mobile to PC Screen Mirroring does not require installation on your desktop. Connect every device to the same network, open your mobile app, and note your IP address. After that, enter your IP address into the browser on your PC.
Can I use a tablet to mirror my Android phone?
Mirroring an Android screen to another Android device is possible. The Android device is supported as a recipient device by some screen mirroring applications, such as the fantastic Aiseesoft Phone Mirror, Mirroring360, MirrorOP, and more.
Conclusion
These seven mirroring tools are the best fit for our Android devices. We hope you already know the best tool for you through their features and descriptions. In addition, visit our website for more information, tips, and tricks for your technology.
Did you find this helpful?
257 Votes
YES

Thanks for letting us know!
No

Thanks for letting us know!
Aiseesoft Phone Mirror
Cast and share iPhone and Android screen to computer.