Why Is My iPad Locked to the Previous Owner? (Easy Fix)
Our everyday lives have grown completely dependent on gadgets like the iPad, which act as windows to information, entertainment, and communication. The need to protect personal data and maintain device security has expanded enormously due to our growing reliance on these gadgets. Enter activation lock, a strong security tool created by Apple to prevent unwanted access and safeguard user data.
However, within the realm of improved security, there is a problem that some iPad users may run into: the puzzling situation of an iPad locked to a previous owner. This enigmatic problem raises issues regarding device ownership, the nuances of activation lock, and difficulty handling a locked device. For that, we give you the details and investigate various paths to resolution in this extensive post.

Part 1. What Can You Do with a Locked iPad?
An activation lock is a strong security mechanism built into Apple products, including iPads. Its dual objectives are to prevent theft by making the device inaccessible to unauthorized users and to protect the genuine owner's personal information. The device is linked to a specific Apple ID by this security layer, necessitating the user's Apple ID login information to activate and configure the device.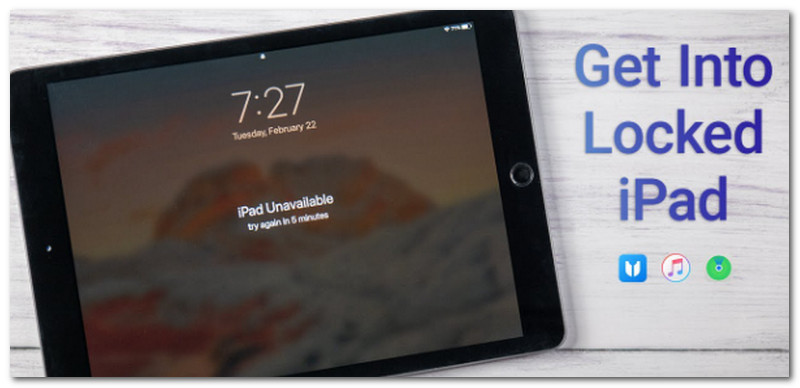 The Drawbacks of a Locked iPad
An iPad locked to a previous owner's Apple ID is transformed into a well-guarded fortress to thwart illegal access and use. An examination of the constraints placed on a locked iPad is provided below:
◆ Device Configuration and Use. The activation lock is an impenetrable barrier to device configuration and use. The iPad cannot be activated or set up for personal use without the prior owner's valid Apple ID credentials.
◆ Access to Personal Data. Personal data saved on an iPad that is protected, such as images, documents, messages, and applications, is restricted. This makes sure that unauthorized people can't access private information.
◆ App Store and iCloud: Access to the App Store and iCloud services is restricted due to the locked state. Users cannot update their installed applications, download new ones, or use iCloud syncing.
◆ Unknown Customization. Locked iPads limit users from personalizing settings and preferences to suit their tastes. Customizing choices, such as wallpapers, themes, and alerts, are impacted by this restriction.
◆ Device Resale and Activation. If you buy a used iPad, a locked state may make activating and using the gadget difficult. You might not be able to use your new gadget to its full potential without the prior owner's participation.
◆ Unlocking and Bypassing iPad Locked Owner: Activation locks are intended to be strong, making it difficult to circumvent them without the credentials of the proper owner. Unauthorized efforts to unlock the device may cause a bricked device or a permanent lockdown. Throughout this post, we will learn more about this.
Common Events That Cause iPad Locks
◆ Apple ID password forgotten: Forgetting the Apple ID password is a frequent occurrence that can result in an iPad being locked to the previous owner. The activation lock may be activated if the device owner tries to activate the device after restoration and forgets their Apple ID password.
◆ Transfer of Ownership: Users are required to disconnect their iPad from their Apple ID before selling or giving it away. The new owner can run into an activation lock if this isn't done. Before transferring ownership, it is essential to ensure the accounts have been properly disassociated.
◆ Unauthorized Access Attempts: Multiple unsuccessful attempts to recover the device or to input the valid Apple ID password might activate the activation lock. This security measure prevents unauthorized users from trying to use the gadget.
◆ Device Theft or Loss. The activation lock becomes a crucial protection measure when an iPad is stolen or lost. This ensures that even if the item ends up in the wrong hands, the thief or finder will be unable to use it or gain access without the credentials of the original owner.
◆ Complete Setup or Reset. The activation lock may unintentionally be activated if an iPad is not set up correctly or the setup process is stopped. This could happen if the device is switched off while configured or if the configuration is not finished properly.
Part 2. How to Unlock/Bypass iPad Locked to Owner Aiseesoft iPhone Unlocker
We can restore your iOS to factory settings so you can use it like new with the excellent and efficient Aiseesoft iPhone Unlocker. You can bypass the lock if your iPhone is locked in iCloud activation. It could also remove the screen-lock passcode if you've forgotten your iPhone passcode. It may also be used if you recently bought a used iPhone and don't know the password, your iOS has been deactivated after multiple failed password attempts or both. As a result, all the issues described below may be resolved using Aiseesoft iPhone Unlocker. For that, here is how to bypass Activation Lock without the previous owner on iPad.
1.
Install and run iPhone Unlocker on your PC. Please choose the UI option labeled Bypass iCloud Activation Lock. Next, connect your iPhone to your computer with a USB cable.
2.
Next, press the Trust button on your smartphone before clicking the Done button on the software.
3.
The program will now try to identify your iOS preferences. After performing the procedure, check the I have read, usage statements, and warnings boxes before clicking Start to start the process. A new tab will open, and you must click the Next button to continue.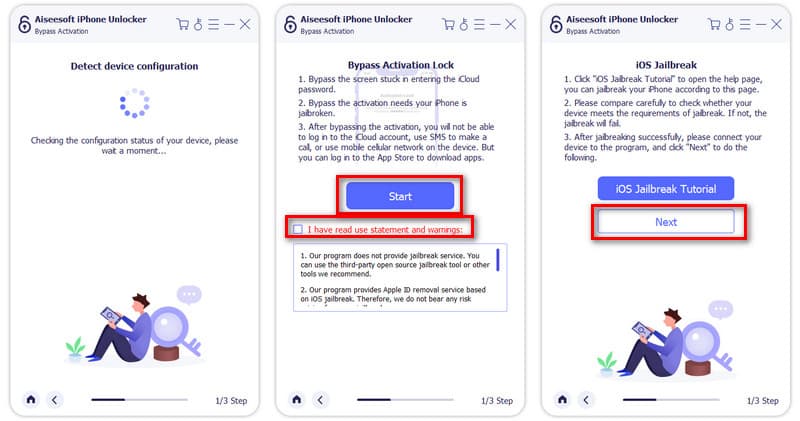 4.
Subsequently, we were able to confirm the model of our gadget. the Start Bypassing Activation button, and follow those steps.
5.
Lastly, let the software handle the activation lock. You must thus wait patiently for the process to be completed.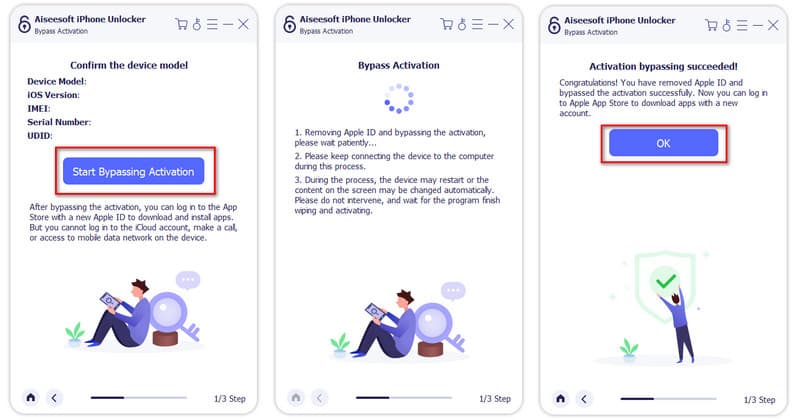 The amazing Aiseesoft iPhone Unlocker is a solution for avoiding iCloud activation. We can see that the procedure is simple and doesn't need a lot of resources. According to numerous customers, this is our greatest option for removing your activation lock on an iPhone 6, 7, 8, X, XR, 12, 13, and 14 running iOS 15/16/17.
Part 3. FAQs about iPad Locked to Previous Owner
Can you override a locked iPad?
No, overriding a locked iPad's activation lock is impossible without the original owner's correct Apple ID credentials. Activation lock is a robust security feature designed to prevent unauthorized access and protect user data. Attempting to override it without the owner's credentials would undermine its purpose.
Does the factory reset remove the activation lock?
A factory reset on a locked iPad does not remove the activation lock. The activation lock is tied to the device's unique identifier and the original owner's Apple ID. Even after a factory reset, the device will still require the original owner's Apple ID and password to proceed with the setup.
What happens when Apple removes the activation lock?
If the legitimate owner contacts Apple and provides proof of ownership, Apple may assist in removing the activation lock. This typically involves verifying the owner's identity and confirming that the device is not stolen. Once Apple removes the activation lock, the new owner can set up the device using their Apple ID.
What is an activation lock bypass code?
An activation lock bypass code is a unique code that Apple can provide to authorized service providers. It's used in specific circumstances, such as when an iPad is sent for repairs or servicing. This code allows the service provider to temporarily bypass the activation lock, ensuring the device's functionality is not hindered during the repair process.
Can you remove Activation Lock without the previous owner?
In most cases, the previous owner can only remove the activation lock. If you've purchased a second-hand iPad locked to the previous owner's Apple ID, working with the seller to ensure they properly disassociate the device from their account is essential. This involves signing out of iCloud and removing the device from their Apple ID account.
Conclusion
In conclusion, removing Activation Lock without the consent of the prior owner is a challenging issue with no surefire fixes. Using all legal options, including contacting the former owner and Apple support is advisable. Always prioritize moral behavior and responsible strategies while resolving Activation Lock problems to protect your Apple device's security and legal ownership. With that, using the incredible Aiseesoft iPhone Unlocker is a great decision. We can see above how the tool performs very well to ease the problem without complications.
Did you find this helpful?
484 Votes
YES

Thanks for letting us know!
No

Thanks for letting us know!
Aiseesoft iPhone Unlocker
Get into locked iPhone iPad iPod without password or Apple ID.