How to Unlock iPhone Without Passcode or Face ID: Best Methods
In current technology, cell phones are our portals to a large digital cosmos, storing our contacts, memories, and everyday necessities. This convenience, however, comes with a catch: the constant danger of getting locked out owing to a forgotten passcode or the lack of Face ID detection. Being on the wrong side of your device's lock screen is a common annoyance, leaving you wondering whether there are any alternatives to the standard unlocking techniques.
For that, let's explore alternative unlocking methods, understanding that while Face ID and passcodes are powerful tools, innovation often reveals new pathways that can simplify our digital interactions. By the time you reach the end of this article, you'll be equipped with a diverse toolkit of methods to unlock your iPhone without a Passcode and Face ID. You can see them all here!

Part 1. Is it Possible to Unlock iPhone without Face ID and Passcode?
The locked screen of your iPhone, an unintended barricade, can leave you yearning for an alternative route to access your device. You might wonder if there's a way to bypass the traditional methods of Face ID and passcodes, especially in scenarios that aren't viable. The answer to this pressing question is a nuanced one. It's possible to unlock your iPhone without relying on Face ID or passcodes, but it involves alternative methods that tap into the device's functionalities creatively.
While Face ID and passcodes remain reliable means of safeguarding your iPhone, exploring alternative methods provides a broader perspective on how you can interact with your device. In this article, we delve into three such methods. This question is why this article exists. We shall now show you the best methods to ease the problem. Please continue reading for the solutions.
Part 2. How to Unlock iPhone without Passcode or Face ID
This section will show you the three amazing methods to unlock our iPhone 7/8/X/Xr/11/12/13/14 without using Passcode or Face ID. See the methods below and know what is best for you.
Method 1: Find My iPhone
If you have a spare iOS device, such as an iPhone or iPad, you may use the Find My iPhone function to reset the iOS without entering a passcode or Face ID. Here are the steps for making it possible.
1.
Install Find My iPhone on any other Apple device, such as an iPad or an iPhone.
2.
To log in, give your Apple ID and password. Enter your Apple account login credentials and click the Sign in button.
3.
You will now see all the devices tied to the same account on the map. After that, tap on your locked smartphone to pick it.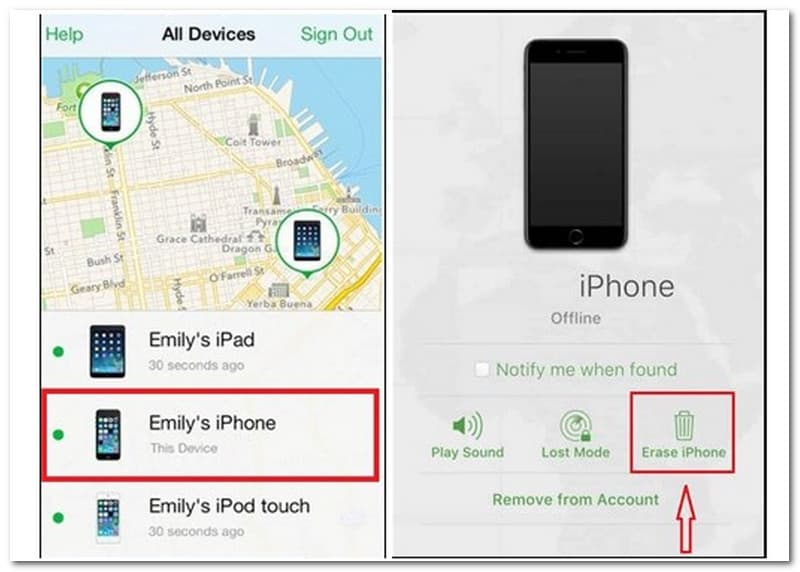 4.
We may now choose Erase iPhone from the actions menu. This will wipe your locked device's data. You have now successfully unlocked your iPhone passcode.
5.
After wiping your iPhone, you must set it up, then select Restore from iCloud Backup and enter your iCloud credentials to restore the backup.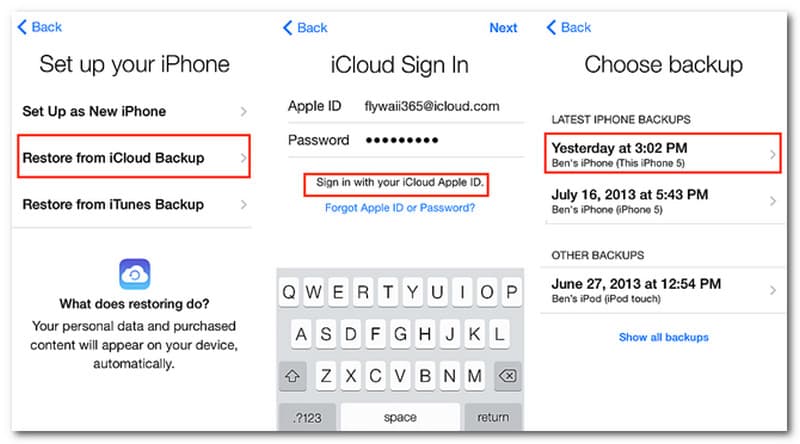 That's all for unlocking our iPhone with the Find My iPhone features without Face ID. It works when you recall your iCloud, Apple ID, and Password. However, you must make sure your Find My iPhone is enabled. (How to turn off Find My iPhone without password, when you do not need this feature?)
Methods 2: Unlock Through iTunes
When you input the erroneous passcode six times a row, your Apple iPhone will be locked. Soon after, a message appears that says iPhone is Disabled. So, how can you remove the locked or disabled status? Here's one method for removing the password on your iPhone without even requiring a Passcode or Face ID.
1.
First, we must connect your iPhone or iPad to your computer using the USB cable. Check that you have already synced iTunes with this computer. Otherwise, you will be requested to input the password for your iOS device to be detected.
2.
Wait for the Auto-Backup process to finish. If iTunes does not back up your iPhone, you can choose your iPhone icon and enable sync-related settings. Changing the USB cord may also help.
3.
Select the Restore from iTunes Backup option afterward. Choose the most appropriate one to erase your iPad and iPhone passcode.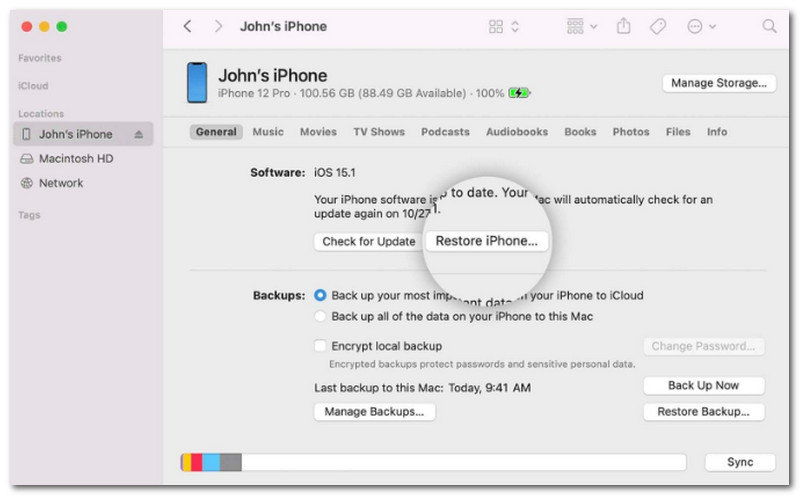 After that, you can now open your iPhone without the Passcode. This process sometimes requiring to delta your data on your phone so that you can get rid of the Password and open the device.
Method 3: Aiseesoft iPhone Unlocker
Aiseesoft iPhone Unlocker is the best solution if you have lost your password and need to use your iPhone. Using this iPhone-unlocking application, you may effortlessly unlock your iPhone using its erasing password function and wipe your Apple ID or Screen Time password. As seen in the steps below, we may complete the procedure without using a Passcode or Face ID.
1.
Download and install iPhone Unlocker on your device. To utilize it, double-click it and select Wipe Passcode among the options.
2.
Hit Start and connect your iPhone to your device through a USB cable. We simply need to check that your device information is correct after that. Then, to proceed, click Start.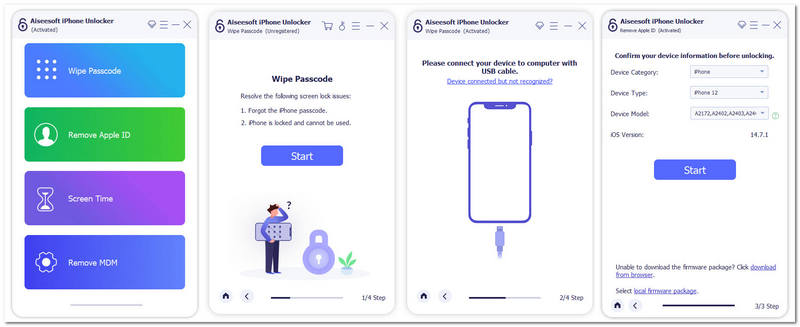 3.
The firmware package to erase the passcode will then be downloaded. Once completed, click Unlock to erase your screen passcode. Enter 0000 to confirm unlocking. Make sure your smartphone is connected when unlocking. Your device's screen passcode will be erased in a few minutes.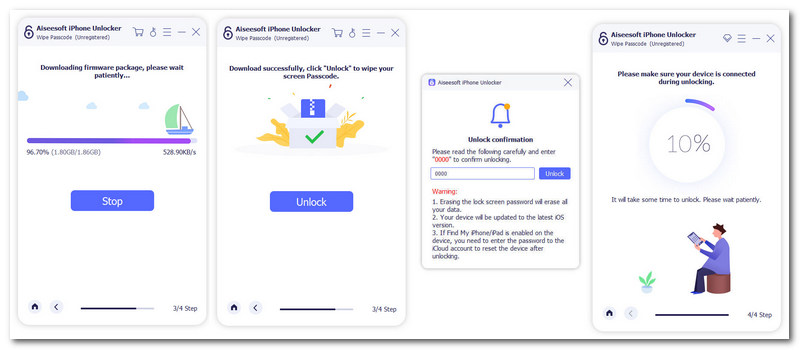 That is the greatest method for unlocking an iPhone without a Passcode and Face ID with an iPhone unlocker tool. This tool is highly reliable and will provide you with an efficient approach. Because of the qualities it provides, this is conceivable. You will not be sorry if you use this tool. Get Aiseesoft iPhone Unlocker right now to solve your problem without any problems.
Part 3. FAQs about How to Unlock iPhone Without a Passcode or Face ID
Can you unlock the iPhone Face ID when sleeping?
Face ID, Apple's facial recognition technology, is designed with security in mind. It utilizes attention detection to ensure an attentive user unlocks the device. Face ID won't unlock the iPhone when your eyes are closed, or you're not looking at the device. This security measure provides an extra layer of protection, preventing unauthorized access while sleeping or not actively engaging with the device.
Is Face ID the only way to unlock an iPhone?
No, Face ID is not the exclusive method to unlock an iPhone. While Face ID offers convenient and secure authentication, alternative methods are available. The methods explored in this article, such as using Siri voice commands, utilizing the Emergency SOS feature, and employing the Find My iPhone feature, provide additional ways to unlock your device when Face ID is not applicable.
Can you use a picture to unlock a Face ID iPhone?
Face ID employs advanced facial recognition technology that analyzes various facial features in three dimensions. This technology is designed to resist unlocking attempts using static images, ensuring the user's live presence is required for authentication. As a result, using a picture to unlock a Face ID-enabled iPhone is unlikely to be successful.
Can you unlock your iPhone without a passcode without resetting?
Some methods allow you to unlock your iPhone without a passcode and a full device reset. The methods discussed in this article, such as using Siri voice commands, initiating the Emergency SOS feature, and utilizing the Find My iPhone feature, provide alternative ways to unlock your device while preserving your data. These methods offer practical solutions when passwords are forgotten or unavailable.
How many times can you attempt to unlock an iPhone?
The number of attempts to unlock an iPhone depends on your configured security settings. After several unsuccessful attempts, the device may impose timeouts between subsequent attempts or require you to enter the passcode. The number of attempts allowed can vary based on factors like the iOS version and device model. It's important to approach unlocking attempts cautiously to avoid triggering longer timeouts or inadvertently locking yourself out of the device.
Conclusion
As we conclude this exploration of alternative unlocking methods for iPhones, it's evident that the world of technology is abundant with creative solutions that go beyond the conventional. The frustration of being locked out due to forgotten passcodes or a lack of Face ID recognition is met with innovative methods that empower you to regain control of your device. Throughout this journey, we've witnessed the versatility of Siri, all as pathways to unlock your iPhone without relying on Face ID or passcodes. We can say that Aiseesoft iPhone Unlocker is a great example of this advanced software. The tool helps us to solve the problem in an instant.
Did you find this helpful?
390 Votes
YES

Thanks for letting us know!
No

Thanks for letting us know!
Aiseesoft iPhone Unlocker
Get into locked iPhone iPad iPod without password or Apple ID.