Unlock iPhone 7/8/X/11/12/13/14 without Passcode and Computer
The iPhone, a technological marvel, has become an indispensable part of our lives, keeping precious information and memories behind its lock screen. The lock screen, conversely, maybe a double-edged sword, assuring the protection of our data but occasionally locking us out of our gadgets. We've all been in a predicament, forgetting our iPhone's passcode and experiencing frustration as we consider the probable ramifications.
Fortunately, even the most apparently insurmountable obstacles may be overcome through invention. This post will look at unlocking an iPhone passcode without using a computer, where convenience meets security. We'll look at three clever approaches for harnessing the power of cutting-edge technology: Find My iPhone, Aiseesoft iPhone Unlocker, and Siri. Be with us as we discover these methods and explore what will be the best way for you to fix the problem.

Part 1. Can I Unlock iPhone Passcodes without a Computer?
The frustration of forgetting your iPhone passcode is all too familiar. It's a moment that can leave you feeling locked out of your digital realm, cut off from the contacts, photos, and apps that have become essential to your daily life. The good news is that, yes, you can unlock your iPhone passcode without the need for a computer. This article exists to help users like you with this kind of problem. Let us proceed with the next portion to discover all the amazing solutions to your problem.
Part 2. How to Unlock iPhone Passcode without a Computer
This section explores the possibilities and sheds light on how to liberate you from your locked screen. Unlocking your iPhone passcode without a computer may be difficult, but mobile technology advances have offered novel solutions to this problem. This post will show you how to use your iPhone's built-in features, Find My iPhone, Aiseesoft iPhone Unlocker, and Siri. These approaches use the capabilities of biometric identification, incredible tools or features, and artificial intelligence to give you quick and safe access to your device.
Method 1: Using Find My iPhone
If you have another iOS device, such as an iPhone or iPad, you may utilize the Find My iPhone feature to reset the iOS without a passcode or a computer. Here are the procedures for resetting an iPhone without a passcode or a computer.
1.
Install Find My iPhone on other Apple devices like iPad or iPhone.
2.
Provide the Apple ID and password to log in. Simply input your Apple account login information and hit the Sign in button to continue the process.
3.
You will now see all the devices linked to the same account on the map. After that, select your locked device by tapping on it.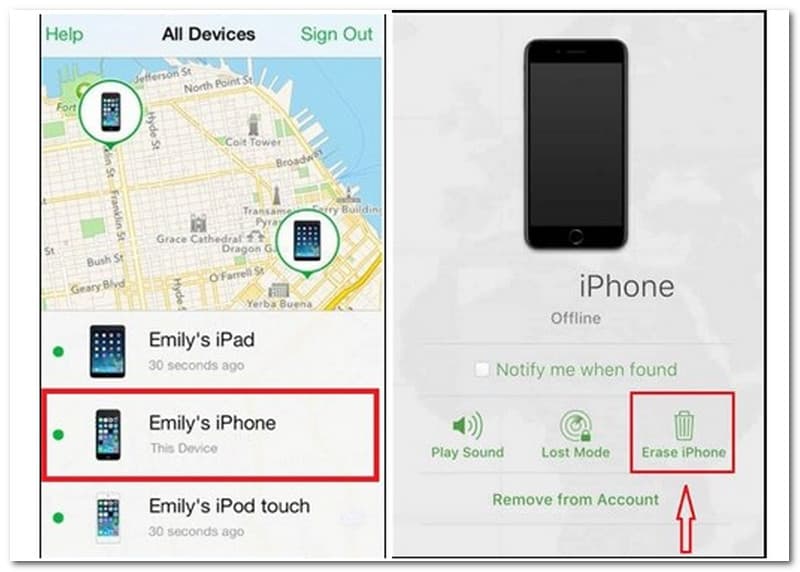 4.
Now, we can select Erase iPhone from the actions menu. This will completely erase all data from your locked device. You have now unlocked your iPhone passcode.
5.
After you have wiped your iPhone, you will need to set it up, then choose Restore from iCloud Backup and input your iCloud credentials to restore the backup.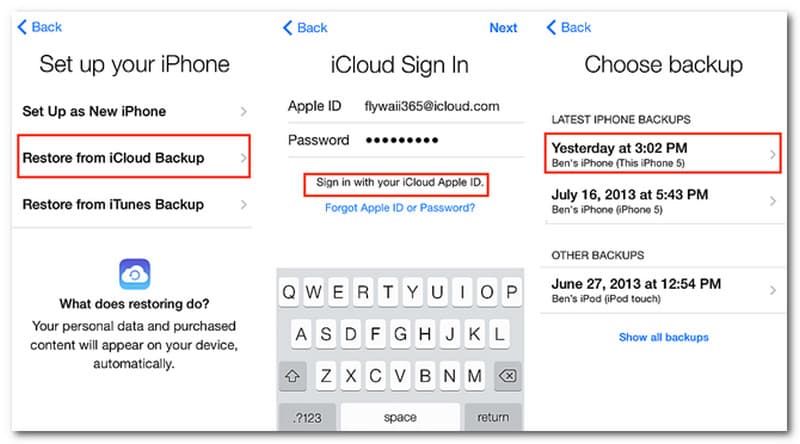 There you have it, unlocking our iPhone using the Find My iPhone features. It works when you remember your iCloud, Apple ID, and Password. (Check how to turn off Find My iPhone without password?)
Method 2: Using Aiseesoft iPhone Unlocker
When you have forgotten your password and need to use your iPhone, Aiseesoft iPhone Unlocker is the best answer. You may simply unlock your iPhone using its erasing password function and delete your Apple ID or Screen Time password from your iPhone by utilizing this iPhone-unlocking program. To recover access to your iPhone, download this software for free. These can solve your problem if you forget your iPhone passcode without a computer. Please see them now below.
1.
Install iPhone Unlocker on your device. To use it, double-click it and choose the Wipe Passcode mode.
2.
Click Start and plug your iPhone into your device using a USB cord. After that, we must only confirm that your device information is correct. Then click Start to proceed.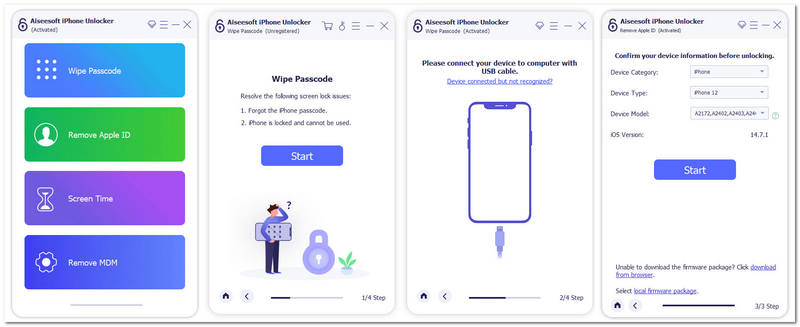 3.
After that, it will begin downloading the firmware package to delete the passcode. When it's finished, click Unlock to remove your screen passcode. To confirm unlocking, enter 0000. Check that your smartphone is connected during unlocking. Your device's screen passcode will be erased in a few minutes.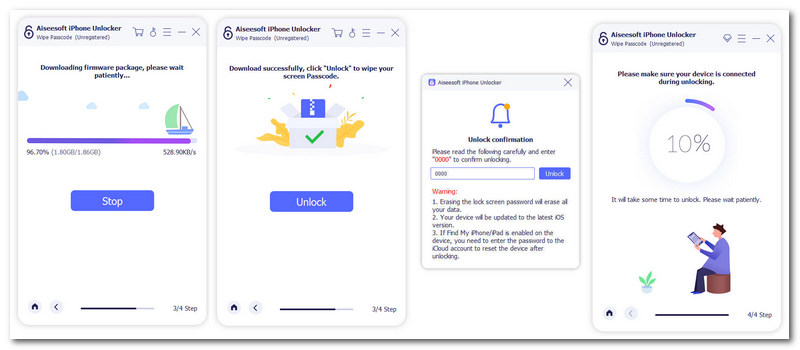 Method 3: Utilizing Siri
Siri may be used to unlock your iPhone's passcode. If you're running iOS 8.0 or later, you can exploit Siri's bug to unlock your iPhone passcode without a computer. To wake-up Siri, press and hold the home button or face the iPhone screen and say Hey, Siri. Then follow the instructions below to unlock iPhone passcodes without a computer using Siri.
1.
For example, you may ask Siri What time is it right now? or What time is it worldwide?. Then Siri will show a window with the current time.
2.
Tap the global Clock symbol at the bottom left to pick and add another clock. Click the Share and Messages buttons to send a new message.
3.
You are not required to write anything. Instead, after adding a new contact, you may upload images. When you add photos to your iPhone, you can access, examine, and select images from your library.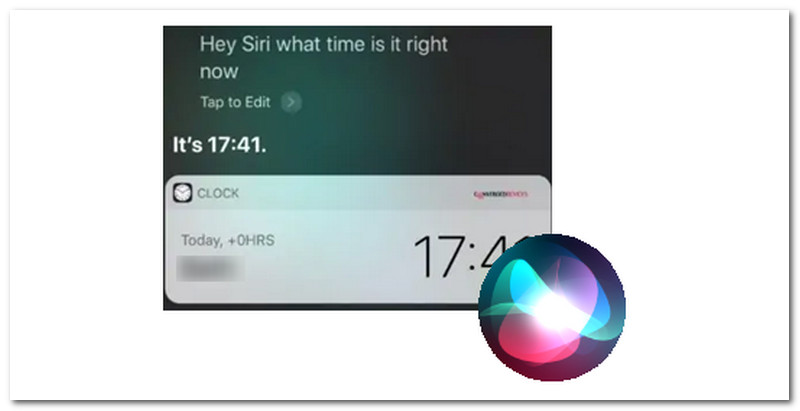 That is how easy it is to bypass the password. However, this process is only effective sometimes, and only the old units of iPhone can do it. Most likely, it is a great way to unlock iPhones 6, 7, and 8 without a computer.
Part 3. FAQs about How to Unlock iPhone Passcode Without Computer
Can I bypass my iPhone lock screen?
Bypassing the iPhone lock screen means accessing the device without providing the required passcode or authentication method. While certain methods, like Find My iPhone and Siri, can offer alternative ways to unlock your device, it's essential to note that bypassing the lock screen without proper authorization can raise ethical and security concerns. The ways discussed in this article are intended to provide legitimate alternatives for unlocking your device when you have legitimate access rights.
Can a locked iPhone be broken into?
Apple's security measures are designed to prevent unauthorized access to locked iPhones. While there have been instances of security vulnerabilities being exploited, Apple continually releases updates to patch these vulnerabilities and enhance device security. Attempting to break into a locked iPhone without proper authorization violates ethical guidelines and may result in legal consequences.
Is it legal to unlock an iPhone yourself?
Unlocking your iPhone is legal, but your methods and circumstances matter. Using legitimate methods like Find My iPhone and Siri, as discussed in this article, is legal as long as you have proper authorization to access the device. However, using unauthorized methods to unlock iPhones or engaging in activities violating service terms can have legal implications. Always prioritize legal and ethical practices when dealing with device unlocking.
Can you unlock an iPhone without a passcode or Face ID?
Yes, unlocking an iPhone without entering the traditional passcode is possible. The methods covered in this article are alternative ways to unlock your device. Face ID relies on face recognition technology; the Aiseesoft iPhone Unlocker offers great features, while Siri can bypass the lock screen under specific conditions. Keep in mind that these methods require certain prerequisites to work effectively.
How can I bypass my lock screen without losing data?
The methods discussed in this article, such as Find My iPhone and Siri, aim to offer unlocking solutions without causing data loss. However, it's crucial to approach any unlocking process with caution to ensure data security. Unauthorized methods or tools may compromise your device's security or lead to unintended consequences. If preserving data is a priority, following legitimate methods or seeking professional assistance is recommended.
Conclusion
As we conclude this journey, it's crucial to reiterate the significance of using these methods in appropriate situations. Find My iPhone and Siri provide alternative avenues for unlocking, but they are most effective when used with legitimate access rights. Respecting device ownership and security remains paramount, and bypassing the lock screen without proper authorization could lead to unintended consequences. However, if you want the most effective process on how to break into an iPhone without a passcode or computer, users suggested using Aiseesoft iPhone Unlocker due to its high effectiveness rate and user-friendly features. Grab it now!
Did you find this helpful?
366 Votes
YES

Thanks for letting us know!
No

Thanks for letting us know!
Aiseesoft iPhone Unlocker
Get into locked iPhone iPad iPod without password or Apple ID.