How to Unlock an iPhone with a Broken Screen (Proper Ways)
Our mobile phones are very fragile, especially the screen part of it that is made of class. For that, sometimes, when unfortunate events occur, it might damage our screen. It happens to a few iPhone owners right: the screen breaks, and they cannot input the passcode to unlock the device. So, you must learn how to unlock an iPhone with a damaged screen.
As we all know, unlocking an iPhone with a shattered screen is tough, but there are solutions to make it. Simply read these methods that we prepared for all of you. This article offers the four most effective and go-to methods to unlock an iPhone with a broken screen. Continue reading to see them all.

Part 1. Can I Unlock My iPhone with a Broken Screen
Is it possible to unlock an iPhone with a broken screen? Fortunately, we can now easily unlock an iPhone even if it has a broken screen. That process is made possible via different methods and tools. Nowadays, we have different methods that we can follow to make the process possible. It can be a process with or without losing your data. Every method of unlocking your iPhone with a broken screen offers various advantages and disadvantages. Yet, one thing is certain: these methods below can support any type of iOS. Check them now.
Part 2. How to Unlock iPhone with a Broken Screen
Method 1. Aiseesoft iPhone Unlocker
Here are some of your most secure, popular, and trendy solutions. Using a professional iPhone unlocking tool such as Aiseesoft iPhone Unlocker, you may access an iPhone with a shattered screen. Aiseesoft iPhone Unlocker is one of these applications that can help you unlock your iPhone when it doesn't respond to touch or when you can't slide to open it. Whether the iPhone screen is damaged, you forget the passcode, purchased a used device, or the iPhone is disabled, This tool can unlock the device as long as it is linked to your computer and the program recognizes it.
Recommendations
◆ Tool for unlocking a broken iPhone.
◆ Enormous unlocking capabilities: Apple ID, circumvent MDM lock, Screen Time passcode, and more.
◆ It is feature-rich software that will assist you in unlocking all of your iPhone and iPad devices.
1.
We need the incredible Aiseesoft iPhone Unlocker from their website for free.
2.
Start iPhone Unlocker and choose the Wipe Passcode option. Then, to begin the passcode-wiping procedure, click the Start button. But before we proceed to the next step, use a USB cord to connect your gadget to your computer.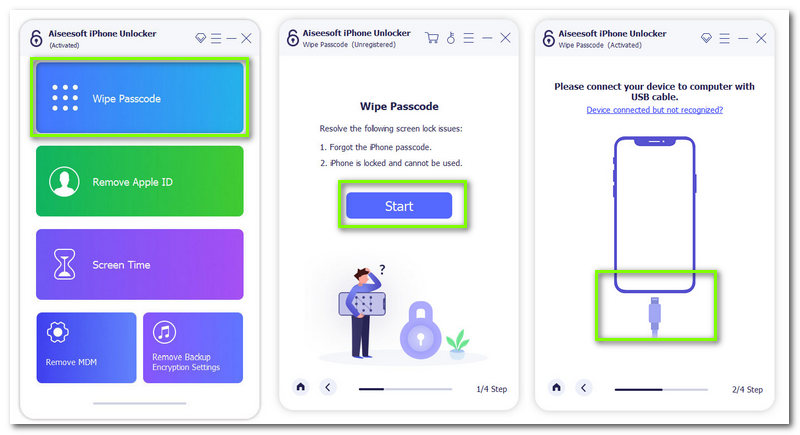 3.
Before proceeding, confirm your device details and click the Start button again. The application will then begin downloading the firmware package to delete the passcode. Please be patient, as this will take some time.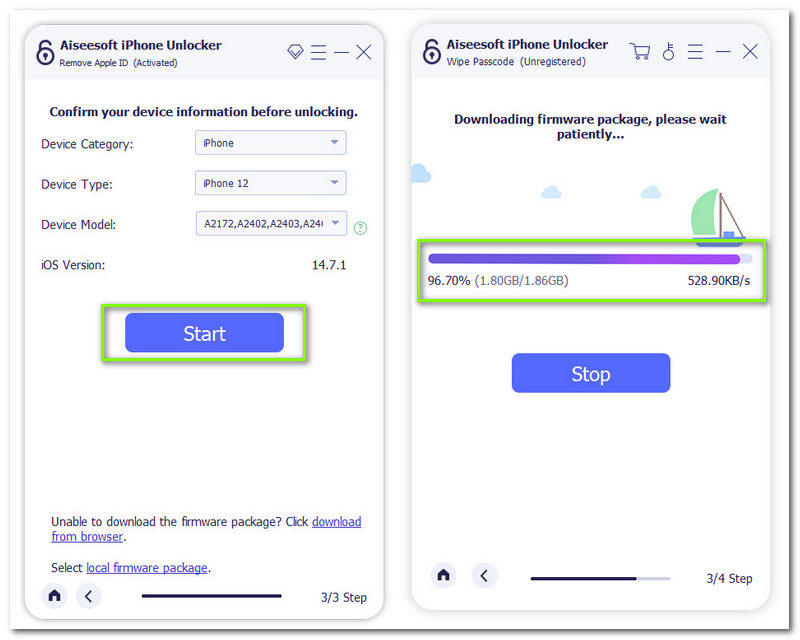 4.
After downloading the firmware, select Unlock to remove your screen passcode. Then, to confirm the unlocking, enter 0000.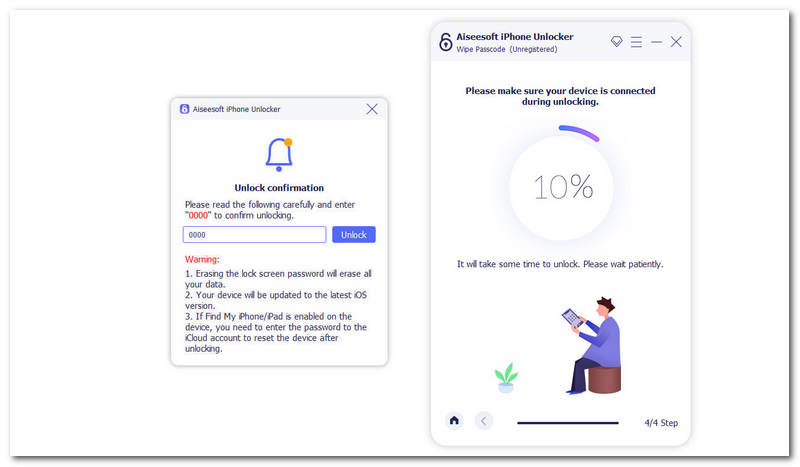 Now, please continue to see your phone. Check that your smartphone is connected during unlocking. Your device's screen passcode will be erased in a few minutes. That's how easy and effective this iPhone unlocker tool is with the process. Indeed, it is a safe and recommendable tool for all of us.
Method 2. Via iTunes
Many iOS users prefer to execute tasks on their devices through iTunes. If you're an iTunes customer, you might want to see if using this program to unlock your iPhone with a damaged screen is feasible. Fortunately, you can use iTunes to unlock and recover your iOS-based devices, including your iPhone.
1.
On your computer, launch the iTunes software in your chosen manner. Then, please use the original USB cord to connect your iPhone to your computer.
2.
Your iPhone will be listed in the Finder or iTunes app. To see the choices for your iPhone, click on your device.
3.
Within the General tab, there is a button labeled Restore iPhone. To begin restoring and unlocking your smartphone, click this button.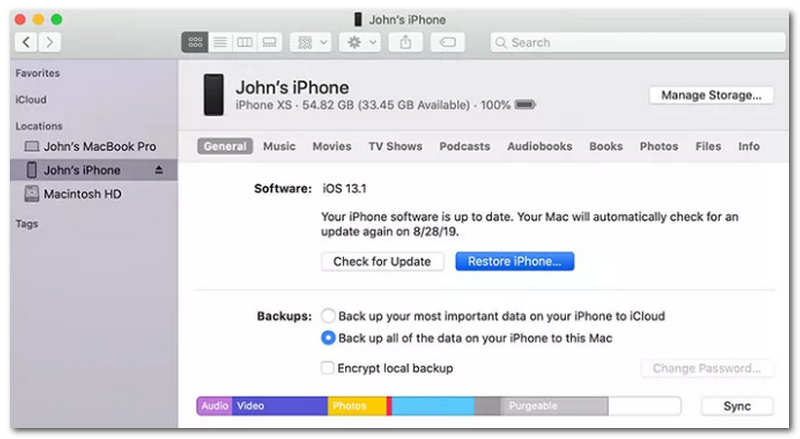 The process will now ease the passcode on your broken-screen iPhone. Yet, there is also a tendency that your data will be lost.
Method 3. Using iCloud
If you are unfamiliar, when you connect your iOS-based devices, such as your iPhone, to your iCloud account, you may access many aspects of your device directly from the iCloud website. This enables you to conduct some of the tasks on your phone remotely. This tool is Find My iPhone and may be found on the iCloud website. When your iPhone has a problem, such as a lost, stolen, or shattered screen, you may utilize the Find My iPhone function to unlock it.
1.
Launch your browser and navigate to the iCloud website.
2.
Once you've signed into your account, locate and select the Find iPhone option. This will launch the Find My iPhone app on your smartphone.

3.
At the top of the next screen, you will see an option labeled All Devices. Select your iPhone from the list by clicking this option. This will bring up the iPhone's actions menu.
4.
After that, we must select Remove from Account right after clicking the Erase iPhone option.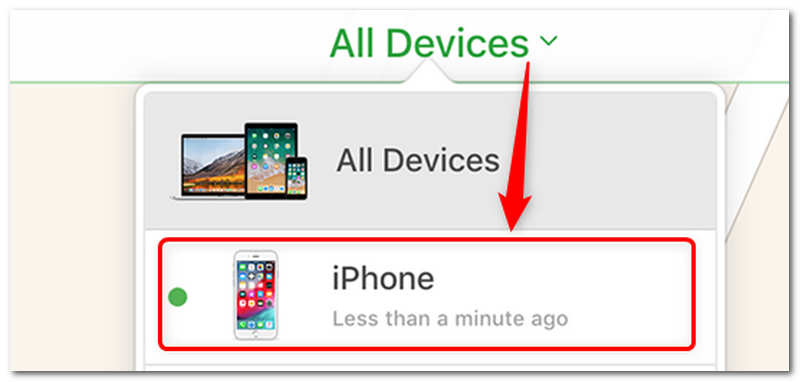 This will delete your device from your account and wipe it clean. The latter allows you to unlock your smartphone. See, that's all you need to do using this feature. It can now unlock your iPhone, but retrieving your fine might require an extra procedure.
Part 3. FAQS about How to Unlock an iPhone With a Broken Screen
Does unlocking an iPhone with an unresponsive screen lose data?
Unlocking your iPhone with an unresponsive screen should not result in data loss because unlocking does not normally require data erasure. However, the unresponsive screen might indicate a broader problem that, if not treated quickly, could result in data loss.
How do I unlock my iPhone without the home screen?
Here are two popular approaches: Face ID and Touch ID. If your iPhone supports Face ID or Touch ID, unlock it with your registered face or fingerprint. Also, a Passcode. If you've set one up, enter it here. This is accomplished by simply tapping the numbers on the screen.
Can you unlock a locked iPhone without a computer?
If you know the passcode or have set up biometric authentication techniques like Face ID or Touch ID, you may unlock a locked iPhone without a computer. If you've forgotten your passcode and can't access a computer, you may need to contact Apple Support.
How do I enable Swipe to unlock?
Specific settings and choices may differ based on the type of your iPhone and the iOS version it is running. Access to Setting, then see Face ID & Passcode or Touch ID & Passcode on previous models to modify your unlocking preferences. From there, you can now choose Swipe and enable it.
What is the black screen of the dead iPhone?
The Black Screen of Death BSOD) on an iPhone refers to a condition in which the device's screen remains black and unresponsive despite being turned on. This problem can arise from various causes, including software issues, hardware difficulties, or crashes.
Conclusion
After reading this post, you will understand three methods for unlocking an iPhone with a shattered screen. Aiseesoft iPhone Unlocker, an effective app, will be very useful to individuals who cannot use their iPhone due to a damaged screen. Strongly recommended!
Did you find this helpful?
476 Votes
YES

Thanks for letting us know!
No

Thanks for letting us know!
Aiseesoft iPhone Unlocker
Get into locked iPhone iPad iPod without password or Apple ID.