Great Alternatives to OBS Studio: Unbiased Review of Price, Features, Pros, and Cons
Due to the fantastic features and functions that OBS Studio possesses, there is no doubt why it is one of the premier video recorders in the market nowadays. OBS is an all in one software that has the ability to record your screen in any situation. However, even though it looks like it can give almost everything we need, we cannot still prevent ourselves from having trouble using it. Such as the black screen or it does not record the sound. See, these problems are so troublesome to experience. It will take a lot from you to fix it. That is why, in this article we will present you 7 of the best OBS Studio alternatives for Mac or Windows. That also possesses different incredible features and functions. Without further ado, here they are.

Part 1. Best 7 OBS Alternatives (Windows & Mac)
Aiseesoft Screen Recorder

Platforms: Windows 10, 8, 7 and Mac
Price: $25.00
Aiseesoft Screen Recorder is the first on the list. This incredible screen recorder can possess almost everything you need. You can utilize this tool in capturing your screen with ease. For instance, when you need to attend an online presentation and you want to save every information given by the speaker. Recording it will be the best way to do it. After that, editing tools are also available here, perfect in enhancing the video you have recorded. Such as trimming, splitting, and more. Talking about the question, Why is Aiseesoft Screen Recorder better? Well, unlike any other screen recorder this screen recorder has the ability to record internal sound and microphone voice on your Mac. Other than that, this software is also one of the most user-friendly in the market. It does not want you to experience any hard time in using their tools. That is why every process can be done in just one click.
In addition, this also allows you to record your gameplay journey and share it with your friends through different social media platforms. Overall, there is no doubt why Aiseesoft Screen Recorder is one of the best OBS alternatives.
Pros

User-friendly.
Offers useful features.
Smooth and clean interface.
Super-fast.
Supports multiplatform.
Cost-efficient.
Cons

Subscription based screen recorder.
ShareX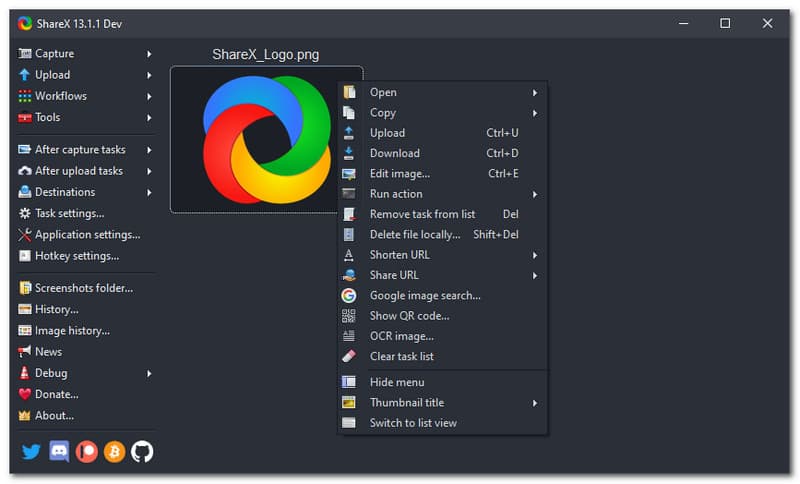 Platforms: Windows and Mac
Price: Free
ShareX is open source and free alternatives to OBS that will let you capture or record your desktop without complications. It provides a series of screen record options, such as the Full screen, Active window, Active monitor, you can also customize the region or area that you want to record. Also, you may also choose if you want to include the cursor on recording or not. Then after you record your screen, you are also allowed to upload your files to over 80 supported destinations supported by ShareX. In line with that, truly that this screen recorder offers a wide range of Cloud services including online storage and social media. In addition, ShareX is much more powerful than it seems. It has effective features and functions that are highly customizable. That is why, for the new user this is something that can be on your list. Overall, despite its basic functions, ShareX is still one the effective alternatives to OBS Studio.
Pros

Basic feature offers.
Effective screen recorder.
Free and accessible to everyone.
Cons

The program is cramped.
No function for game recording.
Bandicam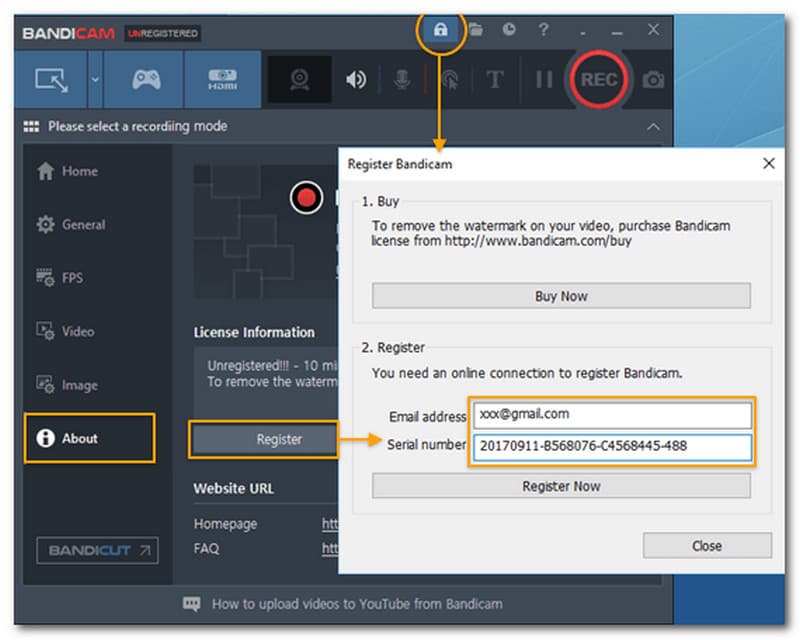 Platforms: Windows
Price: $39.95
Bandicam is another alternative to OBS studio that is very easy to use. It will enable you to record anything on your screen hassle-free! This is a great choice screen recorder you will use in recording video tutorials. The best thing about it is that you may screen record any videos from Facebook, Vimeo, TikTok, as well as virtual conferences like Zoom, BlueJeans, Skype, and Discord with super high quality resolutions. For that being said, recording your face with your voice together on video using your webcam and microphone can make your video tutorials more effective to the user.
In addition, Bandicam also possesses advanced screen recording features such as the amazing diverse screen recording modes. This feature will enable you to select your preferred recording including a certain area or your entire screen. Also, it supports the Chroma-key effect. This function will enable you to set the background of your webcam videos.
Pros

Provides advanced features.
Provides advanced features.
Support recording of your webcam.
Cons

Expensive screen recorder.
Snagit

Platforms: Windows and Mac
Price: $49.99 one-time fee
Snagit is one tool created by TechSmith, also one of the infamous and most loved screen recorders by the users. It offers very simple functions and features yet effective and efficient. You can use this in recording your screens, capture your webcams and audio from your online discussion forums. Other than that, using Snagit will surely help you create a wide variety of content. No doubt why Snagit is one of the best alternatives to OBS studio. To support that statement, here are some of the key features of Snagit Screen Recorder that you may consider if you will choose it over the other screen recorders. Furthermore, it also offers various editing features like the Annotation which will enable you to add text, draw, or highlight text even while recording. Other than that, you are also allowed to trim your videos before sending or saving them.
Pros

Trusted and proven by the user.
All-in-one tool.
Game plays recording.
Affordable one-time fee.
Cons

Subscription fee.
Issue in microphone sometimes.
Action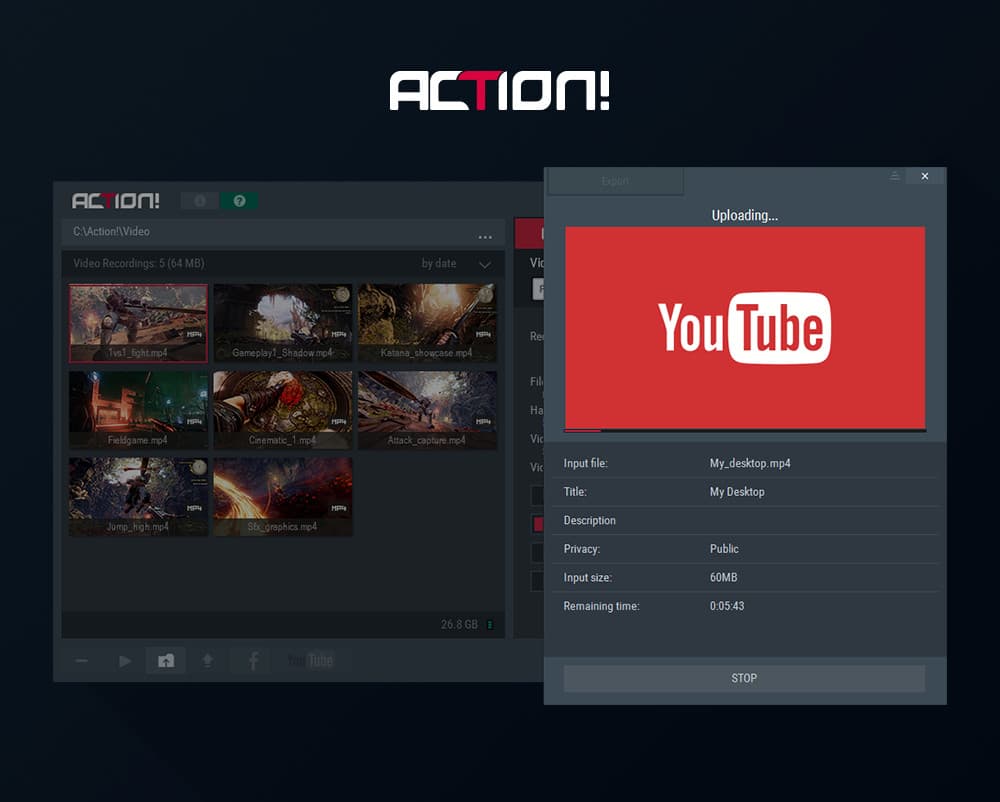 Platforms: Windows Vista, 7, 8, 8.1, 10
Price: Free
Action is one of the most popular gameplay recorder and screen recorder tools in the market. Allowing you to record and stream for real-time. Yes, Action is an expert at live streaming like OBS. That is why most users consider it as a go to solution when their OBS is not working properly. It is also integrated with various gaming platforms like Twitch, Facebook Live, YouTube, and even Hitbox. This is a great alternative to OBS for it allows you to record your screen as smooth as possible, with high frame rate videos of any desktop. Other than that, creating easy to follow tutorials can be done hassle free. Furthermore, videos recorded can be saved as either AVI2.0 or MP4 through H.264 or H.265 codecs. That means your videos will surely be saved in a smaller file size with a better quality.
Pros

Flexible gaming recorder.
Supports live streaming.
It gives unique features.
Cons

Overwhelming at first.
Movavi Screen Recorder
Platforms: Windows and Mac
Price: $49.90
Movavi Screen Recorder is also one of the screen recorders that has the ability to record the screen of your Windows and your Mac computers. Using this screen recorder, you may now record whatever you want, even an online video. Through this software, you get access to super high-quality videos at the speed of 5 to 60 frames per second. In addition, Movavi Screen Recorder also cares about the quality of your Audio, both from the system and from the microphone sound. Furthermore, Movavi Screen Recorder uses different types of hardware acceleration such Intel HD graphics, NVIDIA NVENC, AMD, and SuperSpeed that really makes it effective in recording. That is why, using at as an alternative to OBS will not be a regret.
Pros

Easy to use.
Adaptable screen recorder.
Fast recording tool.
Cons

A bit expensive.
Subscription based.
XSplit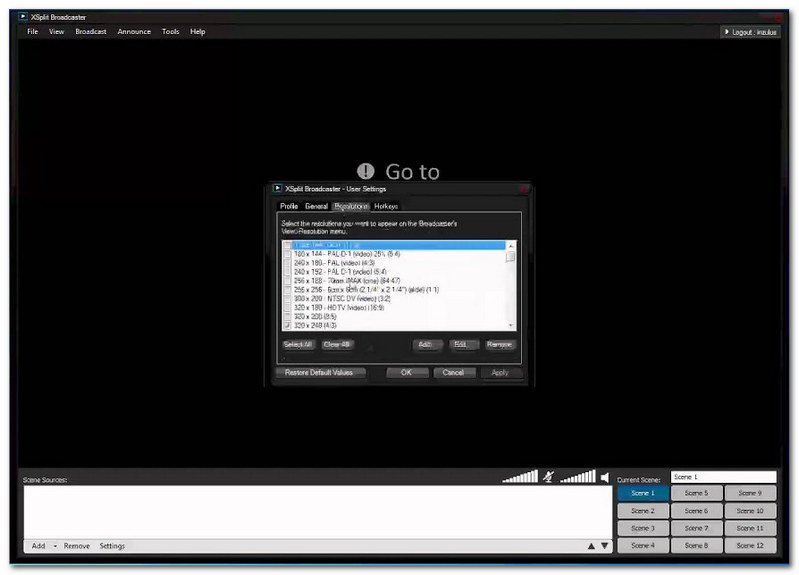 Platforms: Windows and Mac
Price: $20
XSplit is also a great alternative to OBS. This flexible tool is known for its being two diverse pieces of software. Broadcaster and screen recorder. It has the ability to broadcast your screen just like what OBS can. However, this is more easy to use compared to other software. Also, it has the ability to record your screen instantly and hassle-free. Furthermore, XSplit has a lot of features to offer. Few of it are, the Website page source, concealing, projecting, and more.
Pros

Offers numerous features.
Diverse software.
Effective screen recorder.
Cons

Overwhelming futures.
Expensive subscription.
Part 2. Comparison of Top 7 Alternatives to OBS
| | | | |
| --- | --- | --- | --- |
| User Interface | Customization of Recording Area | Can Record with System Audio | Schedule Recording |
| Smooth and Clean | | | |
| Smooth and Clean | | | |
| Clean | | | |
| Smooth and Clean | | | |
| Smooth and Clean | | | |
| Smooth and Clean | | | |
| Clean | | | |
Part 3. FAQs of OBS Alternatives
Is there a free version of Aiseesoft Screen Recorder?
Yes, it offers a free version and it can be downloadable through their website. However, the free version is a bit limited compared to the upgraded one.
Is there a screen recorder that can also broadcast the screen?
Yes, Bandicam and SplitX are two of the diverse software that you can use not just in recording your screen but also in broadcasting your gameplay to different platforms.
How can I record my gameplay using Aiseesoft Screen Recorder?
Open Aiseesoft Screen Recorder on your computer. After you see its full function, choose Game recorder on the option. Then, click the Rec button. Please remember that your game is already launched for a smooth process of recording. After that, do not forget to save your video and secure it with your folders.
Conclusion
Therefore we conclude that there are still a lot of screen recorders we can use if OBS Studio is not working properly. However, you just need to choose what suits you to really help you in recording your screen. Also, do not forget to help a friend who is experiencing trouble in OBS by sending this information.
Did you find this helpful?
215 Votes
YES

Thanks for letting us know!
No

Thanks for letting us know!
Aiseesoft Screen Recorder
Capture every moment in desktop, browsers, programs and webcam.