Bandicam VS OBS: Providing Their Overall Ratings – Their Features, Functions, Performances, and More
Recording real-time videos has met the standard of modern technology. Thus, a lot of video recorders were created. But you must have the right software for an excellent screen recording. Bandicam can capture any real-time videos and so does OBS Studio. These two have both superb features, functions and offers. In some cases, you are having a fruitful and memorable conversation with your loved ones or friends through video chat apps like Messenger, Viber, Snapchat, Skype, etc. With the help of Bandicam Screen Recorder or OBS Studio, you can capture and keep those beautiful moments. Both can meet your concerns for excellent screen recordings but there is always one that will stand out. Within this article, we will find out what is best fit for you, Bandicam or OBS?

Part 1: Bandicam VS OBS - Overall Ratings
Bandicam and OBS studio are two of the best among the video recorder tools. Without further ado, let us find out their overall ratings. To start, let us have Bandicam. This software allows you to record everything on the screen or a specific area of your PC. Also, it allows you to choose a recording mode. Whether Screen, Device or Game recording mode. Bandicam has a lot to offer such as drawing and outlining your video; adding a webcam video; mixing the system audio and your voice; adding mouse click effect and animation; creating a chroma key video in real-time. All these will function while recording your computer screen. Plus, you can set a schedule for screen recording.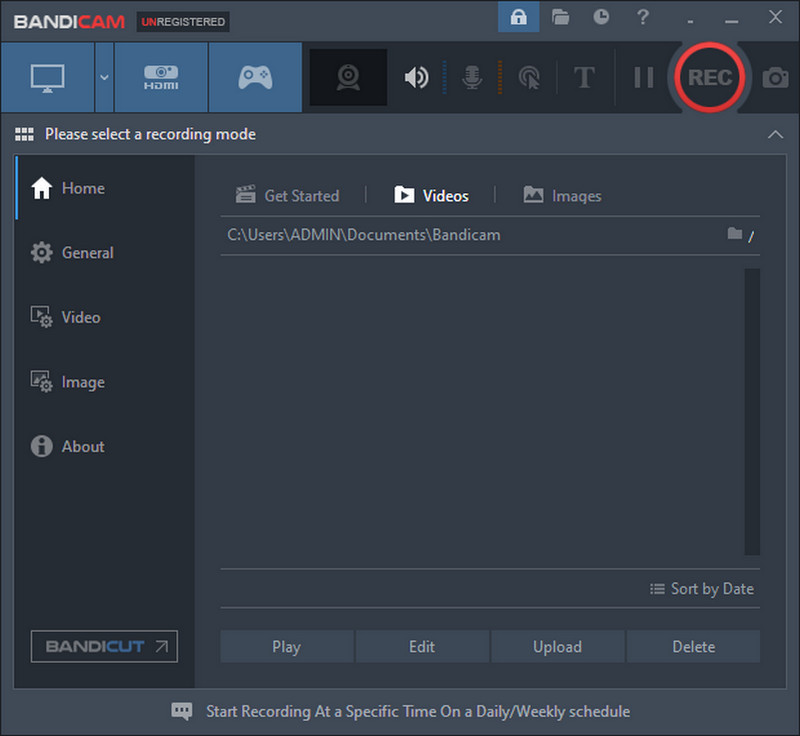 Ease of use10
Editing features9
Screenshots Quality9
Next, OBS studio. This software is 100% free and open source for windows, mac, or Linux. It offers high-definition real-time video or audio capturing and mixing. With OBS, you can make multiple scenes from window screenshots, images, text, webcams, and more. Also, it allows you to set up an unlimited number of scenes that you can shift perfectly. This software provides an intuitive audio mixer like noise gate, noise suppression, and gain. To use these two softwares, launch it on your device and open it. Then it will lead you to the interface. Finally, you can start recording by clicking the Record button for Bandicam and the Start Recording button for OBS.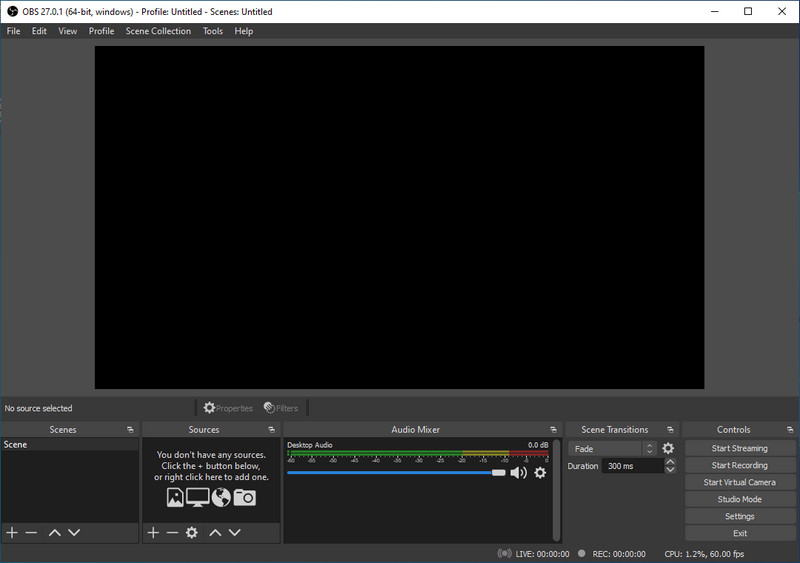 Ease of use7
Editing features8
Screenshots Quality9
Part 2: Bandicam VS OBS – Interface
Let us now discover the interface of the two softwares. With Bandicam, its functions are orderly placed on the interface, and the Record button is red. Hence, the users can easily access all its functions and quickly find the recording button. In line with that, you can immediately notice the game recorder, device recorder, and webcam recorder.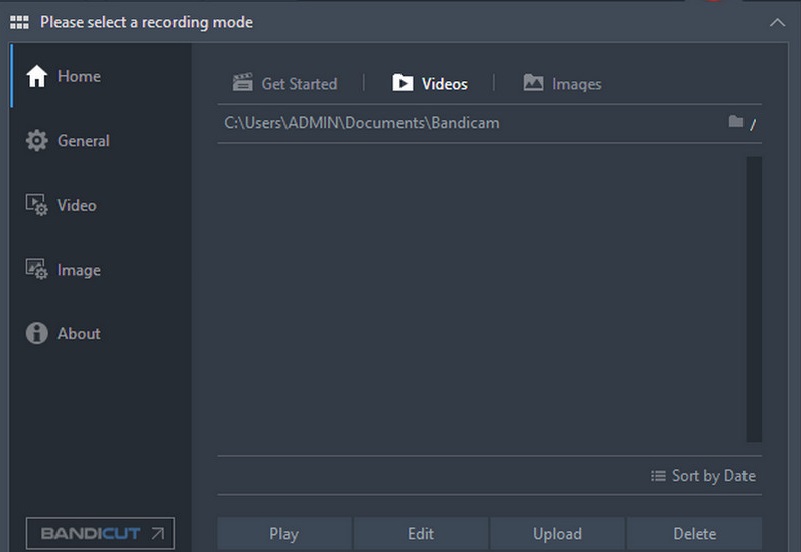 With OBS Studio, its interface is neat and clean and a bit larger than Bandicam. When you open the software, you can access all its functions and features – where to add videos, how to start recording, streaming, virtual camera, and the audio mixer is also noticeable.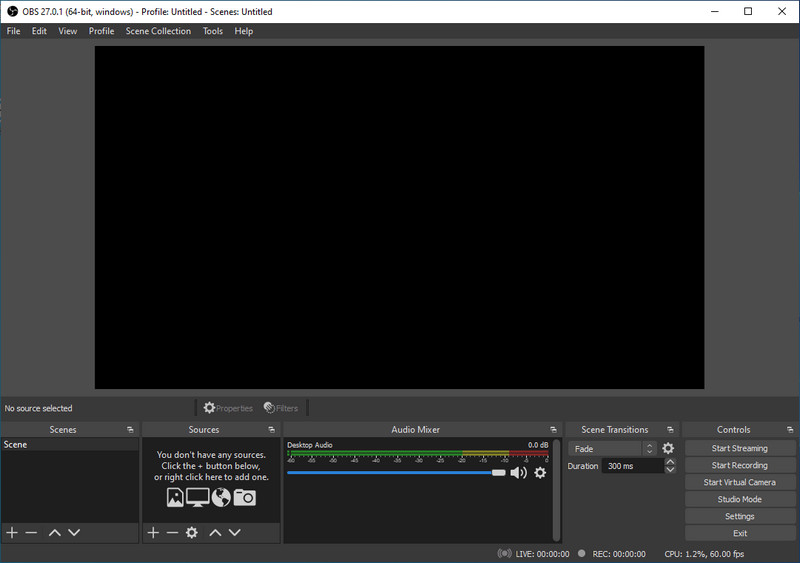 Part 3: Bandicam VS OBS – Performance
Next, we are now going to evaluate their performances. Bandicam allows you to record high-quality videos without producing great file size. This happens because Bandicam lets you compress the video data. Moreover, you can increase the video quality from 80-100 and change the video size, the FPS or Frames Per Second and the Video codec. What's more interesting about this software is that it can capture 4K Ultra HD videos up to 3840x2160 and it can record a whole day nonstop.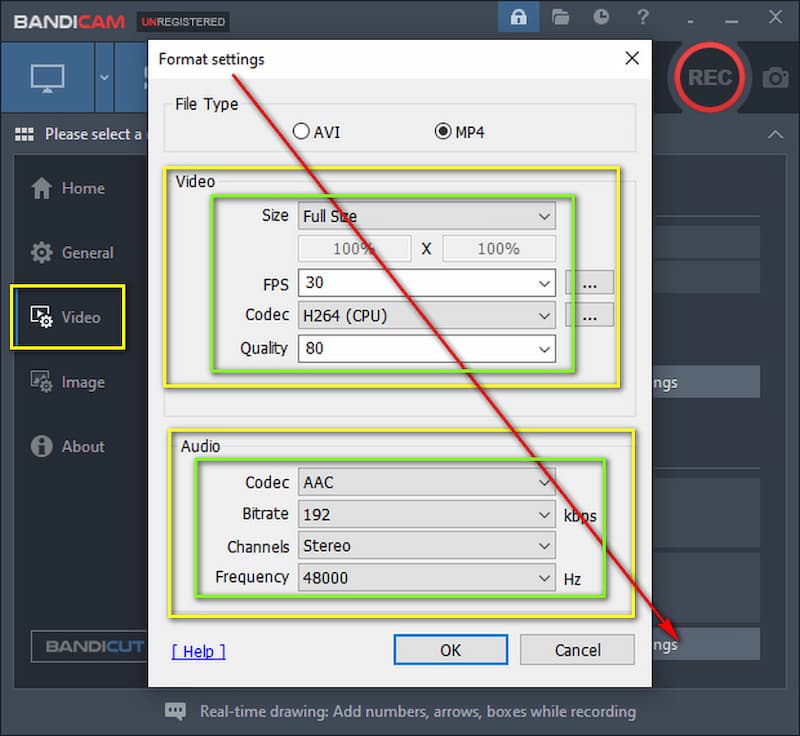 OSD studio helps you add scene transition designs to your video such as cut, fade to color, swipe, slide, stinger, etc. It also allows you to adjust the video duration. Also, this software is the best open-source video encoding, available up to x264. However, when encoding a very high resolution it affects the CPU usage. So, OBS helps you reduce CPU usage, this happens when you downscale your solution.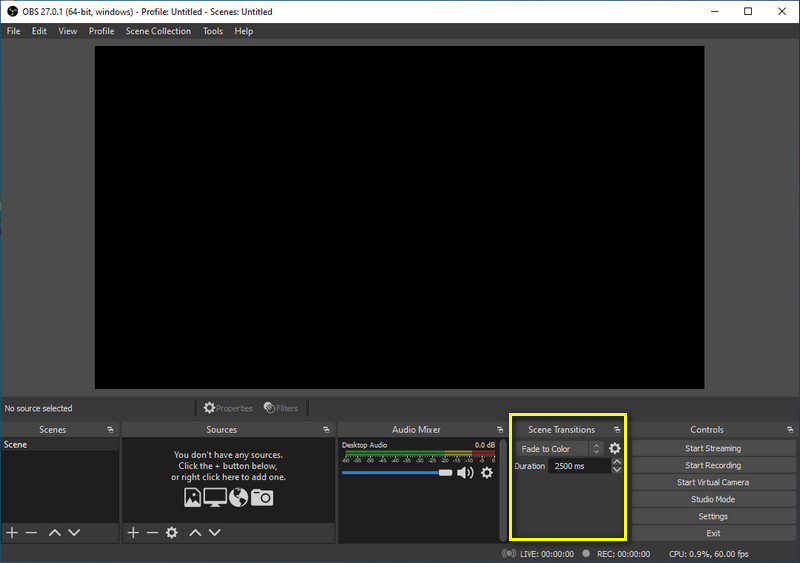 Part 4: Bandicam VS OBS – Support
Bandicam has a good customer service wherein if you have any concern about the software, you can directly run to them. For some cases, if you are about to purchase the tool, report or want technical support and collaboration. You can post your concerns on the Bandicam forum or kindly send them to their email address. Rest assured that your concerns will be met immediately.
Also, if you have concerns about the OBS studio. Their company will allow you to post your concerns on their forum. And within there, they can immediately provide responses to your questions and needs.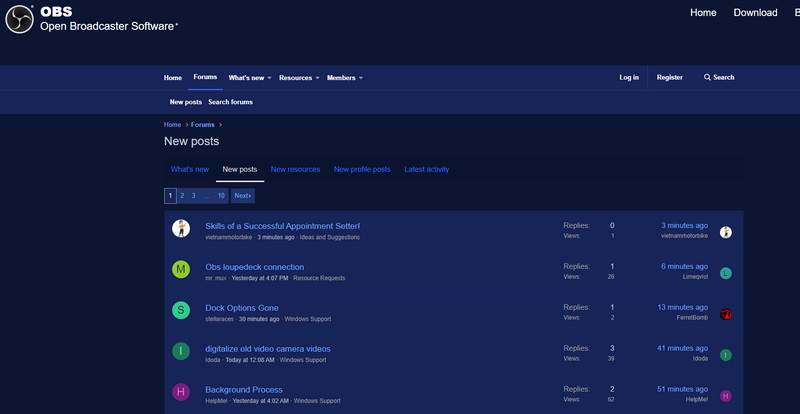 Part 5: Bandicam VS OBS – Summary
To clearly evaluate and distinguish the differences of Bandicam Screen recorder and OBS Studio - their features, pros and cons, supported devices and their ease of use. The comparison chart is provided below. Thus, it will help you decide what video recorder tool you are going to utilize.
Bandicam
OBS studio
Price
Free
Free
Feature

●Screen recording

● Game recording

● Device recording

● Scheduled recording

● Real-time drawing

● Add webcam overlay

● Mouse effects

● Chroma Key for webcam overlay

● Ability to Manage Quality

● Intuitive audio mixer

● Unlimited number of scenes

● Screen Capture

● Video Recording

● Video Broadcasting

● Neat and Clean Interface

Pros

● Offers Free version

● Record 4K Ultra HD quality video

● Quick to record

● Quick to capture images

● Many features

● Easy-to-use

● Offers Free version

● Open source

● Instructional Video Creation.

Cons
● Compatible with Windows device only

● Doesn't work on Windows XP

● Can't link to an audio file as a source

● Limited features

● Complicated to use

Supported Device
Windows
Windows 10, macOS, Linux
Ease of Use

10/10

Bandicam offers the best and excellent screen recording options that are easy to find

7/10

Though the OBS studio has a neat and clean interface. It was a bit hard to master the recording process and its features.
Part 6: The Verdict: Bandicam VS OBS - What is the best for?
Moving on to their unique features. Bandicam provides you a Bandicut program where you can use it to cut and join recorded videos. You can also upload your recorded videos directly on youtube, no need for saving the outcome on your device. Lastly, it allows you to capture Ultra HD videos without losing its quality and can record 24 hours non stop.
And OBS studio has this unique feature and that is an intuitive audio mixer where you can adjust its audio to have a pleasing sound system. Moreover, this software supports platforms like Windows version, Mac version, and Linux version.
So, all in all, with my personal experience of these two video recorder tools. Bandicam is really the best for screen recording because honestly, I did not have a hard time using this software because its functions are noticeably and properly placed on the interface. As far as I know, users seek easy-to-use software.
Part 7: Best Alternative to Bandicam and OBS

If ever you were not pleased with the two Video recorders that are presented above. As an alternative to Bandicam and OBS. I highly recommend you Aiseesoft Screen Recorder. This software allows you to record video and audio on your desktop producing high-quality results. Thus, you can capture any video like webcam video, and other video tutorials on your desktop. Plus, if you love HD videos such as MPEG2 HD Files, MPEG4 HD mp4, HD Video Files, HD TS, HD MTS, HD M2TS and others you can use this software to record them. Moreover, like the other video recorders. This software allows you to adjust the video size whether full screen, customized size, or you can choose a certain area of your screen and record it.
When it comes to audio source and microphone voice, this software allows the users to choose audio options whether system audio or microphone audio, or both. And most importantly, Aiseesoft screen recorder is an easy-to-use software where everyone can manage to screen record without any tutorials or background knowledge. If you want to know whether it is true or not. Kindly launch the software on your device and it will show you its functions and features.
Conclusion
To conclude, recording online videos, online games, video tutorials, webcam videos, etc. is really attainable between the two recording video tools. You can choose what is most relevant to you, either Bandicam Screen Recorder or OBS studio. And as an alternative to two softwares, you can also run to Aiseesoft Screen Recorder where everything is quick and easy for video and screen recording. Please do share this article to others if it benefits you a lot.
Did you find this helpful?
249 Votes
YES

Thanks for letting us know!
No

Thanks for letting us know!
Aiseesoft Screen Recorder
Capture every moment in desktop, browsers, programs and webcam.