Proper Ways in Fixing OBS Studio Black Screen with an Alternatives
OBS Studio is one of the most leading video recorder software in the market nowadays. For it can offer you a variety of features more than a simple video recorder can do. That is right. OBS has become special for many users because of its adaptability and flexibility. However, flaws and deficiencies cannot be prevented. There are instances that the display capture function of OBS studio is not working properly. Instead of recording the entire screen, the dialog box is just grey, and worse nothing is recorded at all. Basically, your output is just a black screen. In connection with that, we really need to do something to fix the problem. Fortunately, we are here to help. We gathered and researched a lot of ways to fix it! Without further ado, here are the different OBS black screen solutions.

Part 1: Why is my OBS Showing a Black Screen?
There are various reasons why OBS is showing a black screen when you are recording. These different reasons also have different solutions. However, it is important to know and to understand first the definition of the problems. So that the configuring process will be easier and less confusing. In line with that, we listed the troubles and probably the reason why the problem occurs. Later on, we will show you the solutions for each problem.
Outdated OBS Studio Version
We all know outdated devices, tools, or even software can give you. Such as, poor performance and a low quality outcome. We do this to improve the quality of our work, from the quality of performance to the highest quality of the output. Hence, updating your OBS Studio is one of the most important and effective ways to fix the black screen display capture on OBS.
Compatibility Mode
This issue is common with Windows 10 computers that face OBS black screen in capturing their game. The wrong configuration setting will really give you a burden in recording your screen, such as the black screen. Therefore, adjusting the setting of OBS Studio is also a crucial part in making the process as smooth as possible.
Low-performance GPU
GPU is an electronic circuit that computers use to improve the speed of the process of creating and rendering your computer graphics. Other than that, it also has a big role in improving the quality of all your images and videos. You should also bear in mind that our computers generally come with two GPUs. One is for greater performance, then the other one is for power saving. Most of the time, when you run power-intensive software or video games, your system will use the discrete GPU circuit. Another thing that you need to remember, OBS black screen on Windows occurs because of the low-performance GPU circuit. However, you can do something about it. See the solution below.
Display Capture
This problem mainly occurs when you are trying to capture a Digital Rights Management or DRM web content. This includes recording your favorite movie or episode on Netflix. Recording the content from Netflix is not allowed. Although you can just capture the audio from it, you will just end up recording a black screen or even black screen capture. Since it was about the rights, we cannot do something about it. Or else, you will need to use a capture card for this.
Update to 1903
Maybe you are wondering, what does it mean by 1903. Well, this is Windows 10 May 2019 update. This version offers several new features. It introduces a lighter theme to give you a smooth, minimal, and modern look to the Start menu, Taskbar, and Action center. In connection with that, OBS requires version 1903 to so that you will prevent recording a black screen.
Graphic Card
A Graphic card is the one assigned in providing a super-high quality visual display through processing graphical data using advanced features and functions.
Part 2: How do I Fix Black Screen on OBS?
Solution 1: Update OBS Studio Version
One of the solutions on how to fix OBS studio black screen is through updating your OBS to the latest version. Therefore, updating your OBS to version 27 or higher is necessary, because the old version might no longer work well. To fix this problem, here are a few guides that will help you in updating your OBS.
1.
Go to your OBS Studio. Click the Help at the top portion of the interface, and locate Check for Updates.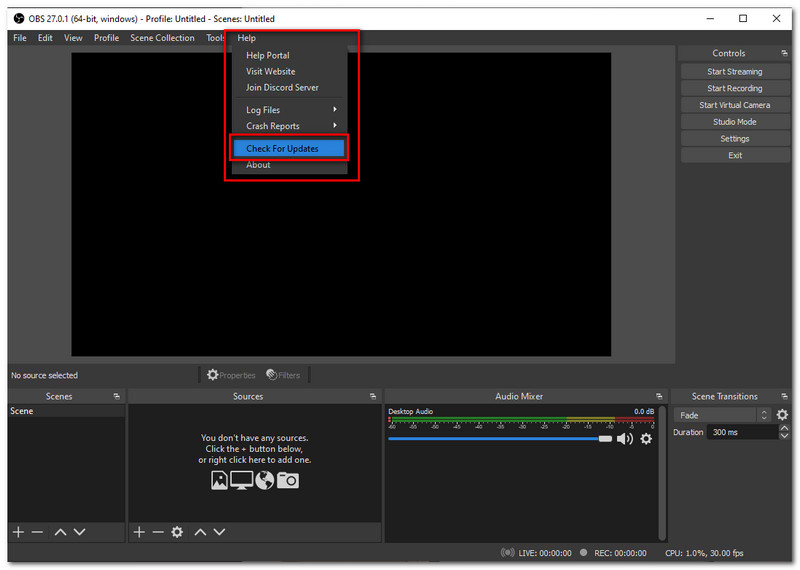 2.
After that, you will just need to wait for a few seconds. A tab will appear that says No updates are currently available if none. However, if there is an available one it will be automatically updated after a few minutes.
Solution 2: Configure Compatibility Mode
The second solution in fixing the black screen on OBS is by enabling the Compatibility Mode. This solution is for Windows 10 users only. To help you with that, here are the simple steps to make it.
1.
Go to the desktop of your computer. Locate and right-click on the OBS Studio icon. From the option shown, click Properties.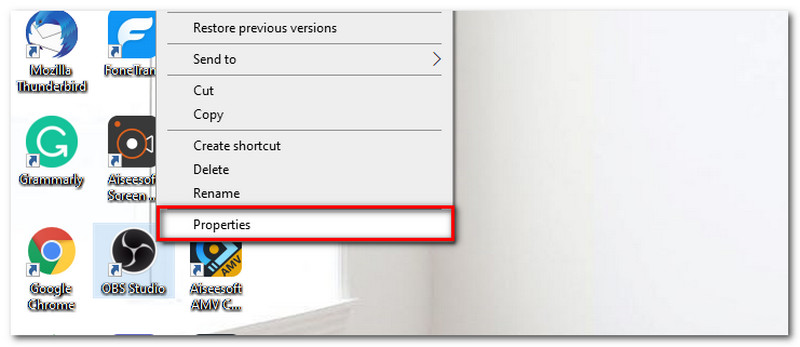 2.
Next, go to the Compatibility tab at the upper most part of the tab. From there, you can choose a system you want to be compatible with.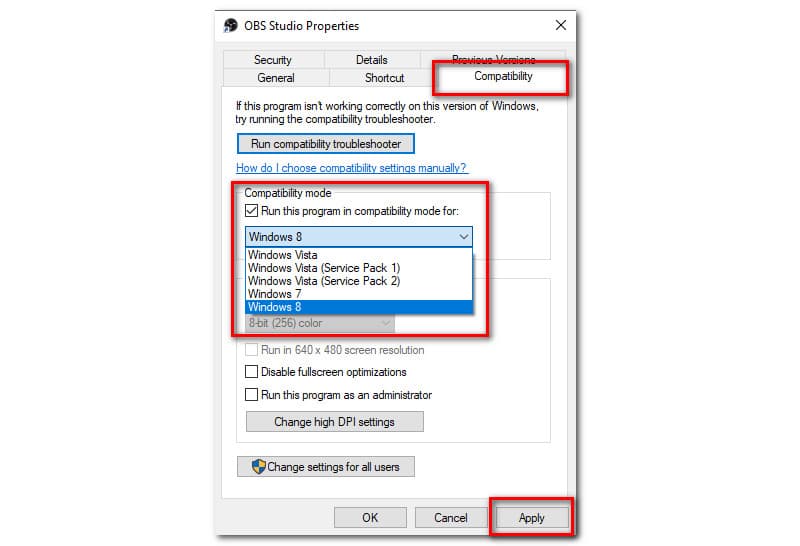 3.
Click Apply, then restart OBS Studio to try it once more and to make sure that the problem is fixed.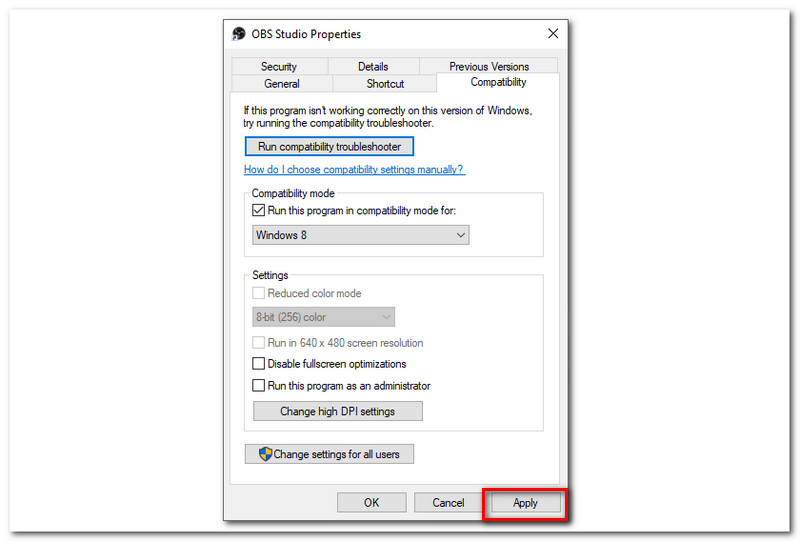 Solution 3: Adjust OBS Studio's GPU
If the GPU circuit of your computer is performing low. You might just need to adjust it. To be specific, switching the GPU that OBS is using is also an effective solution to fix your problem with OBS Studio. To help you configure it, just follow the guidelines below.
1.
First, when you experience the issue it is important to bear in mind that you should turn the OBS down first.
2.
Going back to your computer, right click on the desktop window. A tab will appear where you will select the NVIDIA Control Panel option from the drop-down list shown.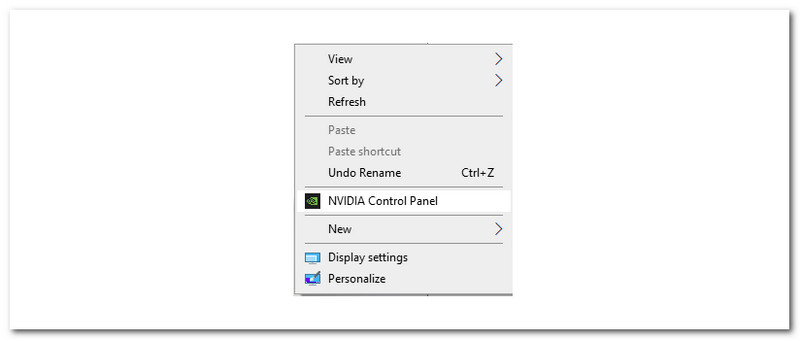 3.
Then click the Manage 3D settings option under the 3D settings on the left side of your screen. Locate the Program Settings tab to Add a program.
4.
A new tab will appear where you can add the OBS Studio, and click Add selected program.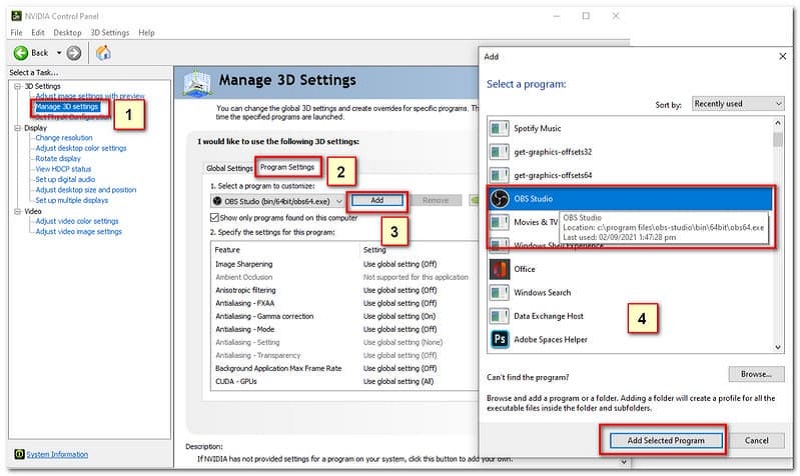 Solution 4: Change the Graphic Card
The fourth solution in fixing the black screen of OBS Studio is by changing the Graphic cards that the OBS is accessing. To do it, here are some very simple steps to help you.
1.
Go to your Windows Settings.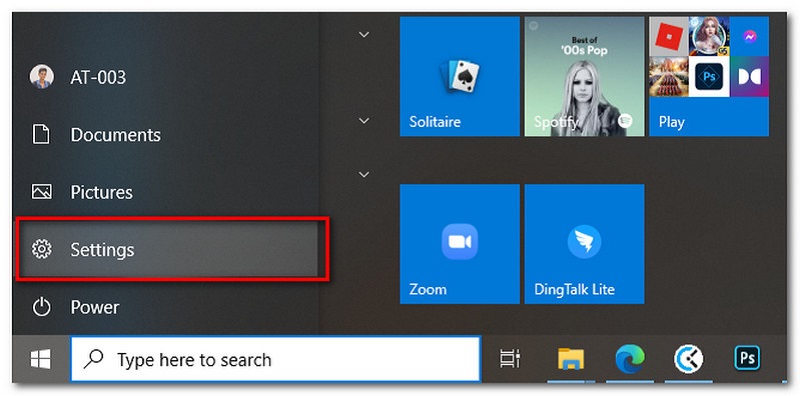 2.
Locate the System and click Display. Scroll down and click Graphic Settings.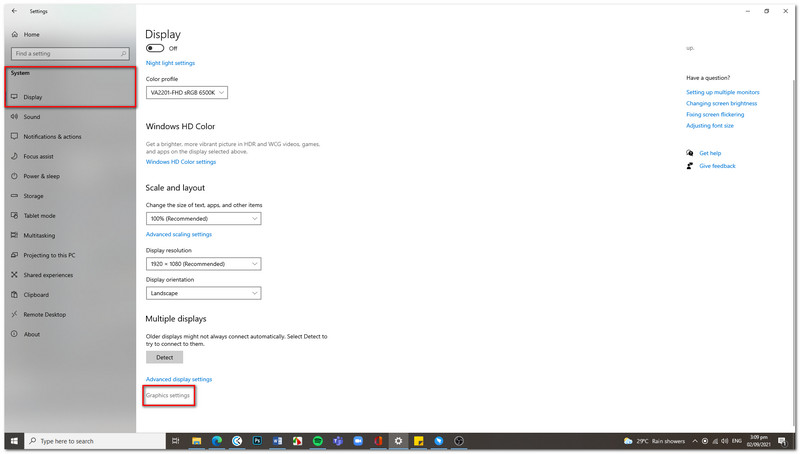 3.
After that, click the Browse under Graphic performance preference. Then find the OBS executable.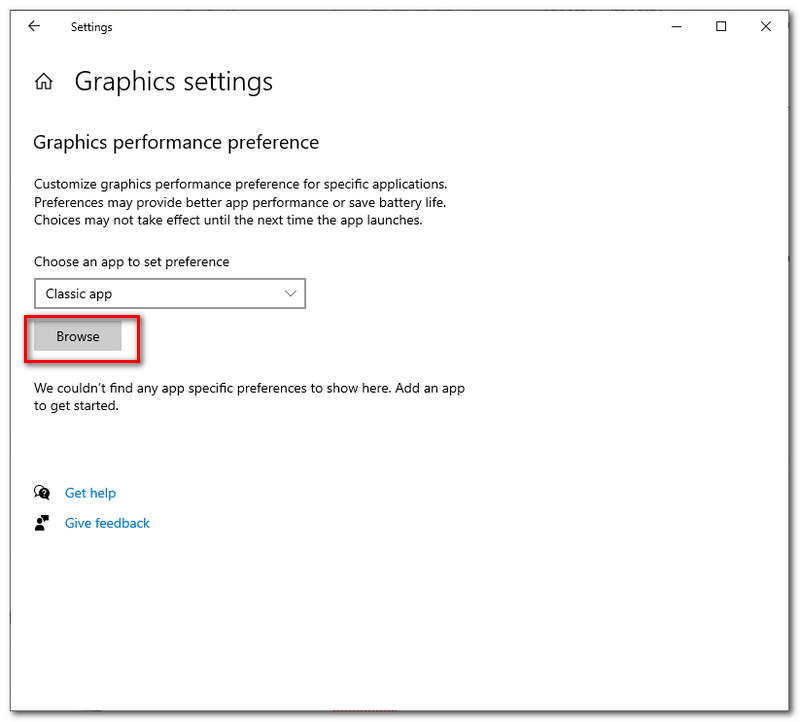 4.
After you click OBS Studio. Click the power saving to enable Display capture. If you are using it for Windows capture and game capture, you may set it to High Performance.
Solution 5: OBS Studio Support
If you tried all the solutions given above, however, the problem is still occurring. We highly recommend contacting the customer service of OBS Studio to surely fix your problem. They are the one who really knows what is happening on your OBS software.
Part 3: Best OBS Alternative – Aiseesoft Screen Recorder
Overall Rating: 4.8
Price: $25.00

You may be thinking of using a new Video recorder by now. Good news, we ready a great alternative to OBS Studio –namely the Aiseesoft Screen Recorder. This video recorder is one of the leading and award winning software in the market nowadays. It can offer you every function and feature you are looking for in a video recorder app. Aiseesoft Screen Recorder allows you to record your entire screen in different events, such as online forums, online presentation, and even your game stream while experiencing a black screen unlike to OBS Studio. This software also can guarantee you a super high quality output with your recordings. It has a feature called Area selection where you can customize or just select the area on your screen that you want to record.
Key Features:
● You can record your journey in game play to share it with other people through different social platforms.
● It has the ability to screencast webcam videos. That means, saving your webcam videos over Skype or TeamViewer is possible here.
● Recording the audio from your computer and from your microphone is very smooth and clear. This recorder supports recording internal sound and microphone voice in your Mac.
● Keeping your original video without any watermark.
● Organized parameter settings.
● Scheduling your recording can also be done here.
● It offers various editing features to enhance your videos.
Conclusion
To sum it all up, we learned that OBS black screens can be caused by different problems that also have a solution. With the proper configuration of it, the problem may be fixed immediately. However, if the black screen is occurring again and again. It is important to ask the customer service of OBS studio to solve the issue instantly. You can also use a new software in recording, and Aiseesoft Screen Recorder will surely give almost everything you need. Furthermore, do not forget to share this information with the people who are experiencing the same problem with OBS.
Did you find this helpful?
242 Votes
YES

Thanks for letting us know!
No

Thanks for letting us know!
Aiseesoft Screen Recorder
Capture every moment in desktop, browsers, programs and webcam.