Understanding OBS Studio AI Green Screen to Help You Use It
Film industries have been using green screens for many years now. This is a vital element that helps the companies to be more efficient and effective in terms of productions and storytelling. AI Green screen technology will assist you in making your creations look clean and professional. The ability to create a digital background can go a long way toward ensuring that you can fully utilize your professional talent. This feature is one of the reasons why OBS is known and recommended by professionals. In this article, we will give you methods to understand OBS Green screen settings and to learn how to utilize this feature in your videos.

Part 1: How to Set Up a Green Screen on OBS
Required Equipment:
● Green screen background
● Webcam or Video Camera
● Lighting for a professional setup. Natural light for a cheap setup.
● Laptop with installed OBS.
These portions will bring you through the step-by-step process of setting up your green screen or Chroma key in OBS. To set up a green screen, complete the instructions below:
1.
Click the Plus icon located under the Sources tab.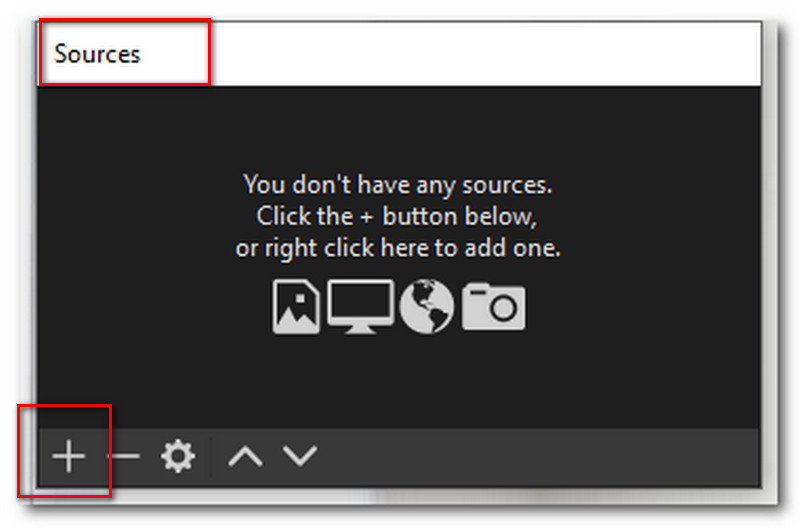 2.
From that, select Video Capture Device from the options.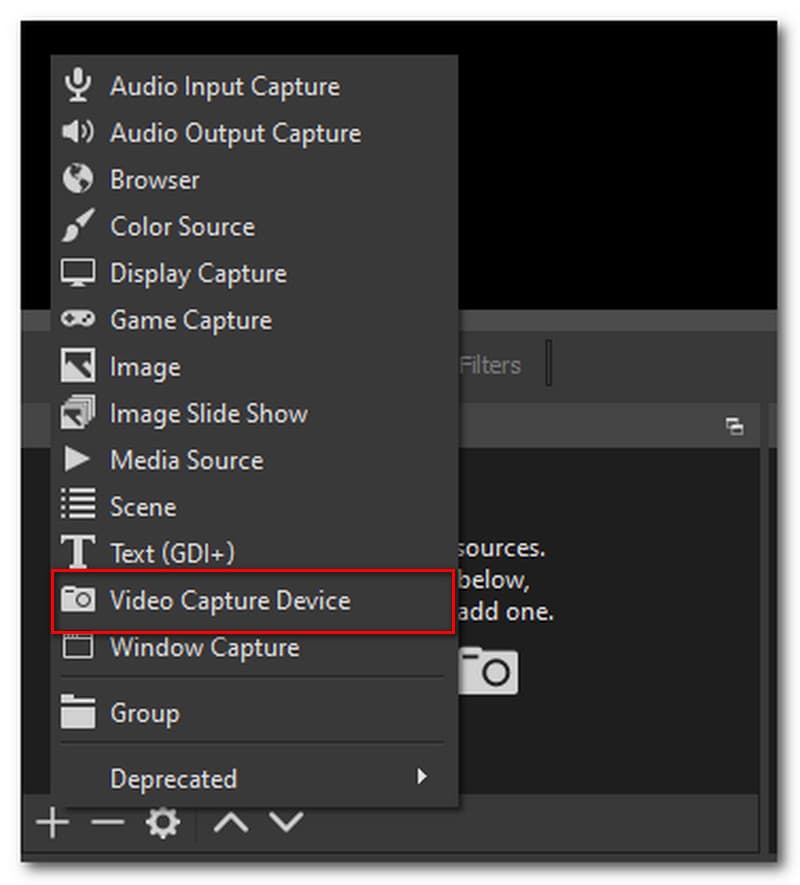 3.
After that, right-click the added option underneath Sources. Select Filters.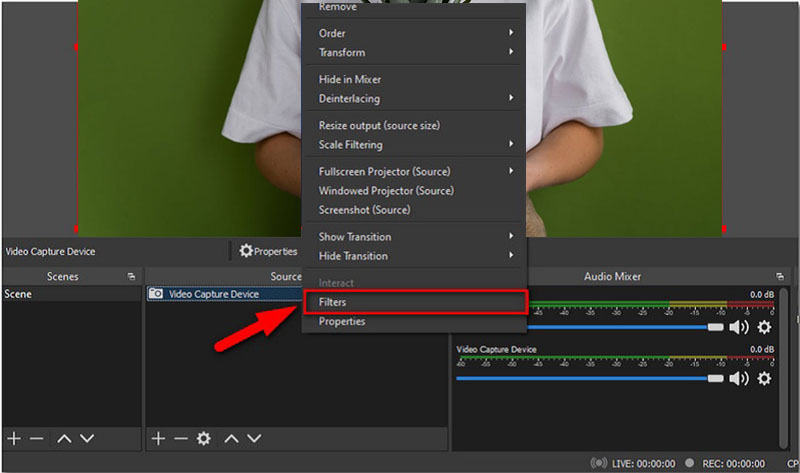 4.
Another tab will appear, click the Plus icon at the bottom left side of the interface and select Chroma Key among the options.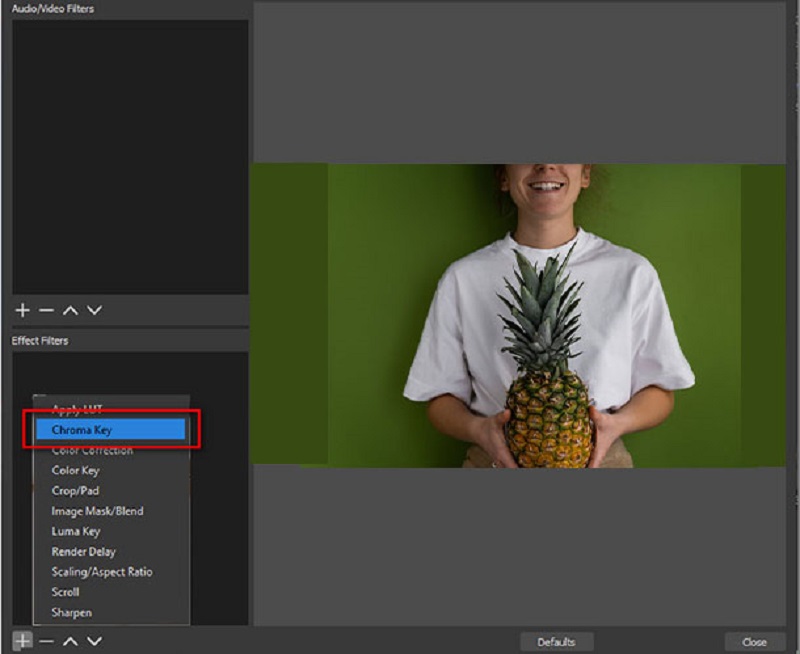 5.
Just click Close, and you will find it green screen ready.
Part 2: How to Use a AI Green Screen Effect in OBS
OBS AI Green Screen Plugin
This is beneficial for any content creators and streamers that want to stand out in the field. There are many kinds of Plugin that can be used on OBS, there's a lot of bunches that you can play with. But in this part, we will be focusing on the mirror plug-in because that's the only plug-in streamers need. Without further ado, here are the steps on how to use the AI Green screen plugin in OBS.
1.
Download the OBS Stream FX this is an extra tool that you will need. After downloading, it will automatically go to your OBS
2.
After making sure the Stream FX is on your computer. Open the OBS Studio. Locate the Sources box at the bottom part of the interface.
3.
Click the Plus icon underneath the Sources box.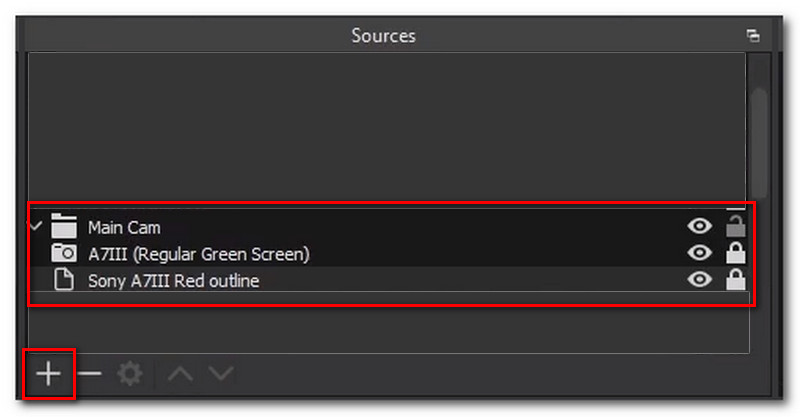 4.
You finally have the Source mirror on the options, select it. Adjust settings can be seen.
5.
Once you adjust every setting, Add color corrections by clicking the Plus button under the scene. This step will put both screen and camera together. Make sure that your camera is at the top.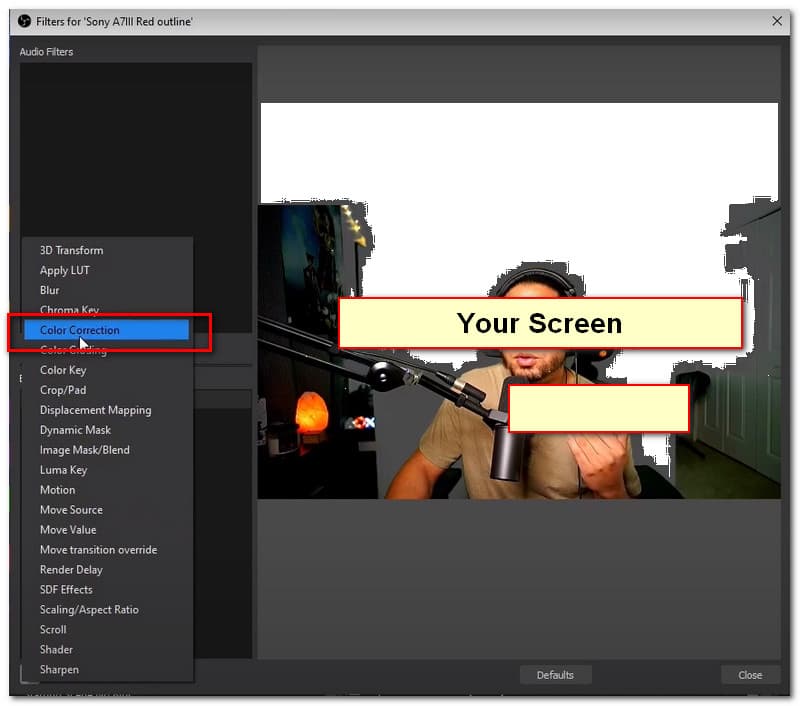 6.
Pick the color you want and you are allowed to move the visual from your camera as much as you want.
OBS AI Green Screen Filter
Adding filters in OBS is simple. After you added your scene on the Sources, right-click and locate Filters. From that it will enable you to choose what you want to add in your video or stream: adding shapes, making your videos in different shapes, and making another part transparent. Besides this feature of OBS allows you to add Image Mask/Blend, Crop, Colour, and Chroma Key.
To add the Chroma Key, kindly check the steps in Part 1.
OBS Virtual Background
The Virtual background is an amazing trend nowadays. It can bring you by the seashore during online meetings, just turn on your camera and add background, and your online vacation is solved, to add virtual backgrounds in OBS, see the instructions.
1.
On the Sources panel click the + button and add Video Capture Device.
2.
Under the tab that appeared, go to the Device and choose your preferred options.
3.
Set the Preset by 1280x720.
4.
Just click OK to proceed with your work.
OBS AI Green Screen Noise
AI Green screen noise in OBS can occur due to the problem in your lighting. Cheap lights may be the reason why there's a noise on your screen. To prevent this situation, enhance your lighting to the point where you are allowed to lessen the exposure or grain on your webcam. This action will help you achieve a cleaner, and sharper.
Note: It is highly suggested to upgrade your light and web camera for a better experience.
Part 3: Best Alternative to OBS Studio - Streamlabs OBS
Streamlabs OBS has an AI green screen this is the reason why Streamlabs is on the same line with OBS Studio. This tool can be used to broadcast your streams on different platforms such as Facebook Live, Facebook Gaming, YouTube Live, YouTube Gaming, and Twitch. Streamlabs is open source and free software for Mac and Windows users. Other than that, it can give you features that are quite similar to OBS. However, OBS is still the best choice when it comes to the pricing of the software.
Pros

This tool is the perfect alternative to OBS for your gaming moments. It possesses almost everything you need.
You can use Streamlabs elements, chatbox, etc.
Multistreaming is allowed in supported platforms
Tons of overlays are offered for free.
Cons

Not free.
Other functions are missing in the free version.
Take a lot of time to memorize and understand.
How to Setup Green Screen Streamlabs OBS
Follow the instruction below to set up a green screen in SLOBS:
1.
Under the Sources, click the Plus icon and add Video Capture.
2.
The next thing you need to do is to add Chroma Key. Right-click on your Video Capture Device, then select Filters.
3.
Select the Chroma Key from the available option.
4.
Adjust the setting following your choice. Once you're done, click OK to finish the process.
Part 4: FAQs of AI Green Screen on OBS- Streamlabs OBS
Is High-quality Webcam or Video Camera needed?
A high-quality camera is not necessary, however, if you want to create amazing and more professional videos you should start investing in high-quality cameras or webcams. Sometimes, built-in webcams are not enough.
Does OBS offer a free virtual background?
Unfortunately, OBS does not offer free virtual backgrounds. Therefore, you should make an effort in choosing and looking for a virtual background online.
Can we use this feature using live streams?
Since OBS is broadcasting software and not just a video recorder, using green screen in your live streams is allowed.
Is the AI green screen of OBS doable for novice streamers or users?
Absolutely, Yes! Setting up is easy, however, at first, it takes a lot of time to understand.
Can OBS remove the background without the AI green screen?
OBS cannot remove background without a green screen or maybe it is possible however expect an imperfect output.
Conclusion
Setting up the AI green screen in OBS might have taken some time to finish and memorize, however, this feature is useful especially for online streamers. With proper adjustment of settings and set up by following the given instructions, you will make it.
Did you find this helpful?
185 Votes
YES

Thanks for letting us know!
No

Thanks for letting us know!