BeFunky Review: The Advanced Photo Editor with Free Version
People do not settle for less because they always want something extra and special. For that reason, some users have a high standard when it comes to pictures. To meet all those standards, you might need a photo editor tool that you can use to make extra images. This review suggests users use BeFunky. Not just that, this review will be your guide to becoming familiar with the tool. Read now!

1. Overview of BeFunky
What is BeFunky?
BeFunky is a free online editor for all users. Therefore, anyone can use this without paying a single penny. It allows users to edit photos quickly and easily using the free tools from BeFunky. Moreover, since we are reviewing this online tool, we will assure you that you will not miss any single piece of information about BeFunky.
But before that, we also believe that when you have an idea about their advantages and disadvantages, there is a strong possibility of knowing the tool. For that reason, we have prepared them for you; please see them below:
Pros

It is a free online tool for everyone.
It has an advanced user interface.
It offers several features and editing tools.
Cons

Its free version has limitations.
Interface9
Editing Tools8.5
Features 8.5
2. BeFunky Review
Interface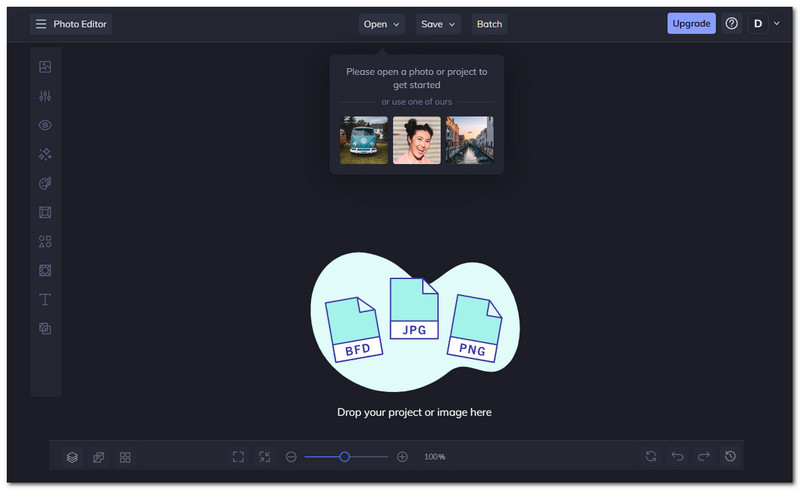 With the help of an excellent user interface, you have a chance to make your images perfect and unique. The good news is BeFunky has a neat user interface. It is more on dark colors, but it is not too heavy on the eyes of the users.
As you can see, on the upper part is the Photo Editor, and the options are on the bottom, such as Image Manager, Edit, Touch Up, Effects, Artsy, Frames, Graphics, Overlays, Text, and Textures. But before adding an image, you will have the option to choose the Batch button.
Once the image is uploaded, you will see more options in the latter part, like Layers and Groups, Flatten, Alignment, Fullscreen, Fit to Screen, Zoom In by Percent, Reset, Undo, Redo, and History. To conclude this part, you will see how easy to use BeFunky is.
Pricing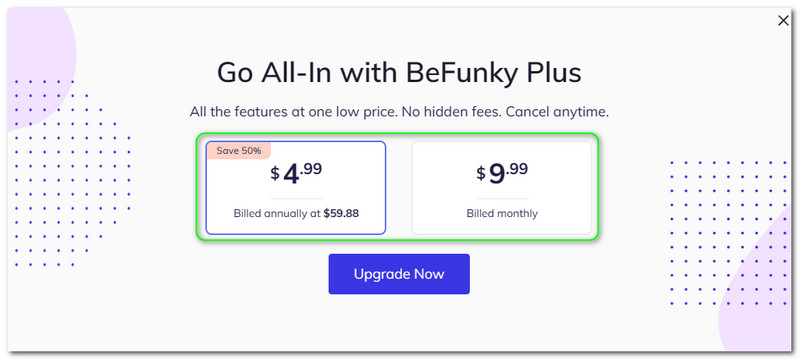 After discovering that BeFunky is excellent, especially its user interface, we might wonder how much we need to spend when we want to Upgrade and buy the Premium version. Is BeFunky costly as we imagined? Well, to put a smile on your face, BeFunky offers a free version. But if you do not want to compromise the features, BeFunky is affordable.
Let us first discuss the free version. Since it is a free version, expect that there will always be limitations. For example, using the free version of BeFunky, you will only enjoy Basic Photo Editing, Limited Smart Editing Tools, Basic Touch Up, Limited Smart Touch Up Tools, Limited Premium Photo Filters and Effects, etc.
But if you desire to upgrade BeFunky, the price starts at $4.99 monthly, which is payable for a year. Nevertheless, if you think you will not use BeFunky for a year, you can choose the monthly price of $9.99. It includes all the features without limitations, such as Edit Images, Beautify Portraits, Turn Photos into Art, Decorate Images, and so on.
BeFunky Photo Editor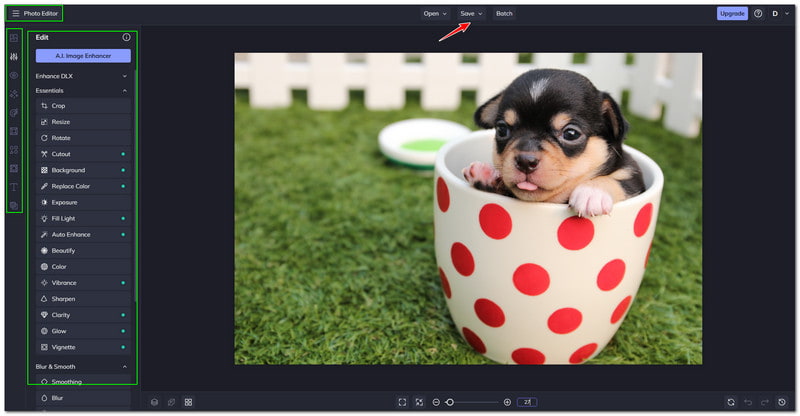 One of the main features of BeFunky is the Photo Editor. To edit your image, it allows you to upload from Computer, BeFunky, Google Photos, Google Drive, Dropbox, Stock Photos, Webcam, and more. After adding a photo, you can add another photo using Image Manager.
Then, you will also edit the image you add; you can tick the Color Overlay, Tint, Border, and Drop Show. Furthermore, you can edit the photo using these Editing Tools; Crop, Resize, Rotate, Background, Replace Color, Beautify, Vibrance, Sharpen, Clarity, and more.
What's more? BeFunky lets you Touch Up your photo from Skin to Miscellaneous. The options on the Skin are; Perfect Skin, Wrinkles, Blemish Fix, etc. The Eyes are; Mascara, Eye Color, Eye Brighten, and so on. In short, you can upload a pale picture and apply Make-Up using BeFunky; that is an amazing feature!
Is there anything else? Of course! You can also apply Effects, such as Black and White Tones, Warmer Tones, Analog Tones, Lens Flare, Glitch Art, Chromatic, and more. It is also possible to add Artsy, like Digital Art, BeFunky Cartoonizer, Poly Art, Mosaic, Pastel, Pen Art, etc. You can see more when you visit and try BeFunky.
BeFunky Collage Maker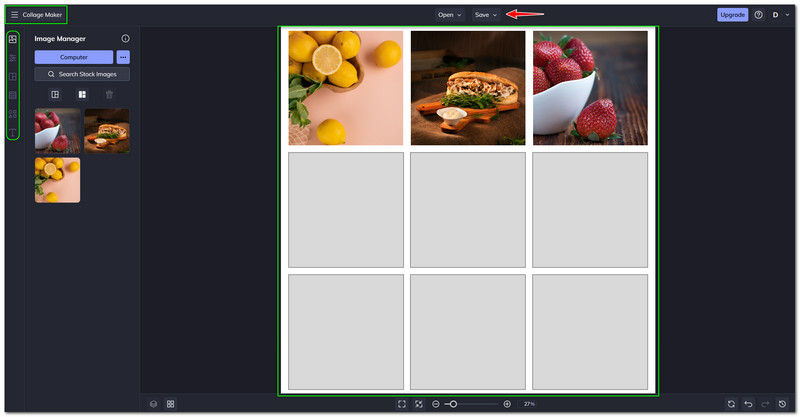 Most of the features of BeFunky can be seen on the Dashboard, and Collge Maker is one of them. This online editor tool lets you choose a Collage Layout and add photos. After adding the pictures to the Collage Layout, it will not end there because you can enhance each photo.
When you tap a specific image, you can Edit the Image, Remove the Image, and Delete the Cell. Of course, we do not want to delete the Cell; we only want to enhance images. Therefore, BeFunky allows you to Customize by changing the Background Color, Adjust Spacing, Corner Rounding, Rotating, and Changing the Width and Height of every image.
In addition, you can add Patterns, for example, Autumn, Fabric, Fancy, Geometric, Polka Dots, Summer, etc. You can also add Graphics, such as Basic Shapes, or add from your Computer or find BeFunky Graphics Designer by tapping the Search Graphics button.
Moreover, if you want to add a caption to your Collage, you can Add Text with unlimited changing in Font, Size, Alignment, etc. Overall, you can do so much using BeFunky.
3. BeFunky Alternatives
PicsArt
Price: Pixlr Premium: $7.99 monthly and $4.99 monthly, payable for one year.
Platform: Online
Supposing that BeFunky is not working on your browser, you can use PicsArt as an alternative to BeFunky. It is also an excellent photo editor you can use online, and the yearly price of PicArts is more affordable than BeFunky.
Moreover, you will notice that PicsArt lets you Create New Projects and Upload images from your desktop. In addition, it also provides Batch Editing, which means, PicsArt allows you to upload multiple images at the same time, where you can drop, drag, and upload photos. Not just that, it provides other features, like Background Remover, AI Image Generator, AI Enhancement, Collage Maker, etc.
Pixlr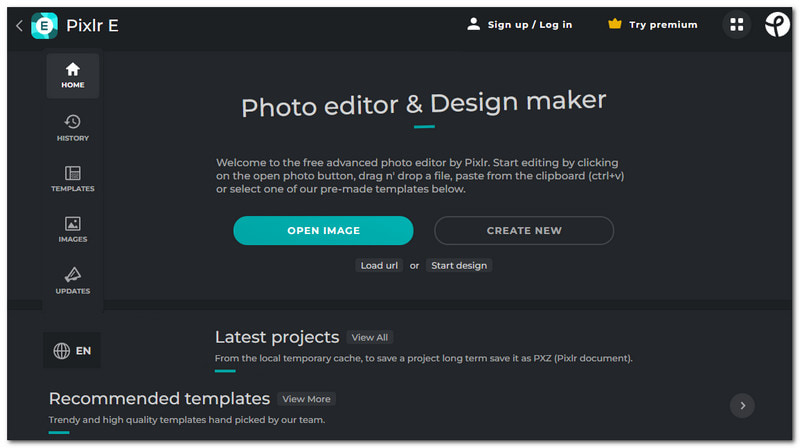 Price: Pixlr Premium: $7.99 monthly and $4.99 monthly, payable for one year.
Platform: Online
The second BeFunky alternative is Pixlr, which is affordable for every user. Nonetheless, if your goal is to use only the Pixlr free version, you can do so, but you can only use these two features; Pixlr X - Quick and Easy Design and Pixlr E - Advance Photo Editor.
You can only explore and use all the features if you try the Premium version of Pixlr. Once you purchase that, you will have full access to Pixlr X - Quick and Easy Design, Pixlr E - Advance Photo Editor, AI Tools, Exclusive Video Tutorials, and more. Furthermore, Pixlr is a user-friendly photo editor tool that lets you edit images in just a couple of minutes.
VSCO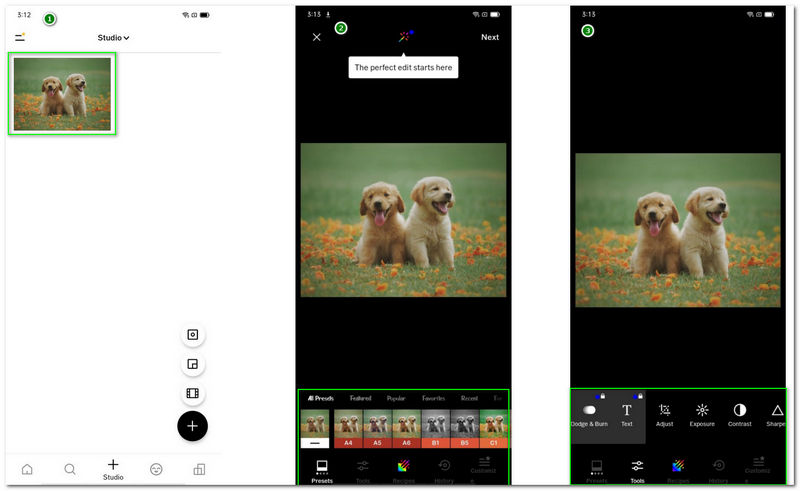 Price: Monthly Membership costs $7.35, and Yearly Membership costs $18.28.
Platform: Android, iOS
Last but not the least, an alternative to BeFunkyt is VSCO. It is downloadable for free to give you a background on the alternative photo editor app. Yes, it is an app that you can download on your mobile devices, whether you are an Android or iOS user. Furthermore, VSCO has many limitations upon using the free version.
Nevertheless, it can still provide you with basic editing, such as applying built-in Presets. In addition, you can use some Editing Tools: Add Text, Adjust, Exposure, Contrast, Sharpen, Clarity, Saturation, Tone, White Balance, Skin Tone, Vignette, Grain, etc.
4. BeFunky VS Pixlr
BeFunky

Pixlr Editor

Overall Ratings
Interface
Support Service
Platform
Online
Online
Pricing
Monthly Plan costs $9.99, and Yearly Plan costs $4.99.
Pixlr Editor Premium: $7.99 a month and $4.90 a month, payable for a year.
Supported Formats
JPG, BMP, GIF, TIF, TIFF, PNG, HIEC, etc.
BMP, GIF, PNG, JPG, HEIC, etc.
Editing Process
Fast
Fast
Editing Tools
Advanced
Advanced
Best For
It is best for editing images, like making Collages and Editing Photos. It is also best for users who want to purchase an affordable online photo editor.
It is best for professional use, yet affordable. In addition, it is best for making your images extra special.
Free Trial
7 Days
Free
Features

Edit Images
Beautify Portraits
Turn Photos into Art
Decorate Images
Create Collages
Create Design Portraits
Improve Your Productivity

Design Built-in Templates
Edit Photos
Add Animations
Remove Background
Picture Collage Maker
Add Filters and Effects

Pros or Advantages

It provides a free tool for all types of users.
It also provides many features.
It has a professional user interface.

It has an excellent user interface.
It offers built-in templates and designs.
It also offers a free version.
It has many colleges you can use for free.
It can be downloaded on mobile devices.

Cons or Disadvantages

It has limitations upon using the free version.

It has Ads while using the free version.
Its free version has limitations.

Full Review
Learn More
5. FAQs of BeFunky
Is BeFunky safe to use?
After reviewing BeFunky, we can say that it is safe to use, even the free version. You can see the full details in its Privacy Policy. But overall, all your personal and payment information is safe with them.
How can I cancel the BeFunky subscription?
If you have reasons why you want to cancel your subscription to BeFunky, you can do so. BeFunky is open to cancel your subscription anytime. To do that, go to your Account Page. Then, you will see the information about your subscription; at the bottom of that, click the Cancel My Subscription button. After that, confirm the cancellation.
Is BeFunky free?
BeFunky has a free version, and to mention again, the free version has limitations. But to enjoy all the features of BeFunky, purchase its plan that starts at 4.99. With that, there are no limitations and Ads.
Conclusion
At last, with the help of this review, we have become more familiar with BeFunky. We observe its user interface, price, and features. Also, you will read the information about its alternatives and the comparison table after the alternatives. If you think this review is helpful, you can read more uploads, and see you on the next one!
Did you find this helpful?
269 Votes
YES

Thanks for letting us know!
No

Thanks for letting us know!
AnyMP4 Video Converter Ultimate
All-in-one video converter, editor, enhancer upscaled with AI.