PicMonkey Review: A User-Friendly Image Editing Tool for Online Use
There are many ways to improve your images besides enhancing and adding filters. You can choose PicMonkey to make your images creative and unique. Plus, you can edit not only images, but you can also create invitations, templates, planners, and more. In other words, PicMonkey can be for all-time use. What are you waiting for? Read this article now and start using PicMonkey.
1. Overview of PicMonkey
What is PicMonkey?
PicMonkey is an advanced photo editor tool. It is accessible online and offers many designs and templates. For that reason, you can use PicMonkey anytime you want. This online photo editor aims to allow users to create or use the built-in templates on PicMonkey.
If you go to the official site of PicMonkey, you will notice that PicMonkey is suitable for all users. It has an excellent and straightforward user interface and shows you all the options you need, especially for editing photos. We will discuss more below, you can proceed to the next part now.
Pros

It has a clean and straightforward user interface.
It offers built-in templates and designs.
It also offers a free trial.
It provides many college layouts.
It has three subscription plans.
Cons

It requires an account.
Features 9
Built in Templates9
User Friendly9
2. PicMonkey Review
Interface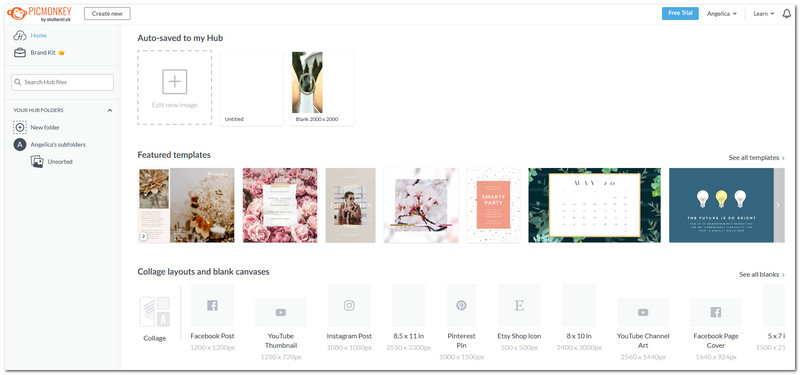 The color white brings cleanliness and simplicity. Upon seeing the user interface of PicMonkey, the color white is dominant. That is why the user interface is elegant but simple. Yes, the user interface is included as their advantage.
On the left side, you will see these options; Home, Brand Kit, Search Bar, New Folder, Subfolders, and Unsorted. Then, in the center part, you will see the built-in Templates, Collages Layouts, and Blank Canvases.
To see your Account, go to the upper right of the panel, and you will see your Name, which you use to log on, Learn and Free Trial button, and Bell Icon. That is it! You do not need to do more; with just one click, you can start editing images and more.
PicMonkey Pricing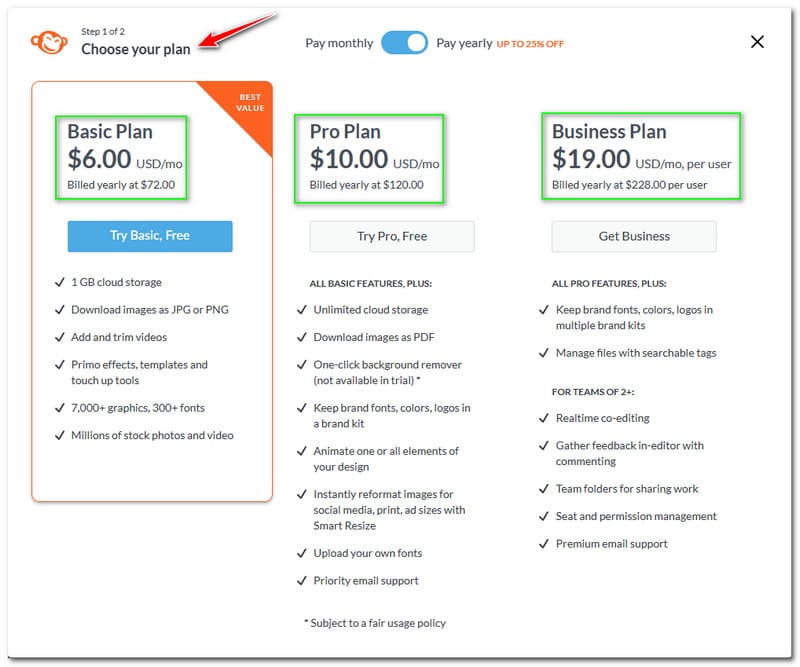 The good news from PicMonkey is it has three subscription plans. Therefore, you can choose the plan you prefer. For example, the Basic Plan PickMoney costs $6.00 monthly and is payable for a year. It has a free trial and provides 1 GB of cloud storage. You can also download photos as JPG and PNG, trim and add videos, and with more than 7,000 graphics and 300 plus fonts, and more.
If you do not want that plan, you can try PicMonkey Pro Plan. You can pay it for $10.00 monthly and payable for a year. Expect that this plan offers more features than the previous plan. Here are the features it offers; Unlimited Cloud Storage, Download Images as PDFs, Upload Your Own Fonts, Animate One or All Elements of Your Design, etc.
Lastly is the Business Plan, which is suitable for professionals, especially business persons. It costs $19.00 a year, and you can pay $228.00 for the whole year. It is way different from the previous plans. This plan includes; Realtime Co-editing, Gathering Feeback In-Editor With Commenting, Team Folders For Sharing Work, etc.
PicMonkey Customer Service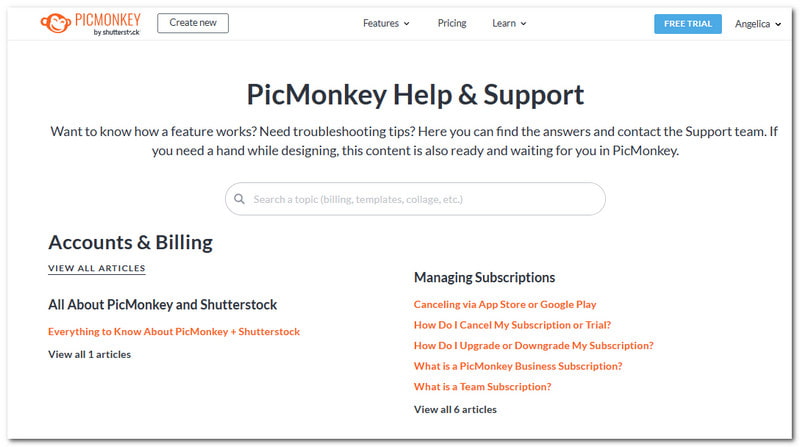 Some users always seek support from the tool. Nonetheless, please do not expect too much in the customer service of PicMonkey. This tool can give you troubleshooting tips and help you learn how the feature works. But unlike others, it will not ask for your information.
What does it mean? You cannot message PicMonkey using your email account. It only provides a Search Bar. Then, see if there are available articles about your concern. PicMonkey provides articles about; Managing Subscriptions, Payment Methods and Issues, Profiles and Personal Information, and more.
PicMonkey - Photo Editor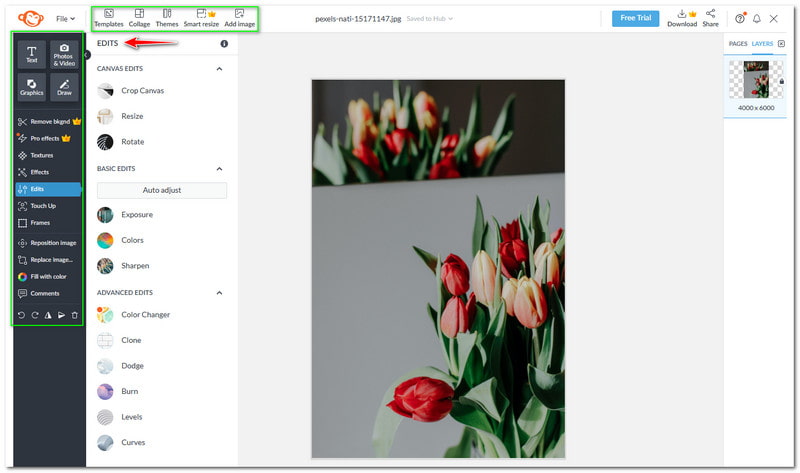 The main feature you will enjoy is editing photos in PicMonkey. You can have access to every feature and option. PicMonkey lets you add photos from Computer, Blank Canvas, Templates, Collages, Stock Photos, Dropbox, Google Photos, etc.
After adding an image, you can add Text, Photos, Video, Graphics, and Drawings. In addition, if you upload a raw image, you can add Templates, Collages, and Themes to it. What's more? You can Remove the Background, use Pro Effects, Textures, Effects, Touch Up, Frames, and more.
Many more tools are not yet mentioned. In other words, almost all you need to edit photos is in PicMonkey. You can try it now by yourself. Plus, you can purchase a plan to prevent the limitations.
Create a Collage in PicMonkey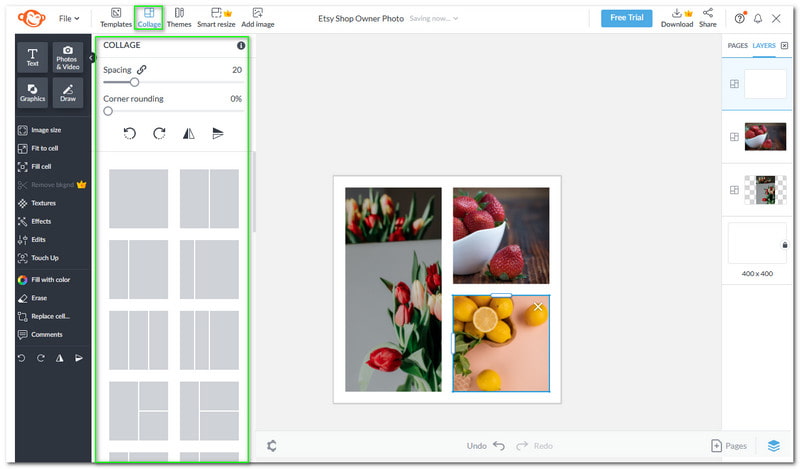 Like editing a photo, you need to add images to collage them. You need two or more photos in order to make a collage. PicMonkey lets you select a Size of Collages, like 2000 x 2000, 760 x 100, 500 x 500, and more.
After that, you can Adjust Spacing and Corner Rounding from 0 to 100. In addition, you can rotate every image on your collage layout. Plus, you can Flip Image Horizontally and Vertically. Again, you can add Background Color, Textures, Effects, Edits, Touch Up, Frames, etc.
For more image collage editor tools, you can refer to this post.
3. PicMonkey Alternative to PicMonkey
Canva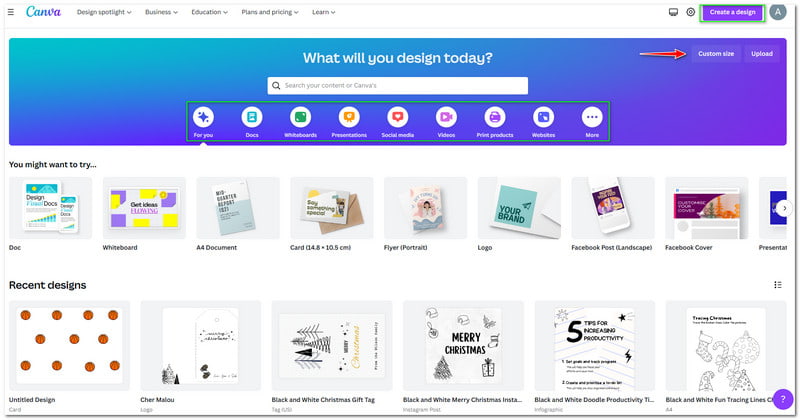 Price: Canva Pro: $42.52, Canva for Teams: $72.94
Platform: Online
A similar tool to PicMonkey is Canva. It is an advanced online tool for editing and making photos extra special using the built-in design. In addition, you can Create New Designs from Canva. For that reason, we can say that PicMonkey's alternative is Canva. Allow us to explain it further.
Canva lets you edit images using Templates with different categories, such as Food, Birthday, New Year, Blue, School, Collages, and more. Furthermore, it offers Templates for Business, Social Media, Video, Marketing, Custom Prints, Cards, Invitations, etc. there's more. You can check them out now!
Photoshop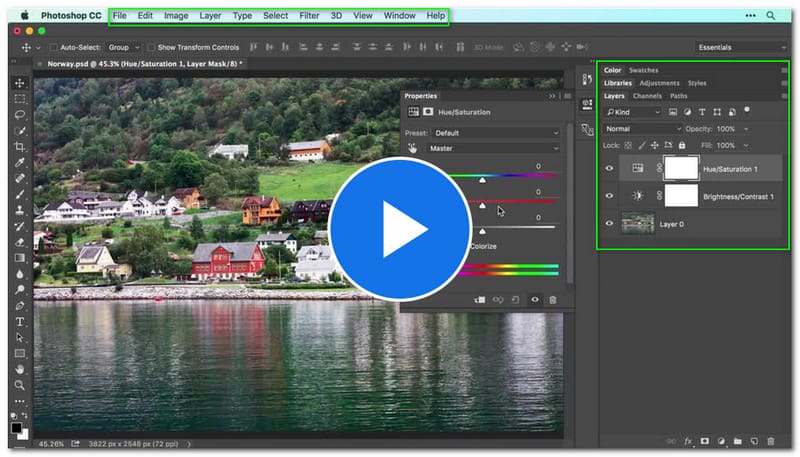 Price: Annual Paid Monthly: $20.99, Annual Prepaid: $239.88, and Monthly: $31.49
Platform: Mac
Since Photoshop is an alternative software, we can talk about PicMonley VS Photoshop. As you can see, PicMonkey is an online tool. On the other hand, Photoshop is software. To give you an idea, Photoshop is a well-known software for editing photos for professional use.
In other words, if you learn a little about editing photos, you can stick to using PicMonkey. But if you are a techy person, you can definitely use Photoshop. It offers numerous Editing Tools. Every tool you need exists in Photoshop. Plus, since it offers a lot, do not be surprised that it is too expensive.
PicCollage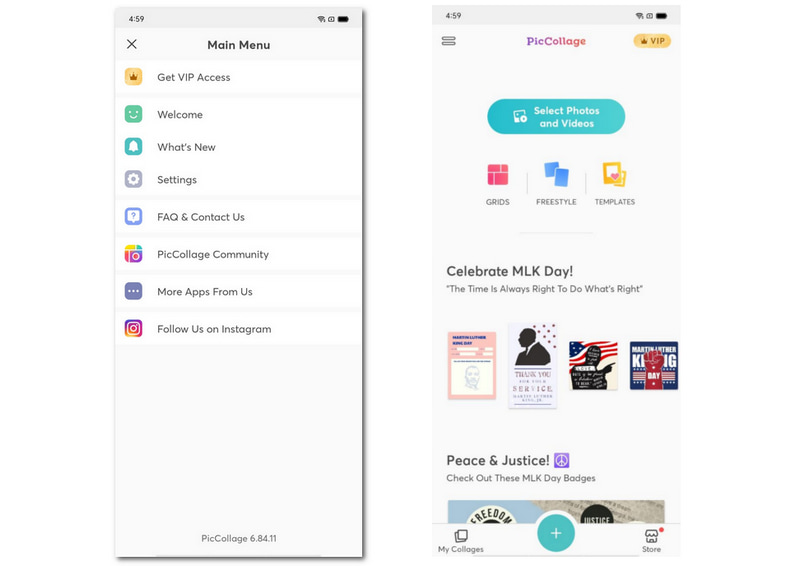 Price: $4.08 monthly and $35.00 yearly.
Platform: Windows, Mac, Mobile Devices
PicCollage is a simple app you can download on your mobile devices. In addition, it has an online version that you can access online. Moreover, PicCollage offers a free version, but you can buy its monthly or yearly plan.
It is an alternative app to PicMonkey because PicCollage is convenient. The good thing about this app is you can use it offline. It lets you select and upload images. After that, start gridding and adding Templates to photos. What else? It provides a Freestyle feature. Therefore, you can add photos and input your design using PicCollage's Editing Tools.
4. PicMonkey VS Canva
Above this part, we learned what PicMonkey is, and we understand why Canva is one of the alternatives to PicMonkey. This part will serve as another preference to see which online tool is better. A comparison table is below, and we provide additional details about the two online tools. Please see and compare them now.
PicMonkey

Canva

Overall Ratings
Interface
Support Service
Platform
Online
Online
Pricing
Basic Plan: $6.00, Pro Plan: $10.00
Canva Pro: $42.52, Canva for Teams: $72.94
Supported Formats
JPG, PNG, TIF, HEIC, BMP, etc.
PNG, JPG, BMP, TIF, TIFF, HEIC, etc.
Editing Process
Fast
Fast
Editing Tools
Amateur
Advanced
Best For:
It is best for those wanting an affordable online editing tool. In addition, it is best for beginner users and for collaging and adding templates to an image.
It is best for professionals who can buy even a costly plan. It is also best in providing you with numerous editing tools, templates, categories, and more.
Free Trial
Free
Free
Features

Edit New Image
Edit Images using Templates
Collage Photos

Edit Photos
Add Templates on Images
Create New Projects and Designs
Create Own Brand
Logo, Collage, Meme Maker, etc.

Pros or Advantages

Its user interface is clean and manageable.
It offers built-in templates and designs.
It has a free version.

It offers many categories.
It also offers various templates and layouts.
It provides new and many designs.

Cons or Disadvantages

It is a must to create an account.
It has limited features.

It is too costly.
Using a free version, the output file has a watermark.
Based on the comparison table, we see that Canva excels in many elements. However, its disadvantage is that Canva is too expensive. To justify that, even though Canva is more costly than PicMonkey, you will experience numerous features, editing tools, and more that are worth your money.
5. FAQs of PicMonkey
How to cancel the PicMonkey subscription plan?
If you decide not to continue the plan you bought in PicMonkey, you can cancel it anytime. To do that, you will see your Username in the right corner. Tap that, and you will see the Manage Your Account button. Go to the Billing part, and you will see what plan you subscribed to. Now, select the Cancel Membership button and confirm your decision.
Is PicMonkey free and safe to use?
As mentioned, PicMonkey has a free version. For that reason, you can use PicMonkey without paying anything, but it has limitations. Nonetheless, you can purchase one of its plans, which starts at $4.08.
How to delete the PicMonkey account?
To deactivate or delete your account on PicMonkey, click your Username and tap the Manage Your Account option. In the General part, you will see your personal information. On the bottom, select Delete Account and confirm your decision.
Conclusion
After reading this review, we have learned not just one but four tools with their details, especially the main features. Now, you can choose what tool or software you want to use for your photos. We discuss their price and where they are compatible. If you like this review, we will upload more and see you again with that post!
Did you find this helpful?
310 Votes
YES

Thanks for letting us know!
No

Thanks for letting us know!
AnyMP4 Video Converter Ultimate
All-in-one video converter, editor, enhancer upscaled with AI.