Lunapic Review: Use This Online Editing Tool For Free
Most of the misconceptions of many is to create a stunning photo, you must have professional tools. Users tend to force themselves to buy an expensive editing tool or software. Little did they know there is a free online editing tool that offers numerous features without limitations. Is that possible? Upon reading this review, you will confirm that Lunapic can satisfy you by creating an aesthetic and unique image.

1. Overview of Lunapic
What is Lunapic?
Lunapic is known as a photo editor online, and it is famous for offering a free version. Nevertheless, since it is free to use, you will experience Ads on the official website. The good thing about this online tool is you do not have to sign up and log in to them. Most significantly, you do not need to download and install the software.
So, what is the benefit of using a free online editing tool? You will save not only money, but you can also save a space on your desktop. Furthermore, this review will help you know more about Lunapic. Please continue reading now!
Pros

It is a free online editing tool.
It does not oblige you to sign up and log in.
It offers more than 200 effects.
It also offers numerous features.
It is easy to upload photos.
Cons

It has Ads on the official website.
Its user interface is not too appealing.
Interface8
Features8.5
Editing Tools 8.5
2. Lunapic Review
Interface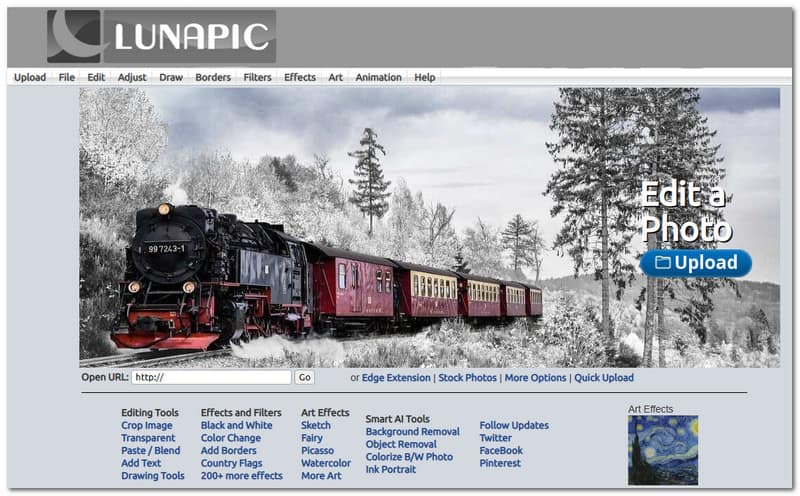 One of the disadvantages of Lunapic is its user interface. As always stated in our previous reviews, the user interface is significant for every tool or software because it can make the user use the tool more.
Furthermore, you can see that Lunapic has a basic user interface. But the good thing about Lunapic is that it is manageable to use. In short, despite the basic user interface, you can use this online tool easily.
On the upper left side, you will see the options like Upload, File, Edit, Adjust, Draw, Borders, Filters, Effects, Art, Animation, and Help. Below that, you will see the Uploading Corner. Moreover, the other features are at the bottom: Editing Tools, Effects and Filters, Art Effects, and Smart AI Tools.
Lunapic Photo Editor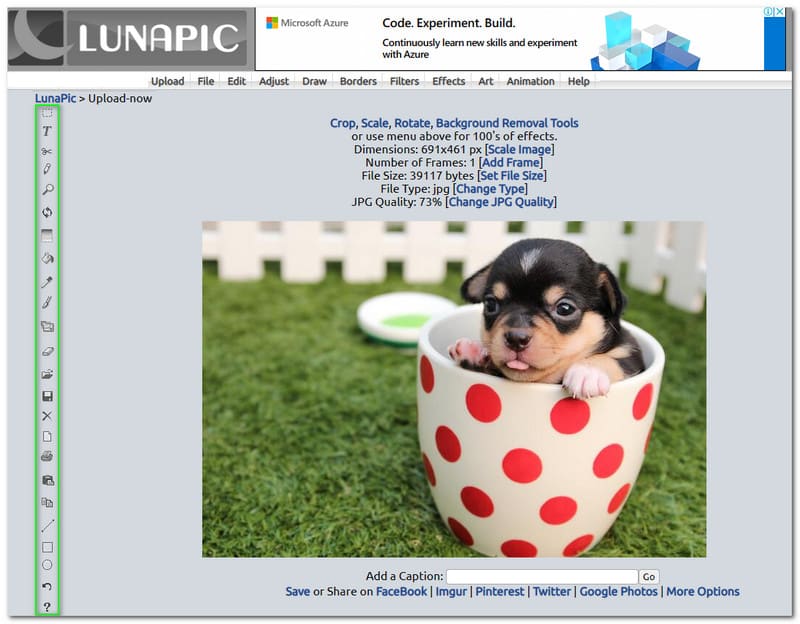 Lunapic shows you the details of the photo first before editing it. For example, here are the details of the photo we uploaded. The Dimension is 691 x 461 px, the Number of Frames is 1, the File Size is 39117 bytes, the File Size Type is JPG, and JPG Quality is 73%. You can change that by tapping Scale Image, Add Frame, Set File Size, Change Type, and Change JPG Quality to upscale images to 4K, even 8K.
There's more; you can also use these tools, such as Text, Cut Out, Drawing, Zoom In, Rotate, Add Gradient, Paint Bucket, Eye Drop Color Picker, Painting Tool, Eraser, etc. Overall, we can conclude that although Lunapic is simple, it has many tools you can use for your images.
Add Text on Lunapic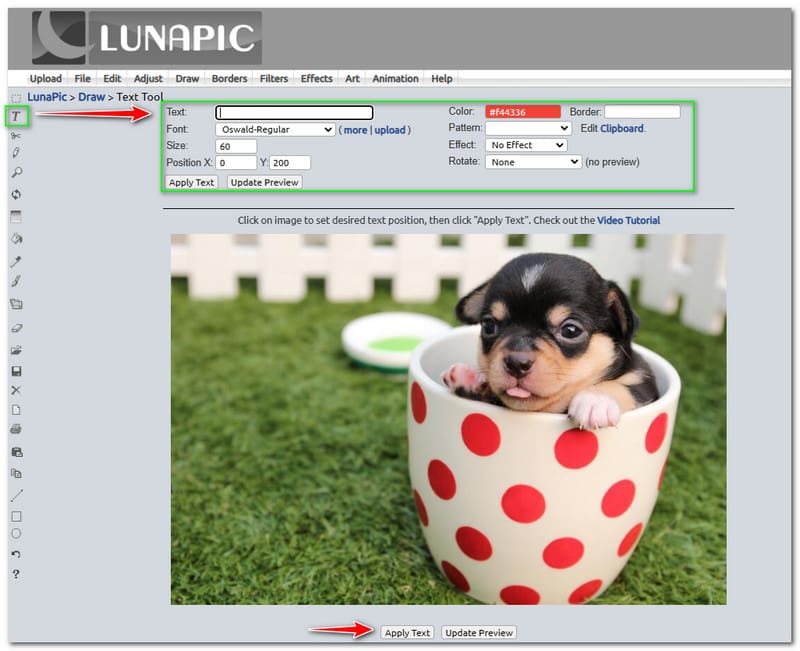 Adding text to your image can make a big difference; it can emphasize the photo well. For that reason, you can use Lunapic to Add Text to your images, and to do that; you need to upload the image first from your computer.
You will see the Text Tool on the left side and click it. Now, Lunapic lets you type on the Text Box. However, it will not yet appear in the photo unless you tap the Apply Text button on the latter part of the panel. Before applying the Text, you can change the Font, Size, Position, Color, Border, Pattern, etc. After the changes, you can now click the Apply Text button.
Apply Filters, Effects, and Art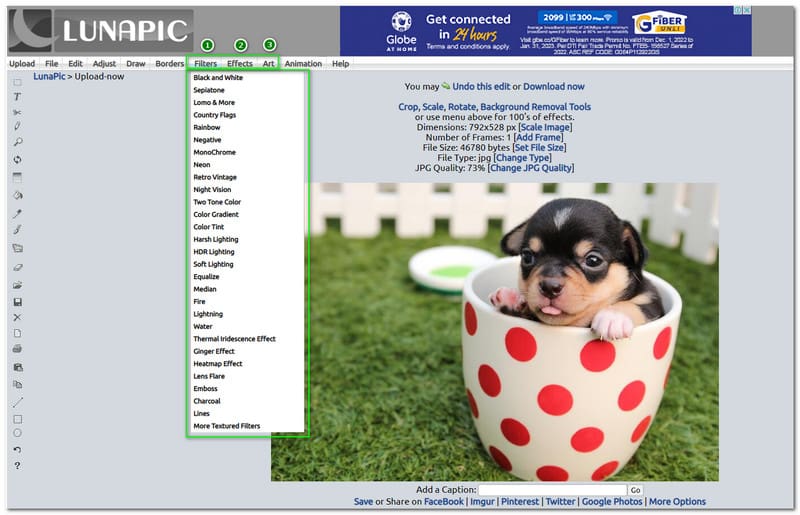 Make your images more stunning by applying filters, effects, and art using Lunapic. After uploading your photo, you will see the Filter, Effects, and Art buttons in the upper corner. When you tap the Filter button, you can add these filters; Black and White, Sepiatone, Country Flags, MonoChrome, Retro Vintage, Night Vision, HDR Lighting, etc. But take note you can only apply one filter to your image.
Next, the available Effects you can apply on your images are; Blend Two Images, Gradient Blend, Masking Blend, Photo Spread, Valentine's Day Effects, Color Bars, Color Glitch, Custom Collage, Obama Style Poster, and more.
Then on the Art corner, you can add Newest Art Effects, Artist Collage, Example Art, Sketch 2, Scribble, Escher, Dreaming, Floating, Smoke, Watercolor, Fantasy, Abstract, Landscape, Night, Paper Folding, and more. After adding effects, click the Save button to save it on your computer.
3. Lunapic Alternatives
BeFunky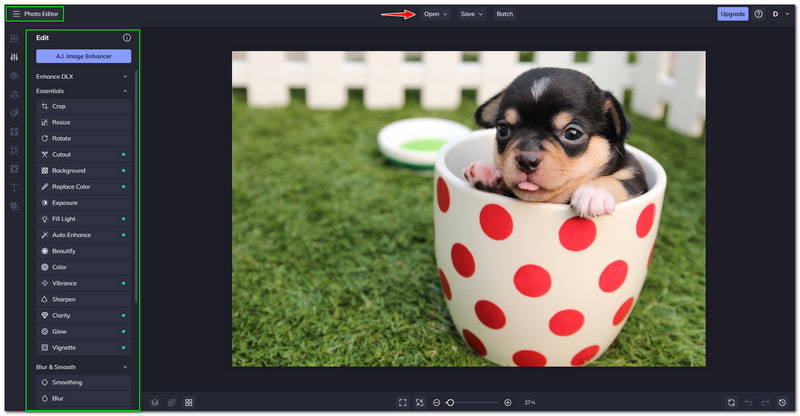 Price: $9.99 a month and $4.99 a month, payable for a year.
Platform: Online
One of the best alternatives to Lunapic is BeFunky. Unlike Lunapic, this online tool has a better user interface. You will feel like a pro while using BeFunky. In addition, before editing an image, you will see its official website. It describes the features you can use.
Supposing you want to edit images, you can go to its Photo Editor. It allows you to upload images from your Computer, BeFunky, Google Drive, Google Photos, or your existing project on BeFunky. You can Crop, Resize, Rotate, Cutout, Replace Color, Fill Light, Auto Enhance, and many more.
Canva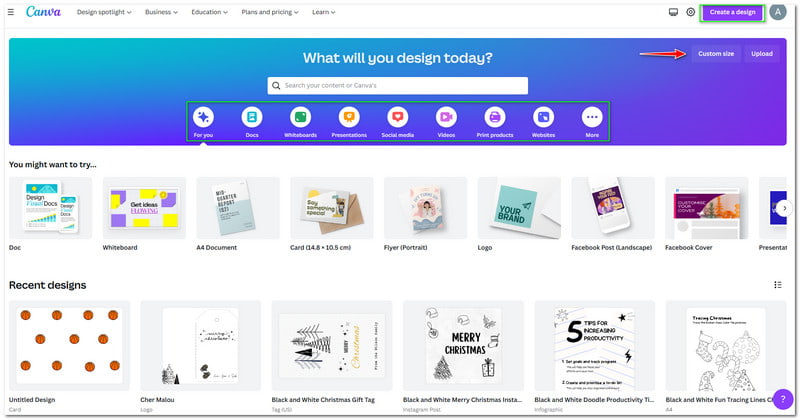 Price: Canva Pro: $42.52, Canva for Teams: $72.94
Platform: Online
Next to BeFunky is Canva and which is another alternative to Lunapic. Canva also has a beautiful and manageable user interface. You will appreciate every corner of the official site, and the colors match.
Moreover, the options are also visible, such as Home, Template, Projects, Brand, Content Planner, Discover apps, etc. One thing that we love about Canva is when you need an urgent template, just search on their Search Bar, and you will see results based on what you want your needs to be. You just need a little bit of editing, and after that, you can Save the output.
Pixlr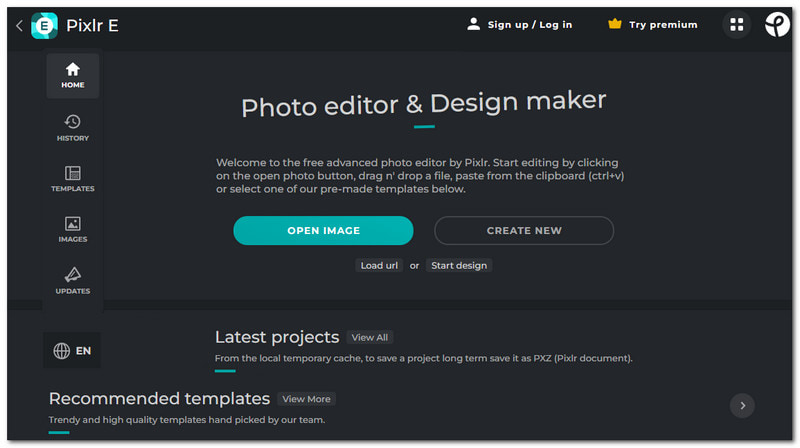 Price: Pixlr Premium: $7.99 monthly and $4.99 monthly, payable for one year.
Platform: Online
The last alternative to Lunapic is Pixlr; this online tool provides you with many options to edit your images. It offers Pixlr X, which focuses on Quick and Easy Design, Pixlr E, which focuses on Advanced Photo Editor; and Photomash Studio, which focuses on One0Clik Visual Creator.
Nevertheless, if you are using a free version, you can only use Pixlr X and Pixlr E. Therefore, if you want to use all the features of Pixlr, you can purchase the Premium version, and the price starts at $4.99. In addition, Pixlr also has an excellent user interface and can edit your images like a pro.
4. Lunapic VS Pixlr
Let us proceed to the next part, where we will compare Lunapic to Pixlr. But before that, we want to remind you that Lunapic is 100% free without limitations using the features. On the other hand, Pixlr offers a free version with a limit upon using its features. To know more between the two online editing tools, please see the comparison table.
Lunapic

Canva

Overall Ratings
Interface
Support Service
Platform
Online
Online
Pricing
Free.
Canva Pro: $42.52, Canva for Teams: $72.94.
Supported Formats
JPG, PNG, HEIC, GIF, BMP, etc.
PNG, JPG, BMP, TIF, TIFF, HEIC, etc.
Editing Process
Moderate
Fast
Editing Tools
Moderate
Advanced
Best For
It is best for beginner users looking for a 100% free online editing tool, which is best for adding filters, effects, art, etc.
It is best for professionals who can buy even a costly plan. It is also best in providing you with numerous editing tools, templates, categories, and more.
Free Trial
Free
Free
Features

Crop Image
Background Remover
Paste and Blend
Add Text
Drawing Tools
Apply Filters and Effects
Add Art Effects
Additional AI Tools

Edit Photos
Add Templates on Images
Create New Projects and Designs
Create Own Brand
Logo, Collage, Meme Maker, etc.

Pros or Advantages

It offers a free version.
It also offers a free drawing tool.
It lets you edit images online.
It also lets you use built-in templates.
It provides up to 200 effects.

It offers many categories.
It also offers various templates and layouts.
It provides new and many designs.

Cons or Disadvantages

It has Ads on every corner of the official site.
It has a very basic user interface.

It is too costly.
Using a free version, the output file has a watermark.
Based on the ratings we have read on the comparison table, Pixlr stands out. Nevertheless, we cannot deny that Lunapic offers numerous features without limitations for free. Now, you can decide which online editing tool you will use to edit and enhance your images.
5. FAQs of Lunapic
Is Lunapic safe even though it is free?
According to Lunapic's Privacy Policy, using the tool is safe. Once you upload your photos and edit them, Lunapic will delete the uploaded images after the editing process is finished. Therefore, you do not need to have a problem with your uploaded pictures.
How to delete the uploaded images on Lunapic?
Your images will prolong the images you upload once you share the edited image to other social media platforms. To delete the uploaded photos permanently, go to the File corner. After that, click the Close Image. Or, on your computer's keyboard, tap CTRL plus X. Then, confirm the deletion.
Do I need to sign up to use Lunapic for free?
Luckily, Lunapic does not require you to sign up for them. For that reason, you can fully use Lunapic and its features automatically once you are on the official website. Therefore, there are no hassles.
Conclusion:
Lunapic is the online editing tool we can consider, especially for using it 100% free. We have known that it is free, yet it does not have limitations. Therefore, anyone can use Lunapic and all its features. It may not have an excellent user interface, but it does have the tools to edit images. In addition, you have discovered the alternatives and more. To end, we will see you again in our next post!
Did you find this helpful?
371 Votes
YES

Thanks for letting us know!
No

Thanks for letting us know!
AnyMP4 Video Converter Ultimate
All-in-one video converter, editor, enhancer upscaled with AI.