iLoveIMG Review: Make Images Unique Using Its Editing Tools
Often, we notice that our photos are boring. The solution we can see is to make a difference by editing images. You do not need to become professional in editing photos, and you can improve your editing skills using iLoveIMG. It offers tools and features you can use for free. To have enough information about iLoveIMG, try it now!
1. Overview of iLoveIMG
What is iLoveIMG?
iLoveIMG is popular, especially in converting and editing images. It helps the users to make their photos efficient in a different manner. In addition, you can use iLoveIMG online, which lets you upload photos for editing and enhancement.
Moreover, you can compress, resize, crop, convert, and edit images using several features. There's more, and we will discuss the prominent features of iLoveIMG in the next part. In addition, you will also enjoy using batch processing. It means you can convert one or more photos at one time.
Furthermore, do not be too concerned with your privacy because iLoveIMG secures all your uploaded images. Now, let us proceed to the advantages and disadvantages of iLoveIMG; you will surely learn more!
Pros

It provides bulk features for free.
It also provides editing tools.
It is user-friendly and manageable to use.
It supports many file formats.
Cons

Signing up and logging in is required.
Its free version has limitations in document processing.
Also, its free version has Ads.
Interface9
Features9
Supported File Formats8.5
2. iLoveIMG Review
Interface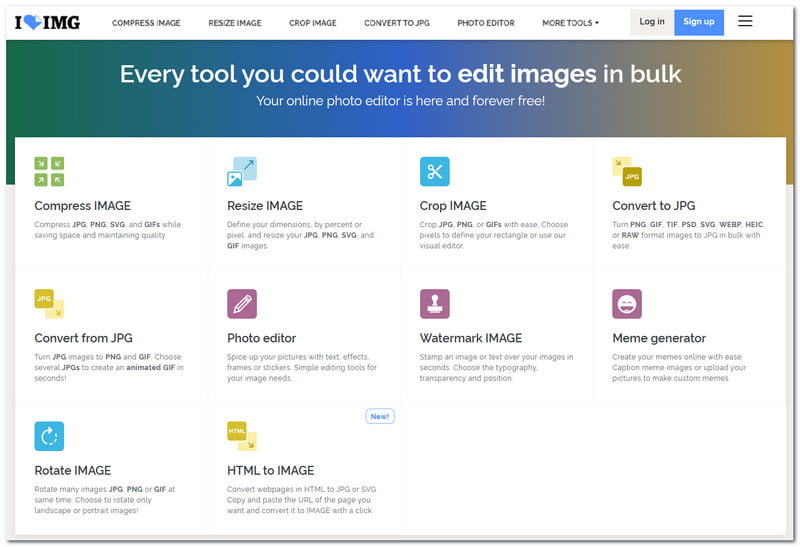 They always say that the user interface does not matter, but it is. If the user interface of a tool is not manageable, you will not enjoy using the tool. But if the user interface is user-friendly, you can easily use it, especially if the features are visible.
Like iLoveIMG, its user interface is super sleek. When you tap All Image Tools, you will see Compress Image, Resize Image, Crop Image, Convert to JPG, Convert from JPG, and more. In addition, you will see more in the middle of the user interface.
In other words, if you are still getting familiar with using iLoveIMG, you will always be fine with that. Again, the user interface will always matter because that will depend on how fast you finish your output.
iLoveIMG Pricing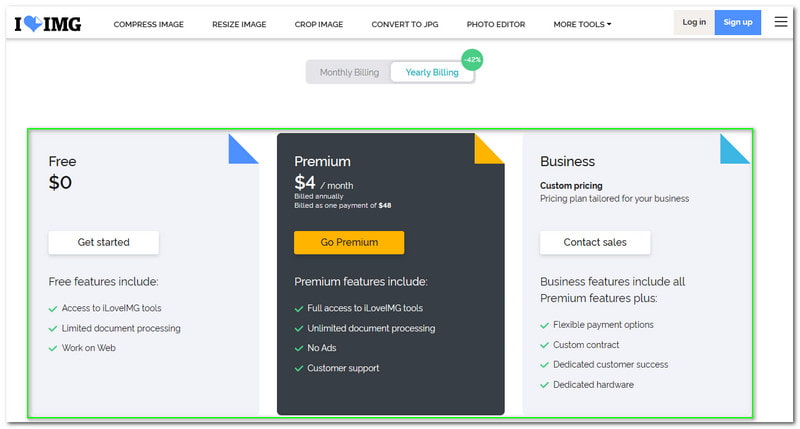 As you notice in the photo above, the free version obviously costs nothing. Using the free version, you will have access to iLoveIMG tools with limited document processing and works on Web.
Let us discuss the next plan, the iLoveIMG Premium version. You can pay it for $4.00 a month for yearly billing. It lets you have full access to iLoveIMG tools and does not have limitations upon processing documents. In addition, you will not experience Ads, and you can contact customer support. Upon reviewing the iLoveIMG Premium price, we can safely say it is worth buying.
Lastly and the unique part about iLoveIMG is it has a business plan. How much does it cost? Well, it does not have a price yet, and you will be the one who will create a price for it because it is Custom Pricing.
That means you will have a custom contract, dedicated customer success, and hardware. Plus, you will control the price because of the flexible payment options. You can click the Contact Sales button to know the price and communicate with iLoveIMG.
iLoveIMG Converter - Photo Converter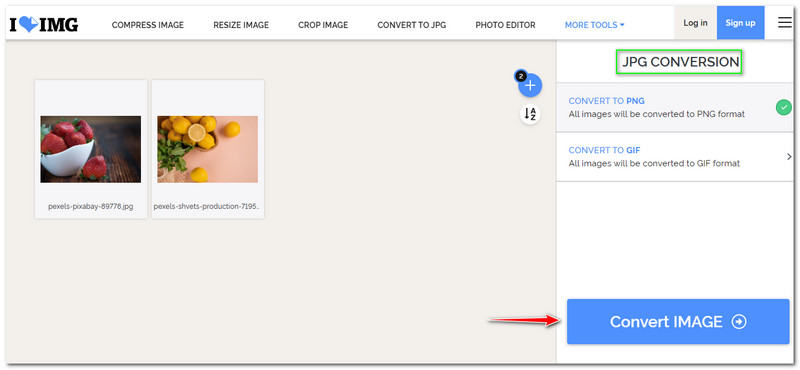 Convert From JPG is a feature in the middle of the user interface. It is easy to understand; you just need to upload JPG file format images and convert them to PNG or GIF. You can add an image from your computer, Google Drive, and Dropbox. Or, you can drag and drop the images in the middle corner.
After adding one file, you can also add one more file by tapping the Plus Icon. Again, iLoveIMG will let you choose whether you convert JPG to GIF, or HEIC to GIF. The last part you can do is click the Convert Image. That is it! As we have told you, it is very manageable to use.
Resize Image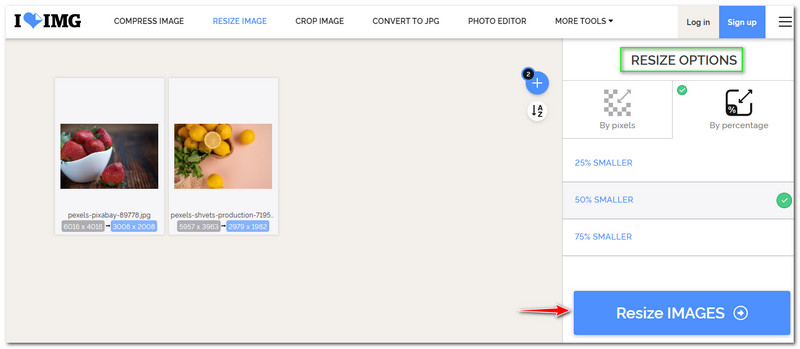 The next feature of iLoveIMG that we want to highlight is the Resize Image. It is included in the free version and allows you to resize images by batch. Before resizing, iLoveIMG shows you the original size of your image.
As you can see, the original sizes of the photo we uploaded are 6016 x 4016 and 5957 x 3963. iLoveIMG provides Resize Options, and you can resize images By Pixels and By Percentage. When you choose the By Pixels Icon, input the Width and Height you like.
You can also tick the Maintain Aspect Ratio or Do Not Enlarge if Smaller option. On the other hand, when you choose By Percentage Icon, your choices are 25% Smaller, 50% Smaller, and 75% Smaller. After resizing, you can now click the Resize Images button and save the output on your computer. More image resizers can be found in this post.
iLoveIMG Photo Editor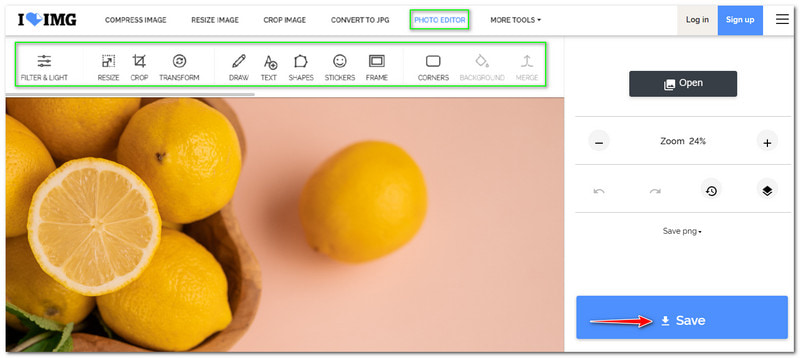 Another feature of iLoveIMG that you will surely love is the Photo Editor. It is one of the primary features of iLoveIMG, and it is very convenient from the interface panel up to saving the output file.
After selecting the photo you want to edit, iLoveIMG lets you use all the Editing Tools, such as iLoveIMG Crop, Resize, Filter and Light, Transform, Draw, Text, Shapes, Stickers, Frame, Corner, etc. In addition, on the right corner, you can Zoom In and Zoom Out from 1% up to 100% of the photo to see more details.
For example, if you want to Add Text to your photo, just select the Text button and type the word; you can change the text color, as well as the size. Furthermore, it is also for you to decide if you want to save your output file in JPG or PNG file format. Lastly, click the Save button.
iLoveIMG Meme Generator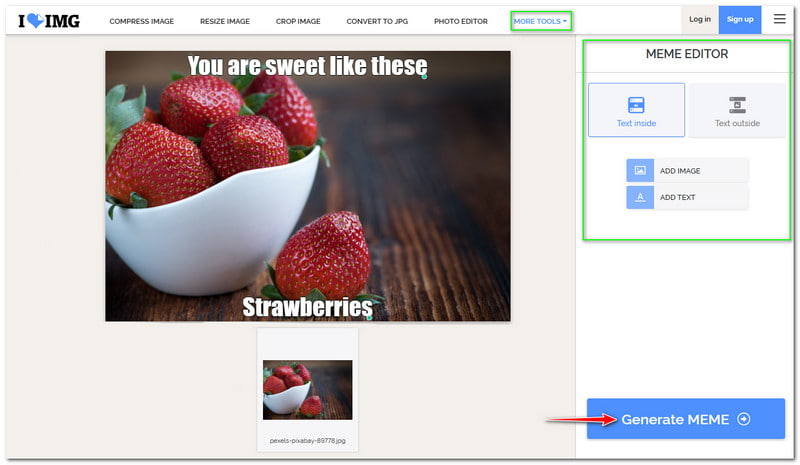 A Meme Generator is a unique feature of iLoveIMG. Because of social media, you can see a lot of memes, and instead of saving those photos, why don't you create your meme photo? Using the Meme Generator of iLoveIMG, you can easily create a meme photo. How? Just add your desired image to the Meme Editor.
The primary tool you need for a meme photo is adding text. Upon adding text, you can Add Text Inside or Add Text Outside. Aside from adding text, you can also Add Images. You can see our picture sample above. If you are satisfied with the outcome of your photo, save it by clicking the Generate Meme button.
3. Alternatives to iLoveIMG
AnyMP4 PDF JPG Converter Online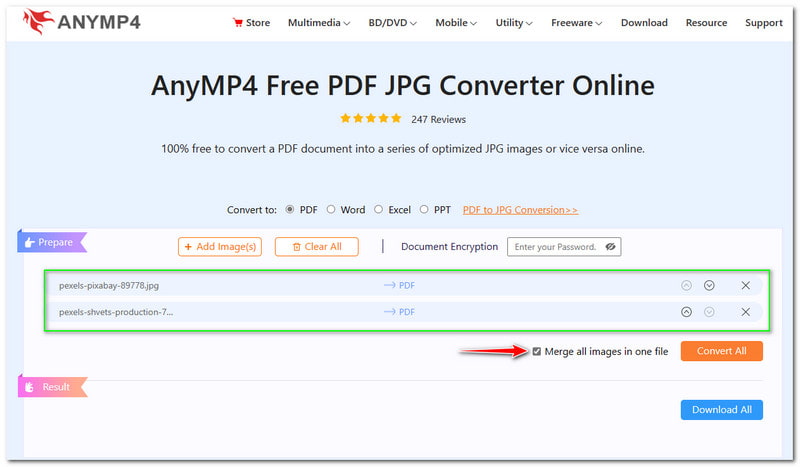 Price: Free
Platform: Online
If you seek an alternative that, aside from editing images, can also convert image formats, AnyMP4 PDF JPG Converter Online is built for you. This tool can satisfy you by converting files to JPG. It allows you to upload 40 times daily with a maximum of 50 MB.
After the conversion process, you will automatically see the result in the Result corner. For that reason, AnyMP4 PDF JPG Converter Online lets you Download the entire files your convert. Yes, this tool supports batch processing.
IrfanView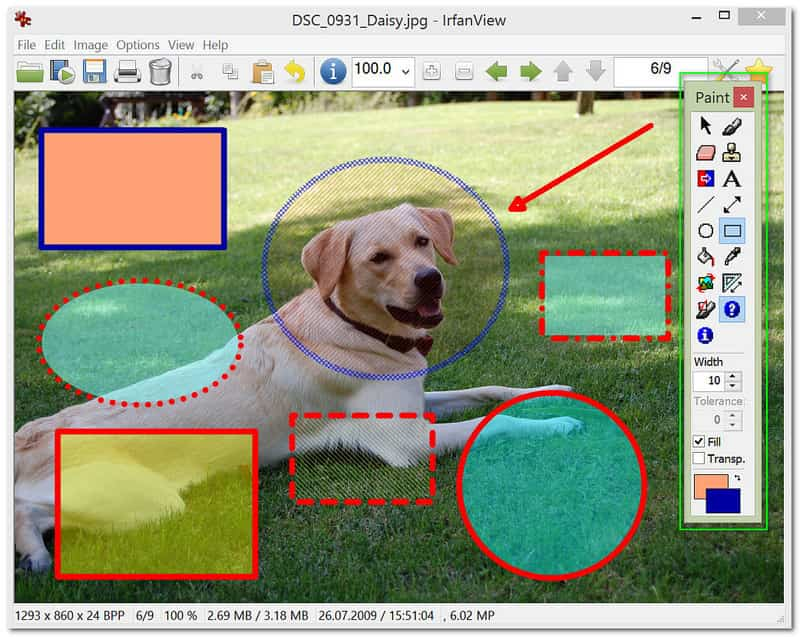 Price: Free
Platform: Windows, Mac
If you need software that can edit photos, you can use IrfanView as an alternative software to iLoveIMG. It offers various editing tools and also offers a free version. You can download and install software on your Windows or Mac.
Moreover, to edit photos, you can use its built-in paint, which lets you add Text, Shapes, Lines, Arrows, colors, etc. In addition, you can adjust the Width and Tolerance. What else? It also provides photo Filters and Transitions, such as Page Curl, PopArt, Vignette Corrector, SmartCurve, and more.
Img2Go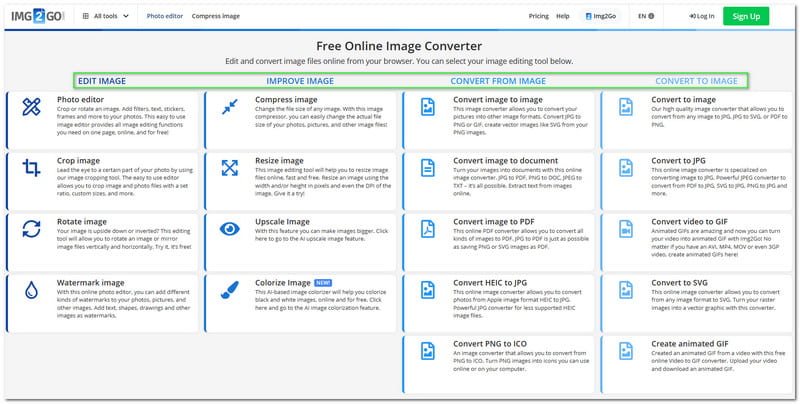 Price: Free
Platform: Online
Img2Go is an excellent tool, and you can use it as an alternative to iLoveIMG. It has features that do not exist in iLoveIMG, and you can use them for your following editing process. Here they are; Upscale Image, Colorize Image, Watermark Image, Create Animated GIF, etc.
Nonetheless, before using Img2Go, you must log in to them. The benefit after doing that is you will access almost exclusive features. That will lessen the limitations of what you are about to experience, just in case you did not log in.
4. iLoveIMG VS Img2Go
Paragraphs are not enough to compare two online tools. For that reason, we create a comparison table, allowing you to see the difference between the two. Again, both can be used as free to edit and convert images.
iLoveIMG

Img2Go

Overall Ratings
Interface
Support Service
Platform
Online
Online
Pricing
$4.00 a month, for yearly billing.
Img2Go Professional: $6.50.
Supported Formats
JPG, SVG, PNG, GIF, TIF, PSD, HEIC, WEBP, etc.
JPG, GIF, SVG, PDF, PNG, DOCX, AVI, MP4, etc.
Conversion Speed
Fast
Fast
Editing Process
Moderate
Advanced
Best For
It is best for editing photos and converting them to another file format. Plus, it is best for meme generators.
It is best for editing, converting, and enhancing images. Also, it can convert PDFs as well as audio.
Free Trial
Free
Free
Features

Compress Image
Resize Image
Crop Image
Convert to JPG
Photo Editor
Watermark Image
Meme Generator

Photo Editor
Compress Image
Crop Image
Resize Image
Upscale Image
Colorize Image
Rotate Image

Pros or Advantages

It has several features to offer.
It also has many editing tools.
It supports many file formats.

It is user-friendly.
It also offers a lot of features and editing tools.
It has a free version.

Cons or Disadvantages

It has limitations upon using the free version.
It has Ads while using it.

You must sign up for Img2Go.
5. FAQs of iLoveIMG
Is iLoveIMG safe?
We can confirm the safety of iLoveIMG when we visit its Security and Privacy Policy. Moreover, we already do that for you, and our verdict is that iLoveIMG is safe to use. Stay calm if you upload images on iLoveIMG because their system will delete the uploaded files after two hours, which is how they protect your data.
Does the quality of my images compress after editing?
No. iLoveIMG will maintain the quality of your images, whether you will edit or convert your file.
Does iLoveIMG provide customer service in the free version?
If you are using the free version of iLoveIMG, you can contact them by submitting a message. In short, you will also provide your personal information.
Conclusion
After becoming aware of iLoveIMG's advantages, disadvantages, and features, including prices, and alternatives, we would like to read your feedback. We are curious if you have learned a lot or have any suggestions we can include in our next article. We will see you again!
Did you find this helpful?
341 Votes
YES

Thanks for letting us know!
No

Thanks for letting us know!
AnyMP4 Video Converter Ultimate
All-in-one video converter, editor, enhancer upscaled with AI.