VSCO App Review: Edit Photos With Built-In Presets
Are you tired of using software to edit images? Well, if that is the case, you will change your software into an app. There are many photo editing apps, one of which is the VSCO app. It is suitable for Android and iOS devices. To know more about the VSCO app, this is a comprehensive review we have prepared for you; you can start reading now!

1. Overview of VSCO App
What is VSCO App?
VSCO is an app that can make your photos aesthetic. It is excellent to provide filters on your photos before uploading them to social media. This review will focus on the VSCO app; therefore, since it is an app, you need to download it on your mobile devices, which is suitable for Android and iOS devices.
Aside from the Filters, VSCO provides various effects allowing you to become creative. Furthermore, VSCO is a photo editor app that you can download on the Web, Apple Store, and Google Play Store. So much with that, let us start reviewing VSCO's advantages and disadvantages below:
Pros

It has a free version you can use every day.
It has a straightforward user interface.
It provides many filters.
It provides clean preset and editing tools.
Cons

It lags, especially when editing.
There is a big change in the new update.
Its free version is too limited.
It does not allow you to see who likes your uploaded images.
Interface8.5
Features8.5
Editing Tools 8.5
2. VSCO App Review
Interface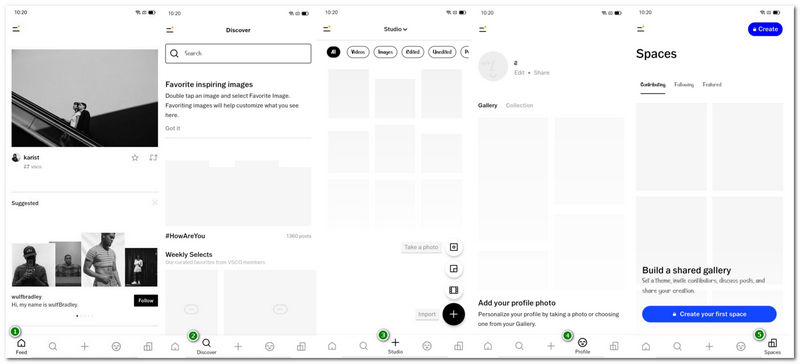 VSCO app has a straightforward user interface. As you see in the photo, we provide five screenshots: the interface of VSCO from Feed, Discover, Studio, Profile, and Spaces. From Feed to Spaces, you will notice that the color of the interfaces is white.
In the Feed part, you will see other people's uploads, and you can scroll anytime you want. Moreover, you can tap the Star Icon if you want to add the photo you see on Favorites. You will see the Search Bar and the Search Icon in the Discover part. Plus, Hashtags Content.
On the Studio part, you will see the options, such as All, Videos, Images, Edited, Unedited, Published, and Unpublished. Below are options like Take a Photo, Collage, Montage, and Import. The next part is the Profile; you can see your Gallery and Collection. And lastly, the Spaces part is where you can see the Contributing, Following, and Featured. Moreover, you can create your own first space.
Pricing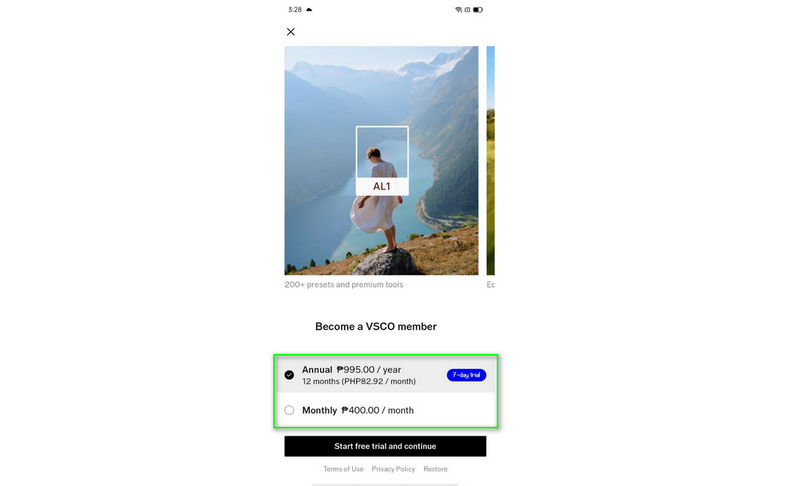 One of the advantages of VSCO is they offer a free version. You can use this anytime and anywhere you want. Nonetheless, it does not have an exclusive feature. Therefore, it is limited to features and editing tools.
Furthermore, this part will explain how to join their membership, and we will discuss its price. I guess you are ready to know, so let us start now. To become a VSCO Member, you must purchase one of their subscription plans, and VSCO offers two subscription plans.
The first plan is VSCO Membership Monthly; you need to pay $7.33 per month for this plan. However, it does not offer a trial version, but the good thing is you will access all the features of VSCO. The next plan is VSCO Membership Annual, which costs $18.23, payable for a year, and offers a seven days trial.
Supposing you do not want to use and pay for VSCO anymore, do not worry because VSCO lets you cancel your subscription plan anytime. The question is, does the price worth it? We will know the answer after we discuss other features.
Import and Edit Images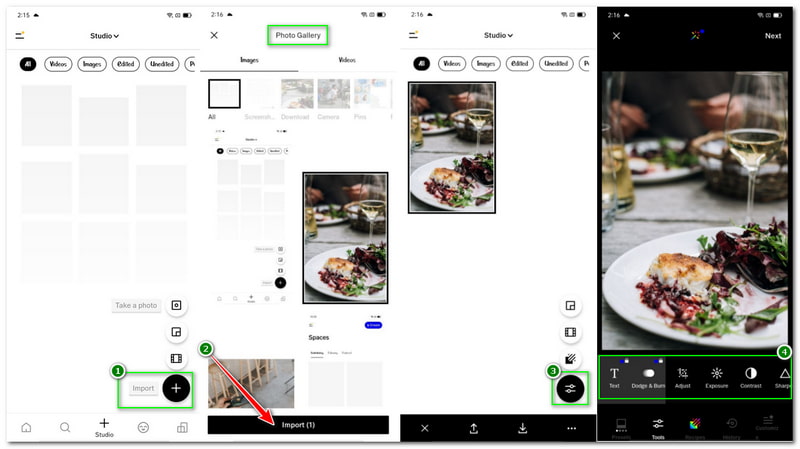 Since VSCO is one of the professional photo editor apps, some users thought it was not easy to use, but it is not. It is manageable to use, and you will see all the options immediately. Before adding an image, you will see options like Take a Photo, Collage, Montage, and Import.
If you will edit an image, VSCO allows you to add an image by clicking the Import and Plus Icon. In addition, you can add Videos if you want. However, since we are talking about images, add the image you want to edit.
Furthermore, you can choose if you want to Add Presets to your image. The choices are; A4, A5, A6, and so on. You can also use the Editing Tools to create changes to your photo; you can Add Text, Adjust, Exposure, Contrast, Sharpen, Clarity, Saturation, and more.
As you notice, all the Editing Tools and Presets we mentioned are basic. Why? Because you can only use the basic Presets and Editing Tools if you use the free version of VSCO. For that reason, you will experience more features and tools once you join the VSCO Membership. Nonetheless, its free version is not that bad, so you can try it now!
Create with Collage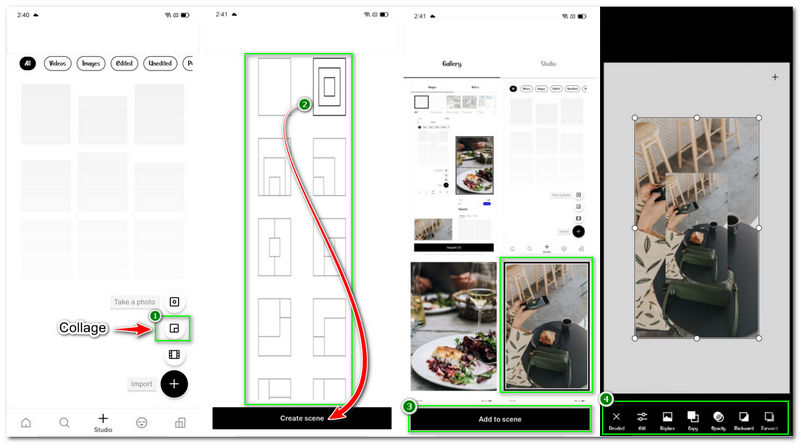 In this next part, let us discuss another feature of VSCO, which is that you can create a Collage using the app. When adding an image, you must be in the panel of Studio. This photo collage maker lets you create a collage when you select the Collage Icon.
Moreover, if you are a free version user, you can use this feature using the trial version. However, when the free trial ends, you will no longer use this feature unless you join the membership of VSCO.
For the free version users, it offers ten free Collage Layouts. Once you select a Collage Layout, you can click Create Scene. Now, it is time to add images. You can see images by tapping the Plus button on every Layout. You can also add Canvas, Media, and Shape.
The good thing about this feature is you can edit the image you added. Every image is editable and moveable. You can edit by adding Presets, Use Editing Tools, and more. What else? You can Copy the photo and Paste it into another Layout. Plus, you can edit the Opacity and change the Background. Again, while using the free version, you will experience limitations.
How to Use VSCO?
In this part of the article review, we will show you some steps to use the VSCO app. If you are unfamiliar with and new to VSCO, this is the perfect time to learn how to use VSCO properly. All you need to do is take note of all the steps correctly; please see the steps below:
1.
After downloading and installing the VSCO app, it has five options on the bottom part of the panel app, which are the Feed, Discover, Studio, Profile, and Spaces. To edit an image, tap the Studio button or Plus Icon.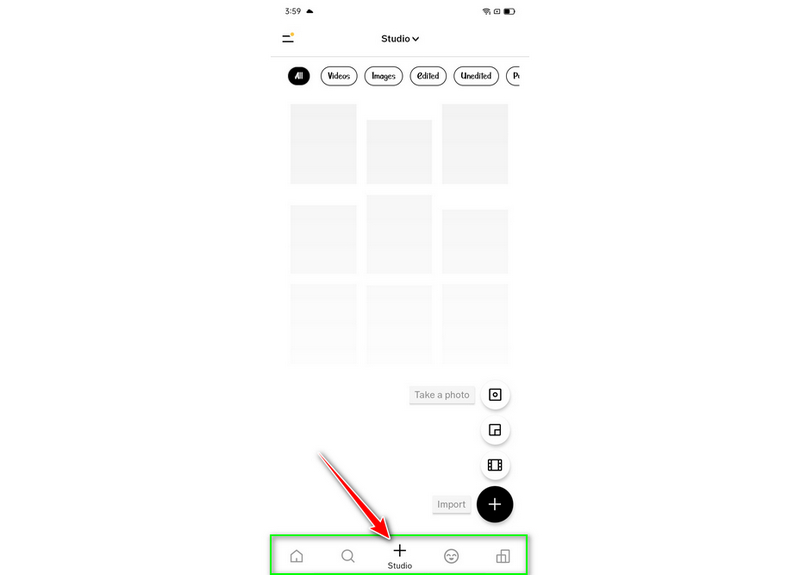 2.
Select the Import button and choose the image you prefer to edit. Then, click the Enhance Icon, and you will proceed to the next window, the editing panel.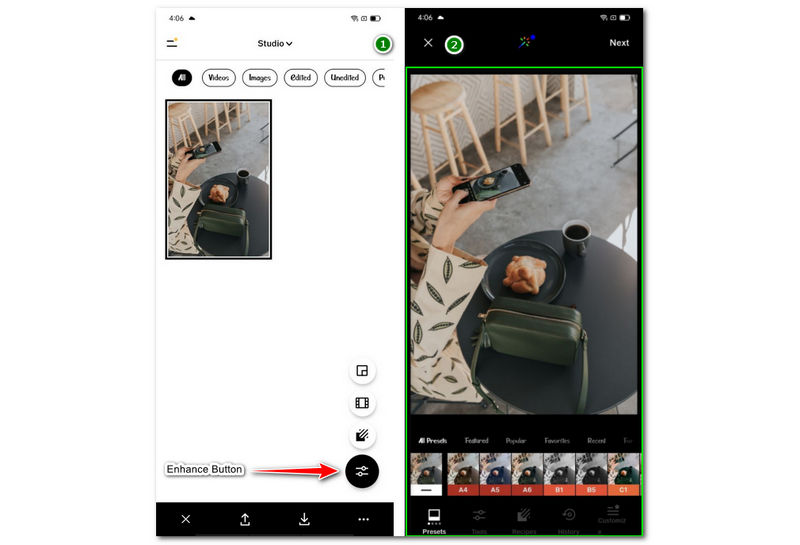 3.
You can now start editing the photo and apply built-in Presets, such as A4, A5, A6, etc. You can also use the Editing Tools. Just click the Text, Dodge, Burn, Adjust, Exposure, and more.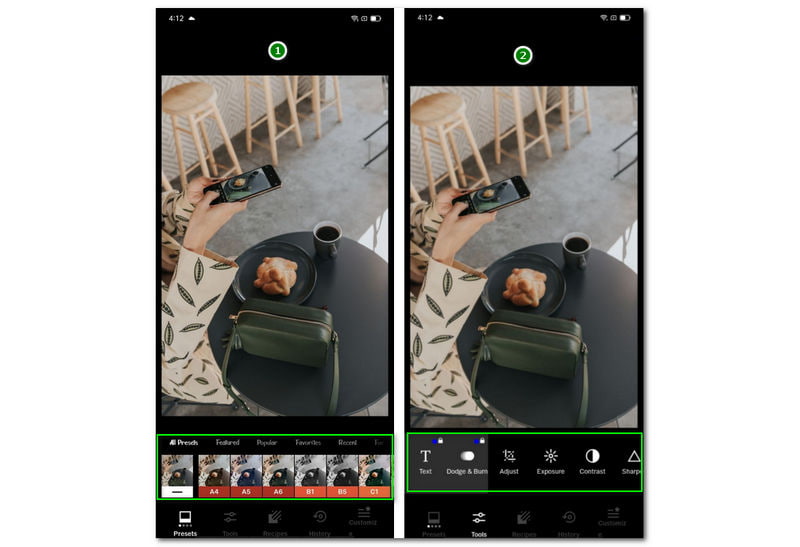 4.
After that, click the Next button on the panel's upper right corner. Then, you will proceed again to the next window. You have the option to select the Save button and the Post to VSCO button. However, you can also choose the two options. And that is it.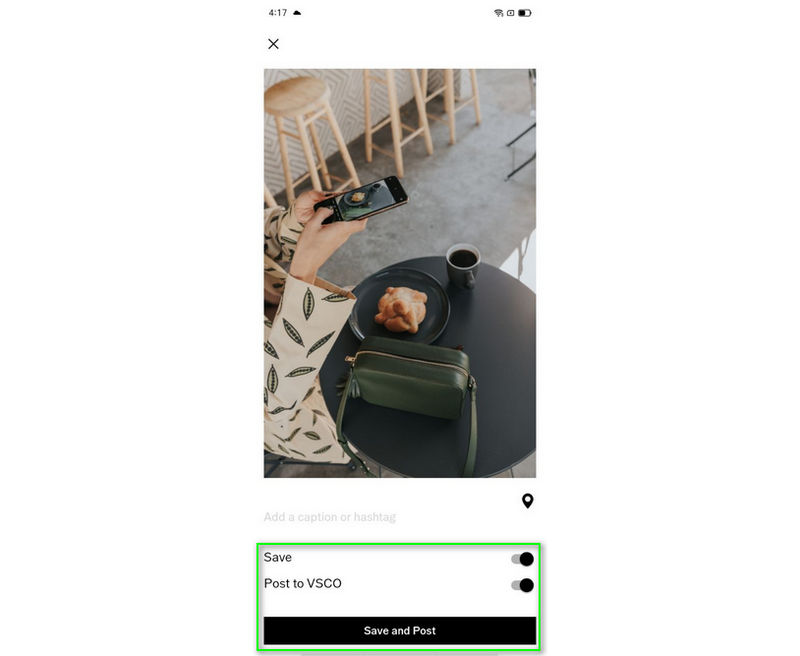 Using the VSCO app will not waste your time because it is super easy to use. You will appreciate every detail and panel. You can try it now, and please do not forget to use the steps above as a guide, especially if you are a beginner.
3. VSCO VS Instagram
We will now proceed with the comparison chart. In this part, we will see which is better, VSCO or Instagram. As we review VSCO, we can say that editing images and saving them to post on many social media accounts is better.
On the other hand, Instagram is a well-known social media account. It will kill your boredom by posting and scrolling images. In addition, it offers advanced editing tools you can use not just for images but also for videos. Let us now compare the two apps below:
VSCO App

Instagram

Overall Ratings
Interface
Support Service
Platform
Android, iOS
Android, iOS
Pricing
VSCO Membership Monthly: $7.33, VSCO Membership Annual: $18.23
Free
Supported Formats
JPG, PNG, HEIC, GIF, etc.
GIF, HEIC, JPG, PNG, etc.
Posting Images
Moderate
Fast
Editing Tools
Advanced
Advanced
Best For
It is best for editing images using built-in presets and numerous editing tools. It is also best for sharing images without seeing who likes users' posts.
It is best for a user who loves using social media while bored. It is also best for editing images before posting them. Also, it is best to post Instagram Stories every day.
Free Trial
7 Days
Free
Features

Import Images
Edit Images
Create a Collage
Create Montage
Post Edited Images on Social Media
Create Space

Create Reels
Post an Image or Multiple Images
Create Story
Create Highlights

Pros or Advantages

It has a free version you can use every day.
It has a straightforward user interface.
It provides many filters.
IIt provides clean preset and editing tools.

It is free to use online.
It lets you post, create reels, and more.
It offers advanced editing tools, stickers, and GIFs.

Cons or Disadvantages

It lags, especially when editing.
There is a big change in the new update.
Its free version is too limited.
It does not allow you to see who likes your uploaded images.

It only posts photos by one or multiple, but not in college.
It has a fixed aspect ratio.
4. FAQs of VSCO App
Is VSCO free?
VSCO app is not 100% free. However, it offers a free version. In the free version, you can use limited editing tools and features.
How to post on VSCO?
Another way to post on VSCO is after editing an image. You need to click the Next button. After that, choose which you prefer. It could be the Save button or Post to VSCO. Of course, if you want to post, you must choose the Post to VSCO button.
What is VSCO girl?
VSCO girl is also an app that can be used as a photo editor. Teens usually use it up to adults. You can also create memes and more using VSCO girl.
Does VSCO tell you who views your profile?
No, unlike other apps, the VSCO app does not let you know who views your profile. For that reason, if you also visit another profile, that user will not know that you visited their profile. Thanks to the VSCO privacy policy.
Conclusion
Is the price of VSCO worth it? It is the question we left above, and now we will answer it. We can conclude that VSCO is not worth purchasing. It is too pricey, and when you purchase the plan, there are only a few features added, and that is. To end this review, VSCO is a good app, but there will always be the best app. You can try Instagram instead.
Did you find this helpful?
338 Votes
YES

Thanks for letting us know!
No

Thanks for letting us know!
AnyMP4 Video Converter Ultimate
All-in-one video converter, editor, enhancer upscaled with AI.