Mobizen Review: Android Apps to Mirror and Record
Since most users mirror their device on their computer, why not use an Android device? The question again is, is that possible? Of course, it is. Screen mirror your Android screen to your PC quickly using the Mobizen application. It is software that can screen record and screen capture and allows you to make your recorded video more excited to watch because of its editing features. We are excited to share this review with you. Please read it now!

Our Verdict
Pros

It is easy to start the recording process.
It has an animated feature.
It allows you to recognize all the options on the devices easily.
It enables you to make unlimited recordings.
Its main interface is straightforward, and anyone can use this without hurdles.
All its features are visible.
Cons

Mobizen app for iOS like iPad and iPhone is not available.
It requires you to add a payment method before using the trial version.
Its editing options can affect the quality of the video.
It does not have the option to hide the button from the screen. As a result, the button is noticeable in the entire video.
Downloading Mobizen mirroring APK keeps on erroring.
Overall Ratings
Functions:9.0
Easy to use:8.5
Features:9.0
What is Mobizen
Best for: Android devices that can record, screen capture, and edit to create fun short video or GIF clips.
Price: The price starts at $2.08.
Platform: Mobizen Android devices like Samsung, LG, etc.
Main Features
Mobizen Screen Recorder is an application on Android that can screen record your screen. It is from Samsung, and according to our research, Mobizen is similar to SONY, and the only difference they have is the processing power.
Moreover, Mobizen is a useful application, especially for Android users, with many fun features that anyone can enjoy! It has a rating of 4.4 on PlayStore, which is not bad because it almost reaches 5 ratings.
In addition, you can become fully aware of Mobizen if you will take a look at its main features below:
◆ It lets you start the recording process effortlessly.
◆ It also lets you take a screen capture in one tap.
◆ It allows you to set your recording quality.
◆ It also allows you to make fun short clips, including GIF options.
◆ It can edit your intro or outro background music on your video.
◆ It has a Clean Mode. Therefore, it produces output without an air circle and a watermark.
◆ It lets you draw on your screen while you are recording.
Mobizen Review
Start Recording Using Mobizen on Android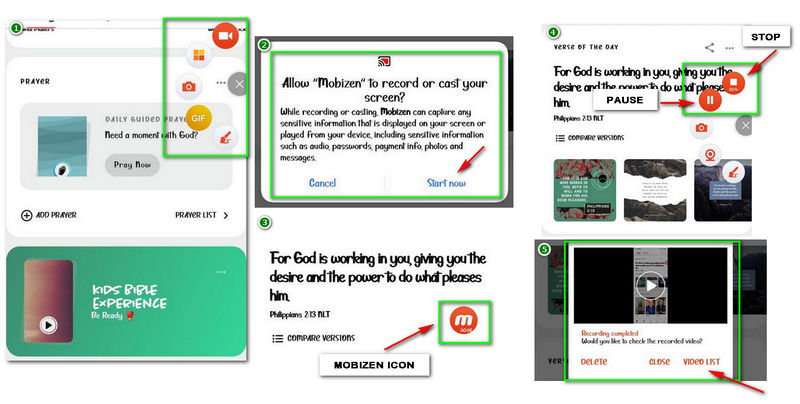 Mobizen indeed lets you start recording effortlessly. You will have the recorded output you want with just a minimal click. Upon using Mobizen, you will experience smoothness while recording, and you will not experience lag, especially if you are recording an application from your Android.
Moreover, we will try to have a sample picture to explain all the icons you will see when you start using Mobizen anytime soon. Please allow us to discuss them with you.
You will see the Aircircle of Mobizen on the right corner of your Android phone, and when you tap it, you will see all the options, such as Record, Video List, Screen Capture, GIF, and Draw. Since you want to start recording, you will select the Record button. Then, the Aircircle will begin showing you the seconds of your recording.
You can Pause and Resume the recording or Stop it entirely by tapping the Stop button. Since Mobizen provides a complete package, after the recording process, it will show the Video List, and it is up to you if you want to Play, Delete, and Close it. So, to start playing your recorded video on the bigger screen, you can connect your Android device to your PC with Mobizen software.
Screen Capture Using Mobizen App on Android Device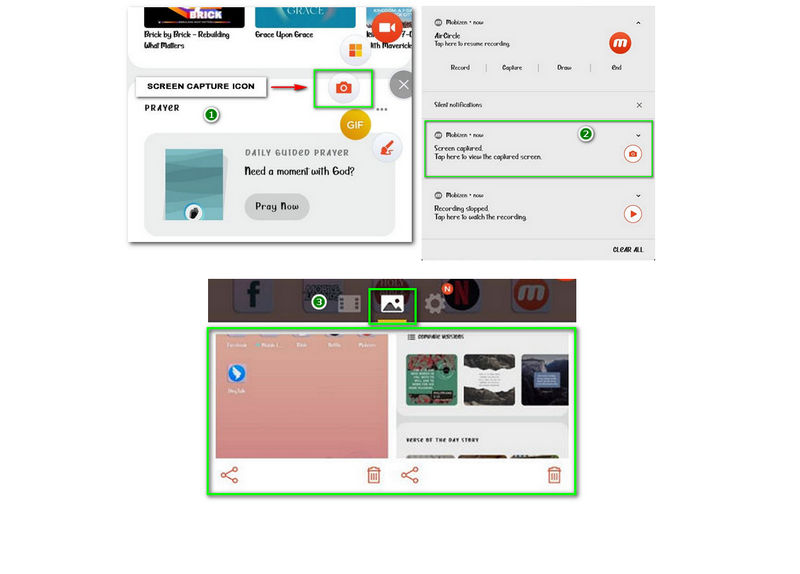 Here is another easy way to screen capture using Mobizen. Again, using a few clicks, you will come up with your desired screen capture. The good thing about Mobizen is its options are easy to find, and you will not waste your time searching for them.
Since the Aircircle Mobizen is visible on the right corner of your Android screen, you will see all the primary options again when you tap it. Given that screen capture is what you would like to do, tap the Screen Capture icon. You will notice that it feels like nothing happened.
But when you scroll down the Notification bar on the upper part of your Android device, you will see this; Screen Captured. Tap here to view the captured screen. Then, when you tap it, Mobizen will take you to the Capture Image Folder, where you can see all your screen captured.
For more screen recorders on Android, you cannot miss this article.
Draw on Android Screen while Recording on Mobizen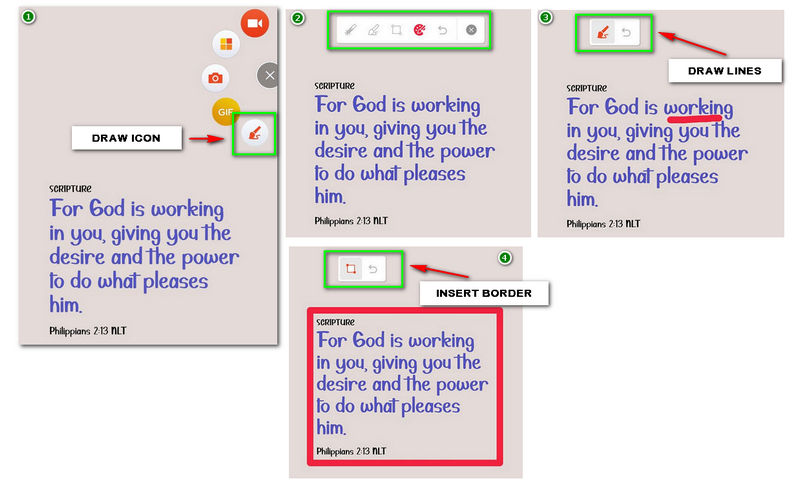 If you are a creative person, this feature from Mobizen is perfect! Mobizen lets you draw while you are recording on your Android device. For that reason, you will have a unique and creative recorded video output.
As you can see on the Aircircle of Mobizen, the last option among the five choices is the Draw. When you select the Draw icon, you will proceed to more drawing options, such as Draw Lines, Add Borders, Change Color, and Undo.
On the sample photo, you will notice that we draw lines of the quotations, and we also add borders. Overall, using these features is fun and makes you creative and fun! Moreover, after you draw while recording your screen, tap the Stop button to see your output result on the Video List. Try it now, and you can also download Mobizen for Windows 10.
FAQs of Mobizen
Why the Aircircle of Mobizen keeps on disappearing?
It is because of this reason that you do not have enough available random-access memory or also known as RAM. Before starting the recording process, you must free up your RAM in your Settings to avoid that problem. To fix it, go to your Android Settings, click the Memory, and select the Memory used by apps. Then, Force Stop all the apps that you are not currently using.
Is Mobizen free and safe to use?
Mobizen is not free to use. Nevertheless, it offers a free trial for only a month. Nonetheless, you can claim their free trial when subscribing to their product. As a result, you need a payment method so that you will be deducted for payment when the free trial ends. Regarding its safety, it is proven that Mobizen is safe to use because Mobizen is committed to protecting your information.
How can I cancel my subscription to Mobizen?
If you do not want to use Mobizen anymore and want to cancel the subscription before you are deducted, you can follow our tips as a guide. On the Google Play Store on your Android device. Then, go to the Account, find the Payments and Subscriptions, and click it. Click the Subscriptions, and on the bottom corner of the screen of your Android, tap the Cancel subscription.
Alternative - Aiseesoft Phone Mirror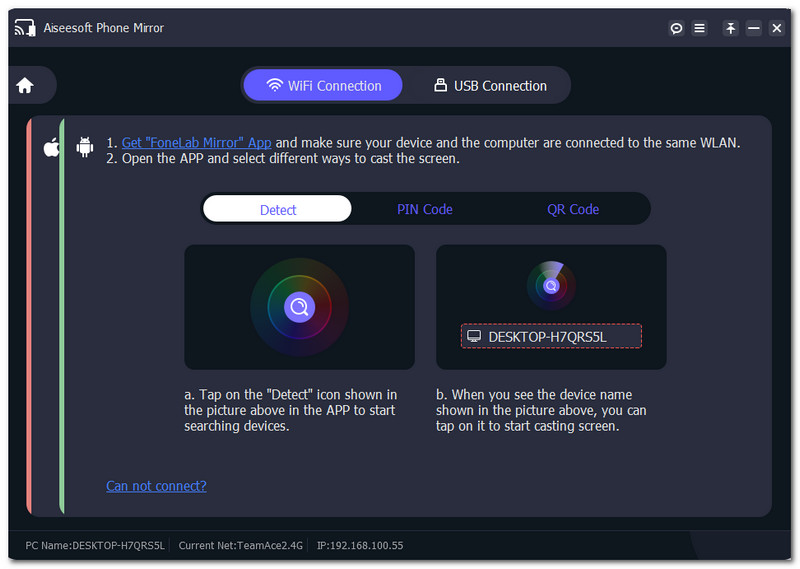 The disadvantages of Mobizen are it is not available for iOS, and Mobizen mirroring pc application is super challenging to download and install. You would not want that as a user, especially if you paid for the product.
For that reason, we have a Mobizen alternative that we are ready for all of you because we believe that every user deserves the best screen mirror! Here's Aiseesoft Phone Mirror, which is compatible with iOS and Android. When trying Mobizen for free, we all know you need to add a payment method first.
Well, in Aiseesoft Phone Mirror, you do not have to do that. Why? Because Aiseesoft Phone Mirror lets you use their software for free. Then, after the free trial, it is up to you if you want to continue with the subscription. But we are 100% sure that after trying the Aiseesoft Phone Mirror, you will love it!
To get a glimpse of an idea of the Aiseesoft Phone Mirror, here are some of its main features:
◆ It can mirror your iOS and Android devices, especially on a bigger screen like Smart TVs, PCs, and more.
◆ It can mirror your audio.
◆ It lets yuo start recording while mirroring your iOS or Android screen.
◆ It has a Recording History.
Ops! That are just a few features of the Aiseesoft Phone Mirror. You can visit its website to learn a lot and download and install it free!
Conclusion:
Mobizen is a great screen mirroring application for your Android. This review article showed you the pros, cons, and features. We also detailed its functions further and provided an alternative in case you want a better one. Furthermore, see you again at our following review!
Did you find this helpful?
233 Votes
YES

Thanks for letting us know!
No

Thanks for letting us know!
Aiseesoft Phone Mirror
Cast and share iPhone and Android screen to computer.