MirrorOp Review: A Professional Screen Mirror Software for Windows, Mac and Phone Users
Nowadays, there are many screen mirror software that you can download online. In addition, there are two types of screen mirror software; screen mirror for beginners and screen mirror for professional use. In this review, you will see how you can use MirrorOp professionally. However, if you are a beginner, we have a highly recommended alternative screen mirror software below. Read now!

1. Our Verdict
Pros

It has a comprehensive variety of software.
It is easy to access on the App Store if you are an Apple user.
It is lightweight software because it only consumes 9.1MB.
Its separate syncing makes setting up easy.
It is simple software, and its icons are easy to understand upon using it.
Downloading MirrorOp Receiver, MirrorOp Presenter, and MirrorOp wePresent free for PC is super easy.
Cons

It is confusing upon downloading it.
It is for professional use and not manageable for beginner users.
It has an issue because of the few updates available.
The prolonged usage causes heat because of the strain of its processor.
The Android devices decrease the performance.
Overall Ratings
Interface:8.0
Features:8.5
Effectivity:8.5
2. What is MirrorOp
Best for:
Price: Free
Platform: Windows, Mac
Main Features
MirrorOp is a screen mirror software that has a wide variety of features. As a reviewer, how can we say that? It is because MirrorOp gives every user great tools for their presentation, etc. The features of MirrorOp can be enabled, disabled, and customized.
The good thing about MirrorOp is everyone can decide what features every user wants to allow or not. Moreover, MirrorOp is developed by Barco NV, a free app, and you can use this whenever you want to cast your device screen into your PC's monitor.
In this part, we want you to be aware of MirrorOp features, and you can read them one by one below:
◆ It has a Quick Search that automatically searches for the available receiver devices.
◆ It lets you manually locate the device by imputing the IP address and hostnames.
◆ It has a Favorite List that lets you save the receiver devices you are usually using. With that, the receiver device will be stored on the Favorite Lists.
◆ It has a Desktop Sharing. With this, users can share their desktop on display by tapping the Play button.
◆ It has an Application Sharing that makes it more realistic to share a specific application.
◆ It offers a Student Monitor.
◆ It has a Duplicate and Extended Screen.
◆ It also has a Touchback or Remote Control.
◆ It allows you to view and save WebSlides.
◆ It also allows you to import and export Favorites.
3. MirrorOp Review
Favorites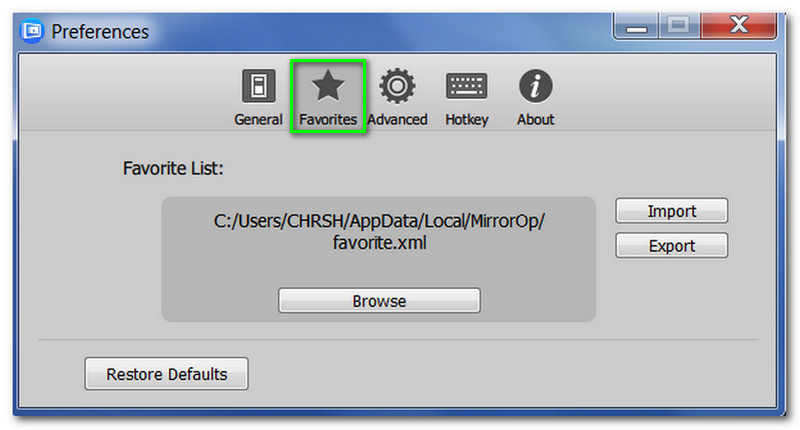 The Favorites feature, as mentioned above, has three parts; Favorites or Device Discovery, Favorites-Only, and Import or Export Favorites. In this part, we will review the three parts for you.
First is the Favorites or Device Discovery; when you want to start using MirrorOp, it will perform a Device Discovery and scan your network connection to list all the available wePresent Base Units, which is also one of the features of MirrorOp. You can still add them if it is not listed directly by manually entering the IP address. Once MirrorOp detects the feature, it will be a Favorite where you can see it on the Star icon on the main interface.
The second is the Favorites-Only; it works when you want to avoid the Device Discovery scan to start up MirrorOp. For that reason, you can pre-set MirrorOp to Favorites-Only. In that way. You will launch MirrorOp using Favorites Mode, and it will list all Favorites you have saved previously.
Third and lastly is the Import or Export Favorites; users use Import or Export Favorites to exchange the list with other MirrorOp users on their computers. It is easy to use this software; click the Export button and select a folder from your favorites that you want to export. Same with the Import.
Duplicate or Extend the Screen of your Device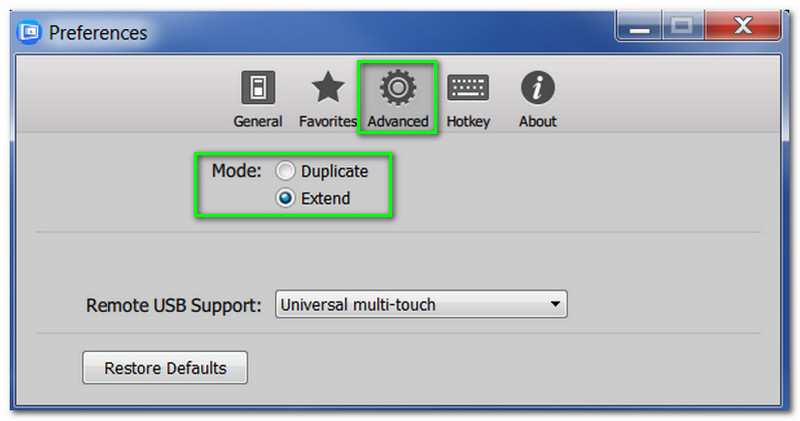 You will see these features when you launch MirrorOp, tap the Settings and see the main interface of Preferences. In the middle are features such as General, Favorites, Advanced, Hotkey, and About. Then, select Advanced.
The Advanced feature has two modes; Duplicate and Extend. Please read continually because we will explain it further to you. Supposing that you tap the Play button of MirrorOp, it will duplicate your screen because it is the software's default.
Next is the Extend or Extended mode; you can use this mode if you do not want to use the Duplicate mode. In this, you can use the extended virtual desktop.
Student Monitor from MirrorOp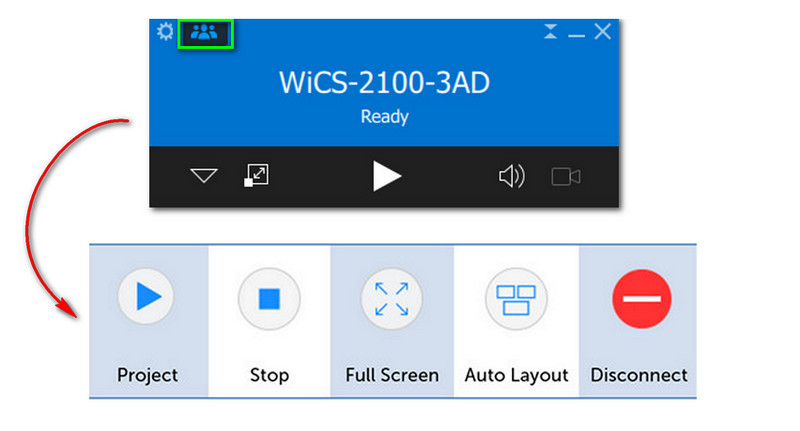 It is a new feature of MirrorOp. It allows the user to enable the Moderator Preview and Control Keys from users Windows or Mac. For that reason, it is a feature that is perfect precisely for Teachers, Students, and it can also be suitable for virtual office meetings.
MirrorOp provides you with a Moderator Login and Moderator Preview Control. The Moderator Login is the Crowd icon placed on the left part of the window. On the other hand, the Moderator Preview and Control are the Controls Keys like Project/Play, Stop, Full Screen, Auto Layout, and Disconnect.
4. FAQs of MirrorOp
I want to use MirrorOp Sender and Presenter. Does it require activation to use it continually?
Since MirrorOp is free, it does not require activation or license, supposing that you want to use wePresent devices as your Receiver. But, you must note that you must deal with the differences or limitations. To avoid limitations
I installed MirrorOp. How many devices can I use?
The license that you can get from MirrorOp is for one device only. So, if you want or need to use MirrorOp on another device, you can purchase many licenses because it is not allowed to share one license to many devices.
How to screen mirror on MirrorOp?
Screen mirror is one of the main features of MirrorOp, and you can use it to present what is on your screen. To share your screen, you must ensure that your Chromebook is connected to the receiver. After that, tap the Play button. Next, select the Application Windows, and you will notice the thumbnails with all the running applications on your PC. Then, you can now start sharing what you would like to share.
5. Alternative - Aiseesoft Phone Mirror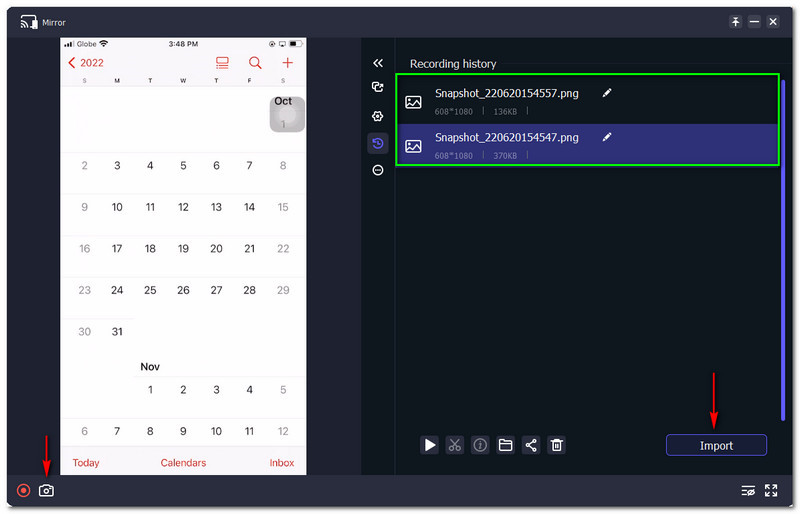 As a reviewer and user, MirrorOp needs an alternative, especially for beginner users. Unfortunately, MirrorOp is not suitable for beginner users; if you are one of them, you will not enjoy using MirrorOp. However, if you are a professional user, you will love MirrorOp because of its advanced features.
Moreover, we recommend Aiseesoft Phone Mirror for better and more user-friendly software. What you will love about Aiseesoft Phone Mirror is it focuses on the screen mirroring feature which you are looking for in the first place. Therefore, you will love and appreciate it because of the features its offers.
Below, we will show a comparison table between the two software. After reading this article, we ensure that it will help you decide which software to use.
| | | |
| --- | --- | --- |
| MirrorOp | VS | Aiseesoft Phone Mirror |
| 8.0 | Interface | 9.6 |
| 8.0 | User-friendly | 9.7 |
| 8.5 | Safety | 9.0 |
| 8.5 | Features/td> | 9.5 |
| 8.5 | Mirror Quality | 9.2 |
| Free | Price | Starts at 15.96 |
| Windows, Mac | Platform | Windows, Mac |
| No | Take a Snapshot while mirroring the screen | Yes |
| No | It can also mirror your audio | Yes |
As we can see, Aiseesoft Phone Mirror is highly recommendable because it is evident on the comparison table that Aiseesoft Phone Mirror excels. On the other hand, MirrorOp is also great with different functions.
Conclusion:
This review article concludes that MirrorOp is an excellent screen mirror software for professional use. Since you have read this review about MirrorOp, you can easily decide if you will use it or try the recommended alternative screen mirror software. We will see you again in our next post!
Did you find this helpful?
256 Votes
YES

Thanks for letting us know!
No

Thanks for letting us know!
Aiseesoft Phone Mirror
Cast and share iPhone and Android screen to computer.