Reflector Review: Mirror, Record & Stream Android and iOS Devices Wirelessly
Have you ever experienced mirroring your device wirelessly? Or are you still stocked up using a screen mirror software that requires an adapter or USB cable? If you are still experiencing that, this review article is for you! We are introducing you to Reflector. It is a screen mirror software that does not require you an adapted USB cable because it can mirror your Android and iOS devices wirelessly. Are you excited to know more about this screen mirror software? Read now!

Our Verdict
Pros

It offers a free seven days free trial.
It has a friendly user interface.
It does not need to use adapters or USB cables.
It can connect many devices simultaneously.
It is 100% safe to use.
It has connection prompts that let the user allow or deny a device before connecting it to a screen.
Cons

Its free trial is very limited in features.
It is expensive.
Overall Ratings
Interface9.0
Features8.5
Easy to use8.5
What is Reflector
Price: The Universal macOS and Windows cost $21.99, macOS only costs $19.99, and Windows only costs $19.99.
Platform: Mac and Windows
Main Features
A Reflector is the software you can use for your screen. It perfectly works on Windows and Mac. However, it was a bit expensive. Moreover, you can use Reflector wirelessly, which means you can screen mirror your device without using adapters or a USB cable.
In addition, Reflector Chromecast is possible because it is combined with streaming receivers such as Apple TV and more. The good thing about Reflector is it has Super-powered Content Sharing. What benefit can you get from it?
Well, it is a core technology that empowers Reflector; it has the newest tech advancements to achieve high-performance screen mirroring. Below, you will see the primary features of Reflector. Please catch a glimpse of them.
◆ It can wirelessly mirror device/devices on every kind of computer.
◆ It can record your mirrored device.
◆ It lets you add voiceover audio and a customized recording on your mirrored device.
◆ It also lets you stream videos and movies.
◆ It has a device control that can emphasize, show, hide, and choose device frames.
◆ It can share your photos from your device on a larger screen.
◆ It can receive AirPlay, Miracast, and Google Cast.
◆ It has Audio-Only Streaming.
◆ It has a full-screen mode.
Reflector Review
Recording iOS to MacBook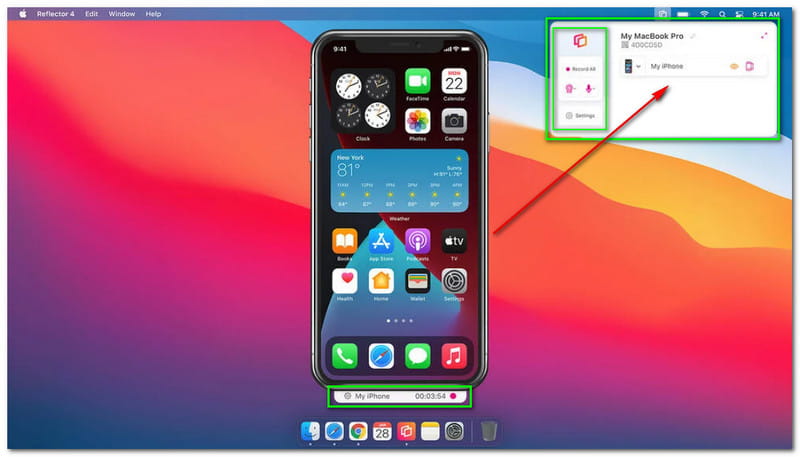 Once again, Reflector can screen mirror your iOS device to your MacBook and record everything mirrored on your MacBook. While Reflector mirrors and records your screen, it allows you to customize the recording background. In what way? It can change the background color and the video quality.
Moreover, Reflector can take a high-resolution screenshot output while mirroring your iOS. The great thing about this Reflector lets you use a Webcam to add a video and add a Microphone to add a voiceover to your recording to produce a realistic output.
Furthermore, while recording your mirrored iOS, Reflector will show you the counting of the recording process. It will also show the name of your iOS.
Check it for more sceen mirroring apps for iPhone and Android.
Customization Features of Reflector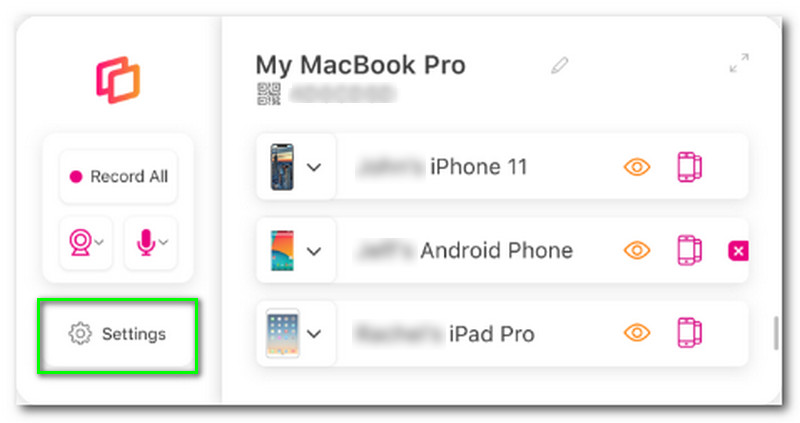 In this part of the review, you will know that Reflector can mirror not one but three or more devices simultaneously! The unique thing about it is that Reflector also lets you mirror an iOS and Android device simultaneously.
In addition, using the Device Control on the Settings, Reflector also lets you customize your mirrored devices. It has Smart Layouts and is a perfect feature for connecting two or more devices. Why? The software immediately selects a layout and apply on every mirrored device.
It can also Emphasize Devices that highlight one mirrored screen between many mirrored devices. Plus, you can add Device Frames. It will make your screen look realistic on your Mac or Windows PC. What's more? Reflector allows you to show and hide mirrored devices that you only like to appear on your screen when devices are mirrored multiple on one PC.
In addition, it has a Full-Screen Mode, and you can enable that and full screen a mirrored screen to prevent distractions with any other applications. Lastly, you can choose a mirrored device you want to be on top aside from many mirrored devices.
Mirror Screen using Reflector while Playing Games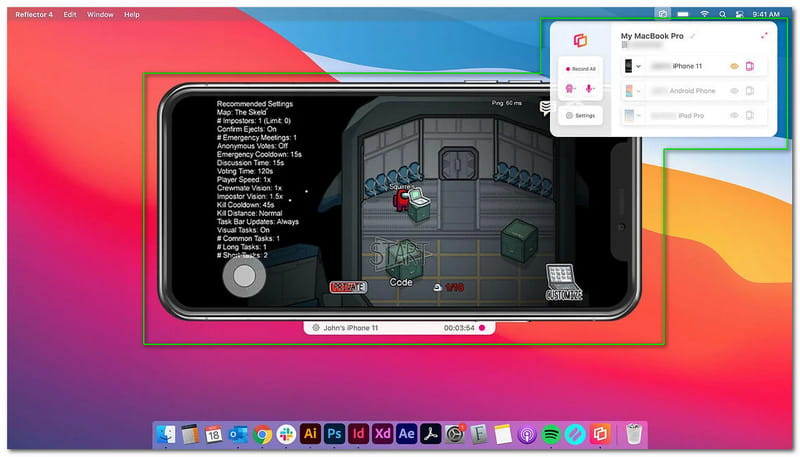 If you are not satisfied playing games on a small screen anymore, you can do that on a larger screen now! The reflector screen mirrors your device perfectly while playing games. In addition, you can record your gameplay and share your victory with your friends and loved ones!
Upon mirroring and recording your screen while playing games, you can see the functions Reflector lets you choose on your computer. You can enable the Microphone and Webcam to add audio and video while recording. In addition, you will see how many seconds or minutes you are recording your gameplay.
FAQs of Reflector
How to mirror or share my iPhone Screen?
Once you install Reflector on your computer, connect Reflector and your iPhone to the same wireless network. Then, using your iPhone, swipe it up from the button to the top, and you will see the Control Center. After that, click Screen Mirroring and choose your computer's name. Start mirroring by tapping the mirroring toggle, and your iPhone will successfully appear on your computer.
Is Reflector free?
The Reflector is not free. However, it offers a free trial. The sad thing about its free trial is that you will experience limitations and enjoy it for only seven days. Next to that, you will not be able to use it unless you purchase it, and the price starts at $19.99.
Is Reflector safe?
Yes, Reflector is safe and secure because, according to Reflector, they thoroughly take responsibility for every reasonable measure and protect users' personal information from different kinds of problems such as loss, unauthorized access, theft, disclosure, and more.
Alternative - Aiseesoft Phone Mirror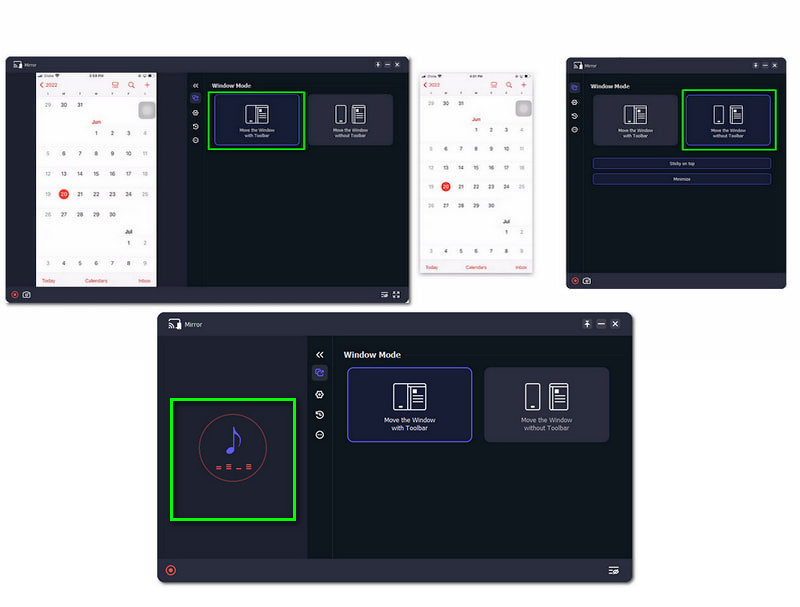 Comparing one screen mirror software with another is always happening on the internet. In this review, we will do the same thing and compare Reflector and Aiseesoft Phone Mirror. It is not a bad thing to do. We only gave you an idea of how to consider one software before using and purchasing it.
The disadvantages of Reflector are expensive, offers a limited time of trial, and has limitations. As a result, users tend to find it less costly and provide a month for a free trial. If you are one of them, we can suggest the Aiseesoft Phone Mirror; it is less expensive, offers a 30-day free trial, and has no limitations while using it free.
Below, we prepared a comparison table between Reflector and Aiseesoft Phone Mirror. We will confirm from the table which screen mirror software is the best and worth using. You can start looking at the comparison table now.
| | | |
| --- | --- | --- |
| Reflector | VS. | Aiseesoft Phone Mirror |
| Starts at $19.99 | Price | Start at $15.96 |
| Windows, Mac | Platform | Windows, Mac |
| 9.0 | Interface | 9.5 |
| 9.0 | Uniqueness | 9.0 |
| 8.5 | Features | 9.0 |
| 8.7 | Quality | 9.2 |
| No | Recording History | Yes |
| Yes | Device Control | Yes |
| Yes | Mirror iOS and Android | Yes |
We can notice from the comparison table that Aiseesoft Phone Mirror is better than Reflector. However, we are not saying that Reflector is good. As a matter of fact, Reflector is included as one of the best screen mirror software that offers many features.
Moreover, to become more satisfied, you can try the two software and choose between the Reflector and Aiseesoft Phone Mirror. This review is only a guide to every user who wants to become familiar with the screen mirror software.
Conclusion
We can see from the comparison table that Aiseesoft Phone Mirror is better than Reflector. However, we are not saying that Reflector is good. As a matter of fact, Reflector is included as one of the best screen mirror software that offers many features. Overall, we hope this review will guide you enough to choose the best screen mirror software that suits your needs! Furthermore, we look forward to seeing you again in our next review article. By the way, we also have a review about Aiseesoft Phone Mirror, you can check that comprehensive review, and we are 100% confident that you will love it, especially its features. That is it!
Did you find this helpful?
256 Votes
YES

Thanks for letting us know!
No

Thanks for letting us know!
Aiseesoft Phone Mirror
Cast and share iPhone and Android screen to computer.