Incredible Gaming Screen Recorder Review: Have a Blast with Recording Your Gameplay
Hey, gamers! Five seconds until the enemies reach out the battlefield! Smash them! The victory is for sure will be in your hands. Therefore, we need to capture that fantastic itinerary of your journey. For that, you may share your gaming experience with any gaming community out there. In line with that, here are seven of the best screen recorders that we can use. For sure, this recording software possesses a fantastic ability that can give a tremendous experience of recording your gameplay. These recording tools are the Bandicam, Vidmore Screen Recorder, Xbox Game Bar, Fraps Screen Recorder, Action!, LoiLo Game Recorder, and FBX Game Recorder. Take a look at the features, pros, cons, and more. So that in the end, we can have a wise choice!

Part 1. Best 7 Game Recorders
Vidmore Screen Recorder
Platform: Windows and macOS
Price: $29.95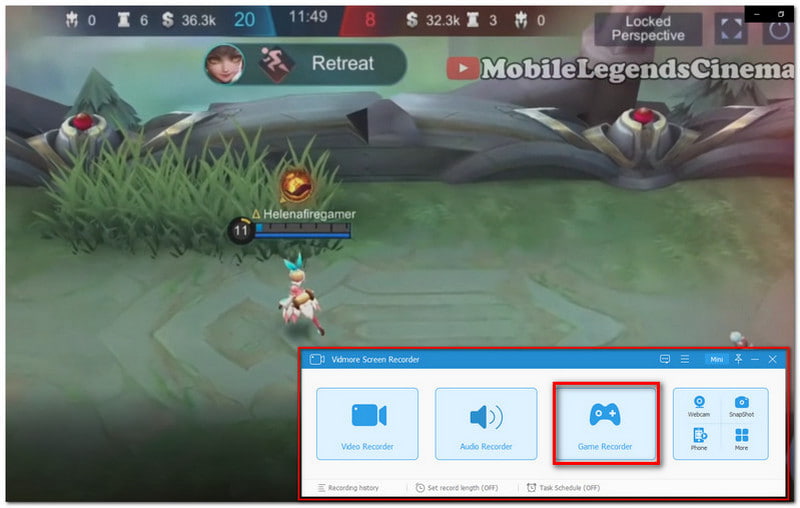 Vidmore Screen Recorder is one of the most excellent screen recording tools to offer enormous recording features. Thus, if you are a professional or amateur game player that might need a recording for your game. This recording software might be the one you are looking for a screen recorder. Vidmore Screen Recorder has a gameplay recorder that can give you an immense recording process. You can now capture 2D/3D games, flash games, and more through these features. It also offers a Picture-in-picture view via an external Webcam. On the other hand, recording hassle-free is possible because it uses AMD/NVIDIA hardware acceleration. These kinds of processors can minimize your CPU, GPU, and RAM usage.
Furthermore, there are still a lot of functions that we can enjoy with this video game recorder function of Vidmore. Some of these are its ability to support broad video outputs. It will be beneficial because we do not need to worry about the compatibility of our recording outputs. In addition, a real-time preview is also available. Thus, checking out your video recording without lag is available. Other functions are the recording trimmer, commentary recording, and more.
Pros

High-quality gaming recorder.
All-in-one screen recorder.
It utilizes an advanced processor.
Record without lags.
A webcam recorder is available.
Clear audio recording outputs.
Cons

The free version is not for free.
Bandicam
Platform: Windows
Price: $39.95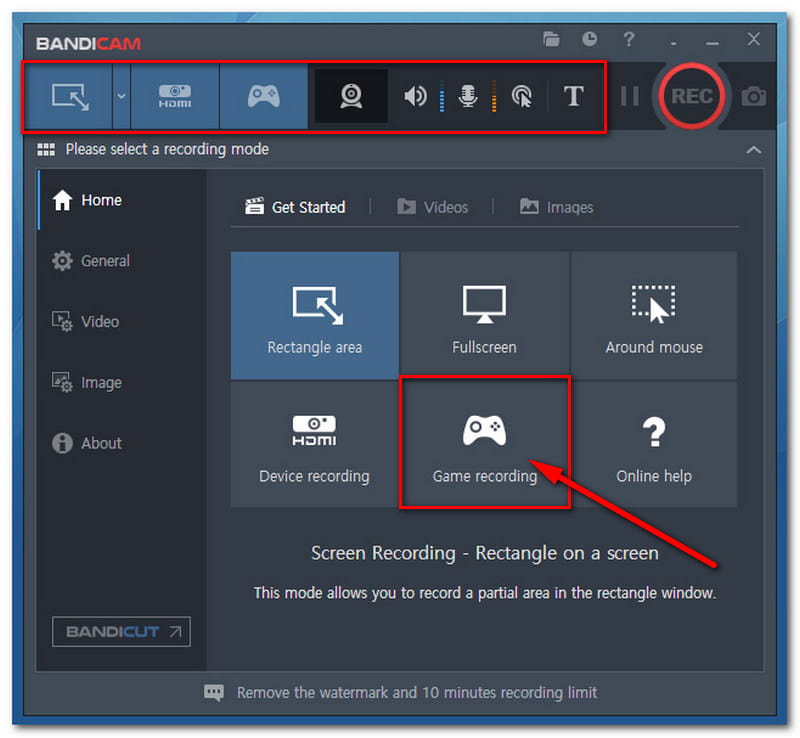 Bandicam is one of the infamous screen recording tools. It is an excellent choice as Windows 10 screen recorder. Therefore, if you use the Windows operating system for gameplay, you may consider Bandicam to capture your outstanding gaming skills. As an overview, this recording software will help you have 2D or 3D games that can come with a 4K UHD video. Also, it can capture 480 FPS videos. In addition, it has a BUILT-in Webcam Recording that will enable you to capture external visuals. Hence adding yourself to the recording is now possible through the Webcam overlay function. Overall, Bandicam does not only for gameplay recording but also offers parts for different aspects of our work. In short, it is a comprehensive recording tool. That is why many users consistently use and trust this software.
Pros

It has a clean user interface.
The recorder offers advanced recording features.
It provides high-quality recordings output.
Add a webcam on the top.
Capture up to 480 FPS.
Cons

The software only works on Windows.
Its full version is a bit expensive.
Xbox Game Bar
Platform: Windows and Xbox
Price: Free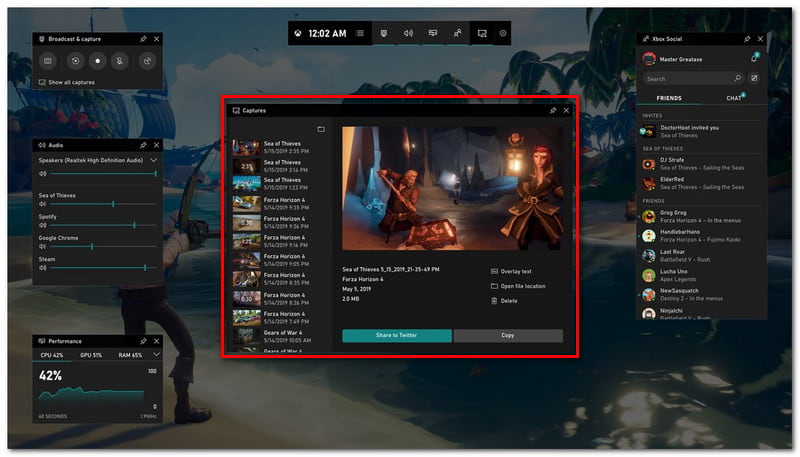 Xbox Game Bar is a free game recording software. However, this software can also offer a fantastic gameplay recording process. This recording software is a kind of gaming overlay built with Windows 10. It is a recording tool that can give you access to different widgets for screen capturing. In addition, sharing your outputs with additional users is also possible.
Furthermore, instant work is also welcome with the help of your teammates using the LFG features. Additionally, the chatting box of this software is also an essential tool for communicating with the team.
Pros

Practical video recorder for Windows.
It has a smooth process of recording.
It is a free recording tool.
Cons

Mac and Linux versions are not available.
Fraps Screen Recorder
Price: $37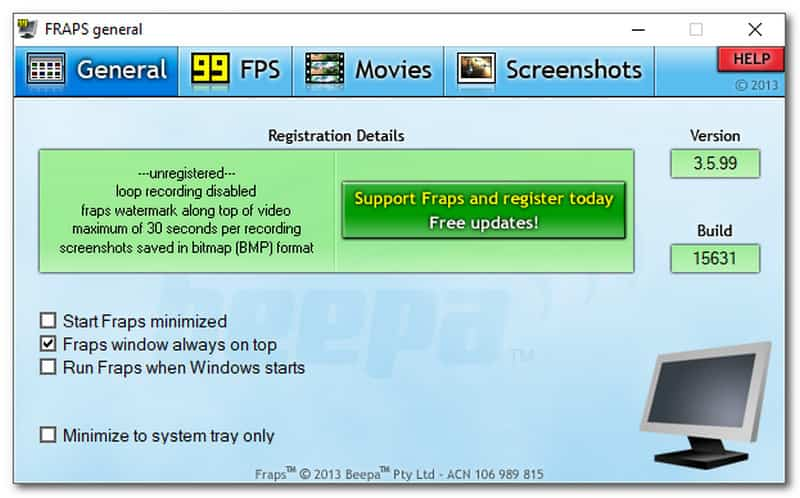 Fraps Screen Recorder is one of the popular screen recordings and benchmarking. However, one of the best features it can offer is its ability to record gameplay. Under its benchmarking software feature, you can see a lot of Frames Per Seconds or FPS. This feature is an essential tool that can calculate your frame rate between the two points of your recording. Fraps Screen Recorder is also popular like OBS (OBS vs Fraps) in giving a Machinima revolution. That means recording your gameplay or any activities can go up to 7680x4800 resolution that comes with a clear audio output.
Pros

A unique gameplay screen recorder.
It produces high-quality outputs.
It has flexible FPS measurements.
Cons

The screen recording tool is a bit complicated to use.
Its full version is expensive.
The user interface is overwhelming.
Action!
Price: $19.77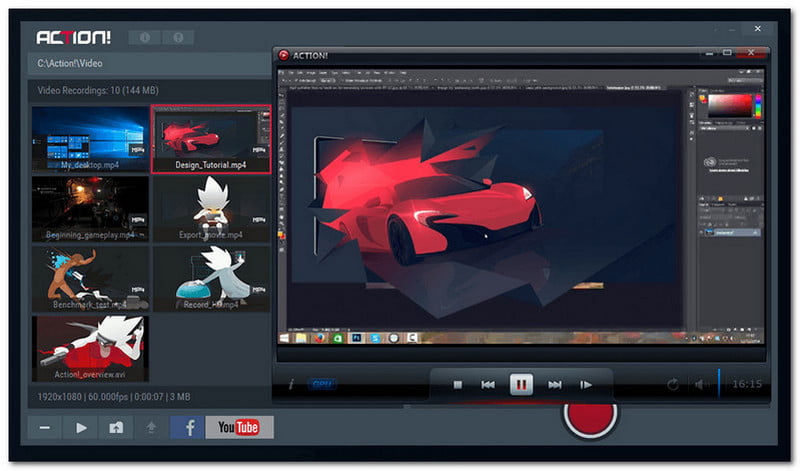 Action! Screen Recorder is one of the fascinating tools in the market now. There are various reasons why many users are using this excellent screen recorder. A few of the reasons behind this are the smooth HD recording process it can offer. It can give up to a 120 FPS video. In addition, all of the video recording outputs will go directly as MP4 with H.264/AVC codecs. That means it is compatible with playing with wide devices.
In addition, this software is also infamous for its ability to offer live streaming features. It supports different gaming communities such as Twitch. Tv, YouTube, Ustream, and more. For that, controlling the video recording process with your Smartphones is also possible. All of these features possess shallow CPU usage yet powerful outputs. It is easy-to-use but can give fantastic features for everyone.
Pros

Flexible recording software.
Fast exportation of outputs.
High-quality recorder.
Cons

The software is a bit overwhelming.
It may take some time to master it.
LoiLo Game Recorder
Price: Free
LoiLo Game Recorder is another the best screen recorder that can offer a free service for everyone. It has a superb resolution output. It can balance the file size and image quality. Aside from that, it is the best use for recording your gameplay. It supports many games, such as League of Legends, Dota, Minecraft, DUST, GTA, and more.
Pros

It supports multiple games.
It does not demand a lot of system requirements.
It is easy-to-use recording software.
Cons

The recorder offers limited features.
The developer should update the software.
FBX Game Recorder
Platform: Windows
Price: Free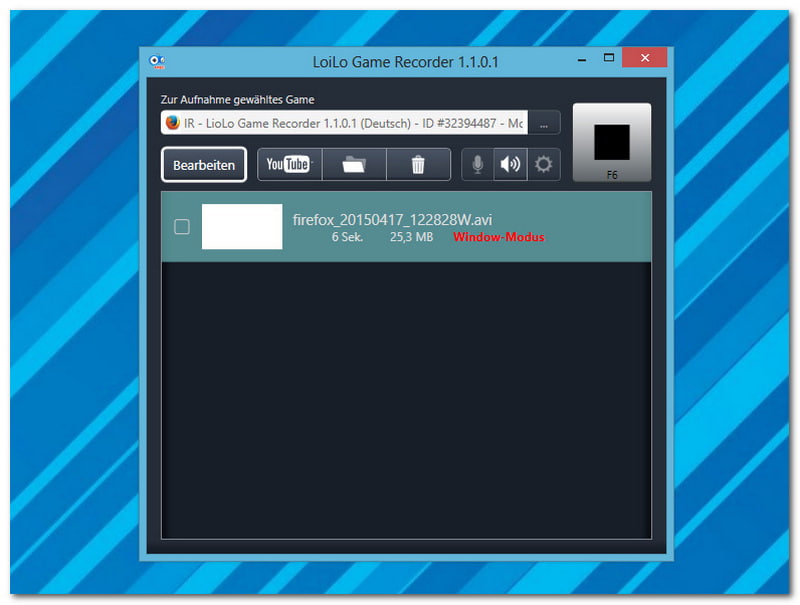 FBX Game Recorder's users claim that it is one of the best recorders nowadays. This software is simple to use but still effective software. It can give you a high-performance HD recording experience despite being free. Furthermore, according to some users, this software has a fantastic FPS that has no lag.
Pros

Simple yet powerful recorder.
It has great FPS.
Fewer complications with the recording process.
Cons

There is a limitation with the features.
Part 2. Comparison of Top 7 Game Recorders
Best Screen Recorder

Vidmore Screen Recorder

Bandicam

Xbox Game Bar

Fraps Screen Recorder

Action!

LoiLo Game Recorder

FBX Game Recorder
| | | | | | | | | |
| --- | --- | --- | --- | --- | --- | --- | --- | --- |
| Platforms | Price | Money Guarantee | Customer Support | Easy-to-Use | Features | Record with Camera | FPS Count Feature | Audio Recorder |
| Windows and macOS | $29.95 | 30 days | 9.5 | Super-easy | 9.6 | | Up to 60 FPS | Up to 60 FPS |
| Windows | $39.95 | 14 days | 9.4 | Easy | 9.4 | | Up to 480 FPS | Internal and External |
| Windows | Free | | 9.2 | Easy | 9.2 | | Up to 60 FPS | Internal and External |
| Windows | $37 | | 9.2 | Moderate | 9.3 | | Up to 120 FPS | Internal and External |
| Windows | $19.77 | | 9.4 | Moderate | 9.4 | | Up to 120 FPS | Internal and External |
| Windows | Free | | 9.2 | Easy | 9.0 | | Up to 60 FPS | Internal and External |
| Windows | Free | | 9.2 | Easy | 9.0 | | Up to 144 FPS | Internal and External |
Part 3. FAQs of Game Recorders
What does FPS mean with gameplay recording outputs?
FPS allows you to get smoother gameplay recording outputs. The higher your FPS is, the more advantage you can get over the lower FPS. Gamers with high-end PCs can choose 60 FPS 1080ps for their recordings. However, 30 FPS 720p is also good to use.
Why is the Vidmore Game Recording tool the best recording tool?
There are many users who believe that the Vidmore Screen Recorder is the best game recorder. However, one of the main reasons is that it works with AMD and NVIDIA hardware acceleration. It allows users to experience an excellent recording experience with their gameplay.
Is there a great game recorder for Android devices?
Yes. Recording your gameplay with Android devices is possible. There are numerous applications you can use with that. A few of them are the Game Screen Recorder and Screen-O-Matic App.
Conclusion
You may see different sound game recorders above. Thus, we hope this recorder can help you choose the best one for you. You may consider their features, pros, and cons to know if a particular software is suitable for you.
Did you find this helpful?
332 Votes
YES

Thanks for letting us know!
No

Thanks for letting us know!
Vidmore Screen Recorder
Make screen recording easier than before on computer.