AnyRec Screen Recorder Review: Come to Know The Fun Features and Its Uses
Are you a business person who always has a meeting? Or maybe you are the kind of person who loves to watch tutorials over the internet. But the problem is you want to watch the session or the tutorial again, yet you do not have the means to do it. Well, we got you. This article review will recommend the AnyRec Screen Recorder to you. You can now watch your meeting or a tutorial offline by recording it with this screen recorder. AnyRec Screen Recorder allows you to record your screen with many choices. In addition to this, AnyRec Screen Recorder allows you to record and customize your recording like a pro. For that reason, if you are interested to know more about this article review, read continuously.

1. Our Verdict
Pros

It is easy to use.
It has an aesthetic interface.
It supports different languages.
It has adjustable settings.
It provides you with a scheduled recording.
You can trim your recorded clips.
It has real-time drawings.
Cons

The time length is compromised with the trial version.
It has limited file formats.
Overall Ratings
Easy to use:9.0
User-friendly:9.5
High-Quality Output: 9.0
2. What Is AnyRec Screen Recorder
Price: $14.50
Platform: Windows and Mac
Main Features
AnyRec Screen Recorder provides many features that you will love and enjoy. Please see the features below:
◆ It has a video recorder.
◆ It has an audio recorder.
◆ You can take screenshots.
◆ It has a flexible selection.
◆ It provides lossless recording.
◆ It has mouse recording.
◆ It has custom hotkeys.
3. AnyRec Screen Recorder Review
Interface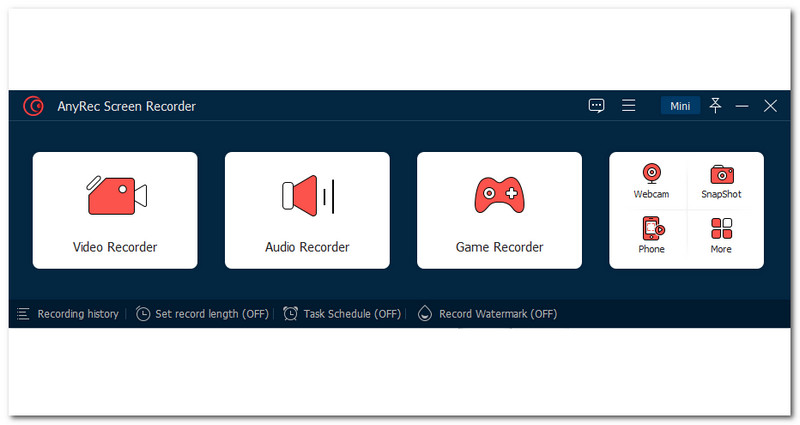 AnyRec Screen Recorder has an aesthetic interface, yet it is simple and easy to use. I love the simplicity of the software, the color combination is perfect, and it is lightweight. You can easily see all the options you need. For example, you can easily record your video since the selection is in front of the interface and the Audio Recorder, Game Recorder, and more.
Video Recorder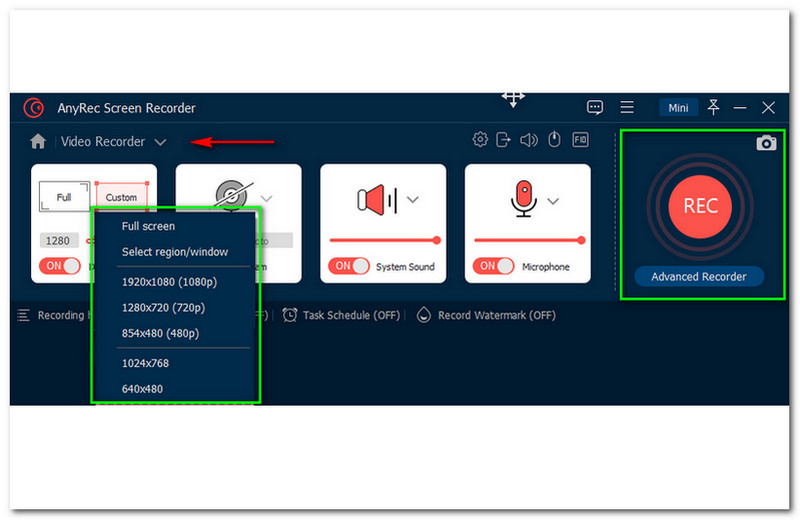 Record any video using AnyRc Screen Recorder. It has the best video recording and has no lag while using it. Moreover, the Video Recorder can record your entire screen while you are in the browser and elsewhere. The good thing about this is you will never experience lag
To do that, open the AnyRec Screen Recorder, click the Video Recorder, and you will proceed to the next step. You have an option to screen record your screen in Full, or you have a choice to customize it. To customize the Video Recorder, tap the Custom the options will pop up such as Select region/window, 1980x1080 (1080p), 1280x720 (720p), 854x480 (480p), 1024x768, and 640x480. Then, start recording your screen.
What's more? While recording your screen, you will see the player control when you can start, stop recording and minimize the recorder. Moreover, you can also take screenshots while recording. Surprisingly, while recording a video you want, you can select a tool to start drawing or adding text. Amazing, right?
Audio Recorder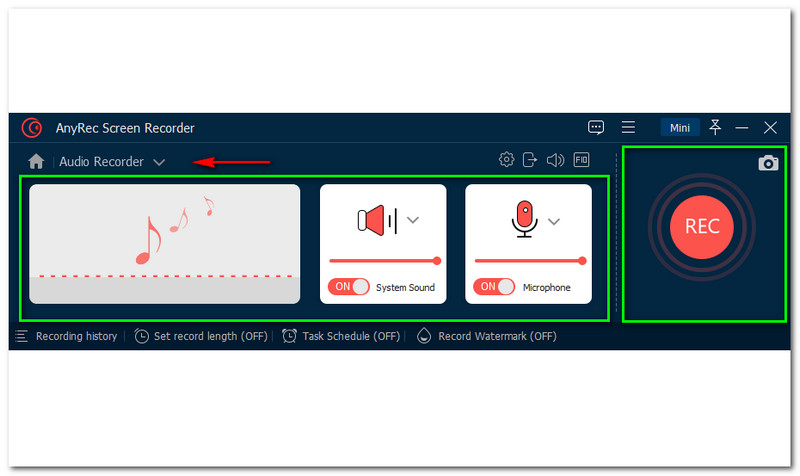 If you do not want to download a piece of music but want to listen to music, there is a solution. Choose the music you want and record it using AnyRec Screen Recorder. The best thing about this recorder is you will have a high-quality output. If you're going to try it, go to the AnyRec Screen Recorder software and select Audio Recorder, and you will proceed to the following options. After that, play the music you like.
Take note: You must toggle ON the System Sound to capture the best quality of the music. In addition to this, you choose to ON the Microphone. Then, tap REC to start recording. If you're going to end the recording process, click the Stop button, and the result of your recording will pop up in a new window panel, and enjoy listening to it. If you are satisfied, click the SAVE to save your recorded audio.
Mini Interface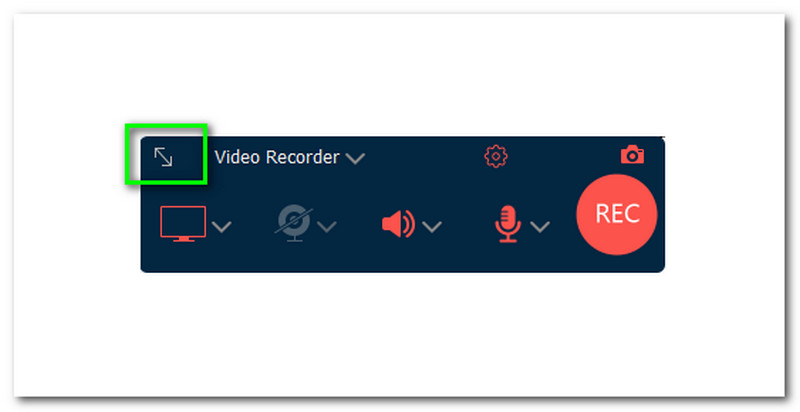 The good thing about AnyRec Screen Recorder is it has a mini interface. In short, you can make your interface small to not consume so much space in your computer. To do that, above the right panel of the software, you can see the Mini placed beside the Pin bar and the minimize button. Tap that, and a small rectangular panel software will appear. After that, you will enjoy the mini interface.
Customize Preferences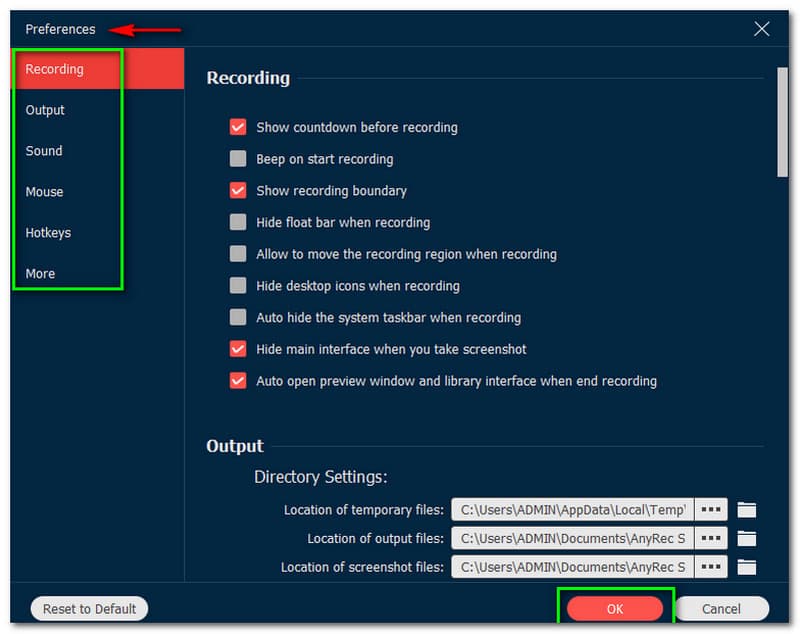 AnyRec Screen Recorder allows you to customize the preferences of the software. To customize the Preferences, click the Settings, and a new window panel will pop up. Then, you will see the options. For example, in Recording, you can check what you want, such as beep on start recording, hide float bar when recording, or more. You can change the screenshot format in PNG, JPG/JPEG, BMP, GIF, and TIFF in Output. Also, you can change the Video Format to WMV, MP4, MOV, etc.… Video Codec to H.264 and HEVC/H.265, Video Quality from lowest to lossless, and Frame Rate from 20fps to 60fps.
When it comes to Audio Settings, you can also change the Audio Format to MP3, WMA, AAC, etc.… and the Audio Quality is from lowest to lossless. Next, after customizing all you want, tap OK. If you want to learn more, you are free to visit the AnyRec Screen Recorder, and you can download it for free.
4. FAQ
Is AnyRec Screen Recorder safe to use?
Yes, upon using AnyRec Screen Recorder, this screen recorder is safe. It has no viruses, and it contains no malware. In addition to this, AnyRec Screen Recorder assures you that your recorded and recording files are safe and private.
Is AnyRec Screen Recorder fast in recording?
Yes, it is fast since AnyRec Screen Recorder supports advanced hardware acceleration technology. It means it helps the software to record quicker than before.
I want to record my screen with AnyRec Screen Recorder. Will others know about my recording?
No. You are free to record your meetings, tutorials, or anything you want to record, and AnyRec Screen Recorder will not be detected.
5. Best Alternative - AnyMP4 Screen Recorder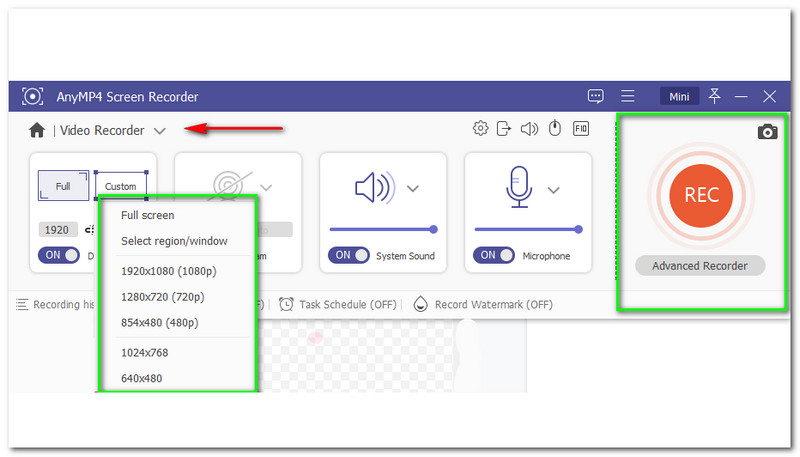 There are a lot of screen recorders over the internet. However, there will always be software that will make standouts. That is why AnyRec Screen Recorder and AnyMP4 Screen Recorder aims to give you the highest quality output. In addition to this, both recorder software has many features offered for you. Moreover, you can use these recorders' software to change your recording skills like a pro. Also, you can do so much with these recorders. However, you still have the choice to choose what is best for you.
Furthermore, we recommend AnyMP4 Screen Recorder and AnyRec Screen Recorder. You can visit their webpage and download them for free. Try it now!
Conclusion
TI concluded that indeed, AnyRec Screen Recorder lets you record everything you want like a pro. In addition to this, we discuss in this article the price of the AnyRec Screen recorder and the system requirements at the same time. We also talked about its excellent features and more. We are hoping that we have satisfied you with this article review. Till our next article!
Did you find this helpful?
394 Votes
YES

Thanks for letting us know!
No

Thanks for letting us know!
Best Video Recorder with Audio
AnyMP4 Screen Recorder
Capture every moment in desktop, browsers, programs and webcam.