How to Block Someone on Instagram: Immediate Guides
Platforms like Instagram empower us to create, share, and engage with content in ways we could have never imagined. However, the flip side of this interconnectedness is the potential for unwanted interactions or even toxic relationships.
In this comprehensive guide, we will delve into the art of managing your Instagram connections effectively, specifically focusing on the act of blocking someone. While it might seem like a straightforward action, blocking carries many implications beyond just restricting someone's access to your content. By understanding the nuances of blocking on Instagram, you can curate your digital space to align with your preferences and protect your online experience.

Part 1. How to BlockSome on Instagram
Method 1: Direct Block (Profile)
Any Instagram user can be blocked by going to their profile. This is the quickest and most straightforward method. Ensure the app is open and logged in, then follow the instructions.
1.
Please use your list of followers to go through their Profiles or search for the account you want to block.
2.
At the top-right corner of the interface, tap the Horizontal menu with three dots.

3.
Simply select Block. Then, select a course of action and approve the block.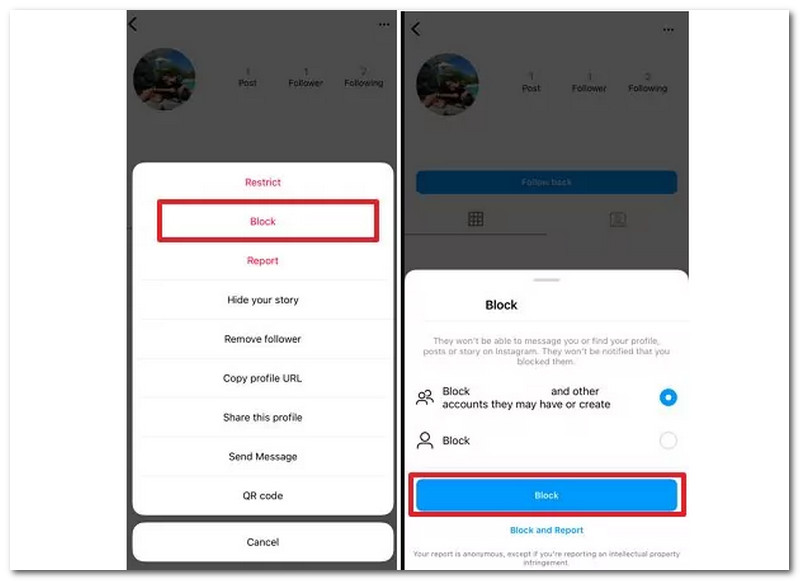 There are two choices: either block them or allow the application to block their profile and any further profiles they could have or make in the future. Giving the user no opportunity to search for your profile.
Method 2: Block via Instagram Setting
Let's assume you've made the decision to restrict your communication with a certain account and that you don't want it to have access to your Instagram profile. You may quickly block that account on Android or iPhone with a few clicks.
1.
On your smartphone, open the Instagram app.
2.
Tap the Hamburger menu after clicking the Profile symbol.

3.
After that, we can now access Settings as we see the icon for Privacy, then let us select the first choice.
4.
Click on Blocked accounts by scrolling down. Users can be blocked by tapping on suggested users you might wish to block or by clicking the plus button.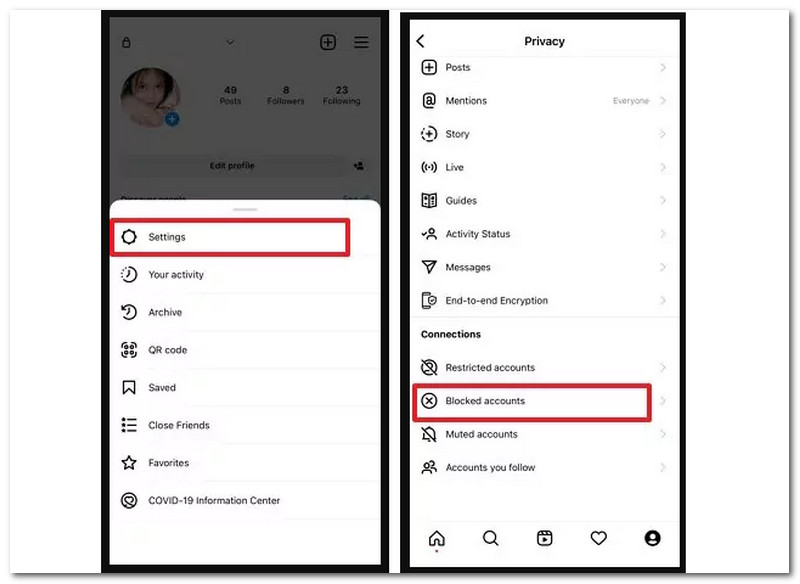 This process is great. However, only those logged in on their mobile phones can do it. You won't find this step useful if you use Instagram through a web browser. Continue to the next step to block the user.
How to Block Someone From an Instagram Story
Millions of people use the social media site Instagram every day, and it is quite popular worldwide. Only a few years ago, the story features were implemented to allow you to share events from your daily life. However, there are some private moments that you don't want to disclose to the public.
1.
Use the search box on Instagram to find the account of the person you wish to block.

2.
On the user's profile, you may notice a Three-dot icon. Tap on it.
3.
Then, to prevent this account from viewing your Instagram story, select Hide Your Story.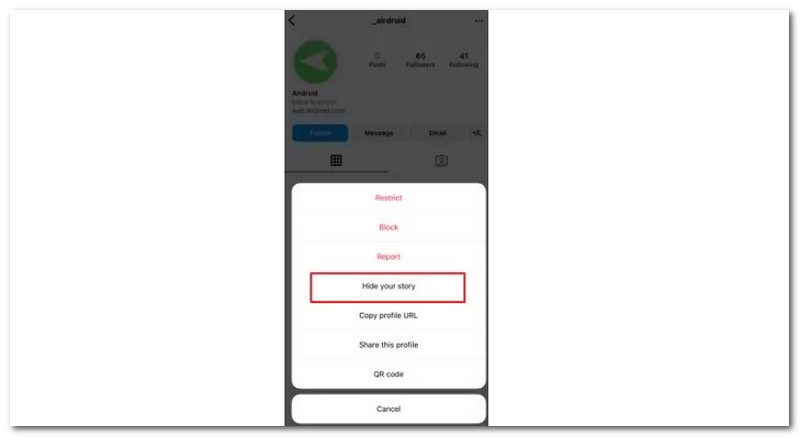 After doing it, expect the person to be removed from the username list that sees your Instagram stories. As long as you do it right, we will not have any problem with that.
Part 2. What Happens When You Block Someone on Instagram
Blocking a user is a severe measure typically used against troublesome individuals. On Instagram, blocking someone prevents them from accessing your profile, posts, or Stories. A blocked user cannot message, comment, or like you in any manner. They will also be removed from the account if you have a joint one.
Posts will no Longer have Likes and Comments
When someone is blocked, their likes and comments are immediately deleted from your posts and content. Additionally, it means that even if you tag them in posts or articles, they won't be able to see them anymore.
To get that back, you need to unblock someone in Instagram.
Unable to Tag You or Mention You
They can no longer see your posts or tag you in comments, in addition to the restriction on accessing content. Additionally, they are not permitted to mention your Instagram account. It stops them from attempting to get in touch with you or interact with you.
You Cannot Message Them
You can block someone if you're getting unwelcome communications from them to stop further communication. When we blocked someone on Instagram, they can no longer message or receive messages from you.
Part 3. How to Know if Someone Blocked You on Instagram
The following article distinguishes fact from myth and offers helpful suggestions for resolving this contemporary issue. Therefore, learn inventive and distinctive techniques to determine whether someone has blocked you on Instagram.
Method 1: View Their Posts and Profile
Investigate the user's profile and posts by donning your detective hat and channeling your inner Sherlock Holmes. When you visit someone's profile, do their postings vanish completely even though the number of posts, followers, and followers are still visible? This Instagram mystery clearly indicates that you may have been blocked if you find yourself in it.
Method 2: Run a Username Search
You can perform a search for the person's username if you're still not sure if they have blocked you. If you fully input a name that does not display in the search results, they may have blocked you, or you may have unintentionally blocked them. It's crucial to keep in mind, though, that this could just be a simple oversight. For instance, you might not be able to find them if you typed in their username wrong.

Part 4. How to See Who Blocked You on Instagram
1.
Launch your Instagram.
2.
Open their Profile page in the browser by visiting Instagram on the internet. '
3.
You may see if they have Blocked you by tapping the Blue Follow button. The button won't function if they have blocked you, and Instagram may flag a message as having a problem.
When there is a problem following them, that means these usernames have blocked you. That is one of the common ways we can see who blocked you on Instagram.
Part 5. Instagram Restrict VS. Block
The Restrict feature on Instagram provides a middle ground between allowing full access and blocking entirely. When you restrict a user, their comments on your posts are only visible unless you approve them. Additionally, their direct messages are moved to a hidden requests folder, and they won't be notified when you read them. Essentially, you're creating a digital space where their influence is curtailed without them knowing.
Part 6. FAQs about How to Block Someone on Instagram
Is There a Feature to Share Who You've Blocked on Instagram? Does It Work?
While Instagram respects users' privacy by not providing a public list of blocked accounts, there's no official feature to share a list of blocked users publicly. This ensures that blocking remains a personal decision without the potential for misuse or harassment.
I Can't Find Someone on Instagram, but I Haven't Blocked Them. Why?
If you are unable to find a user on Instagram but haven't blocked them, several factors could be at play. The user might have changed their username, deactivated their account, or restricted their profile visibility. You may also be experiencing a technical glitch that temporarily prevents you from locating the user.
What Does It Mean When an Instagram User Is Blocked?
Blocking an Instagram user has significant implications. When we block someone, they can no longer view your posts, stories, or profile. They can't comment on your posts, send direct messages, or tag you in their content. The connection between you and the blocked user is severed, providing a more controlled online environment.
If I Block Someone on Instagram, Will It Delete Our Messages?
It is not. Blocking someone on Instagram does not delete your previous messages. While the blocked user's messages will be inaccessible, the existing conversation history remains intact. However, this action ensures that you and the blocked user cannot exchange new messages.
Does User Not Found Mean They've Blocked Me on Instagram?
Not necessarily. The message "User Not Found" can indicate various scenarios. While it might suggest that the user has blocked you, it could also mean that the account has been suspended or deleted or that you've entered the username incorrectly. To confirm whether you've been blocked, consider checking from another account or device.
Could I Be Blocked If I'm Unable to Refresh My Instagram Feed?
Experiencing difficulty refreshing your Instagram feed is generally not an indication of being blocked. This issue is more likely related to connectivity problems, app glitches, or server issues. If you suspect a specific user has blocked you, look for other signs, such as the inability to view their profile or posts.
Conclusion
Using the block feature on Instagram should be the final option. In case you're facing harassment or getting undesired messages, you have the option to report the user to Instagram. Once you decide to block a person on Instagram, they will lose the ability to view your pictures or videos, message you, or post comments on your content. It's important to remember that if you're contemplating blocking someone, there are additional considerations to be mindful of the consequences. Hopefully, we can also share this article with someone who needs it.
Did you find this helpful?
445 Votes
YES

Thanks for letting us know!
No

Thanks for letting us know!
AnyMP4 Video Converter Ultimate
All-in-one video converter, editor, enhancer upscaled with AI.