Top 7 Alternatives to Popcorn Time to Watch Movies No Ads
If you are looking for a free movie streaming platform? Popcorn Time is available to satisfy your needs, especially on the free movies. But the problem with Popcorn Time is its Ads that make users feel unsafe. Nevertheless, there is a solution to that. The seven alternatives to Popcorn Time; if you want an idea, continue reading now!

1. Overview of Popcorn Time
What is Popcorn Time?
Popcorn Time website is a streaming app where you can stream movies, series, and TV shows. It lets you watch without hesitation, as long as you have a nice and working internet connection. Furthermore, Popcorn Time does not require users to register and sign up on the website.
Now, let us talk about the user interface of Popcorn Time. When you launch its official site, you will notice that it needs a more pleasing user interface. Nevertheless, it is manageable. On the left upper corner, you will see the Menu Tab that contains options like Home, Movies, and TV Shows.
In the middle part, you will see the Search Tab, which you have unlimited access to, and you can search for movies and TV shows anytime you like. Moreover, the Popcorn Time download button is also available, and with one click, you can download the Popcorn Time app instantly. To know more, please read its pros and cons below:
Pros

It lets you stream TV shows and movies online.
It also lets you watch TV shows and movies in HD.
It provides unlimited series and movies.
It also provides up to 40 languages.
It can connect to Chromecast and AirPlay.
Popcorn Time Android, iPhone, Mac, Windows, Android-TV, Linux, and iOS is available for download.
Cons

Its user interface is too primary.
It also has inappropriate content.
It has movies that are not suitable for kids.
It is challenging to play the movies in one click.
In one click, you will be redirected to another window Ad.
Some movies should be downloaded to watch them.
Latest Popcorn Time Movies
◆ Avatar: The Way of Water
◆ Black Panther: Wakanda Forever
◆ Puss in Boots: The Last Wish
◆ Harry Potter and the Chamber of Secrets
◆ Triangle of Sadness
◆ Girl in the Basement
◆ Doctor Strange in the Multiverse of Madness
◆ The Bot Next Door
◆ The Art of Racing in the Rain
◆ The Little Mermaid: Ariel's Beginning
◆ The Hunger Games: Mocking Jay
◆ Everything, Everywhere All at Once
◆ The Lucky One
◆ Guardians of the Galaxy: Volume 3
◆ The Lord of the Rings: The Fellowship of the Ring
2. Top 7 Alternatives to Popcorn Time
Peacock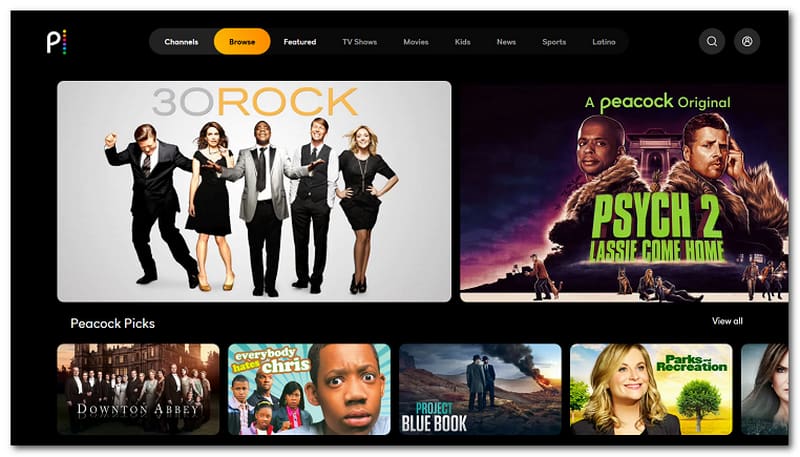 Pros

It has free movies and TV shows to watch.
It has the latest TV shows and movies.
It has an affordable subscription plan.
It lets you create more than one profile.
Cons

It is not suitable in some countries.
Its Premium Plan still contains Ads.
It does not allow you to download and watch movies offline.
It only allows you to watch live sports if you subscribe to them.
First on the list is Peacock, one of the Popcorn Time alternatives. But you need to remember that Peacock is not available in every country. Therefore, some will access it, and some will not. However, when it is working in your country, that is a piece of good news.
Furthermore, it is an excellent movie streaming platform that offers free movies. Also, it has a subscription plan that you can purchase. Peacock is perfect when you stream it on Smart TVs, devices, and more. (Learn it here to use and get Peacock on TV.)
Crackle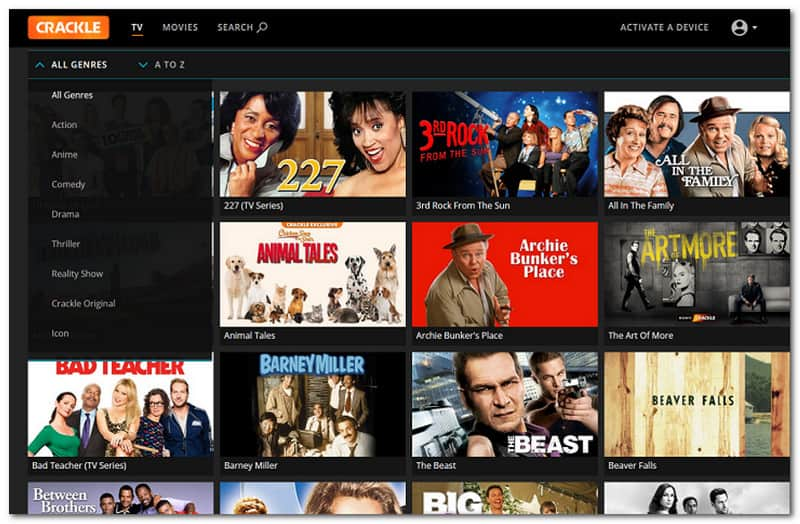 Pros

It has numerous Genres.
It provides excellent content for every watcher or user.
It is reliable for streaming movies, TV shows, and series.
Cons

Its user interface needs to be more complex.
It needs to be fixed in some other places.
It has many ads, from opening the official site to watching movies.
It has high-quality movies. However, they are limited.
Indeed, Crackle needs a catchy user interface. However, it has movies you can watch for free. Well, not just movies but series and TV shows as well. When you go to its website, you will see the options like TV, Movies, and Search Bar.
You will also see all kinds of Genres, such as Action, Anime, Comedy, Drama, Thriller, Reality Shows, Crackle Original, and Icons. Moreover, since we are talking about movies, Crackle offers up to 700 movies for free. That is amazing, right? If you need more websites like Crackle, you can find them here.
Vumoo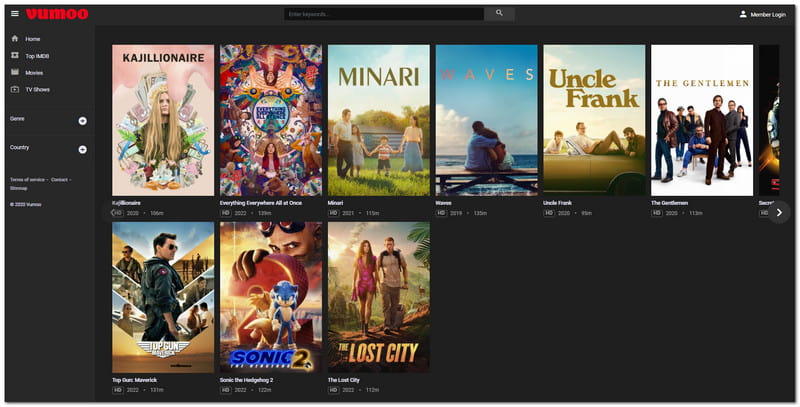 Pros

It offers many categories and Genres.
Its latest movies are easy to find.
It has a straightforward user interface.
Cons

It always redirects you to another window for Ads.
It cannot guarantee the safety of users.
It has pop-up Ads that constantly appear, even if you close them.
Using Vumoo, you can easily watch movies, unlike Popcorn Time online. The issue we discovered on Popcorn Time is that you can only watch movies online if you download them. Luckily, Vumoo can save the day because it lets you watch movies online, without hesitations but with Ads.
Also, the good thing about Vumoo is all its options are visible on the left side of the panel. Therefore, you can easily access Home, Movies, TV shows, and Top IMDB. Not just that, you can also have access to the Genres, Trending, Latest Movies, Latest TV shows, and What's Popular.
For more similar websites to Vumoo, you can check them here.
Vudu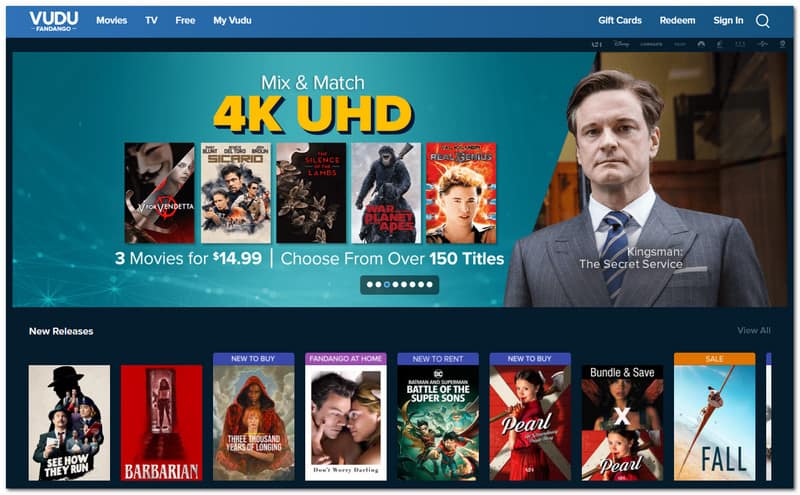 Pros

It has an amazing user interface.
It has a free movie that Vudu lets you stream.
It also has a movie that can be rented or purchased.
It provides a search filter and helps you find the movie instantly.
It allows you to download and watch movies online.
Cons

It has an issue with programming because it is not original.
It only lets you watch movies once you sign up.
It is hard to activate a Vudu account, as well as to sign in.
Vudu is another professional movie streaming platform that is perfect as an alternative to Popcorn Time. It has an excellent user interface and has a color of blue and dark blue. In addition, it offers a Preview section, which displays the new movie and its price.
Again, Vudu is offering a movie ready to be rented and purchased. The good news is it also offers a free movie. But free movies are limited, and you will experience Ads while watching. Moreover, the unique part of Vudu is that it has Gift Cards and Redeem section.
Tubi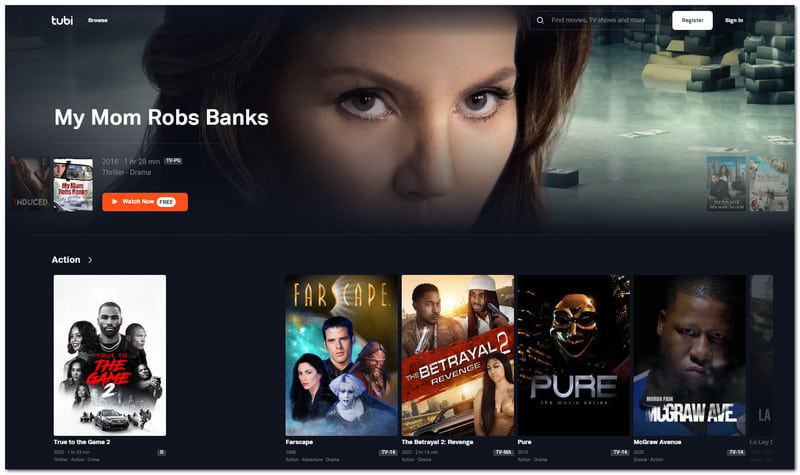 Pros

Its user interface is modern and fantastic.
It works with numerous streaming devices.
It lets you stream free movies anytime you want.
It has a wide range of library TV shows and movies.
It provides helpful parental control features.
Cons

It has many old contents.
It limits you from selecting TV shows.
It does not let you get rid of the Ads.
Its movie quality is up to 720p only.
It buffers and will turn into low quality.
If you seek an app like Popcorn Time, you can try Tubi. They are similar in providing users with a free movie but different in advantages and disadvantages. Why did Tubi become an alternative to Popcorn Time? Well, Tubi is more excellent, especially since it does not have too many Ads like Popcorn Time.
In addition, when it comes to features, you will appreciate its Preview. It shows you the free movies using the Preview features. Furthermore, you can click the Browse for more movies. But if you do not want to browse, you can use the Search Bar for the exact result.
Popcornflix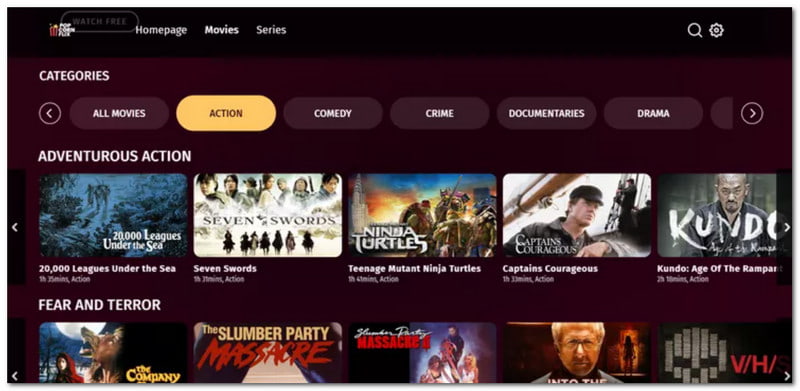 Pros

It is user-friendly, and all its options are accessible.
It has a user interface that is clean and aesthetic.
TV shows and movies are well-categorized.
It offers many languages and subtitles.
It is suitable for Apple devices, such as iPads, iPhones, and Macs.
Cons

It has too many Ads, and they are disturbing.
It is difficult to open on a Windows browser.
Another alternative to Popcorn Time is Popcornflix. Refrain from being confused with the names because they are way different. When you visit the official page of Popcornflix, the first thing you will love about it is its user interface. It is neat, clean, and the options are easy to access.
Aside from the aesthetic user interface, you will also appreciate the numerous categories and Genres on Popcornflix, such as All Movies, Action, Comedy, Crime, Drama, Documentaries, and more. What else? It also offers Fear and Terror, Adventurous Action, and many more.
Yidio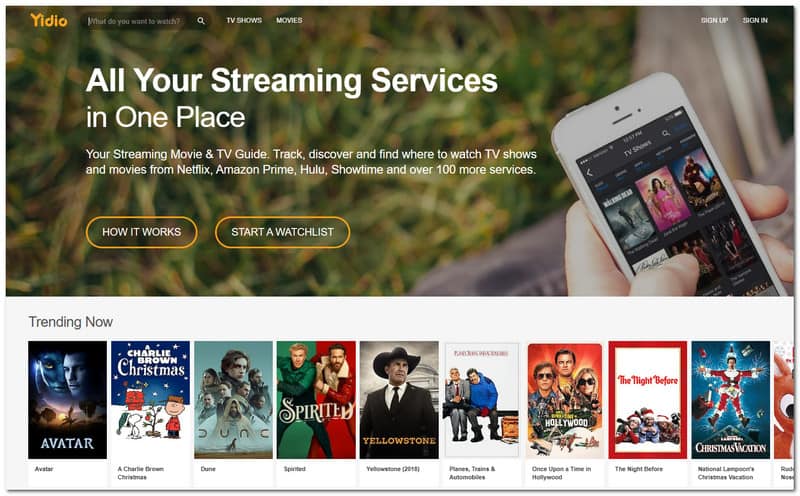 Pros

Its user interface is fantastic, with visible options.
It offers many categories and Genres to choose from.
It allows you to stream movies and series for free on Smart TV.
Cons

It only allows you to watch a movie if you buy them.
It offers limited free movies.
The last movie streaming site we prepared as an alternative to Popcorn Time is Yidio. It is another well-known movie streaming platform that has an excellent user interface. In addition, you can see the options clearly, such as Search Bar, TV Shows, Movies, Sign up, and Sign in.
Also, on its Preview features, you can see the How it Works button and the Start a Watchlist button. Then, once you scroll down, you will start noticing all the categorized movies, such as Where to Watch, Genre, Cast, Director, Release, Date, MPPA Rating, and more.
3. FAQs of Popcorn Time
Is Popcorn Time legal in the US?
Popcorn Time is available in the US. However, since we are talking about legality, it is legal, but you must use a VPN if you use Popcorn Time in the US. The illegal thing that you can do is download and share copyrighted materials from Popcorn Time.
Is Popcorn Time down?
Popcorn Time is not down since people can still access it. Upon entering its URL, you will immediately open it and browse movies, series, and TV shows. In addition, you can access it anywhere you are. Therefore, we can conclude that Popcorn Time is not down and still works.
Is Popcorn Time safe?
We cannot guarantee the safety of Popcorn Time. How can we say that? Indeed, Popcorn Time is a free movie streaming site, and because of its Ads, the safety of the users is compromised. For that reason, Popcorn Time is not 100% safe.
Conclusion
Summing up, Popcorn Time is good as a movie streaming platform. With the help of this review, we discover that Popcorn Time is not 100% safe and legal. That is why we recommended the top 7 alternatives to Popcorn Time, including its main features and more. To end, we will see you again in our next upload!
Best Movie Website Alternatives
AnyMP4 Video Converter Ultimate
All-in-one video converter, editor, enhancer upscaled with AI.