How to Crop in Inkscape: Guides for Modifying your Image & an Alternative
What could be better than free, high-quality software running on both Mac and Windows? That is the perfect slogan for Inkscape. Not much, but Inkscape has a high learning curve and a cumbersome interface, especially for Mac users, which is a drawback for seasoned users of well-known, top design tools like Adobe Illustrator. If that is the case, different photo editors are fascinated with this tool. That is why many users are using it for different purposes. Also, not only are professionals using it, but even novice users can utilize it as an editing tool for simple aspects like cropping pictures.
In line with that, this article will serve as a guide for novice users. Specifically, this article will tackle how to crop an image using Inkscape. Get your high-quality cropped image using this step. In addition, we also have an amazing alternative tool if you think the software is not enough.

1. How to Crop in Inkscape
What Is Inkscape?
Free vector illustration software Inkscape supports the SVG format and can import and export pictures in EPS, PostScript, JPG, PNG, BMP, and TIP formats. The many forms, paths, text, markers, clones, transparency effects (alpha), transformations, gradients, patterns, and groups available in Inkscape are numerous. Additionally, Inkscape allows layer editing, bitmap tracing, complicated path operations, path-based texts, circumfluent object text, direct XML editing, and much more.
More than these incredible photo editing features, Inkscape also offers simple yet important tools like cropping images for instant editing of your photos. In that case, here are the steps we need to follow to make cropping possible. Please take a look at the simple steps below.
Method 1: Clipping Feature of Inkscape
1.
Make the form that will be used to clip or Cut your image first. Use any shape you like—squares, circles, stars, etc. After that, choose both the image and the shape by placing the shape on top of the image in the desired cropping area.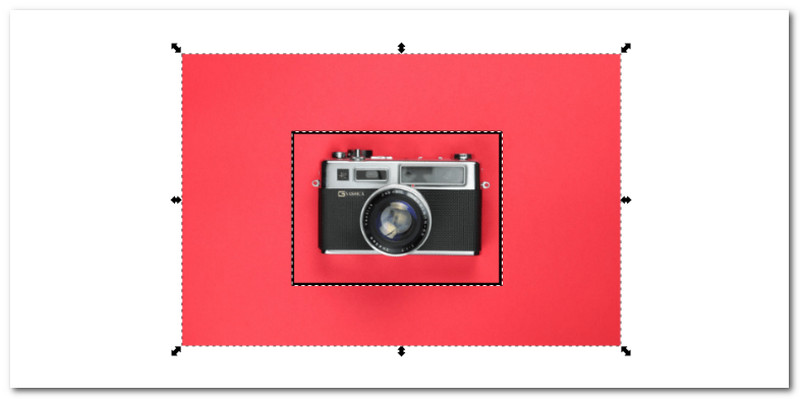 2.
To apply to clip and crop the image, select Object, see the Clip, and then hit the Set. The image has been cropped using the shapes you selected for the clip, in this case, a square.

3.
In addition, you can also utilize polygons, stars, circles, and more. You can even use a vector object, like text, among other things.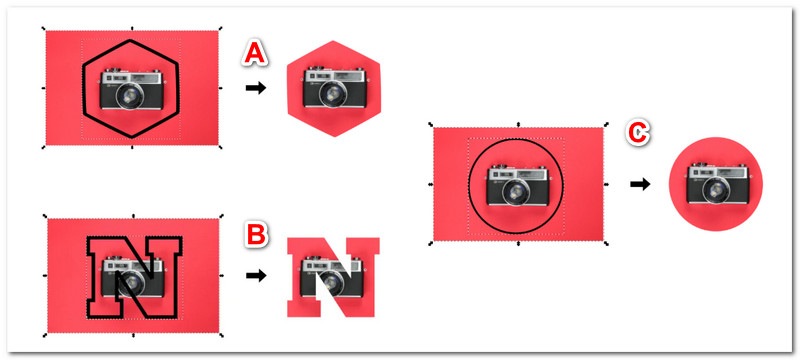 Method 2: Crop Pattern Feature of Inkscape
Applying a pattern to the image is the final way to crop an image with Inkscape.
1.
By selecting the Object, then finding the Pattern as we proceed with the Object to Pattern, you can apply a pattern to a picture or vector object.

2.
After that, Inkscape builds a pattern of your image that you may edit using unique handles akin to those seen on the square tool. Apply the pattern first, choose your image, and choose the squares tool to reveal your new editing handles.

3.
The nodes and handles can now be fiddled with to crop your image creatively. Explore every look you want to achieve.
For more image croppers, you can find them in this review.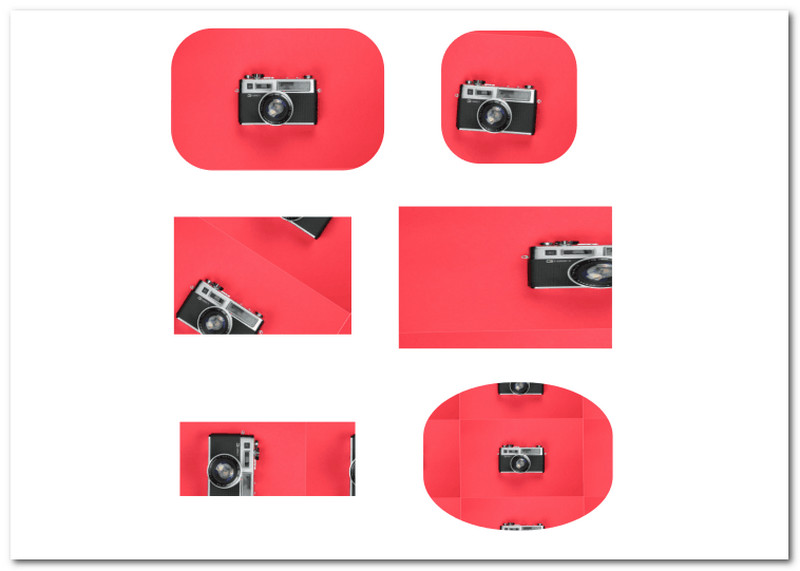 2. How to Crop in Inkscape Alternative
If you think Inkscape is a bit complicated for you because of its features, then AnyMP4 Image Upscaler is perfect. This tool is a great alternative to Inkscape, giving you the features you need to crop an image. It is an AI-powered image resolution enhancer that can automatically enlarge and improve photographs.
There is no watermark on the output. What's more incredible about it is the ability to enlarge a small picture in good resolution by 2x, 4x, 6x, or even 8x with this free image upscaler and photo enlargement. Small photographs can be enlarged while also getting better and sharper. Let's see how we can use it for cropping an image with ease.
1.
Upload your image by clicking the Upload your photo button or dragging it into the drop zone at the center of the main interface.

2.
In the second step, once the photo was uploaded. You can enlarge the image by 200%, 400%, 600%, or 800%. You can also do it in a reverse way by making your image small, from 800% to 400%.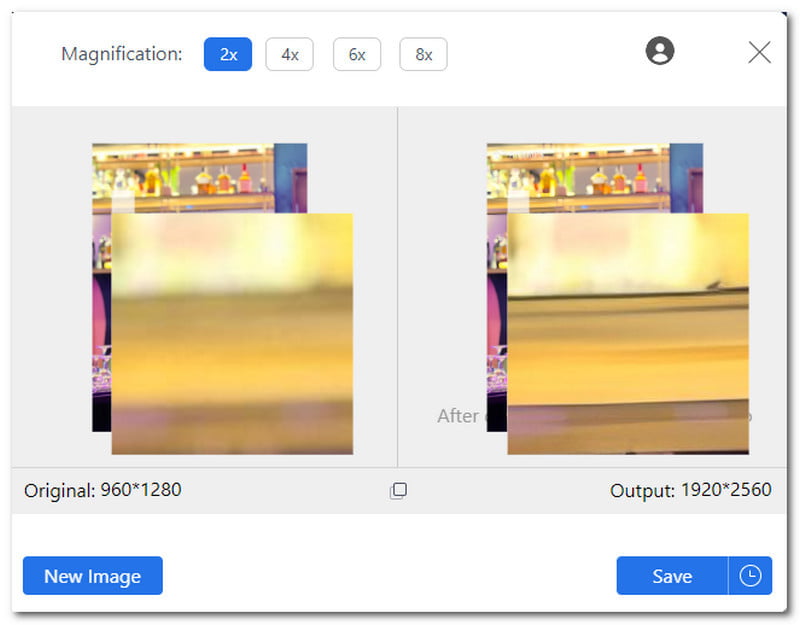 3.
After the modifying process, your photo is ready for saving. To download the enhanced image, click the Save button. Then check the image on your computer.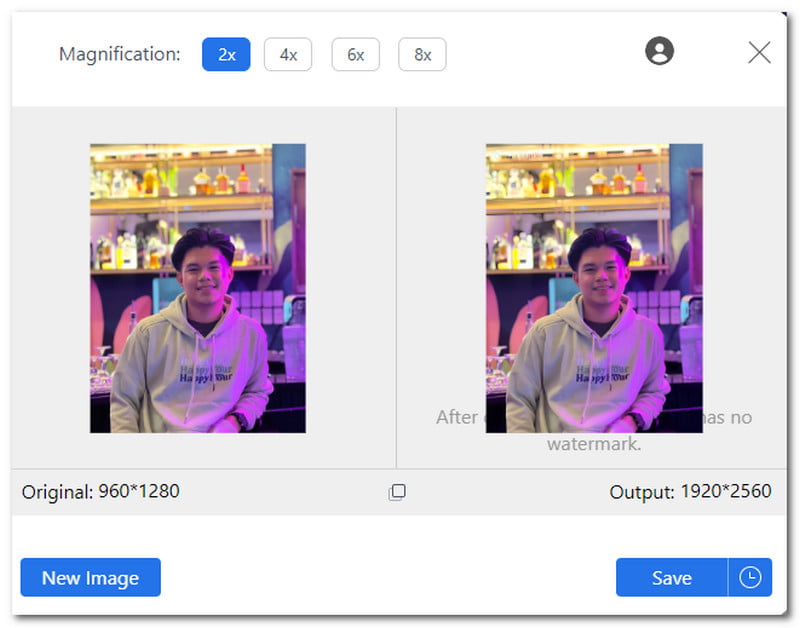 That is the simplest way to enlarge our image using the amazing AnyMP4 Image Upscaler. We can see that this tool is easier to use rather than Inkscape. For that, use it now for a much simpler cropping process.
3. FAQs about How to Crop in Inkscape
Using Inkscape, how do I crop a selection?
To change the Document Boundary and Crop our output, first draw a rectangle over the area where you want to crop the document. Then, select the black box, go to File, then Document Properties, and choose Resize Page to Draw or Selection. The page boundary should be resized to fit the box.
Do cropped photos lose quality on Inkscape?
Cropping photos is a great tool for removing unwanted areas in your image, but remember that cropping can affect image quality because cropping involves cutting away part of the original image, resulting in some pixels being discarded. That means cropping your images using Inkscape can bring you a great chance of lowering the quality of your image compared to its original properties.
What is the best size for cropping photos using Inkscape?
The best size for cropping a photo using Inkscape or any other cropping software is a 3:2 Aspect ratio or 27- x 180 in pixels. This size is the most common set of dimensions for photographers. The 3:2 (270 x 180) aspect ratio leaves plenty of room for cropping in post-production if necessary. This size will also lessen the chance of getting a blurred photo after cropping it.
Conclusion
There you have it, the simple steps and detailed guidelines for cropping an image using Inkscape. We can see that this tool possesses a useful feature for modifying our images. In addition, we can also see the fascinating alternative tool for Inkscape. AnyMP4 Image Upscaler also produces an amazing tool for modifying your image in a few steps. For that, there is no wonder why it has become the best photo editing tool online and a go-to editing tool for many novice users.
Did you find this helpful?
376 Votes
YES

Thanks for letting us know!
No

Thanks for letting us know!
AnyMP4 Video Converter Ultimate
All-in-one video converter, editor, enhancer upscaled with AI.