Dr.Fone - Virtual Location Review: The Fully-Featured Software for Everyone
You may be disappointed since the iOS device does not provide and support a location changer in their Settings. It is frustrating, especially if you want to play a game that needs a GPS. This is where you can use Dr.Fone - Virtual Location. It is a fully-featured software, which you can use to change GPS and more. Make time to read this review, and we will ensure that your time will be worth it after reading.

Our Verdict
Pros

It is safe to use in AR games.
It offers a lot of features.
It also offers monthly plans.
It is cross-platform.
It is easy to use.
It lets you choose to purchase individual tools.
It has a support service that can assist you 24/7.
It provides a money-back guarantee.
It enables you to receive the keycodes in just a minute and enjoy free updates.
Cons

The Mac and Windows prices are different.
Some other tools or features are similar in functions.
It offers a free trial but is limited, especially on features.
Overall Ratings
Interface9.0
Features:8.5
Safety:9.0
What is Dr.Fone - Virtual Location
Price: 1 Month License costs: $9.95, 1 Quarter License $6.66, and 1 Year License costs $4.99.
Platform: Dr.Fone- Virtual Location works on iOS, Mac, Windows, Android,
Main Features
Dr.Fone - Virtual Location is included as one of the most excellent virtual location tools for iOS and Android. Wonderhshare develops it, letting you change your location using the GPS map wherever you want. The meaning is that you can access different services and content restricted into the areas.
Moreover, Dr.Fone - Virtual Location will help you pretend to be in one place and go to a different place without moving from one place to another. For that reason, you can play games that require location, such as Pokemon Go, Minecraft, etc., effortlessly.
In this part, we will list and show you the main features of Dr.Fone - Virtual Location in a bulleted form. Please see them below:
◆ It can instantly change your location or GPS to different places because it has a 1-click location change feature.
◆ It has a Teleport Mode.
◆ It can simulate GPS movement with the route you created.
◆ It has a Joystick that simulates GPS movement flexibility in AR games.
◆ It works with location-based apps such as Snapchat, Pokemon Go, and Ins.
◆ It is 100% compatible with the newest version of iOS and Android.
Dr.Fone - Virtual Location Review
Interface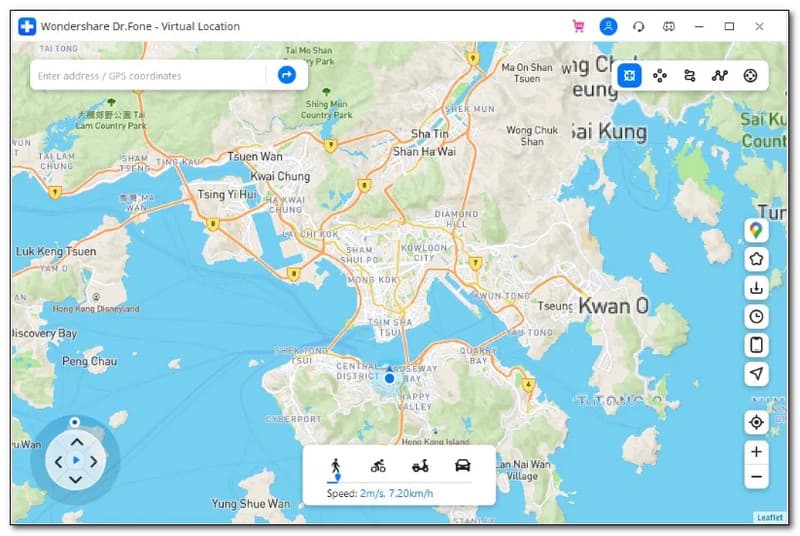 Dr.Fone - Virtual Location has a straightforward user interface. It lets you see all the options you need while using the software. By the way, Dr.Fone - Virtual Location is one of the tools of Wondershare Dr.Fone.
So, before launching the main interface of Dr.Fone - Virtual Location, you need to download the Wondershare Dr.Fone first. With that, you will have an opportunity to see all the tools. For example, Virtual Location, which we are reviewing right now, Data Recovery, Phone Manager, and so much more.
Going back to the Dr.Fone - Virtual Location interface, you will notice all the options such as the Main Map, Search Box, Modes, Zoom In, Zoom Out, and the Speed per meter or kilometer per hour. Whether walking, biking, riding a motorcycle or driving a car. Indeed, Dr.Fone - Virtual Location is perfect for beginner users; if you are one of them, you will love this software.
One-Stop Route - Set By Two Spots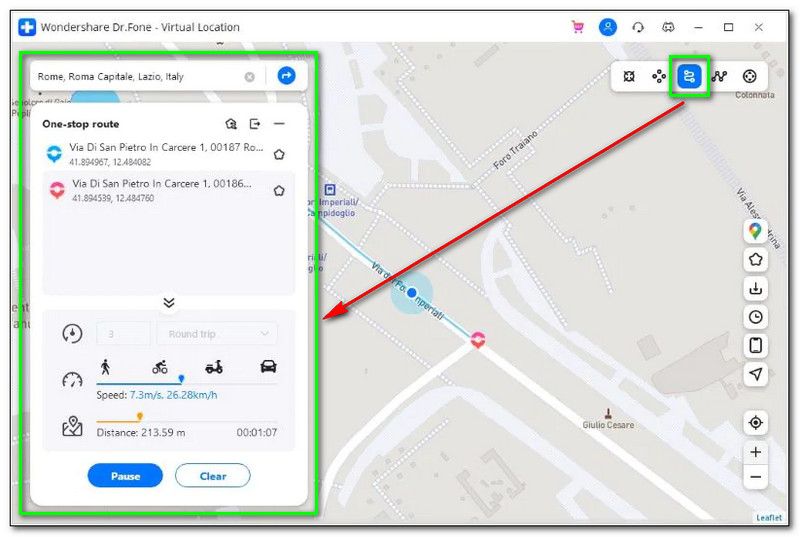 Simulate Movement Along A Route which is set in two-part is one of the features of Dr.Fone - Virtual Location. It lets you set two different kinds of locations or spots. An excellent illustration is you will set the first spot in the Grocery Store. Then, the second spot you will set it in is the Mall.
The good thing about Dr.Fone - Virtual Location, it provides a Search Box. You will search the exact address using the Search Box, including the Block Number, Street, City, etc. As you will notice on the screenshot provided, the first spot has a blue Map icon, and the second spot has a color Red Map icon.
Moreover, if you are finished spotting the two locations, the map of Dr.Fone - Virtual Location will start giving you directions. It will show you the complete address of the two locations on the left corner of the interface. Then, it will also provide you the Speed, which is up to you if you want to walk, ride a bike, ride a motorcycle, or drive a car. Plus, it will show you the Distance as well.
Using Joystick to Control GPS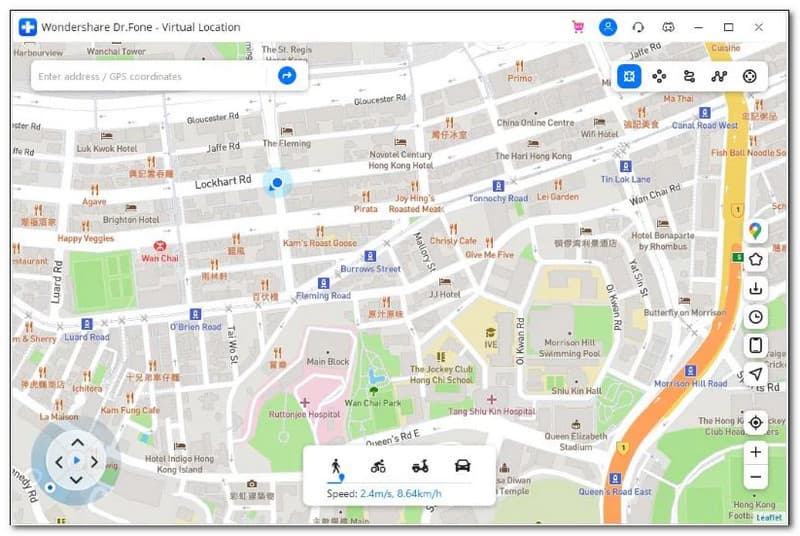 Dr.Fone - Virtual Location is now integrated with the Joystick feature that you can use to control GPS flexibly. If you are familiar with the Teleport Mode of Dr.Fone, you will see the Joystick in the lower corner and click the Joystick button in the upper right corner in order to use it effectively.
To give you more idea about this feature, the purpose of Joystick is to allow you to move using the map and change the directions, just like in real-time. It provides two movements; the Automatic GPS Movement and the Manual GPS Movement. Automatic GPS Movements lets you tap the Start button, which will automatically start. On the other hand, Manual GPS Movement enables you to move forward constantly by clicking Up Arrow in the program.
Exporting and Importing GPX on Dr.Fone - Virtual Location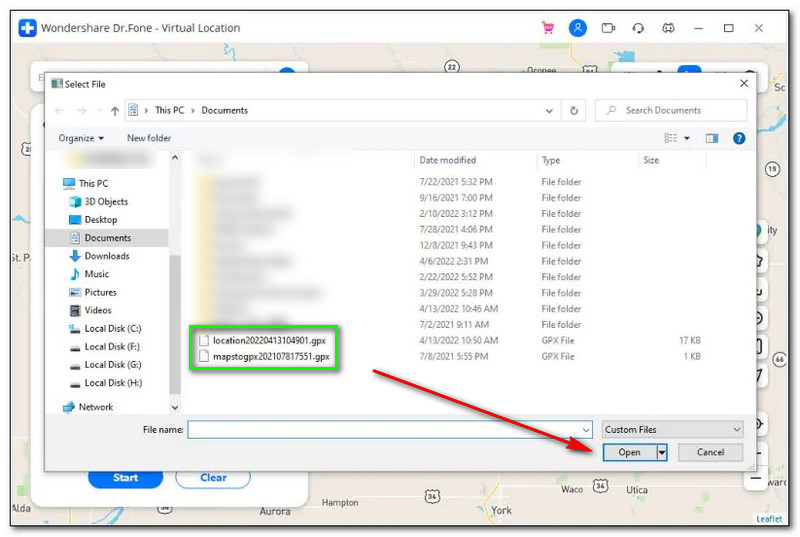 To prevent repetitive functions, you can start saving your customized route after using the features One-stop Mode and Multi-stop Mode. You can start saving and exporting the GPX by finding the Export button, which will be found on the left side corner of the main interface.
Furthermore, when you already get the GPX file from your downloads on other websites or from your friends, you can start importing it from your computer. As you can see the main interface, you will see the Import button in the bottom right corner.
Now, you must wait for some time because importing GPX will take a while, and remember, please do not turn off your screen's computer.
FAQs of Dr.Fone - Virtual Location
Can I use my license across platforms on Dr.Fone - Virtual Location?
Unfortunately, the license is prohibited from using or cannot be cross-platform. Let us explain it further, and if you bought a license for Windows, you could only use that license on your Windows computer. On the other hand, if you purchase a Mac license, that license can only be used on your MacBook as well. Nonetheless, if you do not take it seriously and still use a Windows license on MacBook, your license will be invalid. For that reason, you need to repurchase another license.
Can I use my iOS device to fake a GPS?
Of course, you can; Dr. Fone - Virtual Location helps you to do that since iOS devices do not have that on their Settings. Moreover, you can use this software to teleport your location to any location you desire and start simulating the movement with the specified route.
Is Dr.Fone - Virtual Location safe to use?
Wondershare Dr.Fone provides an excellent user interface. Therefore, all the tools you can use from Dr.Fone - Virtual Location are safe. According to the software developer, they are committed to protecting every user's privacy and information. To learn more about your safety, you can check their Privacy Policy.
Alternative - Aiseesoft AnyCoord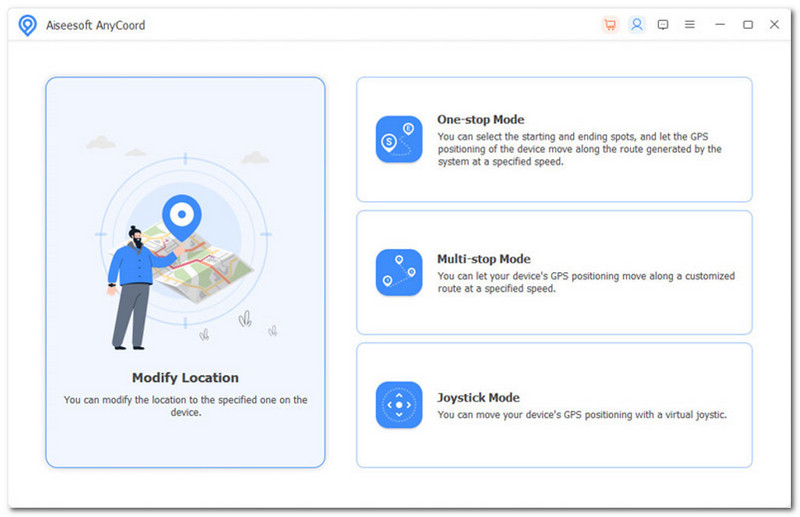 Supposing that you want an alternative because you are not satisfied with Dr.Fone - Virtual Location, we can suggest a better alternative software for you. But before that, we want to clarify that Dr.Fone - Virtual Location is an excellent location changer software. However, it will always depend on the needs of every user.
Furthermore, we are introducing to you Aiseesoft AnyCoord. It is the best alternative software on the internet because of its features, price, and even further. It is perfect for your iOS devices and Mac. Below, we bullet some of the features of Aiseesoft AnyCoord; see them now:
◆ It lets you change the GPS location to another location effortlessly.
◆ It enables you to share your location using social media platforms.
◆ It has a feature that can be used while playing AR games.
◆ It can create a virtual location on device iOS device.
◆ It can also customize the speed on your phone.
◆ It has three movement modes.
We only share some features of Aiseesoft AnyCoord, we have an article about it, and you can refer to that also.
Conclusion:
Overall, Dr.Fone - Virtual Location is outstanding; it can be used in many different ways. In this review, we also learn that it is easy and safe to use whether you are an iOS and Android user. Furthermore, we are expecting you again in our next article!
Did you find this helpful?
421 Votes
YES

Thanks for letting us know!
No

Thanks for letting us know!
Aiseesoft AnyCoord
Change iPhone Location to Spoof and secure yourself.