iMyFone AnyTo Review: A Great Location Changer Software
Supposing that you have a meeting in another place but your co-workers do not know about the place, iMyFone AnyTo is the excellent software you can use to share your location. Oh, is that possible? Yes, it! iMyFone AnyTo lets you share virtual locations using social media platforms. With that, it will be easier for you to meet at the exact time! Do you want to know the fantastic features of this software? Read this review article now!

Our Verdict
Pros

It has a straightforward and effective interface.
It also has a free version.
It supports Android and iOS devices.
It will send you the license quickly.
It has a free lifetime update and customer support.
It provides a 30-day money-back guarantee.
Cons

iOS devices can recalibrate the GPS.
There is a limitation to a free version.
It consumes a lot of space on your device.
It is slow in performing the functions.
It is failed in connecting to iTunes sometimes.
It lags sometimes.
Features:8.5
Easy to use:8.5
Safety:8.5
What is iMyFone AnyTo Review
Price: 1-Month Plan costs $14.99, 1-Quarter Plan costs $9.99, 1-Year Plan costs $4.99, and Lifetime Plam costs $89.99.
Platform: Windows, Mac, iOS, and Android devices.
Main Features
iMyFone AnyTo is a location changer software, and you can use this for many reasons. Unlike other location changer software, iMyFone AnyTo focuses not only on your games application, but it can be used universally.
One example is when you want to choose the same street you would like to go to. It has a map and features that can make your request be granted, and you will see the place where you exactly want to go.
Furthermore, iMyFone AnyTo is an effective tool that lets you change the GPS on your device. That is why it is called location changer software. The good thing about this is you can change your device's GPS to all around the world.
So much with that, please see the iMyFone AnyTo features and make time to read them properly. It can meet and even exceed your expectation from a location changer software. See them now below:
◆ It can fake the GPS of your Android and iOS devices.
◆ It works with location-based applications like social platforms and AR games.
◆ It has a Joystick that can stimulate the GPS movement of your device while playing games.
◆ It lets you import and exports your GPX file; you can save your selected routes.
◆ It provides two modes; Two-spot Mode and Multi-spot Mode.
◆ It has 360-degree Directions, Automatic Moving, and Keyboard Control.
◆ It has Multi-device Control and Historical Records.
◆ It lets you customize the speed.
◆ It also allows you to plan your Route.
◆ It has a teleport mode.
iMyFone AnyTo Review
Change the Location or GPS of your Device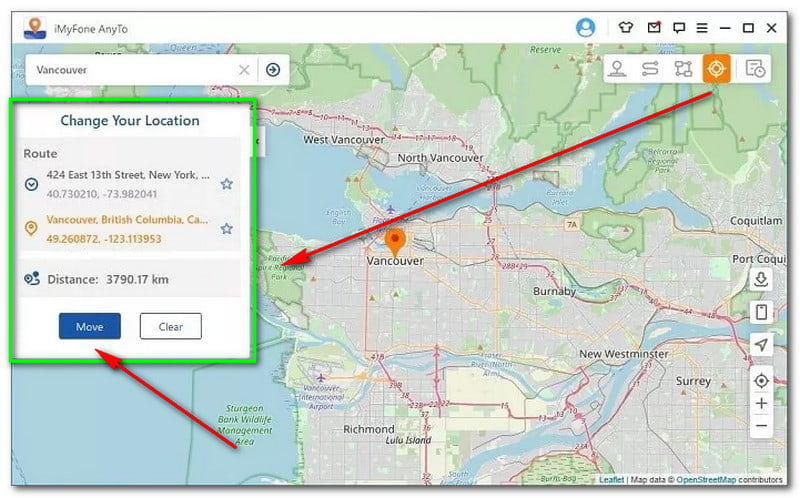 iMyFone Anyto lets you change the location or GPS of your device. To do that, you need to select the Teleport Mode, and you will see that option in the top-right corner of the interface. In addition, iMyFone Anyto allows you to Zoom In and Zoom Out the Map to see your desired location.
You can search on the Search Bar, or if you see the location on the Map, you can simply tap it. Once you type the location of the Search Bar, a Sidebar will appear. Included on the Sidebar are your Main Location, the Desired Location, and the Distance.
You can click the Move button if you are a hundred percent sure of your desired location. After that, your location will be changed immediately. In addition, if you want to change your location to your original location, Restart your device, and your device will return to your actual location.
Simulate GPS Movement using Two Modes
Two-spot Mode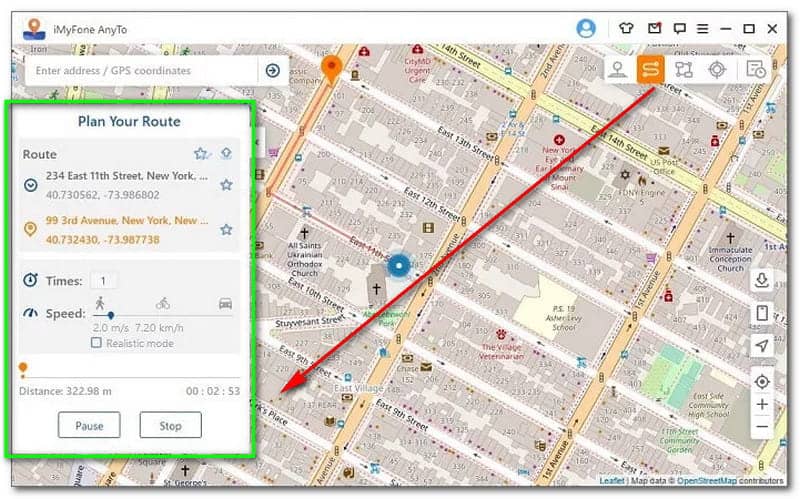 Two-spot Mode is easy using iMyFone AnyTo. This software lets you choose two destinations that you want to go to. To illustrate, if you want to go to School and Grocery Store, you can pinpoint the two spots, and iMyFone AnyTo will provide you with the directions.
Again, on the side corner of the panel, you will see the Sidebar, which includes the two destination places, Times, Speed, and Distance. Also, you will see the Move button, and when you tap that, it will start simulating the movement from destination to destination.
That is how simple it is to change the location or GPS of your device. Below, we will tackle another mode, which is also easy to do like this feature. Please continue reading.
Multi-spot Mode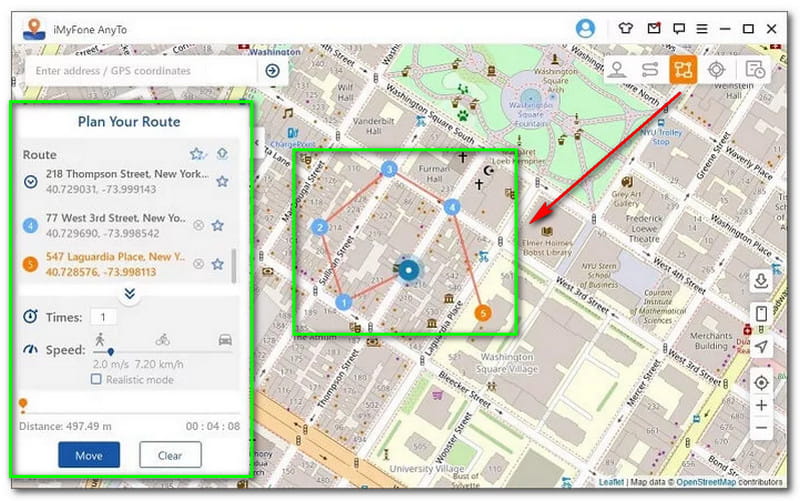 Of course, it is different with the Two-spot Mode. Multi-spot Mode lets you plot three or more destinations. Allow us to give you an illustration. For example, you want to go to Church, Grocery Store, Mall, and more. You can search all the locations using the Search Bar and add them to your Route. Again, you will see a Sidebar that includes your three mode locations: Times, Speed, and Distance.
Same with the other mode, it has a Move button that, when you click that, will start the simulating movement. When you finish plotting your desired locations, the word Completed will appear on the bottom of the Map.
FAQs of iMyFone AnyTo Review
How to use iMyFone AnyTo?
To effectively use iMyFone AnyTo, you need to download and install it. After that, you can start launching it and get started. Connect your device using an original USB cable, and the word Trust will appear on your device's screen. Click it and begin loading the Map. With that, you can start changing your location from one spot to multiple spots and even further.
Is iMyFone AnyTo safe to use?
Yes, iMyFone AnyTo is 100% safe to use because they are committed to protecting users' privacy. In addition, users' information can only be used for defined purposes like when you purchase the product.
Why the Gaming Mode fail to load using iMyFone AnyTo review?
There are many reasons why it is happening. Let us give you an example. It could be it has no permission. It is also possible that your device uses a 32-bit processor only. Or, your device does not have enough memory to run iMyFone AnyTo.
Alternative - Aiseesoft AnyCoord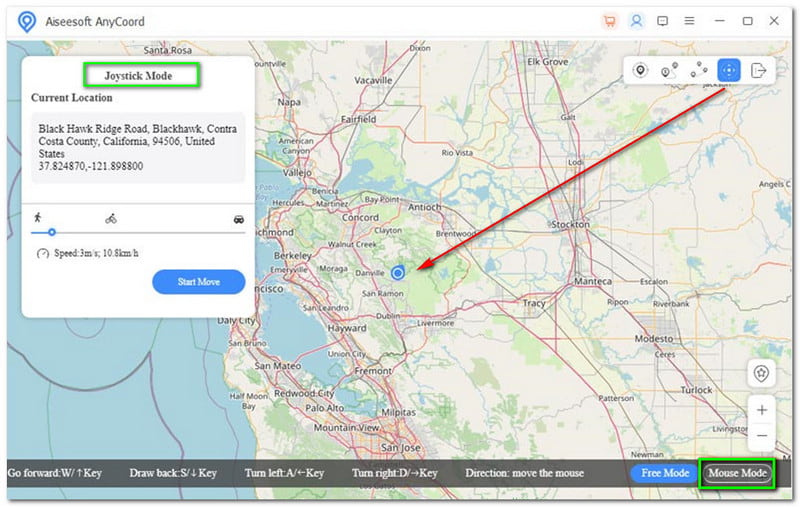 One of the possible reasons why iMyFone AnyTo has an alternative is because of its price. For a 1-Month License, $14.99 is costly, unlike other software like Aiseesoft AnyCoord. For that reason, Aiseesoft AnyCoord is the perfect alternative for iMyFone AnyTo not only with the price but also with the features. Below, another comparison table is provided. Please see the table to see the difference.
| | | |
| --- | --- | --- |
| iMyFone AnyTo | VS | Aiseesoft AnyCoord |
| $14.99 | Price | Starts at $9.56 |
| Windows, Android, iOS, Mac | Platform | iOS, Mac, Windows |
| 8.9 | Easy to use | 9.2 |
| 9.0 | Interface | 9.7 |
| 9.0 | Features | 9.5 |
| 8.9 | Safe to use | 9.6 |
| No | It has three movement modes. | Yes |
| Yes | It offers a free trial. | Yes |
| Yes | It can import and export GPX files. | Yes |
As we compare the two location changer software, Aiseesoft AnyCoord is better. However, both software has their strengths, and we can see that Aiseesoft AnyCoord still standouts.
Consluion:
We can conclude in this review that even if the Aiseesoft AnyCoord stands out, iMyFone AnyTo is still one of the excellent and realible location changer software. It offers many features that can also satisfy your needs. To end this article, you can decide which software you like to try. Until our following review, see you soon!
Did you find this helpful?
159 Votes
YES

Thanks for letting us know!
No

Thanks for letting us know!
Aiseesoft AnyCoord
Change iPhone Location to Spoof and secure yourself.